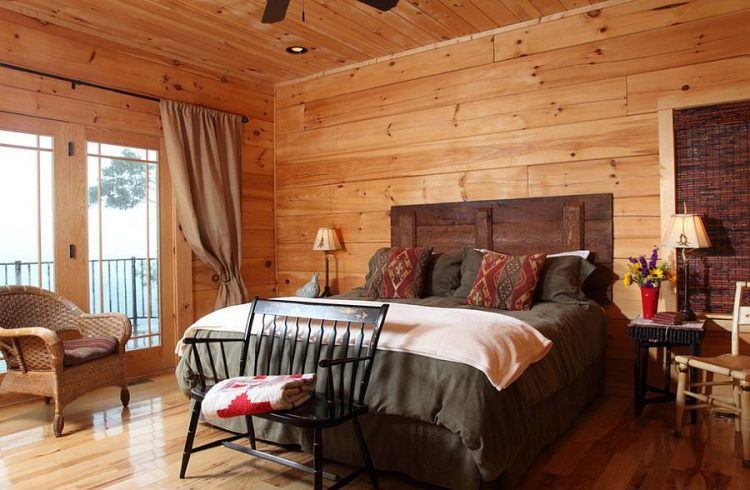 One of the most overlooked parts of bedrooms is the headboard. Some people opt to forgo having one at all, but there's so much that's great about this one piece of furniture. Headboards — especially wooden ones — can serve a variety of practical functions, but they're also an easy and inexpensive way to add a visually interesting element to any style bedroom. Some headboards are so well crafted or artistic in their design that they can serve as decorative focal points all on their own. Here are ten great looking master bedrooms with wooden headboards.
1. A sweeping headboard
While most wooden headboards rise a few inches up the wall, this one reaches all the way to the middle of the ceiling. It's a dramatic display comprised of reclaimed wood of different lengths and tones and well as an etched plaque. Interestingly, the accent wall behind the headboard is white while the other walls in the room are a warm golden yellow. Window treatments, bedding, and throw pillows in complementary fabrics complete this beautiful contemporary design. If you like the look of this headboard, you can create your own DIY version quite affordably.
2. Country chic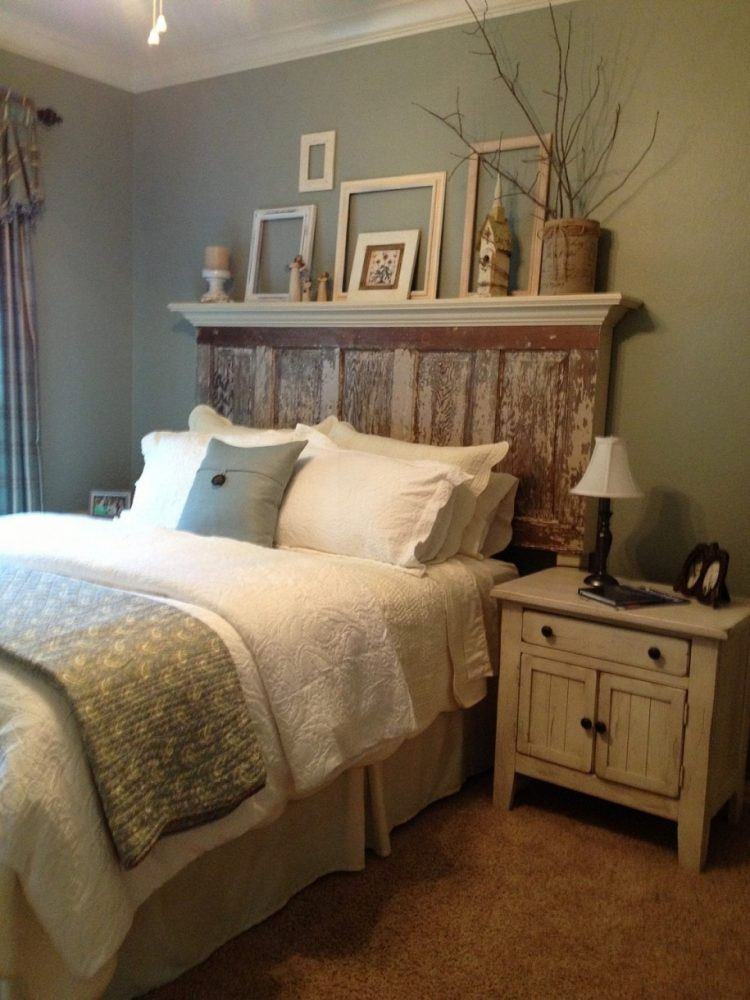 County style master bedrooms tend to have a soothing and inviting feel to them, and that's definitely true of this one. It has a wonderful mix of heirloom fabrics, charming decor, and vintage style furniture, but the colors used give it an updated flair. One of the highlights of the design is a wood headboard that also serves as a perch for an assortment of rustic decorative pieces.
3. Modern meets vintage
Wooden headboards are ideal for mixing the new with the old, and in this master bedroom one is used to create a stunning focal point. The headboard is made of worn wood that looks like it was taken straight from the frame of a old time barn. It works incredibly well with the rest of the pieces in the space, including modern lamps with wood bases, a tufted bench, and a large work of art with brush strokes that mimic the grain of the headboard. Adding a nightstand clad in metallic chrome amps up the style of the space and makes it look more modern.
4. Wood from floor to ceiling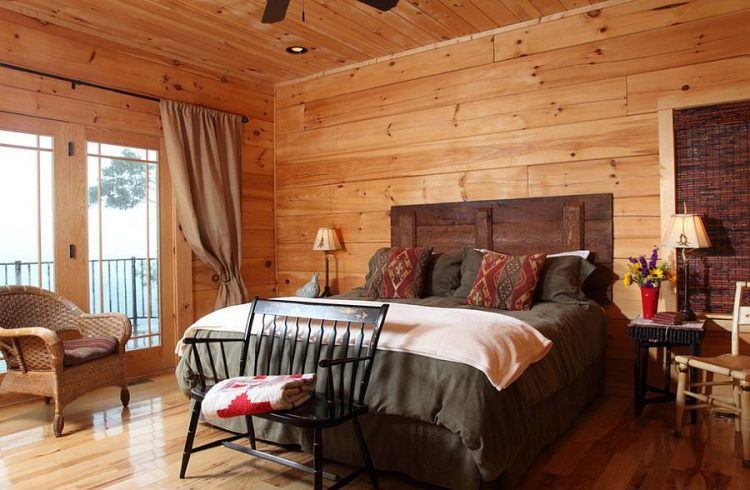 This is another take on the rustic style, but this one is more traditional. What's so unique about the room is it's covered in knotted wood planks from floor to ceiling — even the walls are covered in the same material. To stand out from all of the other wood accents in the room, a headboard with a dark stain was chosen. Combined with country style furniture, classic window treatments, and decorative pieces with lots of character, this room was transformed into a cozy enclave.
5. An eclectic retreat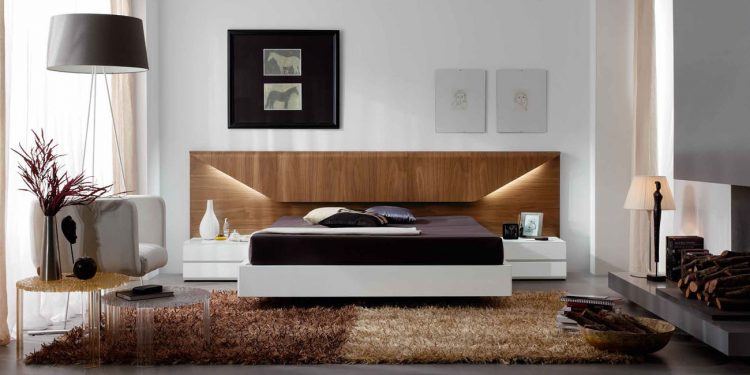 Bedrooms with wooden headboards don't all have an air of rustic character or vintage charm. This one is decidedly modern and leans toward being eclectic. The clean lines of the bed, fireplace, and other furniture translate to the headboard, which stretches out from both sides of the bed. A collection of simple drawings serves as art work, and a highly textured area rug anchors a sitting area by the window. This room is a perfect example of how to integrate a wood headboard into a very modern space.
6. Refined elegance
If you prefer master bedrooms with a classic and elegant look, this one will give you loads of design inspiration. Its vaulted ceilings with wood beams pair perfectly with the profile and tone of the wooden headboard. Wood framed doors leading to a private patio, beautiful flowing window treatments, and a fireplace comprised of imported stone bring the look together. A seating area in front of the bed provides the perfect place to get a view of the outside and the sophisticated setting within.
7. A unique profile
Not all wooden headboards are rectangular in shape, and choosing one that boasts a distinctive profile can bring a ton of visual interest and style to your bedroom. This headboard is abstract with a slight curve at the top. Along with a unique wood grain, sitting near an arrangement of dried branches makes it look even more intriguing. Bright colors on the bed frame and area rug and a calming shade of sea foam on the walls keeps this space looking trendy and contemporary.
8. Noteworthy design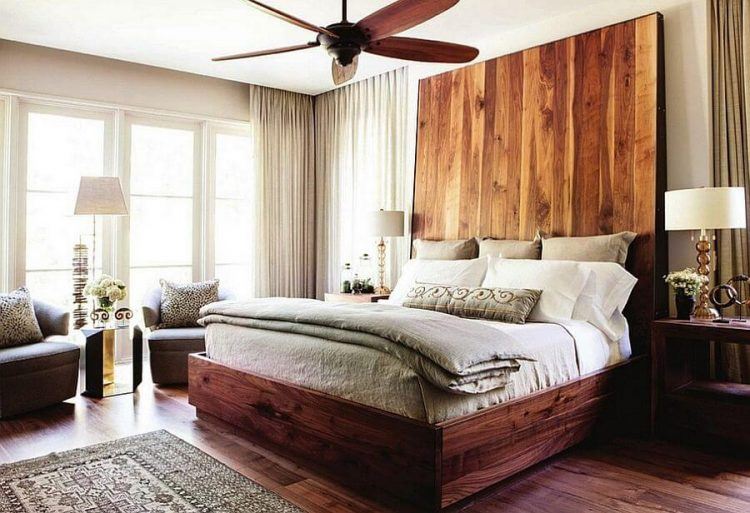 The scale of wooden headboards can make them stand out significantly, and that's the case for this one. It stretches from floor to ceiling and sits behind a bed that's made of knotted wood with a complementary grain. The headboard and bed frame aren't the only elements in the room with an organic feel, as the flooring is also constructed of wood planks. What makes this space have transitional appeal is the style of the window treatments, lamps and decor, and furniture in the seating area.
9. A stunning mix of materials
Wooden headboards have a ton of design versatility, and they can even fit well into spaces with a sultry and upscale look. This bedroom is sleek, contemporary, and has a gorgeous mix of different materials. Immediately behind the wood headboard is a facade that looks like it's made of multicolored stone. The aesthetic of each piece pairs well with the shade of medium gray on the walls as well as the flowing wall treatments.
10. Classic rustic style
Here is a bedroom that has a look that's warm and welcoming, and the lovely quilts just beg for snuggling up. One of the most distinctive features of the room is the style of the bed frame, which almost looks like something you'd expect to see in a classic fairy tale. Behind the wood headboard is a feature wall covered in wood planks with a decorative quilt and a twig wreath. Using large branches for a curtain rod was a genius idea, and you can easily adapt it for your own space if you want a rustic touch.