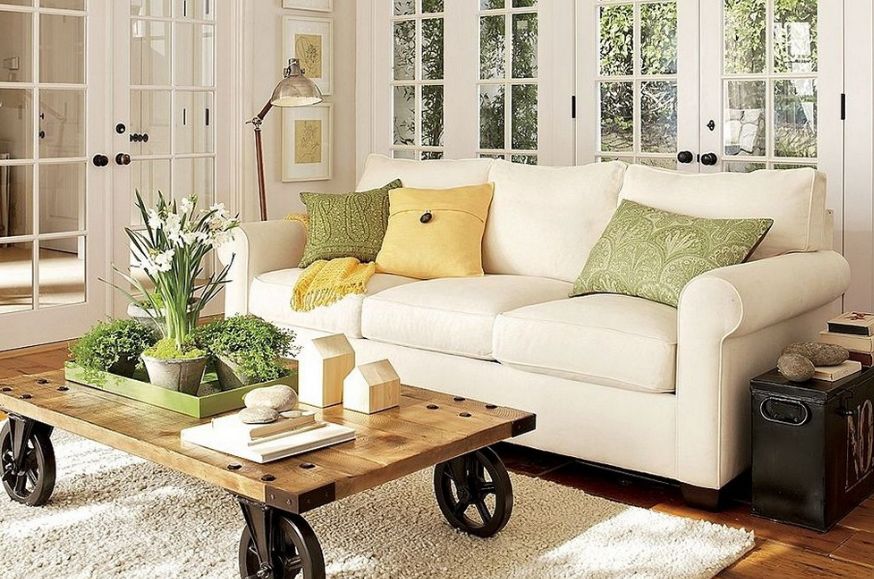 Country style decor has existed in one form or another for centuries, and today this type of interior design is among the most popular. Contrary to what some believe, this style has little to do with outdated or cutesy motifs. In short, any type of room that's designed or decorated with the goal of being welcoming, relaxed, homey, classic, and unpretentious is country.
Under that general umbrella are a number of gorgeous styles such as French country, Tuscan, shabby chic, English country, and the ever popular farmhouse chic. The living room is ideal for decorating in a country style of decor because it's supposed to be a place where guests feel welcome and the family can relax and feel at home.
Here are ten great country living rooms that perfectly embody the style.
1. Cozy colors and a relaxed feel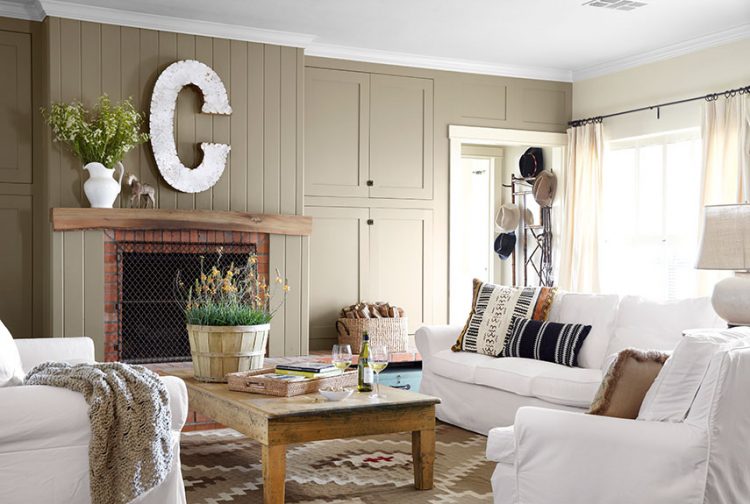 This Texas living room's roots are French country, but it brings in other elements that really make the space come alive. It's attractive, but very practical and would be great for a family to enjoy. The color palette in this space is warmed up by the wall color, area rug, and bricks surrounding the fireplace. Choosing white furniture to brighten up the space and keep it from looking too bogged down was a smart move. Depending on how much of the decor you made yourself and whether you already owned the right furniture pieces, this look could be replicated for as little as $2,500.
2. Shabby chic done right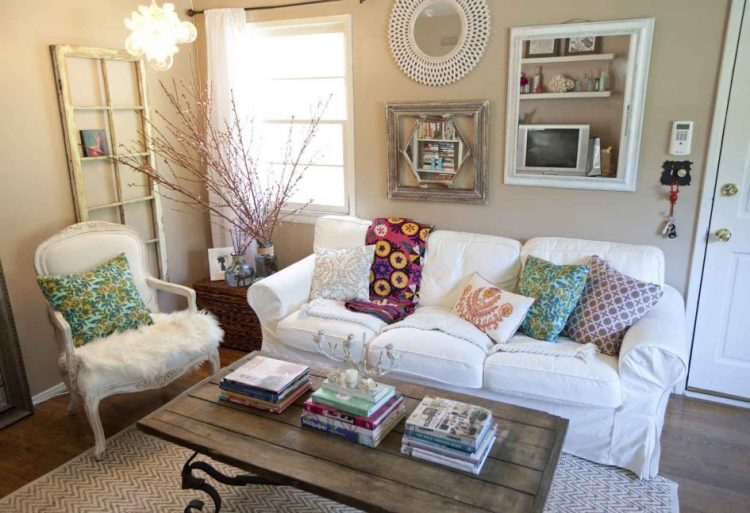 Country living rooms are often large, but this shabby chic space shows how to use the style in a small living area. There are a number of fun accents that bring character to the room, but it still has a country feel due to the wall color, plush white couch, traditional chair, and wonderful wood and iron table. The great thing about this country style living room is it can be put together on a dime, if you're creative, for less than $250. Scour thrift stores for pieces that you can refinish, and use a reclaimed piece of wood to make a nice table.
3. Bright and chic with country accents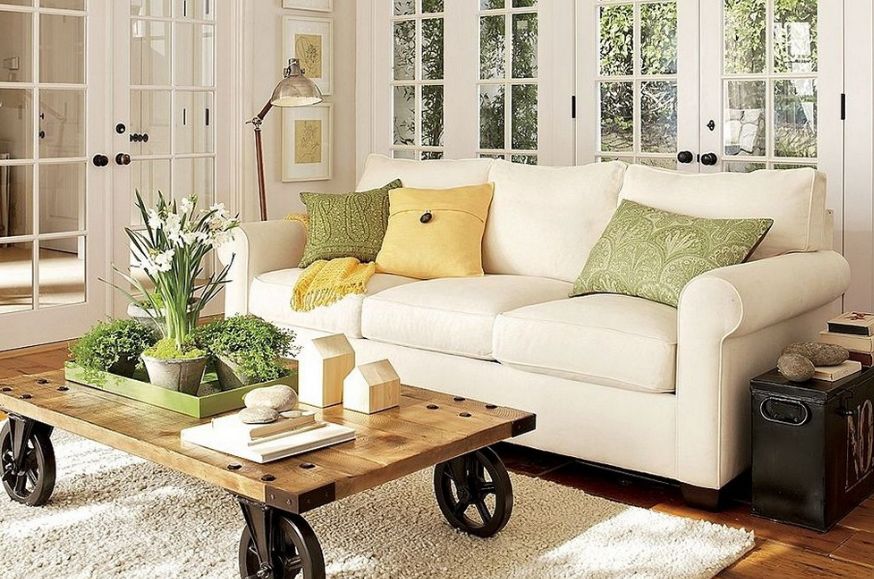 One of the best things about this living room is how well it combines a contemporary feel with country pieces, such as the great wooden coffee table on wheels and distressed metal box that serves as a side table. Shades of cream and white dominate the space, but light yellow and vibrant green accents bring interest to it. Putting this country style living room together would cost $5,000 or more, less if one already had the furniture or was willing to make some of the decor.
4. Who says that a country style living room can't have a ton of color?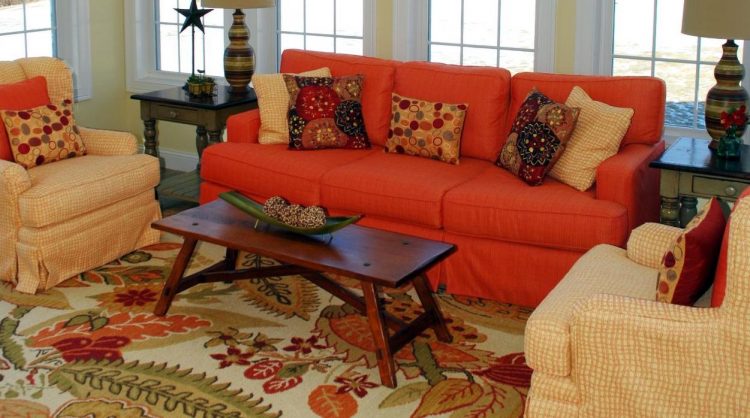 This is an example of how to pull together a room that retains a country feel while having an abundance of bold hues. An orange couch and fun prints on the throw pillows and rug make for an interesting space that has plenty of charm, while the pale yellow wall color provides the perfect background. The cost to recreate this living room would start at around $8,000 — use colorful slipcovers instead of buying new furniture to bring down the cost.
5. Traditional meets casual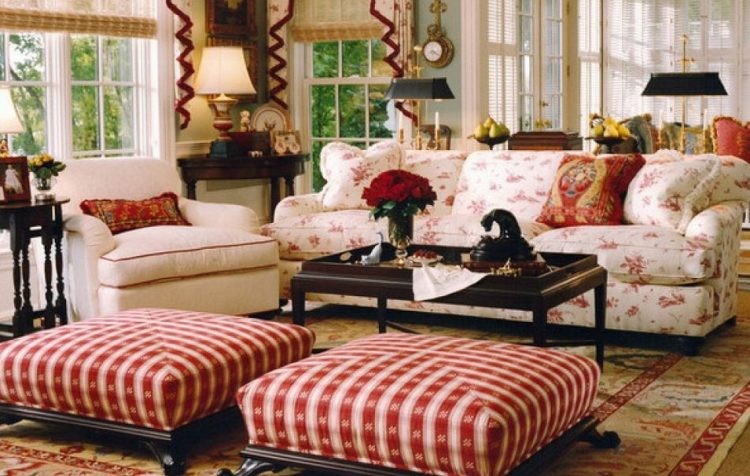 Here's a French country living room that has the traditional mix of patterned fabrics, floral motifs, and rich colors. It's on the formal side, but still welcoming enough to be inviting to any guest — plush furniture helps set the right vibe. There are many custom and well aged pieces in this room, so the cost to put it together likely cost well over $15,000.
6. Stylish and filled with color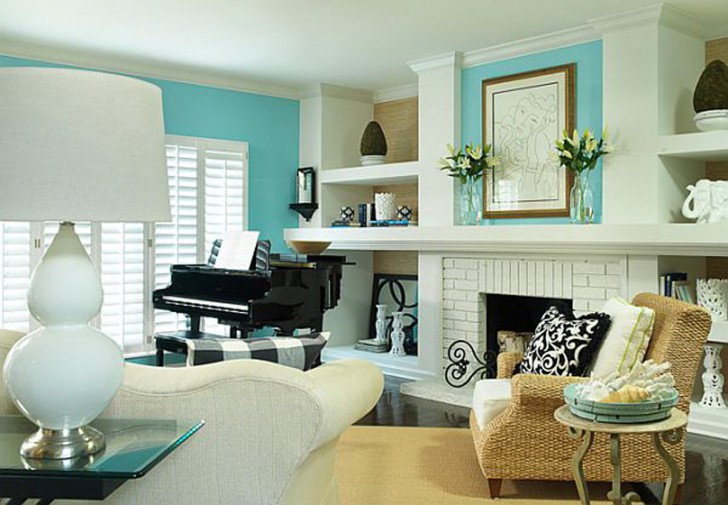 If you like the idea of a country style living room but also want the appearance of a more contemporary space, this is a good example of how to blend the two. Bright blue wall paint keeps the room from looking dated, while accents such as the comfy couch, natural chair, checked throw pillow, and shelf decor bring in country elements. Putting a room like this together from scratch would cost at least $6,000.
7. English country and modern styles combine
There are so many elements in this room that scream English country, but it still has enough modern decor and pieces to keep it from feeling dated. This is also a prime example of how to maximize seating in a small space without making the room feel crowded: opt for chairs placed around a modest table. A country style living room could be fashioned after this one for $8,000 or less.
8. Classic Tuscan style and plenty of warmth
Many think that Tuscan style decor is best for the kitchen, but it can also make for a lovely living area. In this country living room exposed brick, an antique painting, wood rafters, and a color palette of tan, cream, chocolate brown, and a touch of rust red provide warmth without overwhelming the space. You could create this look for $12,000 or less for the furniture and accents, but the architectural details of the room are what give the space a distinctive look.
9. Simple with a masculine edge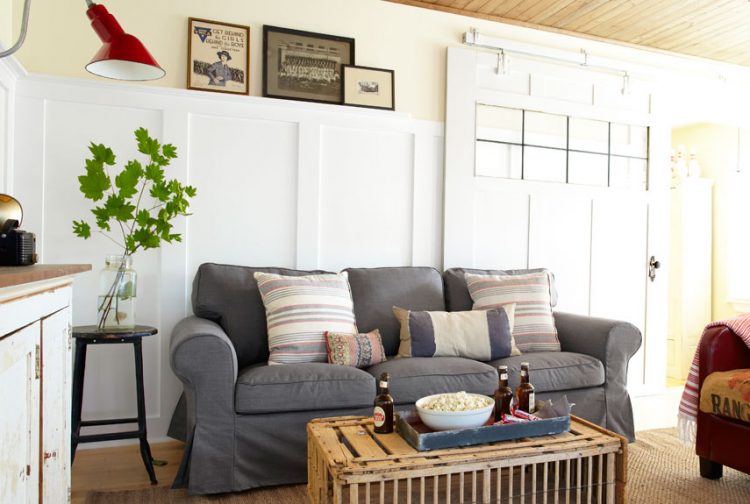 Country living spaces are often a bit feminine, but this living room isn't frilly at all. A clean color palette of denim blue, red, and white keep the small area from feeling closed in, and the upcycled table is a great accent. The weathered finish on the storage cabinet, a welcoming couch, vintage prints, and sliding farmhouse style door add more country elements. This space could be put together for $5,000 or less.
10. Farmhouse chic at its finest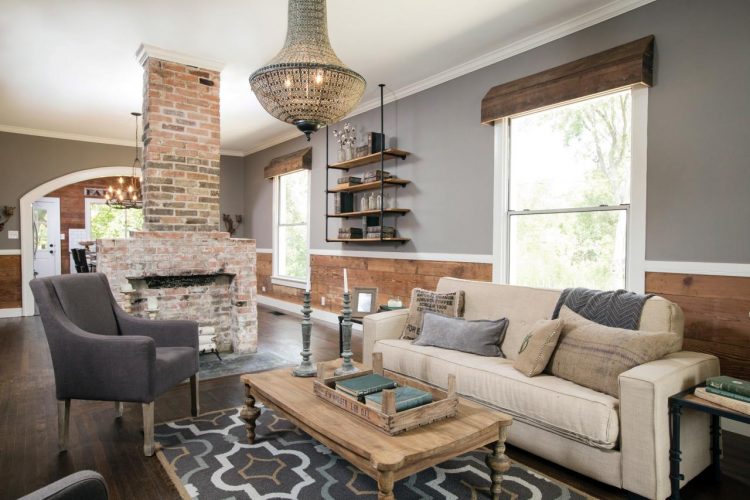 It's not uncommon for rooms that are trying to achieve a farmhouse chic look to veer too much towards being shabby chic. However, this country living room shows off the best elements of the style — it has plenty of warmth and charm, with a good dose of glam and simple luxury. Choosing a color palette of gray, cream, and dusty blues works well with the wood and brick that are scattered throughout the room. A living room like this would cost more than $10,000, especially if you opted to go with the wood paneling. Without that, you could get the same look and feel for much less.