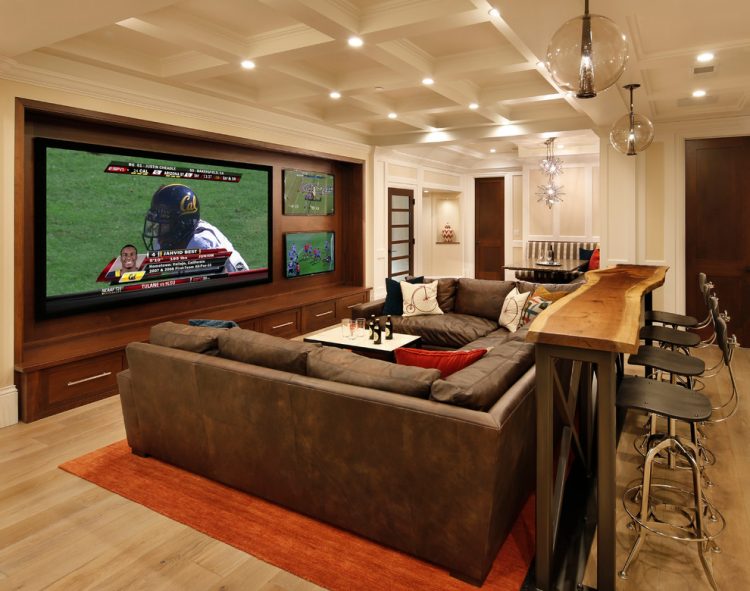 The concept of a man cave has been around for ages. Basically, it's any area of a man's home where he can kick back, relax, and take refuge from the stresses of the day, family included. Traditionally dens, home offices, and basements have served as man caves, but somewhere along the line things changed. These reserved rooms went from simple areas with little more than a recliner, sofa, and television to fully decked out spaces with tons of tech and enough amenities to host a crowd. Through all the changes the mainstay of the man cave has been the television, and bigger is always better when it comes to this part of the house.
Here are ten great man caves with hefty flat screen TVs.
1. An upscale man cave
Man caves are often bare bones, but this one has a look that's classy enough to be an upscale sports lounge. In addition to a large flat screen and several smaller ones, there's ample seating, a high tech sound system, and a coffee bar. The decor in the room is trendy, but still maintains a masculine look and feel. A vibrant blue accent wall melds perfectly with the rest of the muted colors in the space, creating an area that's relaxing and attractive.
2. Casual and stylish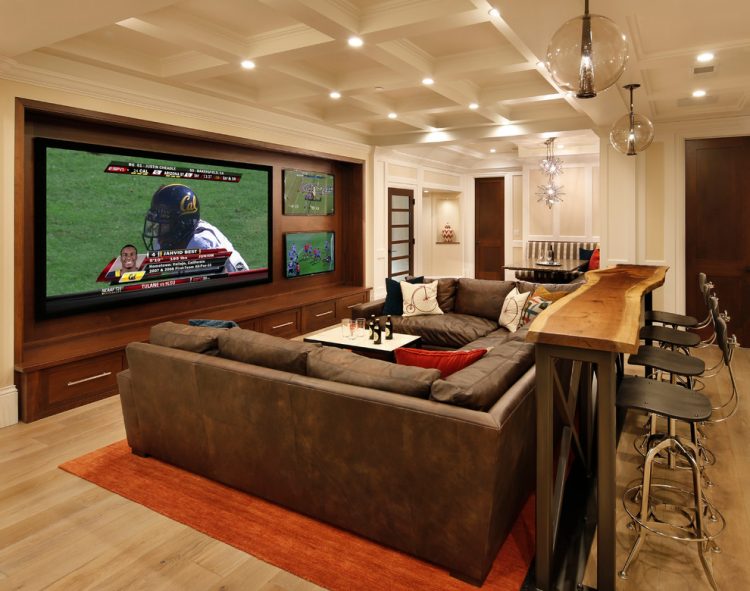 The huge television and two smaller TVs in this room are just part of what makes it so nice. A very large sectional couch is placed in front of the TV area, and behind the plush leather seating is a rustic counter with bar stools. Another smaller seating area is off to the corner of the room — this niche would be nice for holding conversations while the game is on and everyone else is worked up into a frenzy.
The color palette in this man cave is neutral, the furnishings are sturdy and guy-friendly, and the overall look would fit into just about any home. You can even replicate this stylish look on a smaller scale in your living room if you don't have a separate space for a man cave, and it's doubtful that you'd receive any complaints from your spouse about the decor.
3. An easy, versatile fix
Here's the way to do a man cave if you either don't have an extra room or want it located in your living area. The kitchen and dining spaces are located close to this man cave and aren't separated by a door, which made it necessary for all of the decor and furniture to be cohesive. Aside from the gigantic television that's set inside a large entertainment center, the area has a neutral colored comfortable chair, glass table, and some options for floor seating. A few exotic prints help bridge the gap between the TV area and dining room.
4. A sports lover's paradise
Themed man caves are "in", and this one is clearly owned by a sports lover. The flat screen TV is mounted on a brick wall, and even though the room is small it's very well put together. A reddish leather couch complements the Texas Rangers decor, and lighting integrated into the built ins and platform below the television are a nice touch.
5. Clean lines and minimalist style
Not much is in this man cave outside of a tan sectional and a big television, but who needs embellishments in a space like this? If you're a minimalist, but still want to create a man cave within your home, this room will provide plenty of design inspiration. There's no clutter and virtually no decor, but the room definitely serves its purpose well.
6. The basement haven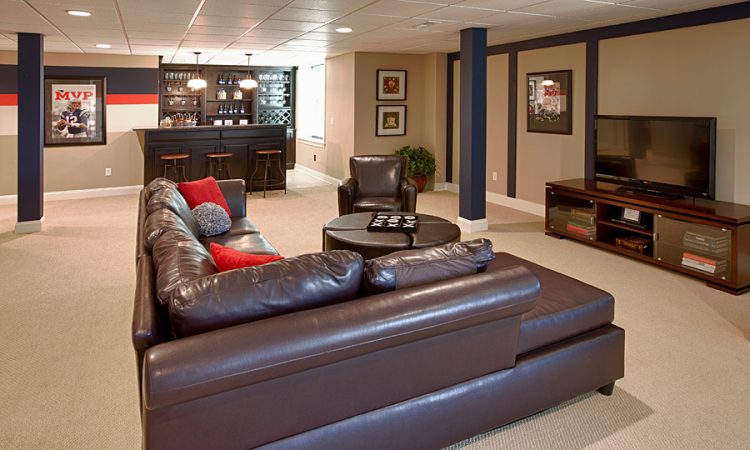 Here's another man cave that takes on a spots theme, but it's located inside a spacious basement. The seating area has a sectioned ottoman that can be used to play games, and on one side of the room is a classic bar complete with stools, a liquor display, and storage for glassware. Not only can this space be used as a man cave, it would also be great for hosting the occasional family movie night.
7. A great gamble
If you have grand tastes, you'll appreciate the look of this stately man cave. Not only are the ceilings and decor gilded in gold, there's a total of three TV screens in the room. The highlight, however, is a casino-style set up with a roulette wheel, plenty of space to play poker, and a high end look and feel. The area also sports a spacious bar and tiered seating.
8. Laid back and comfortable
This room proves that all you really need to create a nice man cave is a sizeable TV, comfy seating, and somewhere to place your drink. The decor is simple, but the vibe in the space is definitely manly. Underneath the television is room to store gaming systems, audio equipment, and controllers.
9. A multipurpose garage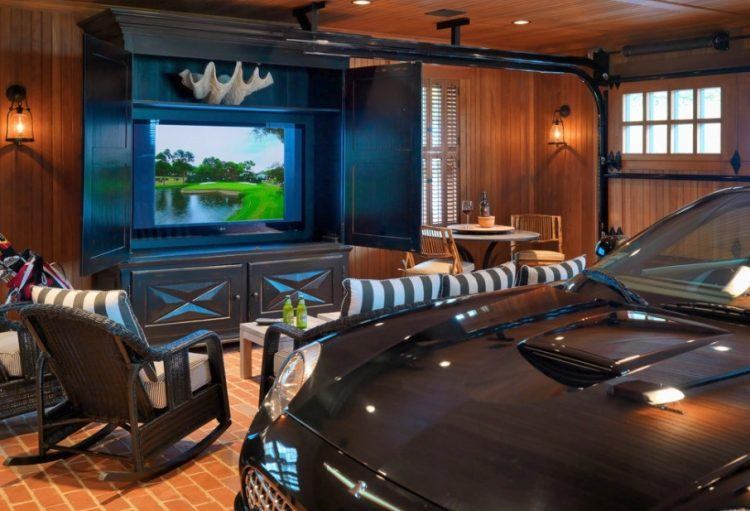 Some guys simply have to make their man caves where they can, and in this case a garage serves as a place to store cars and relax. To make it feel more inviting the garage floor was refinished to have a brick-like appearance, and the walls and ceiling were paneled with wood. Different types of seating ensure that this man cave can easily become a hang out spot, and a huge armoire houses the television behind its doors.
10. For the true comic book fan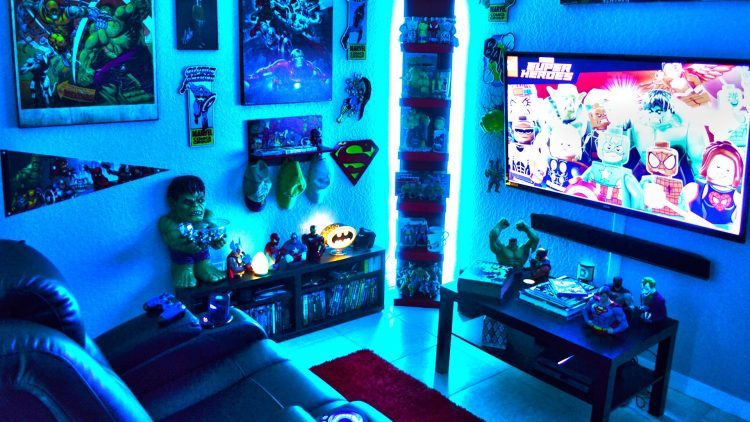 Sure, this man cave is small in size, but that didn't stop its owner from fitting a big TV, some great chairs, and amazing decor into the space. Obviously he's a comic book fan, and the best thing about this room is its smart design. Every inch of space was maximized and the result is uncluttered and a perfect homage to superheroes.