Of all the colors that you can pick to decorate your bedroom, blue is one of the most popular. Not only is the color associated with relaxation and perfect for bedrooms shared by couples, it's easy to outfit out a room in blue and truly make it your own. Whether you're a fan of traditional, modern, rustic, or contemporary decor, practically any shade of it will fit in beautifully.  But often people have trouble organizing and decorating the room to make it the best room possible.  That's where these bedroom ideas come in handy.
Here are ten blue bedrooms that are packed with style and character.
A touch of tradition
This room is a bit rustic and traditional, thanks to the patterned rug and flag motif framing the bed. However, it also has a contemporary flair. Fantastic light fixtures hanging above the bed and sweeping window treatments keep this blue bedroom from feeling outdated. The small couch positioned in front of the bed is also a nice touch and proves that you don't need a huge room to fit in a seating area.
Contemporary glamor
This bedroom does a fantastic job of looking fabulous, yet not over the top. Light blue shimmering hues take center stage in this space and are seen on the walls, window treatments, seating area, and bedding. The padded headboard is complemented by a large decorative mirror, and the mirrored night stand provides some cohesiveness to the overall look. Pops of white and light purple flowers help break up the blue theme a bit and keep it interesting.
An ethereal blue retreat
Blue bedrooms have a knack for inducing relaxation, but this one takes that concept to another level. Tranquil sky blue dominates the room by serving as the paint color along an entire wall, and it's also seen in the bedspread. Everything else in the room, from the shape of the bed to the art print hanging above it, has clean lines and creates the perfect environment to catch a moment of calm. The modern look is not only beautiful, but highly functional and smartly designed.
Exotic textures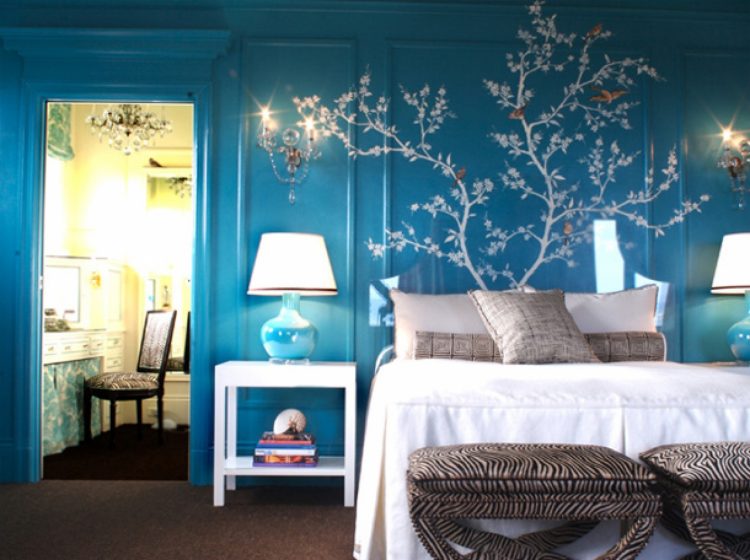 You may not immediately think of blue bedrooms when you hear the word "exotic", as that's typically the realm of more adventurous shades such as yellow, red, and purple. However, this space proves that blue can be every bit as exotic as other shades. Pairing the bold wall color with printed stools, luxe fabrics, and a dramatic stenciled motif above the bed gives this room loads of style and character.
Blue from ceiling to floor
This glitzy blue bedroom would be great for a couple with discriminating tastes, or a single person who simply loves an upscale look. A deep blue rug and designer wallpaper serve as focal points for the room, while a patterned gold panel behind the headboard ample luxury. The other elements in the space take a back seat, but everything ultimately works together to create a fashion forward, modern look.
Sophisticated and stylish
Blue bedrooms don't have to be vivid to be attention grabbing, and this room shows how calming the color can be when paired with brown furniture. Since it's a large space, painting the walls dark blue doesn't make the room feel closed in. Choosing a white bedspread, vanity table, light fixture, and window treatments also helped lighten up the room. The result looks highly personalized, cozy, and just a bit romantic.
A charming space
This charming blue bedroom is a mix of traditional and contemporary decor. The light blue wall color is the perfect canvas to hold antique plates above the bed. Flowing curtains, a pair of sturdy chairs in the seating area, and a rug with a classic design all sport a lovely blue hue. With so much of the color in the room, it was important to have bedding that's mostly white, otherwise the amount of blue in the space would have been too much.
The epitome of luxury
Sure, few bedrooms have a full fledged pool as a focal point whether they're blue or not. However, for this one that does, having blue as the main color in the space was an excellent choice. The pool reflects a gorgeous aqua shade, which is complemented by the blue accents on the wall, near the bed, and in the room's seating. Simply put, this bedroom beautifully melds luxury with comfort. Even if you can't fit a pool into your room, you can still take cues from the pairing of light woods and aqua in this space.
Bold blue and bright green
It's not uncommon for boys to have blue bedrooms, but this one is refreshingly different. Instead of using a primary blue shade, cobalt was used to bring more spunk and character to the area. Pairing it with bright shades of lime green and chartreuse adds to the fun and helps the dinosaur theme come together. If you're looking for kids bedroom designs that will grow with them throughout the years, this is the perfect way to accomplish your goal. Not only could the colors go from early childhood to adolescence, the decorative elements and furniture in the space can as well.
Effortlessly chic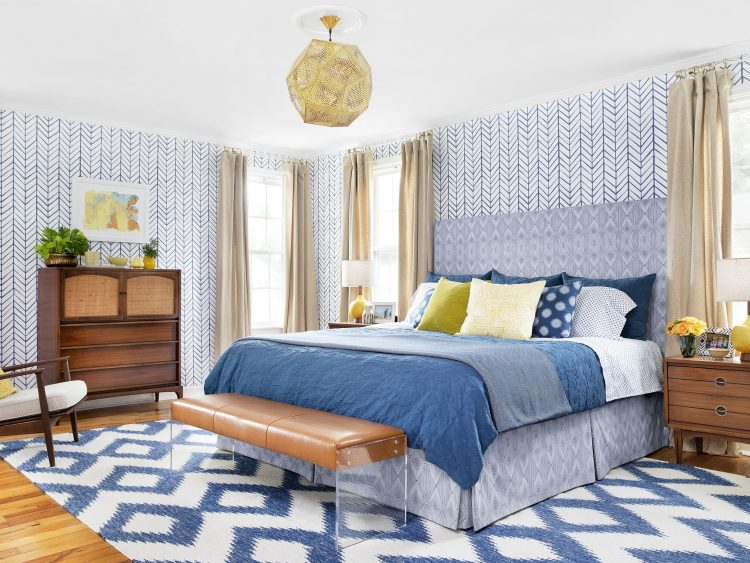 Take a few striking patterns, add in sumptuous fabrics, and throw in an incredible light fixture, and you'll have this fabulous blue bedroom. It's fresh, airy, and contemporary, yet there's also some modern elements and glamor. Rather than paint the walls in a shade of blue, a graphic blue and white wallpaper was used throughout the room.
The large ikat print blue and white rug continues the theme, and the look is capped off with a stately bed decked out with a variety of fabrics. A geometric light fixture hangs above the bed, providing sparkle and visual intrigue. With so many different patterns and shapes going on in this room, having neutral window treatments was essential — anything else, and the curtains would likely clash.