Back in the early days of gaming, people would either crowd around an arcade machine, plop on a couch, or sit at the end of their beds to play games. Those options are still plenty acceptable today, but serious gamers opt for chairs specially designed to enhance the gaming experience. The first gaming chairs were about providing comfort for long playing sessions, and then they evolved to include more technologically advanced features.
It's now possible to find gaming chairs that are just for playing racing titles, ones that include multiple screens and have integrated controllers, and seats that take virtual reality games to another level. Some gaming seats even double as massage chairs that will soothe you as the hours wear on while you're playing your favorite titles. Indeed, gaming chairs are serious business these days and top models can easily cost several thousand dollars each.
Here are ten gaming chairs that are each solid choices:
1. SAYL Chair – $489
If modern style is your thing, the Herman Miller SAYL chair will likely pique your interest. It's ergonomic, a pleasure to look at, and 93 percent of this chair's components are recyclable. You can customize it to suit your playing style and needs — include the extra lumbar support if you usually have long gaming sessions.
2. Steelcase Gesture – $1,064
Technically, Steelcase's Gesture chair was made for office use. However, it's been hailed by many top gaming publications as an excellent gaming chair. The Gesture is fully adjustable, provides comfort all the way to its seat edge, and is suitable for all body types and heights.
3. Ovei Capsule – $100,000
Perhaps the most expensive and decked out gaming chair on the planet is the Ovei Capsule. It is a fully enclosed pod that will allow you to truly become immersed in each gaming session. Designer Lee McCormack worked with McLaren Applied Technologies to create the masterpiece, and it not only has incredible functions but looks amazing as well.
4. X Rocker Pro Series –  $190
The X Rocker Pro Series has the ability to connect with multiple chairs for an incredible gaming experience. It features wireless connectivity, two speakers, and a subwoofer for high quality sound immersion. The ergonomically designed gaming seat tilts and swivels, is very comfortable, and it actually looks nice. Not only can you use this chair for gaming, it also works well for binge watching TV and listening to music.
5. Vertagear Racing Series SL2000 – $299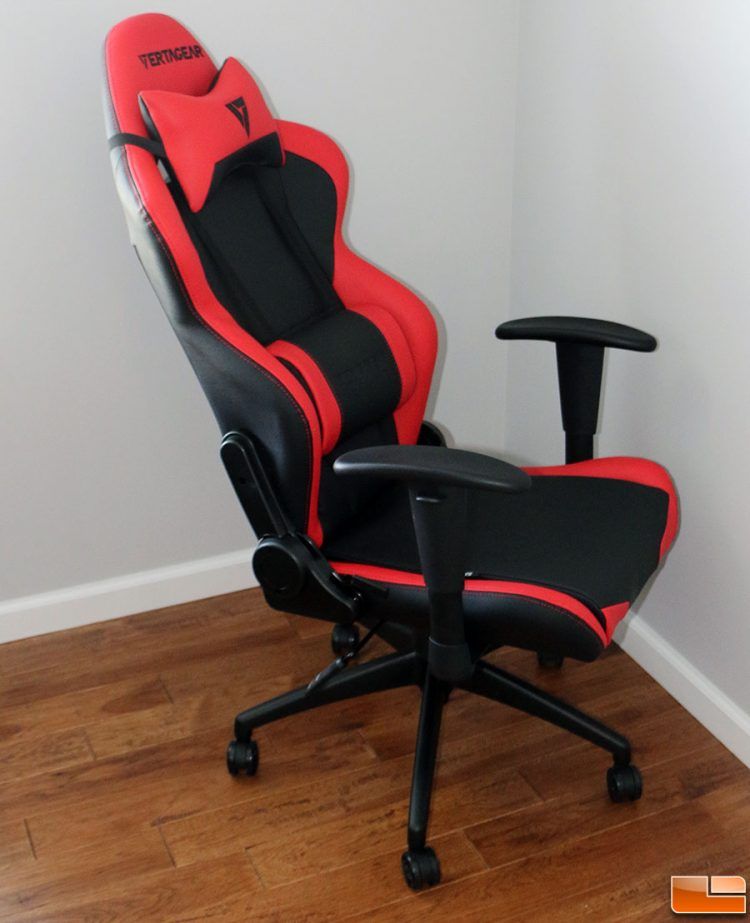 One of the most popular gaming chairs on the market is the Vertagear Racing Series SL2000. It's attractive, comes in a wide range of colors, is super comfortable, and has a price tag of about $300. It features an adjustable back that moves up to 170 degrees, and the durable steel frame makes this chair ideal for PC gamers and those who like to settle in for several hours of play at a time. The seat is covered with PVC leather that not only gives the chair a nice look, but it's guaranteed to last for quite awhile.
6. SimbolRides' Ranger-9 –  $3,000+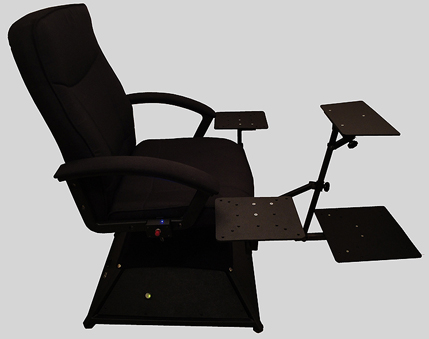 The great thing about this racing chair is that it has many features seen in much pricier models, but it won't cost you an arm and both legs. Once the Ranger-9 starts shipping, it will cost around $3,000 — not inexpensive by any means, but not ridiculously unattainable, either. This seat supports motion feedback for a variety of flight and racing titles such as Rise of Flight, rFactor, and Need for Speed Undercover.
7. ViperZ-27 – $21,995
One of the most well equipped gaming chairs on the market is the ViperZ-27. While some high tech seats are only compatible with one or two systems, the ViperZ-27 can be used with the Wii, PlayStation, Xbox, or Windows PCs. Some of its features include three 24 inch high definition monitors, a vibration feedback system, surround sound amplifier, satellite speakers, 8 inch subwoofer, LED lighting system, and a Logitech G27 steering control system.
8. Simulation F1 Cockpit –  $25,000+
The Simulation F1 Cockpit is ideal for gamers looking to approximate the feeling of what it's like to ride in an actual F1 race car. It contains four motion actuators that allow you to feel like you're really racing on a speedway. In addition to a comfortable racing seat, the Simulation F1 Cockpit includes three high definition monitors.
9. Emperor Workstation 200 – $40,000
One of the most hyped, impressive, and expensive gaming chairs around today is the Emperor Workstation 200. It's been deemed the ultimate gaming chair for good reason. Here are just a few of the features it includes: an integrated PlayStation system, Apple universal dock, LCD touchscreen that controls the chair, a Logitech webcam, and three synchronized LCD monitors.
If you're thinking, "That's nice, but not enough to warrant a $40,000 price tag", you're right. However, the Emperor Workstation 200 includes much more to justify its hefty cost, such as a custom lighting system, all leather reclining seat, two USB ports, two eSATA ports, 1.28 terabytes of storage, and a BluRay player. This gaming chair is also available in 14 different colors.
10. 401 Driving Simulator – $55,000+
The 401 Driving Simulator is a gaming chair that's actually a full fledged driving simulator. It's designed for use with a number of racing titles, including DiRT2, Live for Speed, and Super Mario Kart. If you'd like, you can even adapt this chair to work alongside Microsoft Flight Simulator.
As you sit in the seat and play you'll feel the twists and turns you make in each game, creating an immersive experience and bringing more excitement to racing games. The 401 Driving Simulator even provides different sensations when you decelerate and accelerate. In addition to its plush driving compartment, this chair has an integrated high resolution projector and a projection screen. The base price for the 401 Driving Simulator is $55,000, but with all the available bells and whistles it will cost you $70,000.