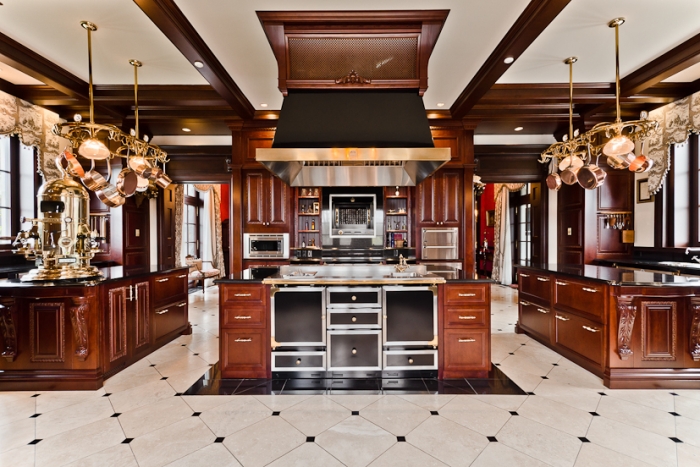 Kitchen island ideas and designs are in high demand these days, which is why we decided to put together this gallery to help you decide what style, size, and theme is best for your home.  We're also going to be using a focus on the more high end, luxury kitchen islands because frankly, they're just so amazing to look at.  However, you too can easily have a luxury style look to your kitchen island and should not let money get in the way of creating the kitchen of your dreams.  There are plenty of DIY tips and moderately priced designs that can give off the aesthetic of luxury.
If you decide on planning to create a kitchen that comes with an island, you should be asking yourself a few questions:
What countertop material do you want?
There are a number of materials you can use for the countertop to your kitchen island.   The most common and desired top is granite.  Granite is the strongest material with the exception of quartz which is becoming in higher favor.  Grey granite countertops, black granite countertops, and brown granite countertops are the most popular (with other colors mixed in).  Granite remains a top option for it's durability, color options, and aesthetic.  Other materials that people also choose are vinyl, steel, wood, and in rare cases marble.  The material you use should reflect how you'd like the room to look.  For example, granite can fit just about anywhere but if you want a rustic, country feel to your kitchen, you might opt for wood.   Concrete is also a surface that is gaining popularity as a more "industrial" style.
How high should the island be?
There are a number of height options for a kitchen island.  The most common height is approximately 36 inches..  However there are also kitchen islands that have what's called "low tops" that offer a different aesthetic.  Often times the lower islands aren't used for cooking as much as they are for a social feel to the room.  In contrast there are also dual level islands where the highest level consists of a breakfast bar and can be up to 48 inches (sometimes higher) from the floor.  Again, the height of the island depends on the look, feel, and purpose of your kitchen.  If you want a "bar like" setting you'll opt for something higher.
How much room do you need around the island?
Industry says you should leave at least 36 inches of walking space.  However, kitchen islands come in all kinds of shapes and sizes.  There are wrap around islands that take up nearly an entire room giving off a "diner" type feel.  On the other hand,  there are narrow and very short islands that are merely there to support something aesthetic.    If you're kitchen island is going to be used for food prep, you might need a lot of walking room thus impacting the size you choose.  If you have a social area where you expect guests to sit, the island may not need as much walking room.
What configuration do you want?
Are you looking to prep food on the island?  If so you might want a cooktop and sink while using the base for storage or for things like a microwave and trash compactor.  Are you looking to show off the look of the island?  In that case you might consider a built in wine rack, book shelf, or even additional storage.
If you have a cooktop, what are the fan options?  Do you use something overhead that is ducted, or do you use one of those pop up fans that come up from the back of the cooktop and how do those work (is it ducted or does it just blow air away from the cooktop)?
Where can you buy one?
Stores like Crate and Barrel, Home Depot, Lowe's all have solid options.  On the other hand if you want your island custom built you might consider going with a contractor in which case you'll need to do some vetting.
Other questions to consider
Can you buy a cabinet base and have stone such as granite installed on top of it?  Can you buy just an island on its own?
Below you'll find a gallery of kitchen islands that fit nearly any criteria you might be looking for.  We hope that this gives you a great starting point to creating the kitchen island you desire.
Here are 50 luxury kitchen island ideas:
1. Undermount kitchen island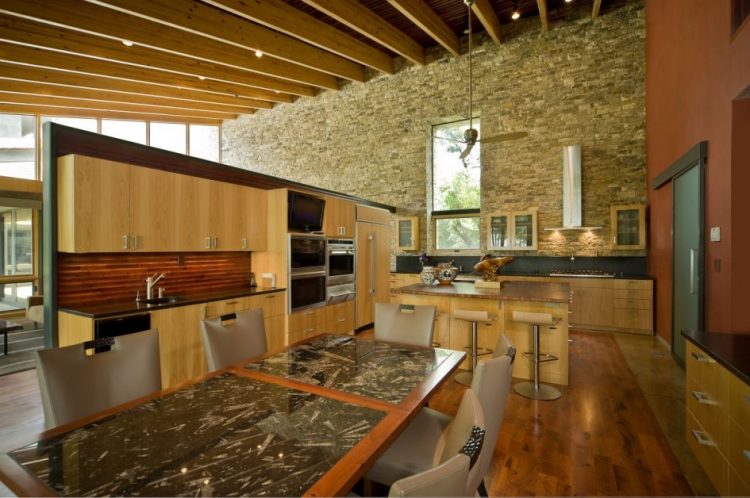 This luxury kitchen design is built with an undermount kitchen island and marble top dining table.  There's also a wooden backsplash and stone wall.
2.  Luxury black kitchen design
This is a luxury black kitchen complete with wall cabinet, island, and four additional barstools.
3.  Luxury kitchen with recessed lighting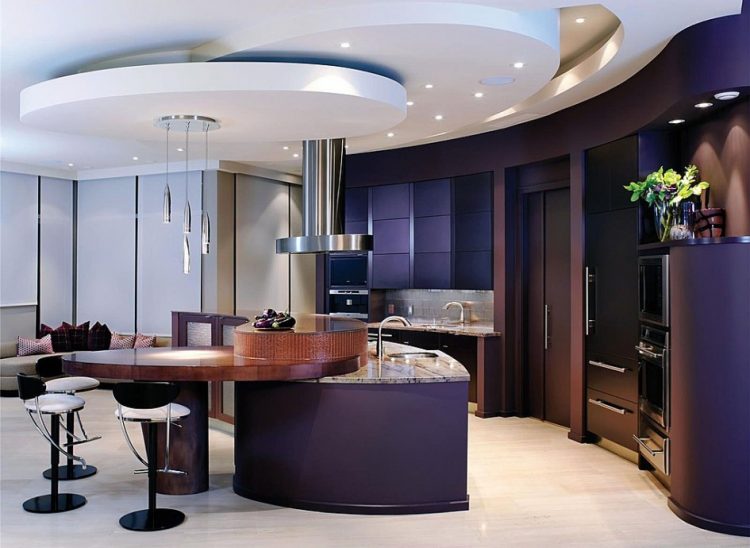 This luxury kitchen features an island with three stools and a breakfast bar.  There's also false ceiling recessed lighting included.
4. Luxury kitchen island with ample seating
This kitchen island is home to six beautiful antique style barstool chairs.  It also sits under four pendant lights.  The kitchen also contains a fireplace and flat screen TV.
5.  Built in cooktop on kitchen island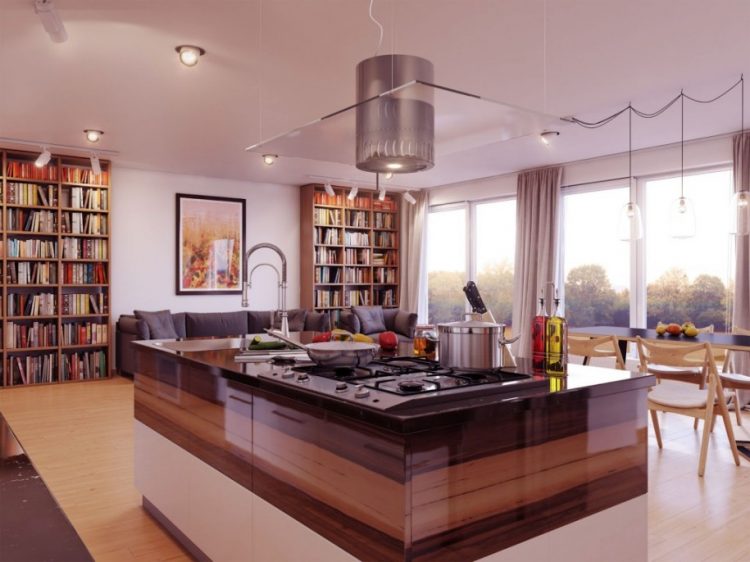 Doing your cooking in the middle of the room is ideal with this cooktop kitchen island that also features and undermount kitchen sink under a canopy glass rangehood.
6.  Luxury classic kitchen design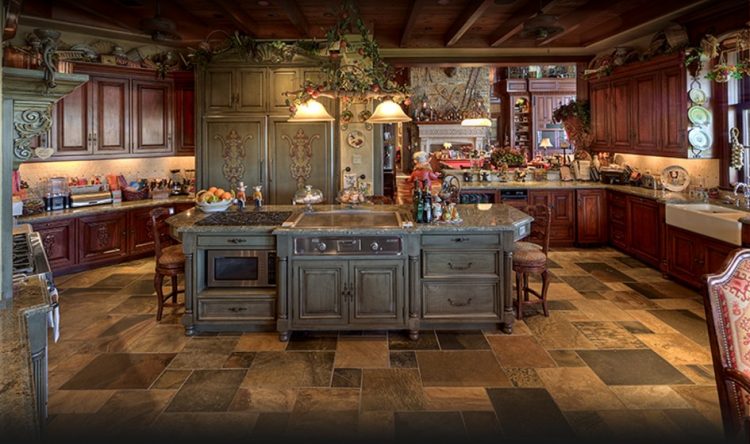 This kitchen island features a butcher block and seating on each end of the island.  It sits under two pendant lamps and is surround by a classic look.  It also contains ceramic tile and classic wooden shelves.
7. White kitchen with marble top kitchen island
This luxurious white kitchen is highlighted with brass fixtures to accompany it's classic yet contemporary style.   It also features a brass chandelier that sits above the marble top kitchen island.
8. Luxury kitchen with glass door wood cabinets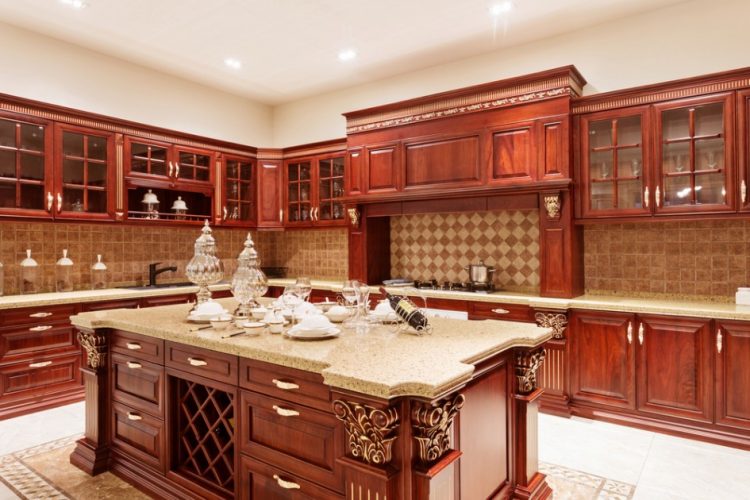 This luxury kitchen design features glass door wooden cabinets and a granite top kitchen island with butcher block.
9. Luxury kitchen island with brushed nickel chandeliers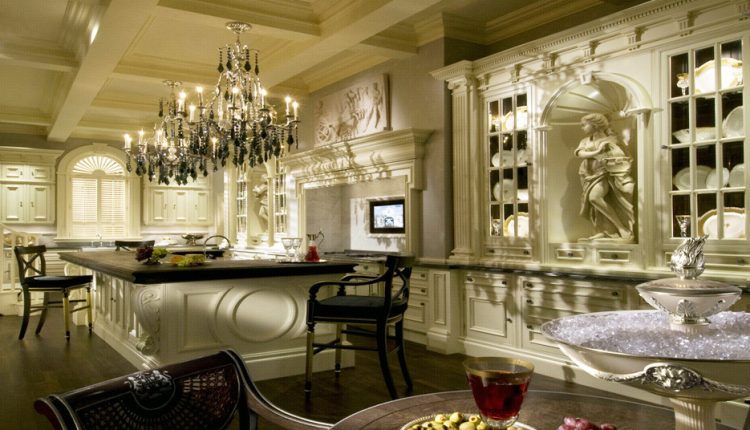 The Greek themed luxury kitchen has an oversized kitchen island with ample seating space and brushed nickel chandeliers overhead.   A breakfast bar is also included with a glass door kitchen pantry.
10. Luxury kitchen island with subway porcelain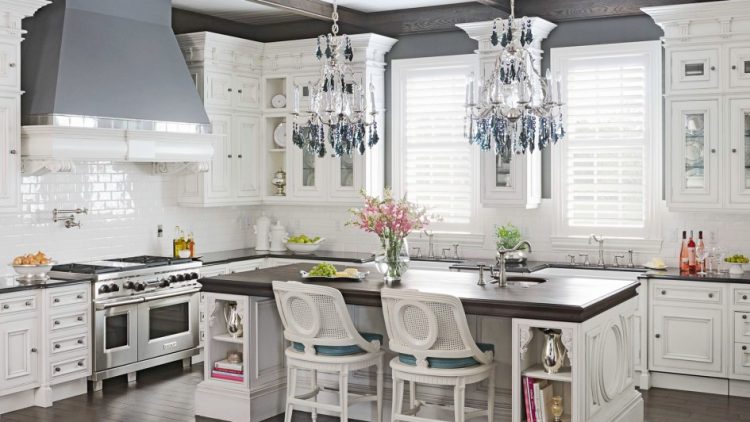 This luxury white kitchen is designed using subway porcelain tile backsplash and has two crystal chandeliers over the kitchen island.
11.  Rounded end kitchen island
While this kitchen isn't particularly large, the island serves multiple purposes.  It has a small sink as well as three chairs.  The kitchen is highlighted by large windows and glass door cabinets.
12. White kitchen island in natural wood design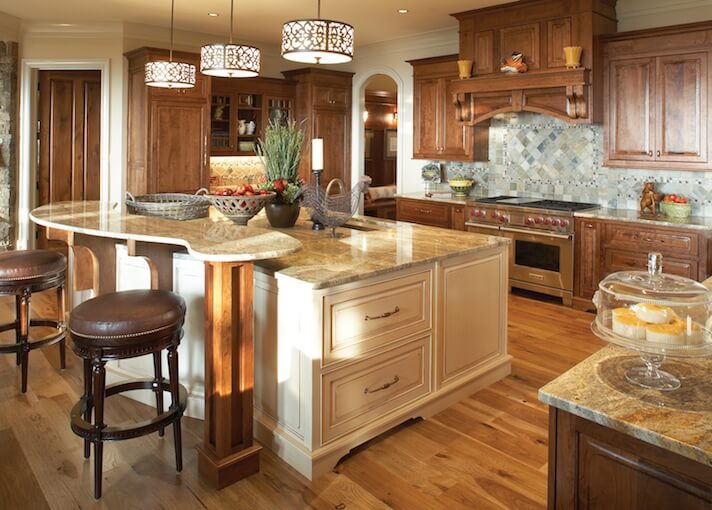 Kitchen island includes adjacent elevated counter creating a 2-tier island resulting in a dedicated counter dining space as well as dedicated work space.  The kitchen itself is surrounded with natural wood design.  The island also sports two round, leather stools.
13.  Dark wood kitchen design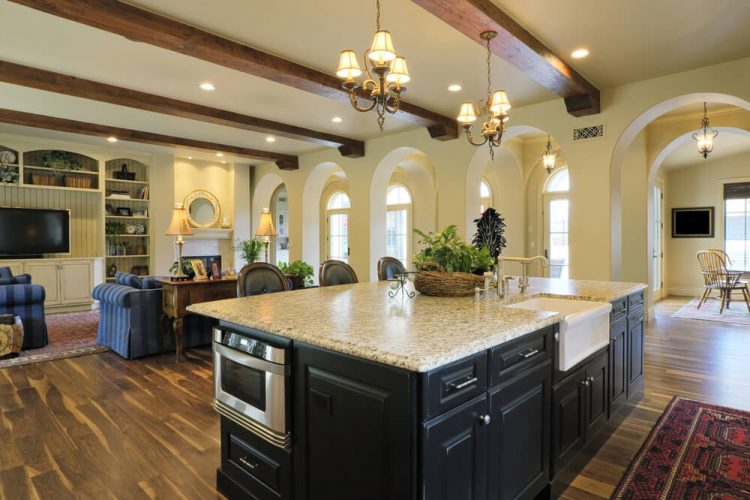 Surround with light yellow, this dark wood kitchen island fits in seamlessly with both kitchen and living space.  It's accompanied by hardwood flooring and a breakfast nook off to the side.
14. Angled kitchen island
In order to fit with this kitchen's unique layout this island was custom made using angles to integrate it with the other sections of the room.  Sitting on top of ceramic tile and surrounded by light merlot colored walls, the beige granite countertops contrast nicely.
15. Pure luxury style kitchen and granite countertop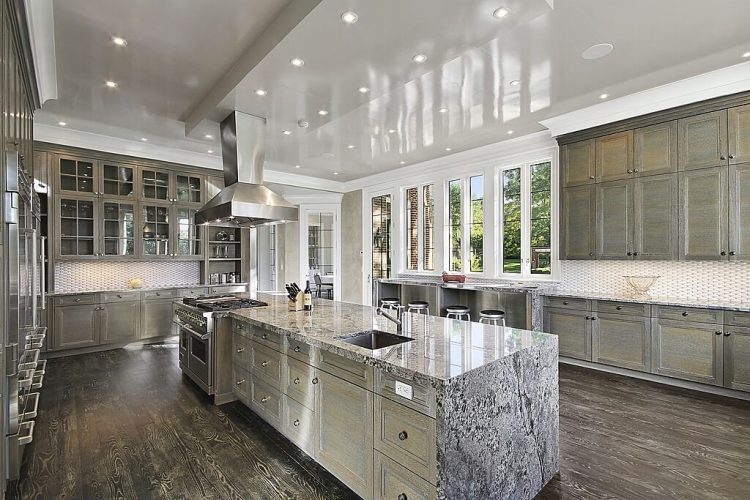 If you're looking for a glitz factor, this might be the kitchen for you.  While the color scheme is somewhat loud, island blends in perfectly with the floors and cupboards.  Solid granite countertops with a built in sink on the kitchen island.  Recessed lighting up top adds a nice touch.
16.  Custom wood kitchen with white island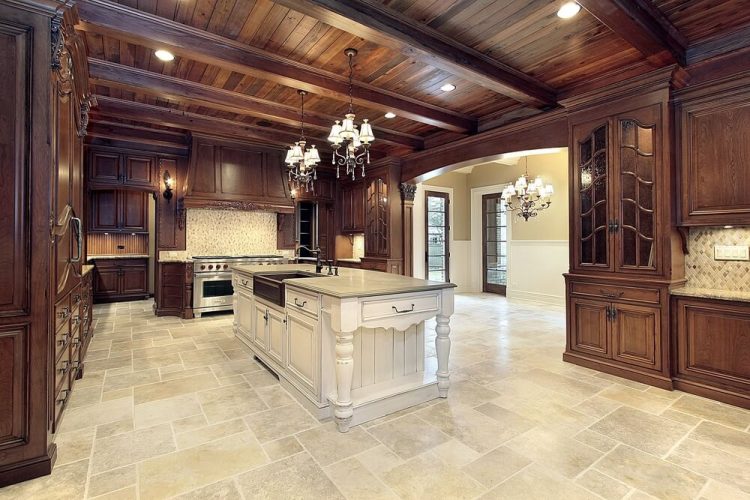 The white kitchen island truly stands out among the dark wooden cabinets and matching dark wood ceiling.   The light floor also offsets the darker tone as well.  There is excellent contrast here.
17. Spacious white kitchen design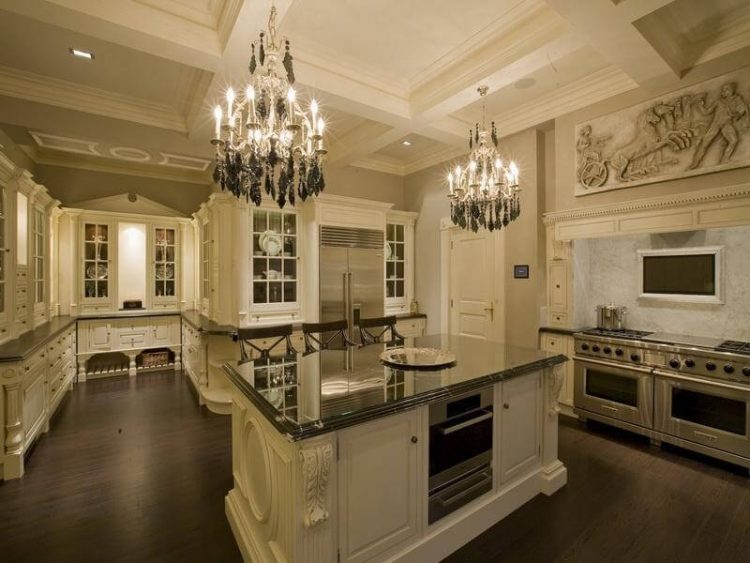 This gorgeous luxury kitchen has dark flooring and countertops contrasted with a white theme throughout.  The kitchen island sits perfectly in the center and is surrounded by top of the line appliances and two chandeliers.
18. Contemporary cabinetry throughout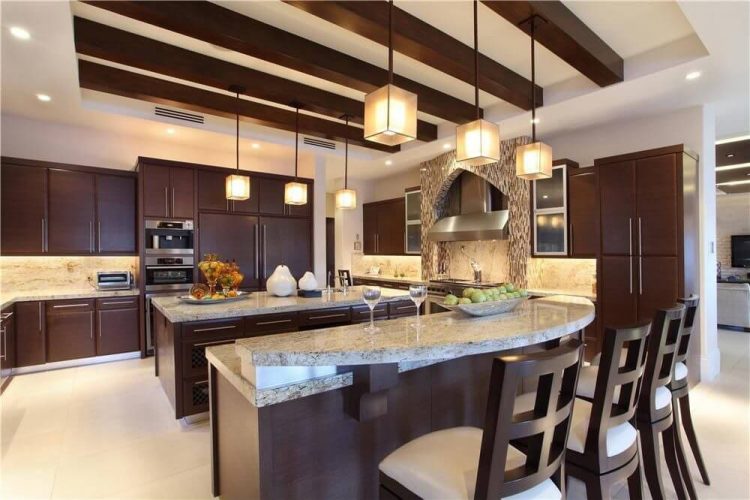 Beautiful dark cherry wood contemporary cabinetry with stainless fixtures .  This luxury kitchen layout includes two islands.  The first island serves as a workspace and the second as a breakfast bar.
19.  Diner-style luxury kitchen
There are two kitchen islands in this massive space.  The first is an eating space that fits eight chairs with ease.  The second is a workstation with sink included.  The countertops also use one of the nicest looking granite patterns you'll find.
20. Luxury modern red kitchen
There's a very "Space Odyssey" feel to those chairs isn't there?  This modern red kitchen features two island.  One small with a sink, the other large with a built in stove and breakfast bar.
21.  Curved kitchen design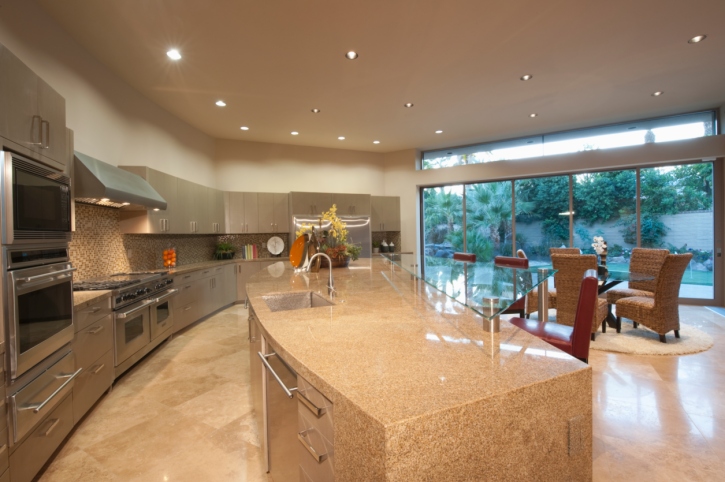 The entire kitchen design is on a curve and the island along with cabinets and appliances fall in line with the curve as well.
22. Custom wood kitchen with dark island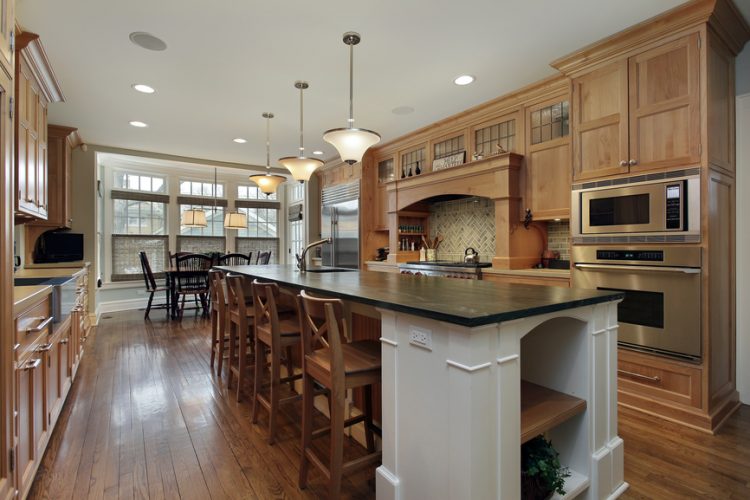 This kitchen proves that you don't need granite or fancy materials for a well placed, stylish kitchen island.   The room blends wood with a modern touch seamlessly.   The kitchen island also comes with a sink.
23. Custom kitchen with stainless steel look
This kitchen design takes a full stainless steel look that includes counter tops sitting on natural wood cabinets offset with stainless steel appliances and a light wood floor.
24. Kitchen with matching island and office countertops
This kitchen adds a small office space that matches the center island which is covered by four hanging lights and a beautiful ceiling with wooden crown molding.  The stainless steel appliances also blend will with the wooden look.
25. Kitchen with an ocean view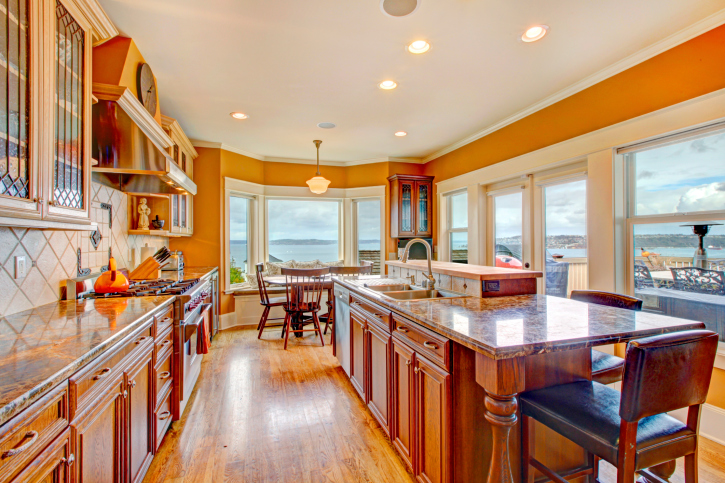 Featuring a wooden kitchen island with granite countertop, dual sink, breakfast top, chairspace, and storage, this kitchen is also in the unique position of facing a beautiful body of water.
26. Bold barstools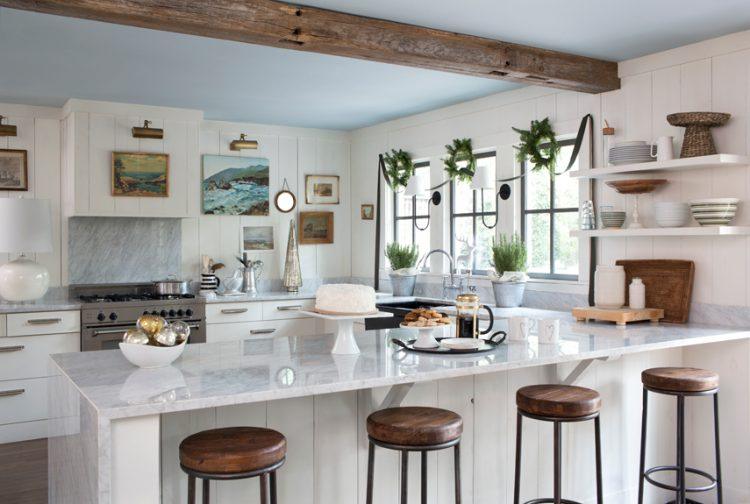 The owner of this home hand built these wood and steel barstools from various TJ Maxx stores to surround her kitchen island to give it a rustic aesthetic.
27. White island with aqua toned seats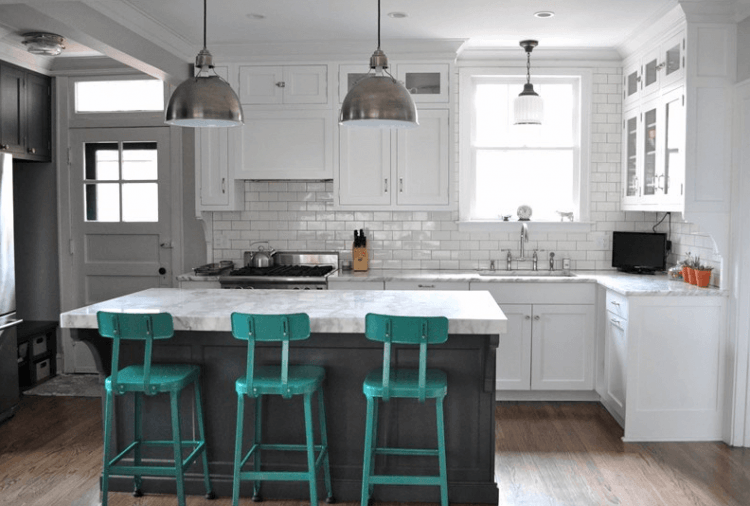 These aqua seats stand out beautifully surrounding a white themed kitchen.  Steel overhead lamps add a nice tough to shine light over the marble counter of the kitchen island.
28.  White kitchen island with wicker stools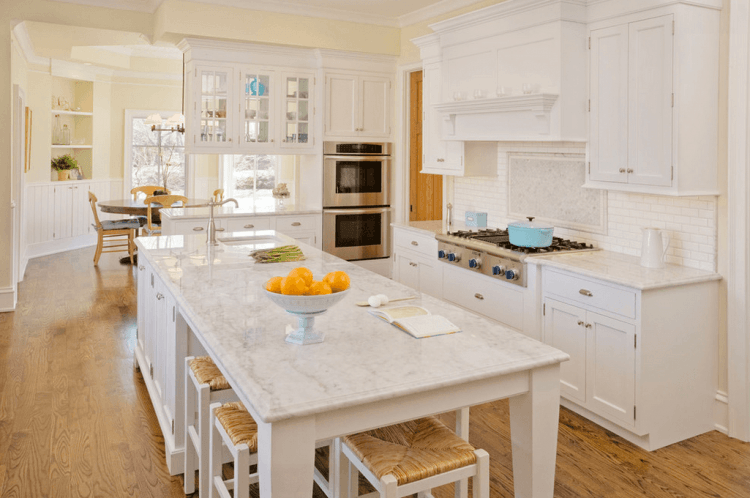 Here's another mostly white themed kitchen making use of it's island by adding a sink and custom wicker stools for sitting.  There's also an additional eating area beyond the appliances that features a nice view of the outside.
29. Modern kitchen with extended island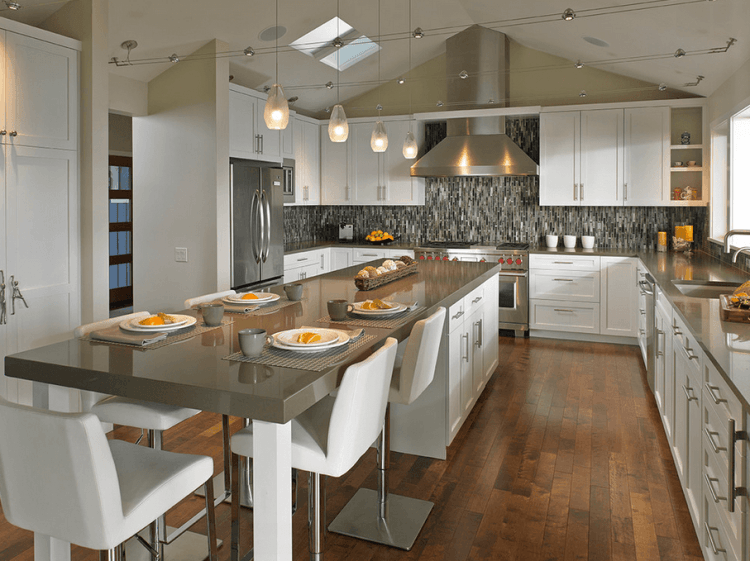 This kitchen island extends to add an area large enough to seat 5.  4 hanging lights sit above the metallic and modern style.
30. Low profile seating kitchen island
This kitchen island sits lower than most and almost has an office desk feel.  There are drawers and cabinets for storage but the space is also utilized to fit up to 5 chairs.
31. Kitchen island dining area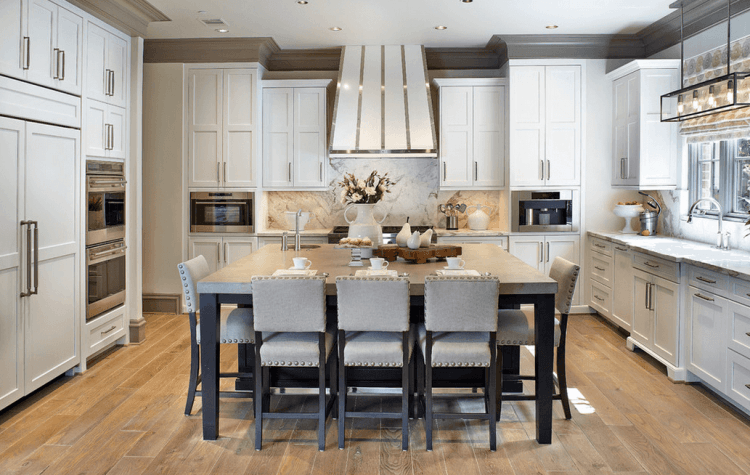 In this gorgeous gray themed kitchen, the island serves as a dining area seating five comfortably.  The island also features a sink.  It's surrounded by gray toned cabinets and ample storage space.
32. Long kitchen island with bar-like seating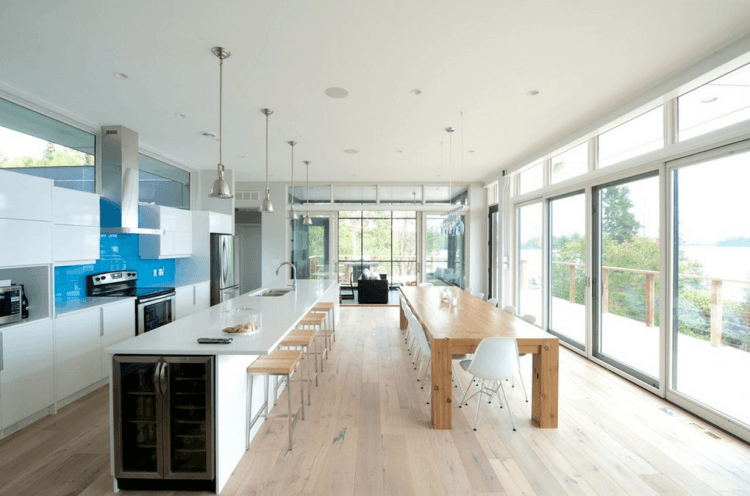 You won't often see a kitchen island this long but here is one that creates a bar-like atmosphere.   Adding to this is a built in wine cooler at each end.
33. Social space kitchen island
This is one of the most all-in-one kitchen islands you can set up.  With a seating area, built in cooking area, storage space, and sink, there's almost no reason to leave the kitchen.
34. Dual level kitchen island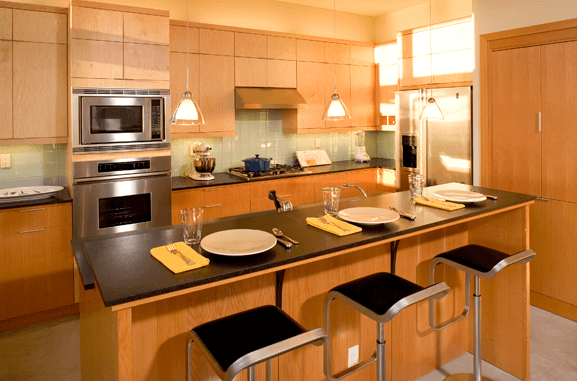 With this kitchen island you create two spaces.  The first is a breakfast bar featuring 3 modern stools.  The second if the cooking and preparation area that houses a sink.
35. Multi level kitchen island with stump stools
This kitchen island featured low to the ground seatin well with functional food prep space.  It's also dual level.
36. Multi level brown contrast kitchen island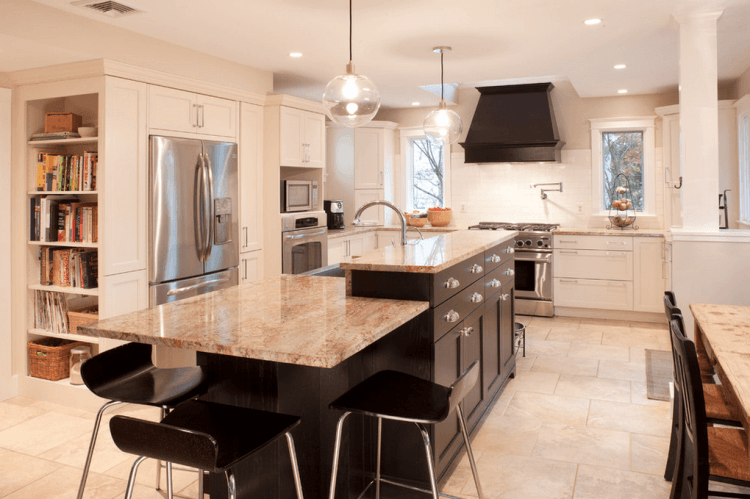 Here we have another multi-purpose, multi-level kitchen island.  The lighter toned granite is contrasted by dark cabinetry as well as modern chairs.
37. Multi level wood and white kitchen island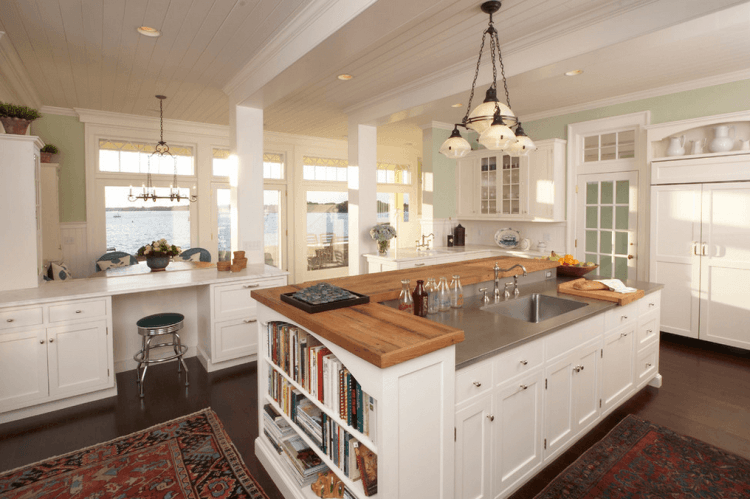 This kitchen island has more of a rustic feel highlighted by the wooden texture, built in bookshelf, and surrounding area rugs.
38. Kitchen island with abundant storage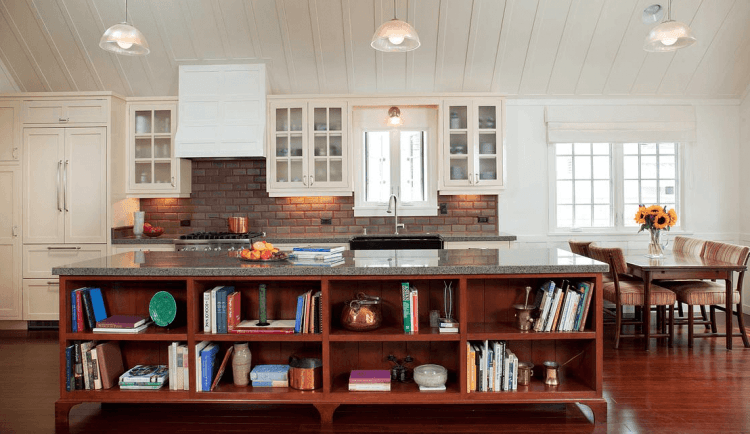 With this kitchen island you can display books and other items with the installation of open shelving.  But the island still serves it's kitchen duties with the addition of a sink and granite countertop.
39. Red storage kitchen island
While space is somewhat lacking here, all of the space is used up with the addition of a built in wine rack at both ends.
40. Blue storage kitchen island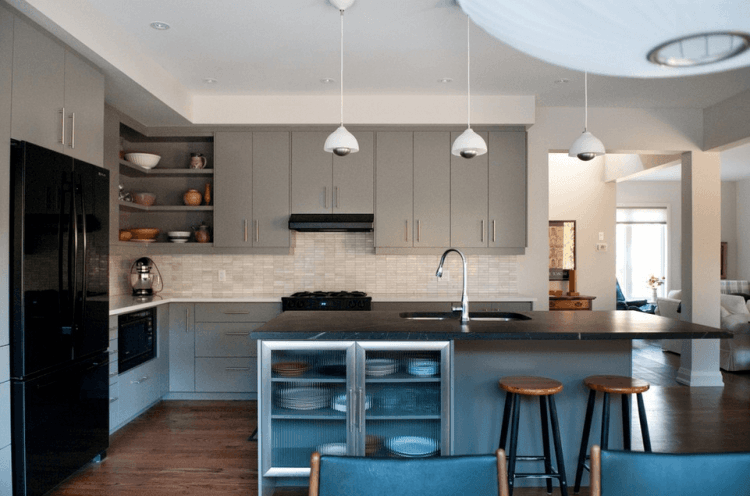 Here the owner got creative with the cabinetry but using glass doors.   There's also room for two barstools and casual eating space.
41. Light wood storage kitchen island
A large wooden island makes a statement in this kitchen.  It goes along perfectly with the obvious theme of cooking.
42. Storage kitchen island with hanging shelf
This modern kitchen has a narrow island housing 5 seats giving off a bar theme which is highlighted by the hanging shelf above for storing bottles and glasses.
43. Range hood white kitchen island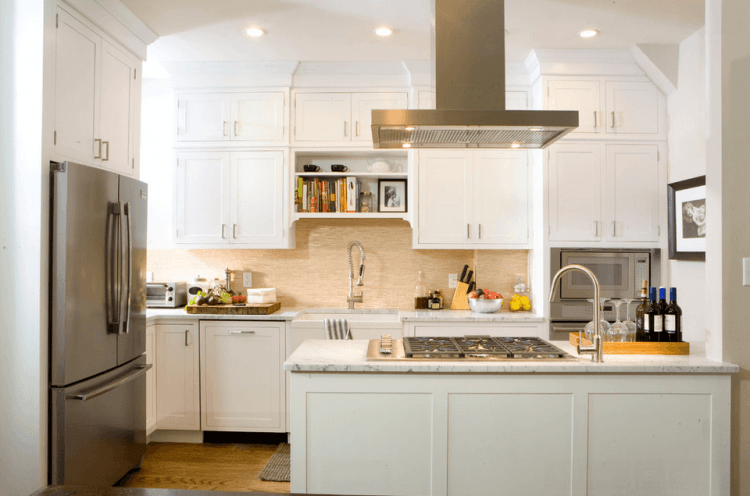 Sometimes range hoods can look invasive in a kitchen but in this case the hood amplifies the kitchen island that has its own cooking area and faucet.
44. Light wood kitchen island with space above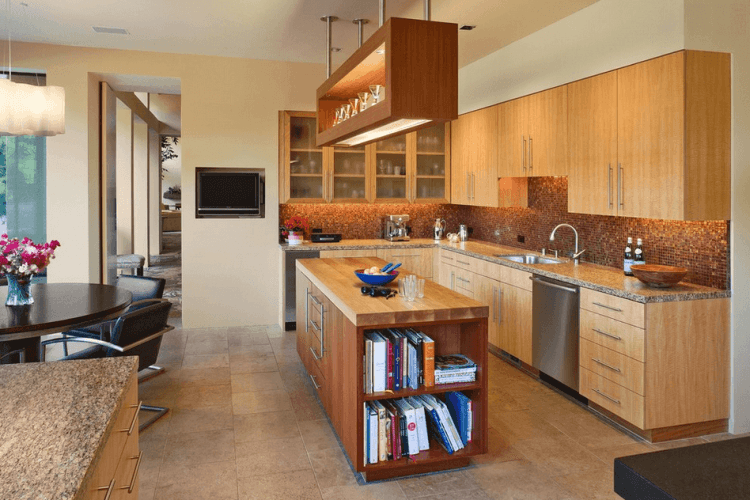 Another narrow kitchen island, this time made from wood that is highlighted by the wooden hanging shelf above that stores glasses and bottles.
45. Kitchen island with metal hanging shelf
Beautiful kitchen island with seating area, and metallic hanging shelf above perfect for storing pots and pans.
46. Modern all white kitchen island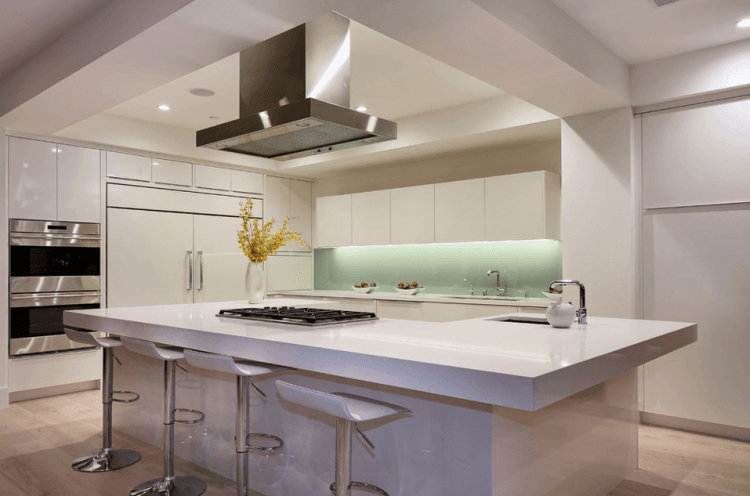 Given the dimensions of this kitchen, the range hood has a slick, unobtrusive feel and hangs seamlessly over the all white island equipped with cooking range and sink.
47. Kitchen island with hanging pots
Kitchen island with unique design featuring a built in a rotating wooden cutting board and matching set of pots in a metallic shelf overhead.
48. Two level island with built in shelves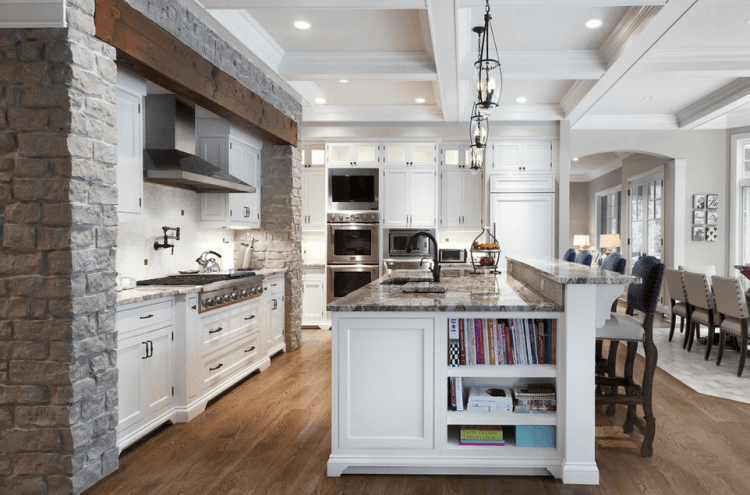 Gorgeous multi-level island with gray granite countertops, a breakfast bar, built in book shelves, and a sink.
49. Kitchen island with social prep area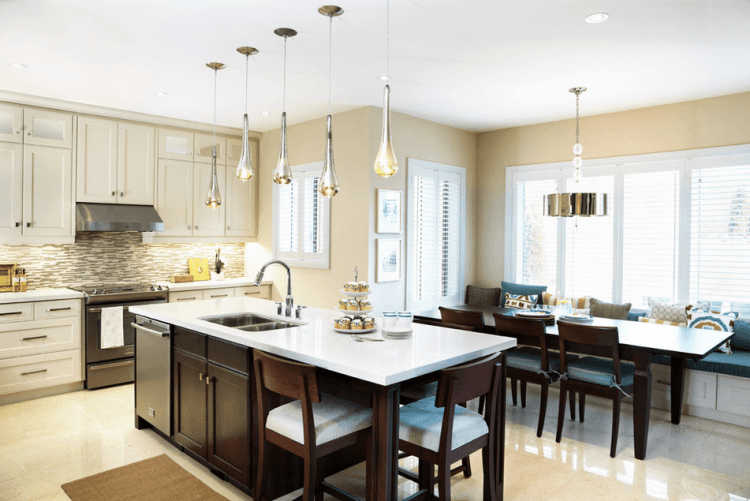 While there's already a formal dining table in this kitchen, the matching island provides another eating and prep area that calms the room.
50. Countertop island diner style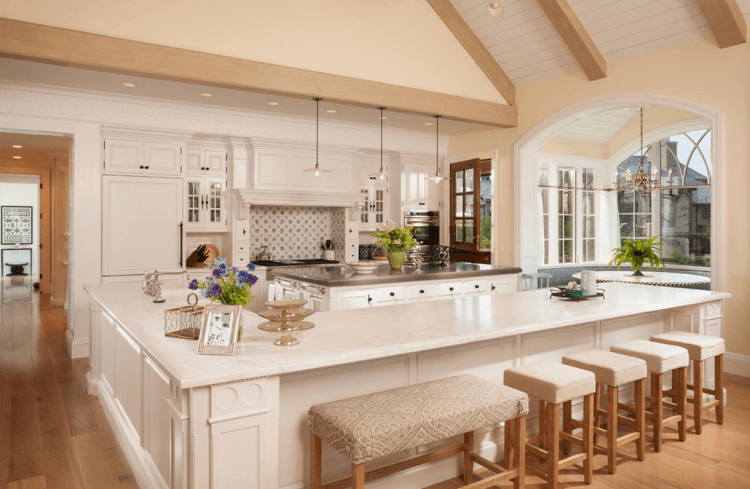 This is another wrap around kitchen island which helps frame this space that has an open layout.