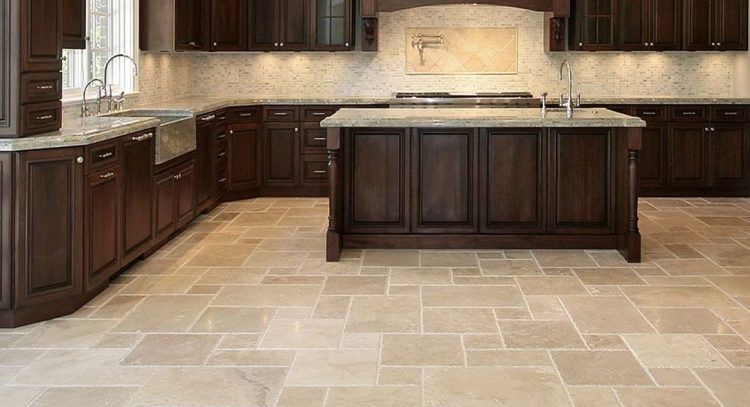 While there are several types of flooring and backsplash material you can choose from for your kitchen, tile is the best choice. Kitchen tile is durable, lasts a long time, is easy to clean, and comes in an assortment of colors, sizes, patterns, and even textures to choose from. Kitchen tile doesn't absorb odors or bacteria. This makes it a safe and sanitary option for your kitchen. It is strong enough to handle heavy foot traffic as everyone goes in and out, pets and children running around, the occasional pet accident, as well as an accidental food and drink spills.
Kitchen tiles come in a wide array of materials, colors, and sizes. This versatile kitchen flooring option offers something for everyone's style and every kitchen's theme. You can choose from the popular ceramic kitchen tiles, pretty porcelain kitchen tiles, earthy stone kitchen tiles, durable vinyl kitchen tiles, shiny metal kitchen tiles, or elegant glass tiles. You can also choose the shape of your kitchen tiles. While large square kitchen tiles are most common, you also have the option of octagonal, hexagonal, and triangular shapes. Or, you can just turn your squares and make them into diamonds.
As with any type of flooring, kitchen tiles require proper installation, care, and cleaning. Each type of kitchen tile is unique and has different requirements. It is important to know this prior to purchasing tile as that will help you to determine which kind you finally decide on installing in your kitchen.
Here are five types of kitchen tile to choose from.
Ceramic Kitchen Tile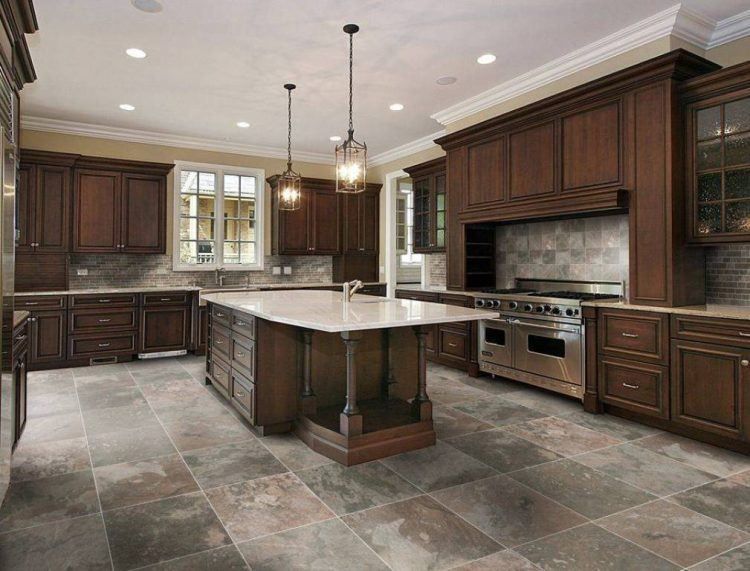 Ceramic tile is one of the most common tiles used in the kitchen. They are made of a mix of water, clay, and minerals that are fired at high heat. You can buy ceramic kitchen tiles in glazed or unglazed forms. Glazed ceramic tiles are treated with a liquid glass coating that makes then scratch-resistant, stain-resistant, and very hard.
Ceramic tiles are affordable and durable. They are available in a wide variety of colors, patterns, and designs. They are also pretty simple to install. With ceramic tiles, you can get creative. Because they are affordable and available in so many colors, you can change it up a bit and do checkered or multi-colored floor or even make a tile design.
Checkered flooring does not have to be the boring old black and white. For a grape and vine theme, for example, try a deep, dark purple with a cream or light brown color. You can really have your kitchen make a statement with ceramic tiles.
Top ceramic tile brands
Ann Sacks Tile & Stone, Salerno, Prima Tile, Daltile, Anatolia
Best type of kitchen for ceramic tile
Ceramic tiles can work in any type of kitchen. They are durable and work well in the kitchen of a family due to the tiles being kid-friendly as well as pet-friendly. They are affordable, so if you are just starting out or doing a low budget remodel, this would be the best tile for you. Plus, you can find a tile to match any kitchen design. If you are a DIY kind of person, ceramic tiles are an excellent option because they are super easy to install.
How do you clean and maintain ceramic tile?
Ceramic tile is easy to care for. However, you must use proper cleaner. Using the wrong cleaner can result in build-ups and slippery tiles. You can sweep or vacuum the tiles. Mix a tile and grout cleaner with water per the instruction on the bottle, apply, let it sit a few minutes, then mop it up. Rinse with clean water when done, dry mop, then wipe clean.
Porcelain Kitchen Tile
Porcelain tile is a type of ceramic tile. It is less porous than ceramic tile because it is fired at a higher temperature. They are made from sands and materials and are harder then ceramic tile. Porcelain tiles are water resistant, but they are also harder to install. Porcelain tlle comes in a variety of colors and sizes
Top porcelain tile brands
Torino, Daltile, Cabot, Takla, Salerno
Best type of kitchen for porcelain tile
Porcelain tile is easy to clean and stain resistant, so if you have a kitchen with lots of spills, this might just be the tile for you.
How do you clean and maintain porcelain tile?
Porcelain tiles are a type of ceramic tile, so care and maintenance is just as simple. Sweep or vacuum the floor. Do not use harsh or abrasive cleaners or hard bristles. Using a tile and grout cleaner, mop the floor the same as directed for ceramic tile.
Glass Kitchen Tile
Glass kitchen tile is composed of thin pieces of glass. They are either individual pieces or as a mosaic. While some glass kitchen tiles are used on the floor, it is mainly used as a backsplash. It can also be used as an accent in other kitchen tile designs. It can be used with ceramic, porcelain or stone tiles. Glass tile is harder to install and is best left to the professionals in order to achieve the best results. Glass kitchen tiles add a touch of elegance and beauty to your kitchen.
Top glass tile brands
Shades of Stone, The Tile Mural Store, Tilesbay, Susan Jablon Mosaics, SomerTile
Best type of kitchen for glass tile
Glass kitchen tiles make excellent backsplashes for any kitchen. They come in a variety of transparent colors, so there is something to match every kitchen color and theme.
How do you clean and maintain glass tile?
Glass kitchen tile is easy to care for and clean. All you need to do is wipe the glass surface with a damp cloth or sponge with water or a vinegar solution. if you need a stronger cleaner, use a non-abrasive cleaner.
Stone Kitchen Tile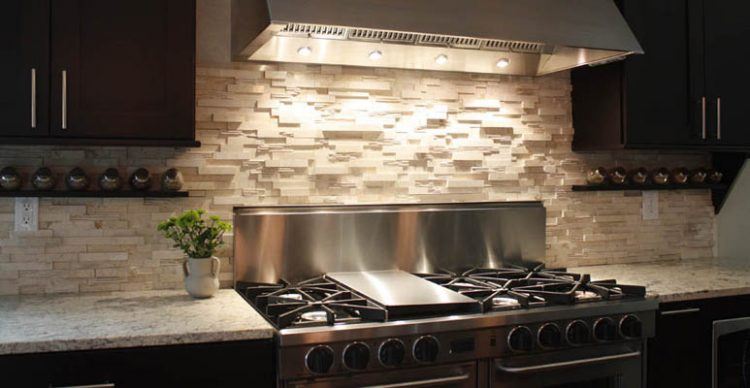 Stone kitchen tile are made from pieces of natural stone. There are many types of stone that can be used. The most popular are slate, granite, marble, onyx, travertine, and sandstone. Stone has a unique look that you can't get with any other tile. It can be used on floors, walls or as a backsplash. Stone kitchen tile requires more maintenance than other types of tile and is a little more expensive than ceramic or porcelain. Stone kitchen tiles offer a natural and stylish look for your kitchen. Granite and slate are the best stone choices for a kitchen floor because they are nonporous.

Top stone tile brands
Shades of Stone, Marbleville LLC, MC Tiles, Stone Center Online, Premier Worldwide
Best type of kitchen for stone tile
Stone kitchen tile can become damaged if it comes in contact with water. If you have a kitchen with a lot of spills, you may want to opt for a more durable kitchen tile. Stone kitchen tile is naturally hard and cool, so it is perfect if you live where it is hot.
How do you clean and maintain stone tile?
Stone kitchen tile must be sealed when it is installed and re-sealed again every ten years or so.You should sweep, vacuum or dust your stone kitchen tile on a regular basis. Daily would be best. If you vacuum the floor, turn the roller or brush off or it may damage your floor. Two times a week at least, you should wipe the floor down with a damp mop or steam mop. Use a stone floor cleaner and do not leave water on the floor or it will dull the stone. Do not use cleaners with acid, vinegar, chlorine or ammonia.
Vinyl Kitchen Tile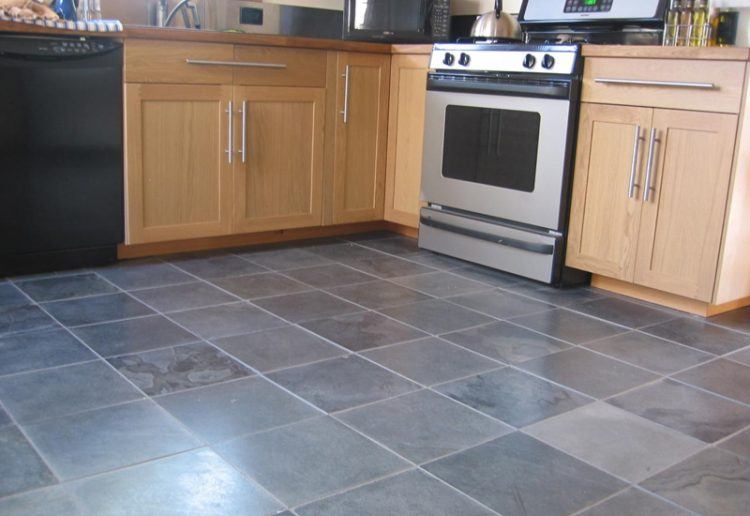 Vinyl kitchen tiles allow you to achieve high-end, sophisticated floors that are more durable for a more affordable price. You can purchase vinyl flooring that looks like real wood floors, natural stone floors, even ceramic floors. Plank vinyl tiles look like hardwood floors without the cost and maintenance required.
Top vinyl tile brands
Armstrong, Vesdura, Ovio, St. Erhard

Best type of kitchen for vinyl tile
Because vinyl kitchen tiles are so versatile and are available in almost any form, they are an excellent choice for any kitchen. If you are renovating on a budget or a DIY fanatic, this is a great choice for you. If you love stone floors or hardwood floors but can't afford them or want to deal with the high-maintenance, choose vinyl.
How do you clean and maintain vinyl tile?
You should sweep your floor at least once a week and occasionally mop it as needed with a cleaning solution recommended for the type of vinyl flooring you use. Soap and detergents are not recommended.