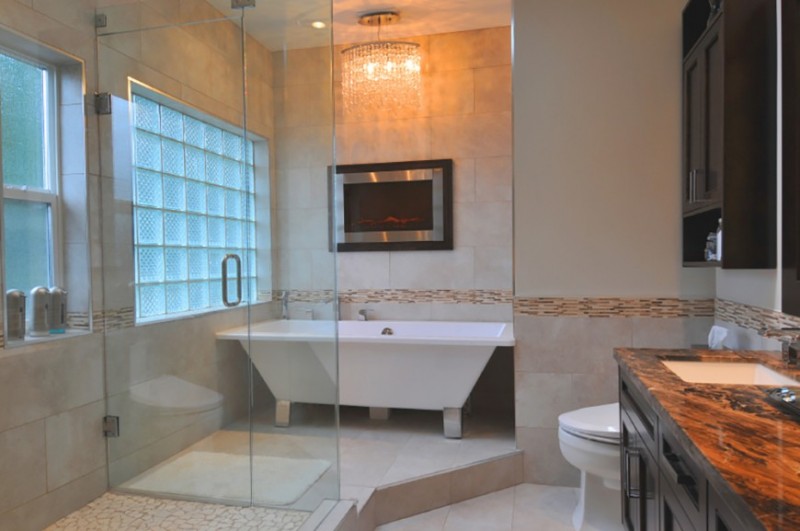 Over time, bespoke bathroom designs have become increasingly popular. With designs that are all about being unique and creative, it's easy to see why it's been love at first sight. Although a bathroom may seem like a strange place to focus on aesthetics, those who are into home design know that the key to making your house look great is making sure that no room goes untouched. With that being said, the bathroom can be a perfect place to add a touch of luxury, and what says luxury better than a beautiful chandelier. Sure, these fancy lighting fixtures are typically seen in dining areas or entryways, but they can also be a great addition to any bathroom. If you're looking for a way to add a classy touch to your space, this might be just what you need. Here are 20 bespoke bathroom designs with chandeliers.
image via homestratosphere.com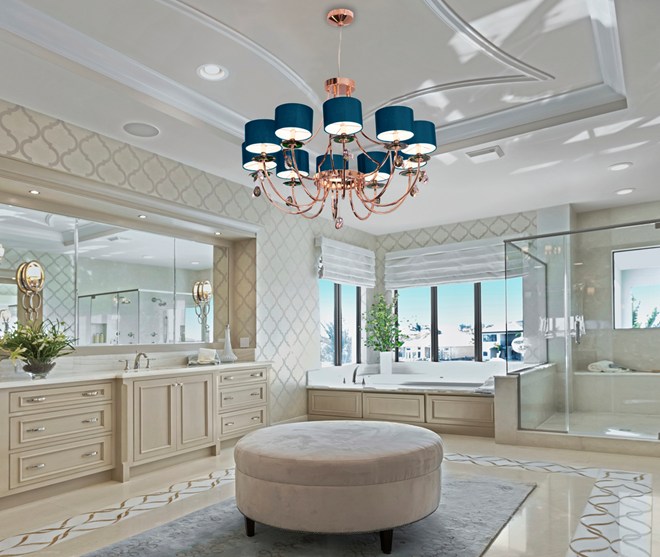 Bespoke bathroom designs are becoming increasingly popular among people who want their bathrooms to stand out. To some people, a bathroom may not seem like a room worth a luxurious design, but those who understand the importance of beautiful home know that no room can go untouched. But for those looking to add an extra special touch to their bathroom, nothing says luxury like a beautiful chandelier. Although these fancy lighting fixtures are typically reserved for entryways and dining areas, they can also add a nice touch of class to a bathroom. If you're looking for a way to take your bathroom to the next level, this may be the answer you need. Here are 20 gorgeous bespoke bathroom designs with chandeliers.
image via www.insideid.co.uk
One of the best things about bespoke bathroom designs is that they're unlike anything else. From start to finish, this beautiful bathroom is unique and eye-catching. The use of the freestanding steel black tub and the intricate chandelier are perfect the perfect combination, and help bring this design together nicely.
image via www.maisonvalentina.net
Although chandeliers are typically made of fancy crystals, this simple design proves that even without the usual glitz and glamor, a chandelier can still be a great addition to your bathroom.
image via www.hglivingbeautifully.com
Why go with a simple and traditional lighting fixture when you can get something like this? This beautiful dome-shaped crystal chandelier adds the perfect finishing touch to this sleek bathroom. With a design like this, your bathroom will feel like the lap of luxury.
image via dellacooks.com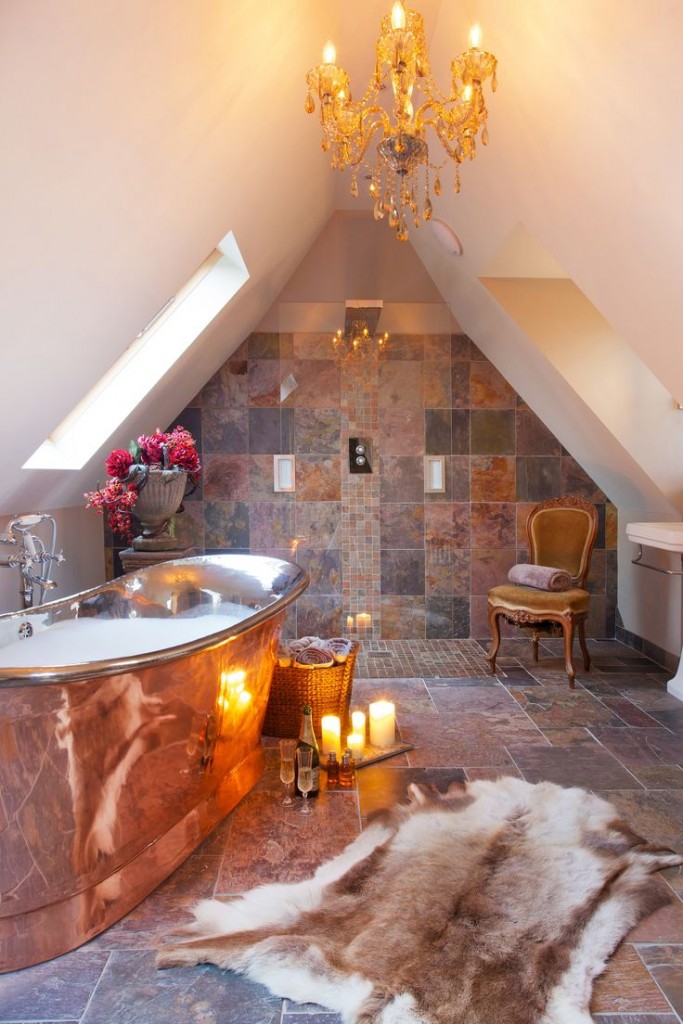 For many people, bathrooms represent one of the only places in a house where they can go and enjoy some true alone time. After a long day at work, nothing beats sitting in the tub and letting go of the stress of a busy day. With that being said, can you imagine what it would be like to soaking in this beautiful tub and looking up at the ceiling to see this incredible gold chandelier?
image via covetlounge.net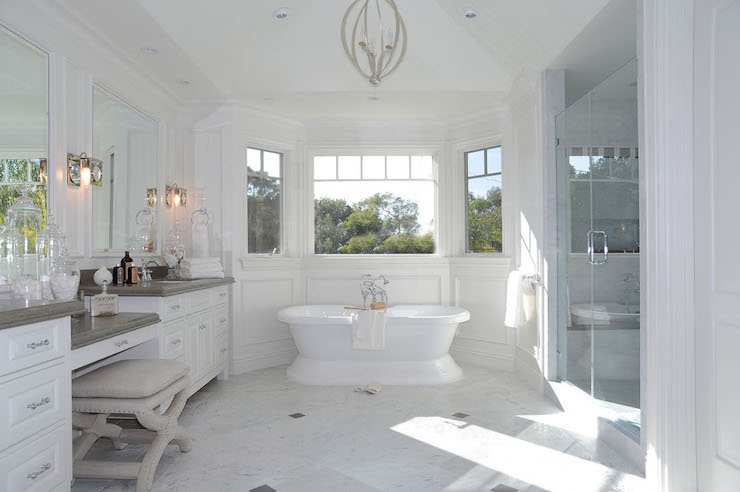 No matter which room you're in, nothing beats natural lighting, and that's something this all white bespoke bathroom design definitely has plenty of. But if the natural lighting isn't enough, this unique chandelier will be able to light the way.
image via decorpad.com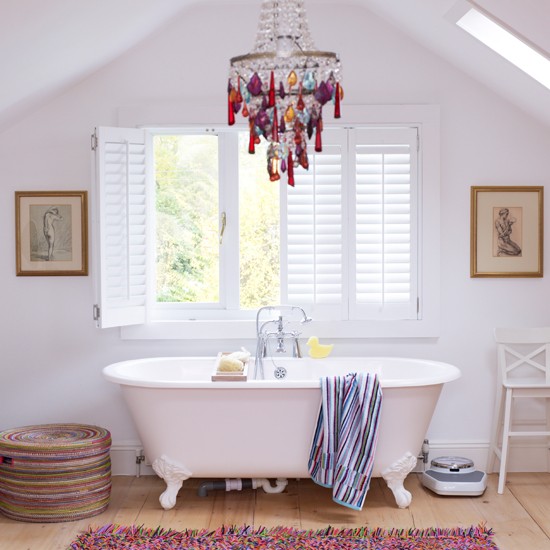 Unfortunately, bathrooms are one place where many people don't feel comfortable experimenting with color. In fact, if you think back on most of the bathrooms you've been in – it's safe to say many of them were pretty plain. However, this creative design buts a different spin on the classic bathroom with a colorful crystal chandelier.
image via houstohome.co.uk
Although this elegant bathroom takes a minimalist approach on the design, it certainly doesn't skimp on any of the details. The sleek crystal candlestick chandelier is the perfect match for this slender freestanding tub.
image via www.floatglassdesign.co.uk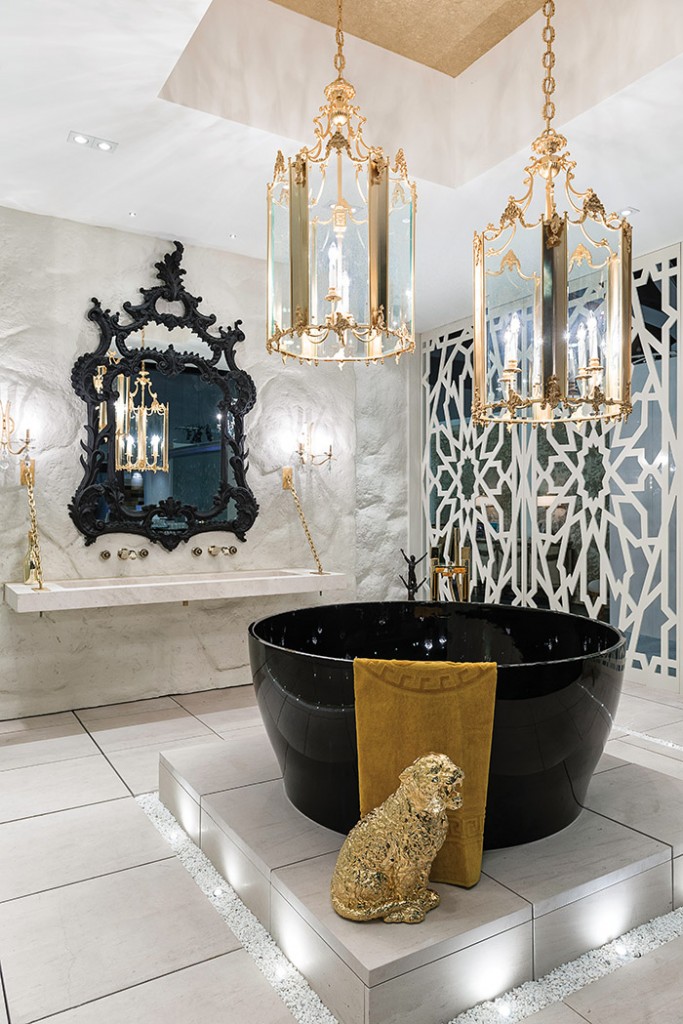 Can you imagine having a bathroom like this? This outstanding bespoke design is all about creating luxury by using the unexpected. Full of black and gold finishes, this bathroom is probably unlike anything you've ever seen. If the round black tub or the gold lion don't get your attention, the twin golden chandeliers certainly will.
image via tasteoflifemag.com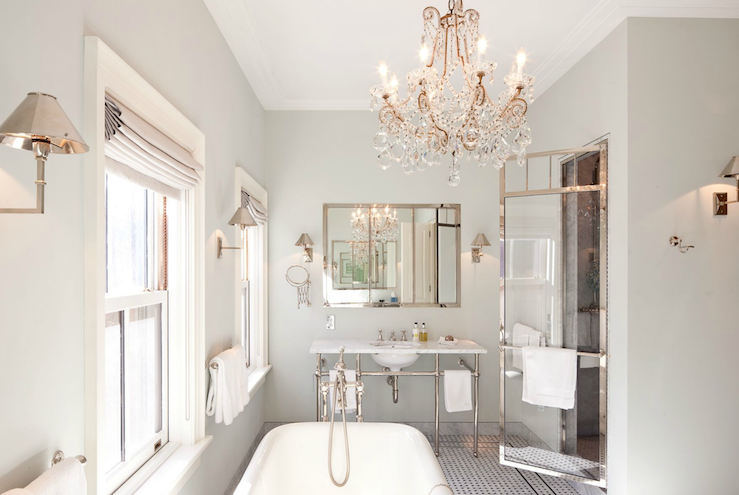 Sometimes even the most luxurious designs know how to keep it simple, and this lovely bathroom is a prime example. Despite the fact that there aren't a lot of things going on in this bathroom, it still maintains a cool and clean look – partly thanks to this lavish chandelier.
image via juxtapost.com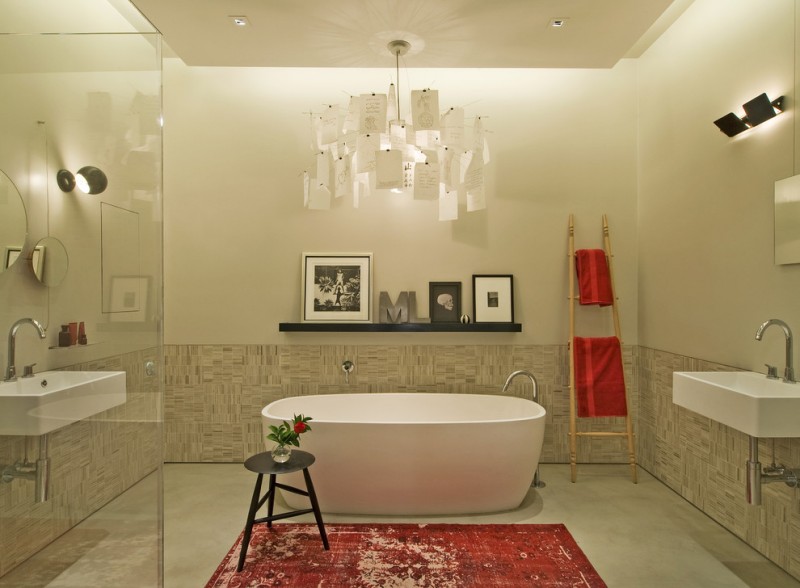 This trendy modern bathroom is all about providing lots of cool open space to relax. Although throw rucks aren't something you see very often in bathrooms, this white and red rug adds a nice pop of color to this otherwise neutral bathroom. With a lovely freestanding tub, and an even more lovely chandelier, this bathroom is proof of what great things can come when people put time and effort into their design.
image via ficcoes.org
Copper bathtubs aren't something you see every day, but this bathroom is so beautiful it'll make you wish you saw them more often. Although a safe bet would have been also going with a copper chandelier, this design decided to take a well-calculated risk by going with a more silver color.
image via www.bohen.co.uk
There are probably lots of people who would like to add a chandelier to their bathroom, but feel as though their space simply isn't 'nice' enough. However, this design proves that even in more traditional style bathrooms, chandeliers can still be a great choice.
image via homedit.com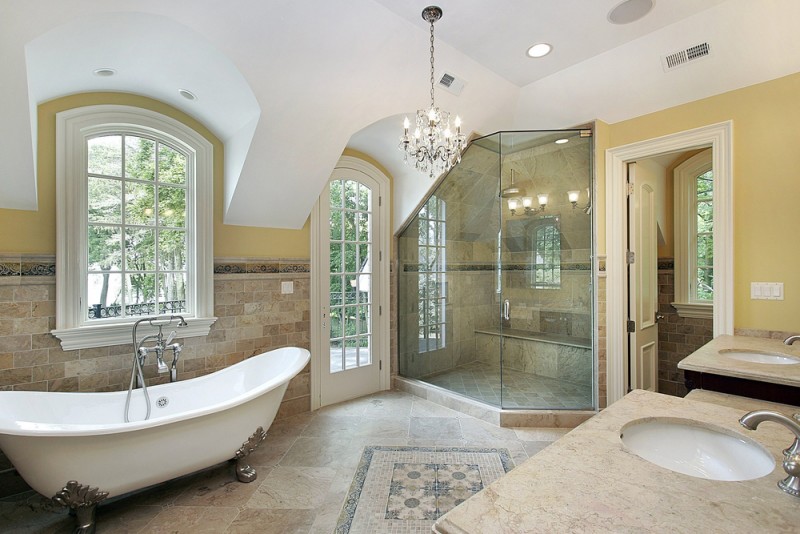 Sometimes, all a bathroom needs is a chandelier to take it to the next level, and this is a perfect example. While the bathroom itself is certainly attractive, the chandelier is what really gives it a little bit of extra oomph.
image via lightmynest.com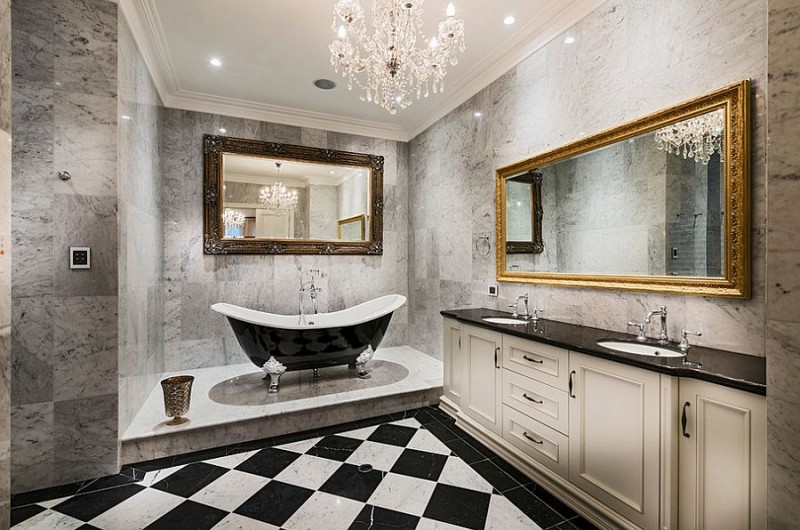 This classic style be spoke bathroom features a pedestal design that allows the bathtub to be slightly elevated. The smooth combination of black and gold plays well the crystal chandelier, and the double mirrors help the room feel spacious.
image via decoist.com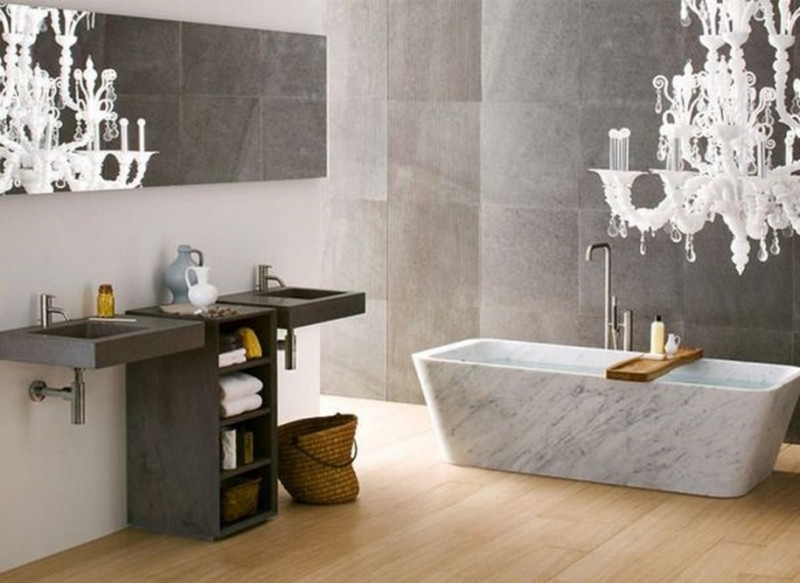 There are classic designs, there are contemporary designs – and then there's this. Taking a few steps into the future, this cool bathroom is all about keeping things stylish with a stone tub and a milky white chandelier.
image via www.blairmus.com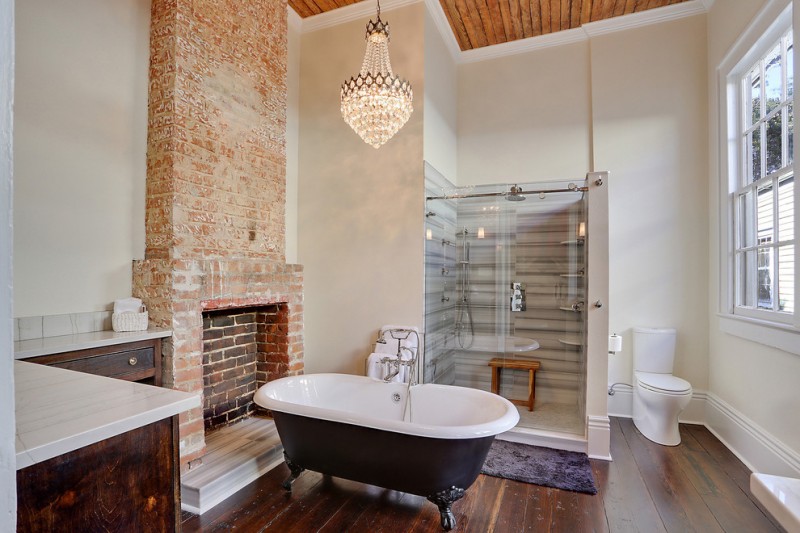 There's a good chance that you haven't seen too many bathrooms with fireplaces, but this design has got it all. With a mixture of modern, classic, and rustic designs – it's only fitting that this beautiful bathroom top it off with an elegant chandelier.
image via apartementlifestyle.net
This is another example of how choosing the simple route can be the best way to go. Without the chandelier, this bathroom probably wouldn't be anything special. But with it, it goes from average to awesome in a matter of seconds.
image via crevehouse.com
When it comes to amazing bespoke bathroom designs, this is one has it all. With wooden cabinets and marble counter tops, it's only right that this lovely design finish off with a classic crystal chandelier. Whoever said you can't have it all probably hasn't seen this bathroom before.
image via inovah.com