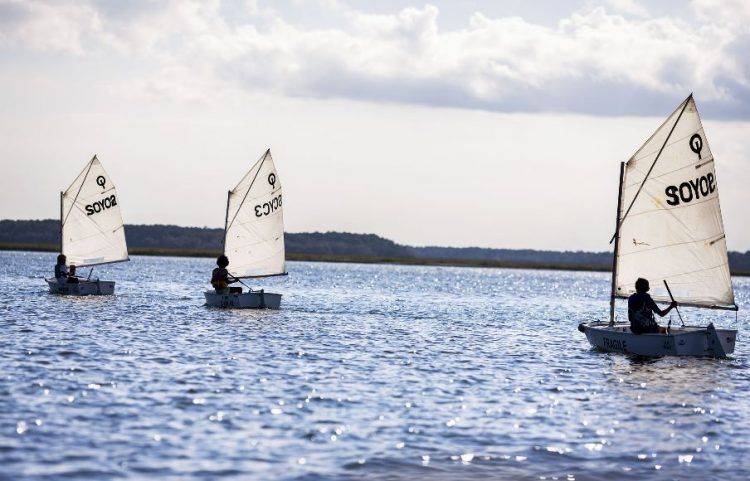 Sailing is a pastime that plenty of people around the world enjoy and perhaps nowhere else than right here in the U.S. From the east coast to the west coast, there are numerous beautiful marinas where you can buy, rent, charter or dock a sailboat. Some aren't even near an ocean but afford sailors a great sailing experience on a large lake or even a chain of lakes. But, since our preference is open ocean sailing, and perhaps yours is as well, our list of the top 10 U.S. cities for all you people who love sailing is compiled from the best of the best cities for sailing that offer excellent ocean access.
So, put on your Top-siders, motor out of one of these gorgeous harbors, and put up those sails. And, after you've trimmed them, you can turn off your engine and hear only the whoosh of the water as your bow cuts through it, or maybe you'll want to add just a little sailing music courtesy of Jimmy Buffet.
1. Marina Del Rey, CA
Marina Del Rey is the perfect SoCal place for exploring the welcoming harbor and the amazing restaurants and shops that surround it. From yacht brokers to cocktails, this marina is the place to be and especially if you're into sailing. From small sailboats to beautiful yachts, you can see them all in the premier sailing destination in the Los Angeles area. The California Yacht Club in the marina is one of the top private yacht clubs in the U.S., where history and yachting tradition have been beckoning to sailors for more than ninety years now.
And altogether, Marina Del Rey offers six yacht clubs, a number of first-class facilities, and nineteen anchorages. So, whether you're a novice or an experienced sailor, you'll find that getting from the marina to the open water of the Pacific is as easy as can be.
2. San Diego, CA
Home of the Mission Bay Yacht Club, San Diego has plenty to offer sailing fans, especially if you want to sail down to the coast of Mexico. From Hobie Cats to sailing yachts, and from sailing lessons to regattas, Mission Bay in San Diego has it all. And, San Diego also has several other yacht and sailing clubs, including the San Diego Yacht Club, the Southwestern Yacht Club, the Silver Gate Yacht Club, and the Scuttlebutt Sailing Club. Add to that the wealth of fine restaurants around the marinas and you've got the quintessential sailing experience. From food to fine wine to smooth sailing waters, San Diego has it all.
3. Ft. Lauderdale, FL
This is the main jumping off point for those who are sailing from the states to the Bahamas. Sailboaters stock their boats, large and small, in Ft Lauderdale, file their float plans and then set sail for West End, Grand Bahama to clear customs and enter the Bahamas. If you do plan this trip, however, be sure to depart at night, so that you'll be reaching the Bahama banks during daylight hours as navigating the shallow banks at night can be tricky for even the most experienced sailors.
That's why the locals all know to shove off from Lauderdale when it's dark. And, if you're looking for a sailboat or yacht to purchase, Lauderdale is the perfect place. The selection is amazing and the yacht brokers there are consummate professionals at what they do. They're sure to find your dream sailboat or yacht for you and can also steer you to some of the best boatyards in the area for any renovations you might have in mind prior to shoving off.
4. St. Augustine, FL
The oldest city in the nation is about as historical as it gets, but its marinas are beautiful and modern, offering everything a sailor needs. It's a popular stopping off point for sailboats traveling up and down the IntraCoastal or just coming into port from the Atlantic for some supplies and some fantastic seafood. The town itself and even the marinas offer some of the very best you can find anywhere.
And, this small historical town is also home to the St. Augustine Yacht Club, as well as several excellent full-service marinas, including Camachee Cove Marina, the Conch House Marina, Hidden Harbor Marina, and the St. Augustine Municipal Marina. And, if you're lucky enough to be there on the 4th of July, you can anchor your boat off and get the best view in the world of some fantastic fireworks! Another big event in St. Augustine that is loved by sailors from all over is the annual Blessing of the Fleet on Palm Sunday. It's colorful and truly awe inspiring!
5. Jacksonville, FL
Jacksonville is just above St. Augustine on the Atlantic coast and offers plenty for sailing enthusiasts from everywhere. All waterways in and around Jax lead to the open ocean. The city definitely has no shortage of marinas or yacht clubs, from Beach Marine to Palm Cove Marina to the Epping Forest Yacht Club, and everything in-between, JAX boasts a total of 29 marinas for docking your boat and sailing out to sea. Many offer everything that's full-service for your sailing needs and then some. And, some even cater to liveaboards.
Many people these days would rather live on their sailboat than in a condo or a home, so that's a definite plus. There's nothing like living on a boat, hearing the slap of the water against your hull and the clinking of halliards as your boat rocks you to sleep at night. And, then in the morning, you can just motor out of the harbor and go sailing. What a perfect day that is.
6. Miami, FL
Miami is such a vibrant multi-cultural city. We all know that. But, did you know that it is an excellent sailing center as well? It is home to the ever-popular Coral Reef Marina, the Biscayne Bay Yacht Club, the Key Biscayne Yacht Club, the Coconut Grove Sailing Club, and so much more. From colorful Cuban restaurants to Miami's municipal marinas, offering more than 1,200 berths in four locations; Miami has everything for the wandering sailor in the way of entertainment, as well as comfortable and safe accommodations for both you and your sailboat.
And, the Miami nightlife? Well, from the Mutiny Club in Coconut Grove to the many rooftop bars around Miami and the trendy spots in South Beach, Miami has it all. Might as well enjoy yourself on land as well as offshore on your next sailing trip.
7. Palmetto, FL
Palmetto is located in the Tampa Bay area and is home to the Bradenton Yacht Club and Regatta Point Marina, which is one of the best marinas in Florida for liveaboards. You'll also be amazed by the amenities there, which include a heated pool, jacuzzi, exercise facility, two club houses, free wi-fi, a fully stocked ship's store and a fantastic restaurant on-site called the Riverhouse Reef & Grill, not to mention the Riverside Cafe for a quick bite before shoving off.
There are also several other excellent marinas in Palmetto for you to choose from, like the Riviera Dunes Marina and Cuts Edge Harbor Marina. All offer you the opportunity to relax before or after your amazing sail off the Florida coast.
8. Boston, MA
If you're a sailor, what could be more inspiring than sailing past all of those amazing tall ships as you navigate the harbor and out into the open water of the Atlantic? In spite of the fact that Boston clearly doesn't enjoy the year-round warm weather of Florida or Southern Cali, Boston Harbor makes up for it in sheer historical value. And, Boston is just full of waterfront action, which includes almost 40 miles of biking and pedestrian paths all along Harborwalk.
So, Boston isn't just a fabulous city for sailors, but for everybody; not to mention that the seafood is to die for. In addition, Boston is the home of Harbor Islands, which happen to be some of the most gorgeous national park areas and only accessible by boat.
9. Hampton Roads, VA
You might be surprised to hear that there are 236,521 boats currently registered in Virginia. Even though Hampton Roads is the city's name, the body of water that surrounds the city is also called Hampton Roads. The list of water activities is endless there and just made for those folks who love sailing. It's conveniently located between the Atlantic Ocean, Chesapeake Bay, and the James River. Sailing, fishing, windsurfing, diving, and jet skiing are the most popular pastimes in Hampton Roads.
It's a delight to explore the area and even more exciting to sail your boat out of there. It's home to the Bluewater Yachting Center, the Sunset Boating Center, the Crown Plaza Hampton Marina, and the Bell Isle Beach Club and Marina, just to name a few. So, take your pick and enjoy your sailing trip in and around beautiful Virginia.
10. Hilton Head, SC
The Yacht Club of Hilton Head offers popular regattas from late February to New Year's Eve. And, Hilton Head is also the home of the picturesque South Carolina Yacht Club with its many community events, fine dining, and even poolside food service to rival any fine restaurant. But, back to the sailing. If you've never sailed out of Harbour Town Marina and past the iconic candy-cane-striped lighthouse, you just haven't lived.
The scenery is fantastic and it's quite obvious at that moment why Hilton Head Island is such a popular destination for so many visitors and sailors alike. And BTW, when you're not out on the sparkling blue water off the shore of Hilton Head, you have got to try sand-sailing on the beach. It's one of the most exciting things you can do without getting wet. Well, well that's unless you sail your sand-sailer right into the warm South Carolina water, that is.