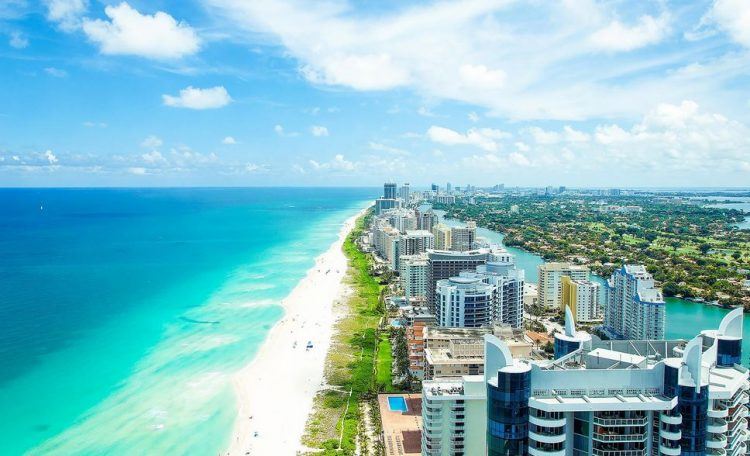 Gorgeous beaches, plenty of outdoor activities, excellent shopping, and a vibrant nightlife draw thousands of new residents to Miami, Florida each year. It's one of the most in demand places to live in the US, so rental prices aren't typically cheap. Still, those with the cash to splurge each month can find incredible rentals ranging from huge penthouses to custom homes with lavish details and amenities. Here are five examples of what $10,000 a month can get you in Miami.
1. A house with an awesome pool
Condos, apartment, and duplexes are just fine, but some people simply prefer more privacy. If you want a side of luxury with that and have $10,000 to spare in your budget for housing, check out this fabulous home. It has four bedrooms, three bathrooms, and 2,664 square feet of space spread among two floors. Each of the bedrooms on the upper floor have private terraces and sundecks, and downstairs there's a ton of great features. The kitchen has an eat-in breakfast bar and a wine cooler, plus one of the bedrooms is located on the lower floor.
The bathrooms and bedrooms are spacious, and this rental would be a good choice for anyone with a family or children. Even if you're flying solo, you'll enjoy all of the room there is to spread out. The pool in the backyard is one of the highlights of this rental, and there's also an adjoining lounging area. A patio with plenty of seating and room for entertaining make this the ideal place for those who love to throw parties and have friends over.
2. One of the largest penthouses in Midtown
This is the Miami rental to choose if you want a ton of space, 4,000 square feet to be exact. The huge penthouse has four bedrooms, 4.5 bathrooms, and is essentially a high rise duplex. 25 foot ceilings, wrap around balconies that cover more than 2,000 square feet, glass walls, and amazing views of the city's skyline and ocean can be yours for just $10,000 a month. This is one of the most in-demand neighborhoods near downtown, and many may even view the price of this rental as a bargain considering the location and amount of space.
The floor plan of this penthouse is open concept, and the kitchen is unique. It isn't overdone and has excellent appliances, plus it's not at all imposing on the rest of the space — this is an advantage if you like your living areas to flow together. The color scheme throughout the rental gives it a chic feel, and no detail went unnoticed when this place was designed. It simply looks expensive and like every component in it is high class, which is definitely appropriate for its community and price.
3. A residential suite at the Conrad Hotel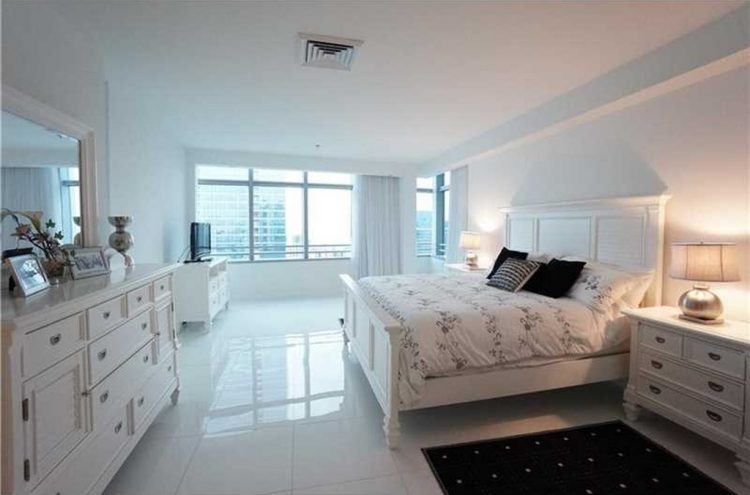 Miami's Conrad Hotel offers residential leases, and this suite is one of them. For $10,000 in rent each month, you don't just get a room. Instead, you get a lavish suite with three bedrooms, three bathrooms, a washer and dryer, huge walk in closets, a gourmet kitchen, and free cable TV. Wifi is also complimentary in the building, and as a resident you'll have access to a concierge 24 hours a day. With the price tag on this rental, you may as well avail yourself of all the services the hotel offers and get your money's worth.
The 1,934 square foot suite has a clean aesthetic and, +as one would expect at a hotel, it's designed for comfort and relaxation. Picture breezy spaces and tons of windows for ample lighting. The Conrad Hotel has a roof top pool, valet parking, a spa, sports courts, and a restaurant on the 25th floor — forget having to order takeout, you can just take the elevator and pick up a delicious lunch or dinner.
4. A resort style condo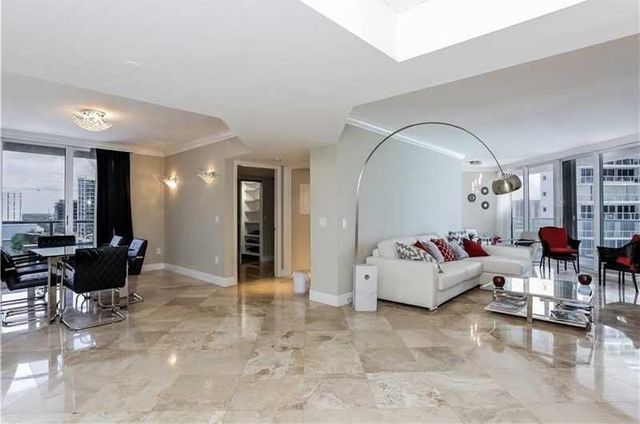 This condo is perfect for anyone wanting to live right next to the beach. The two bedroom, two bathroom rental has 1,760 square feet of space and a balcony that provides incredible views of the ocean and coast. Imagine being able to step outside of your door and be just yards from the water — you can experience that if you rent this $10,000 a month condo.
The interior is modern and the materials used throughout the unit are top quality. Marble counters and tile, beautiful appliances, and a washer and dryer are all included. One of the stand out features of this rental is the walk in closet — seriously, it's larger than many bedrooms in the city. Your only problem will be buying enough clothes, shoes, and accessories to fill the tons of built in racks, drawers, and shelves.
This condo is in a building that's near several other luxury high rises. The community where the unit is has tennis courts, sports courts, and a dock. There's really no need for a pool since the building is so close to the ocean, but this condo community has several. Think of it as an extra perk for paying five figures per month in rent.
5. A seaside villa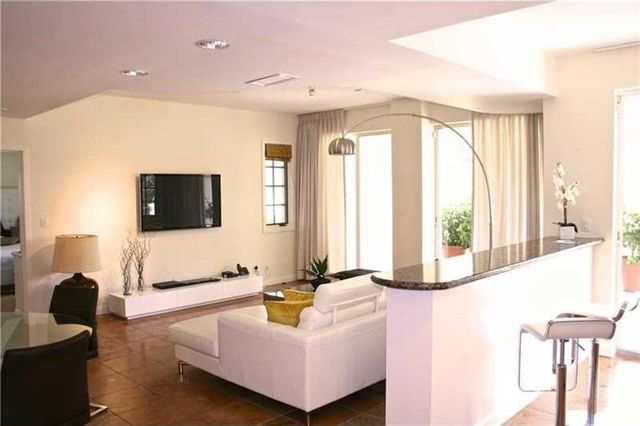 At first glance, this Miami rental looks like it belongs to a luxury timeshare or vacation property. That's partially correct. While it's not a vacation home, it is in a resort-like community that has its own beach club, golf course, private beaches, tennis club, pools, and lush gardens. That's just part of why the price tag for this two bedroom, two bathroom, 1,429 square foot house is $10,000 per month. It also has several entertainment areas, premium tile flooring, towering built ins, and a nice open floor plan.
The kitchen, dining area, and living room are all in one space, but it doesn't look or feel crowded. The kitchen features stainless steel appliances, including an attractive fridge, dishwasher, stove, and mounted microwave. Overall, the home has a very clean and modern look, and the bathrooms truly stand out. You'd be hard pressed to find such beautiful details in the bathroom of a four star hotel, let alone a rental. The bedrooms are also nice and have huge windows that let in a flood of light.