Salt Lake City, UT may not be one of the first places that come to mind when you think of luxury real estate, but this beautiful listing might just change your mind. Priced at $8.7M, this 8,019 square foot home is stylish both inside and out. The home's exterior features a stately look that includes a castle spire.
Inside, the design is open and spacious with three bedrooms and six bathrooms. Those who love to entertain will definitely enjoy the home's many living areas, which are perfect for hosting guests. The property's amenities include an office, an updated kitchen, a gym, a sauna, and a swimming pool.
Take a look at this stunning $8.7M mansion in Salt Lake City listed by Summit Sotheby's International Realty.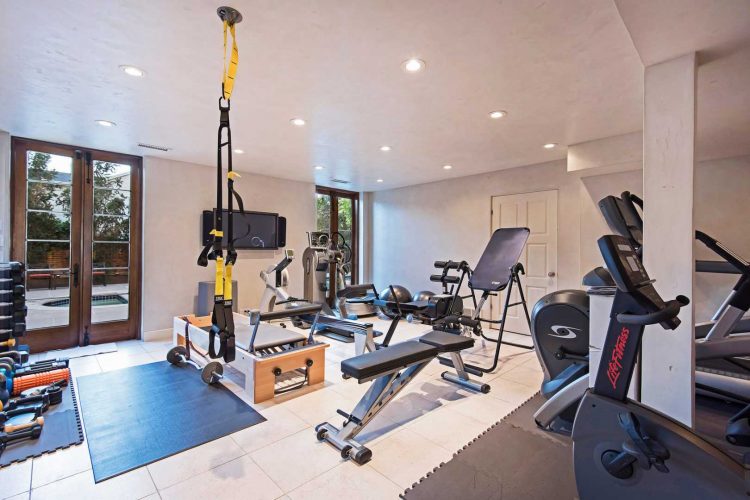 Who needs a gym membership when you've got a place like this to work out right in your own home?
With both a glass shower and a freestanding tub, this bathroom has a little something for everyone.
High ceilings give this bedroom a very spacious design. After a long day of work, this will be the perfect place to end your day.
Fully loaded with stainless steel appliances, this modern kitchen will make preparing your favorite meals easier than ever.
This lovely formal dining area is all about class and elegance. Not only is the ceiling incredibly unique, but a beautiful crystal chandelier  acts as the perfect centerpiece for the room.
Getting work done in this home office space should never be a problem thanks to a big and bright design.
Classic leather furniture is the perfect choice for this traditional office area.
A lovely mosaic style vaulted ceiling adds a great deal of character to this large living area.
With plenty of space for lounging by the water, this backyard swimming pool is the perfect setting for summertime pool parties.
images via luxuryrealestate.com