If there's one thing almost everyone dreams of having, it's a backyard swimming pool. After all, nothing says summer fun like hanging out by the pool – and having one in the backyard adds a new level of convenience that no one can deny. Having a pool in your backyard is definitely one of the easiest ways to make your house the coolest in the neighborhood, and nothing beats being able to host parties and entertain guests by the pool. But if there's one thing that's for sure, it's that all backyard swimming pools were not created equal. While having any pool is better than no pool at all – there are some that definitely stand out among the rest. Here are 25 jaw dropping backyard swimming pools.
image via iliketowastemytime.com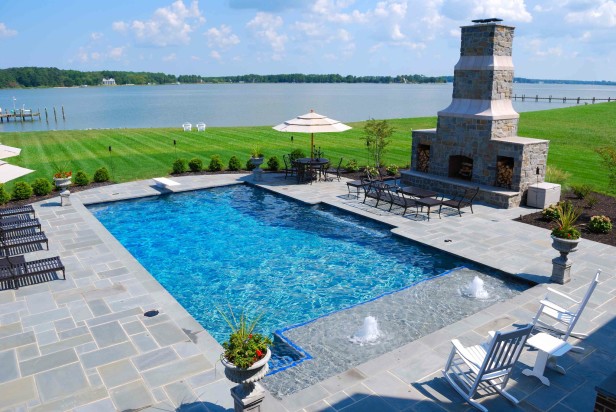 When having a house by the lake isn't enough, backyard swimming pools will get the job done. This lovely pool provides the perfect place for entertainment with plenty of outdoor seating and a wonderful view.
image via hgtvgardens.com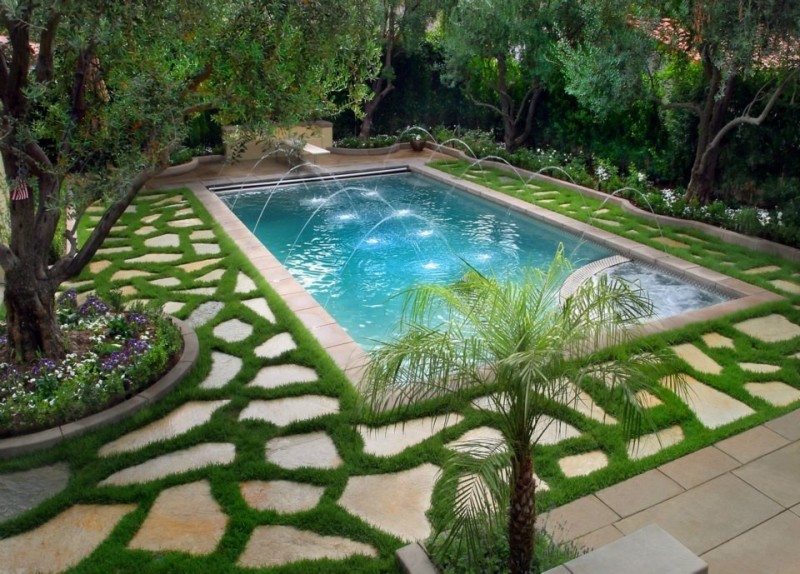 This unique backyard swimming pool sets the scene perfectly. While lots of beautiful pools are a bit over-the-top, this one manages to blend in very nicely with its natural surroundings.
image via huffingtonpost.com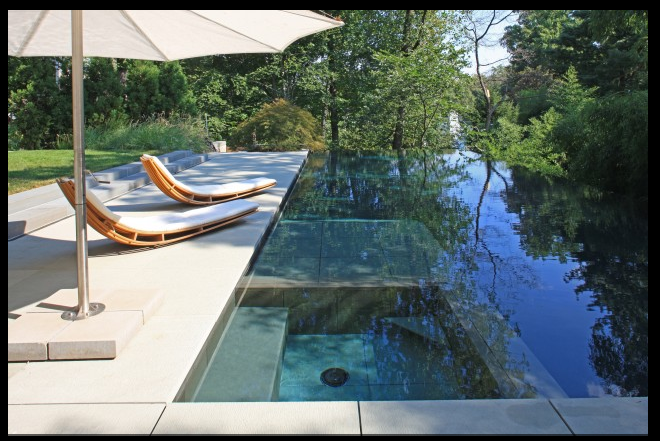 When most people say they're going to go out n the yard and sit by the pool, a lovely set up like this probably isn't what most people would imagine. However, this lovely infinity pool takes backyard design to another level with its great view and built-in hot tub.
image via gardenkitchenhome.com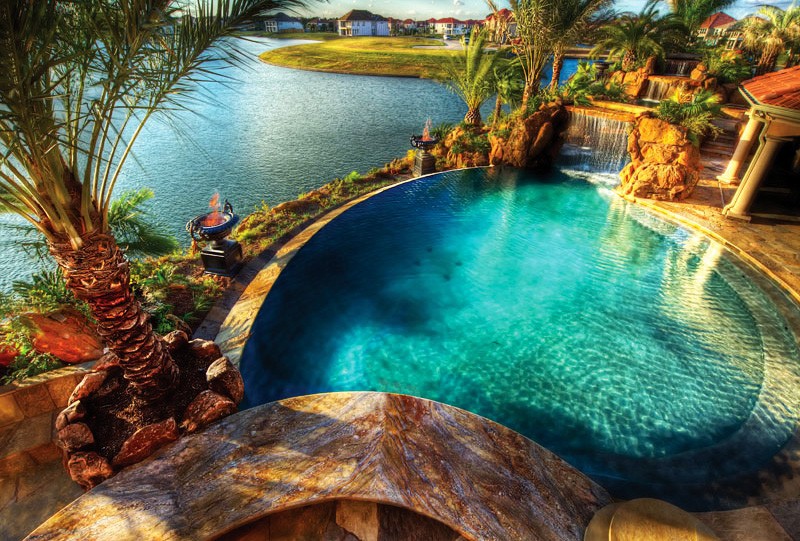 Sometimes, backyard swimming pools can give your home a little piece of paradise. This lovely pool next to the ocean is fully loaded with multiple waterfalls and a torch.
image via mybiddeco.blogspot.com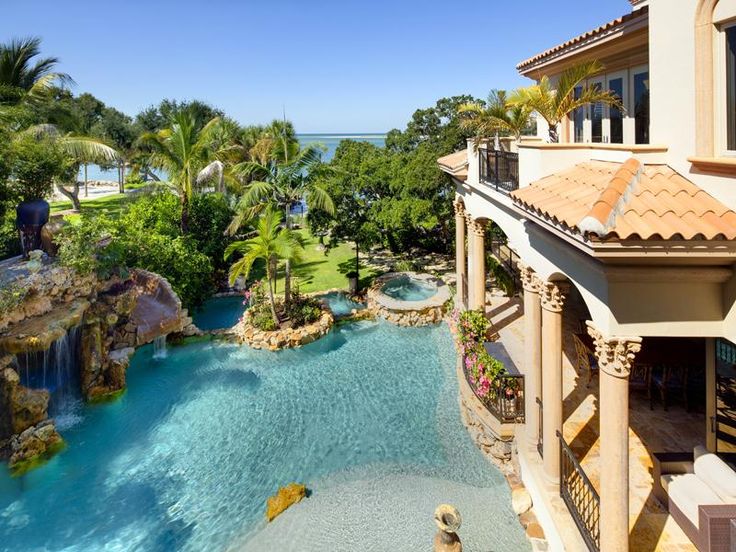 This swimming pool is so beautiful, it's almost hard to believe that it's actually in someone's backyard. With a pool like this, going on a vacation to sit and relax by the water is completely unnecessary. Featuring a fully loaded tropical look, this pool has waterfalls, hot tubs, and great views. Plus, there is some nice shaded seating when the sun gets to be too much – or in case of an unexpected rain storm.
image via https://www.pinterest.com/raymccoy/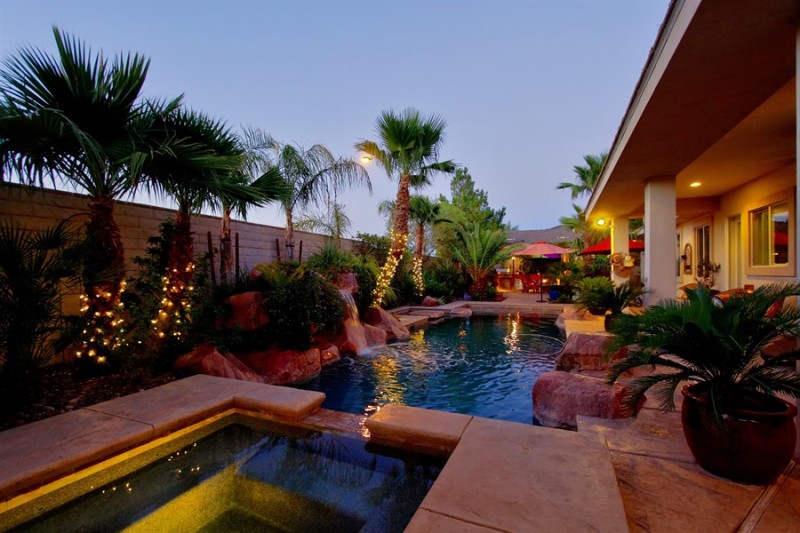 When most people think if backyard swimming pools, they think the bigger the better. However, while this pool isn't one of the biggest on the list – it's the perfect size for hanging out and hosting guests in the backyard. The use of outdoor lighting also shows how you spruce up your backyard, even if you don't have the pool.
image via tourfactory.com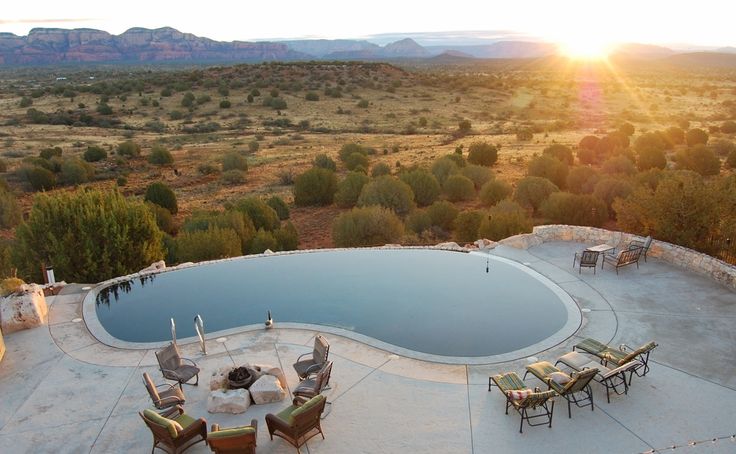 While backyard swimming pools are definitely something that is caught after by most home owners, nothing screams 'success' like a house with a view. Well, this lovely backyard swimming pool combines the best of both worlds. Watching the sun set while splashing around will become a new favorite pastime with a lovely pool like this.
image via homestratosphere.com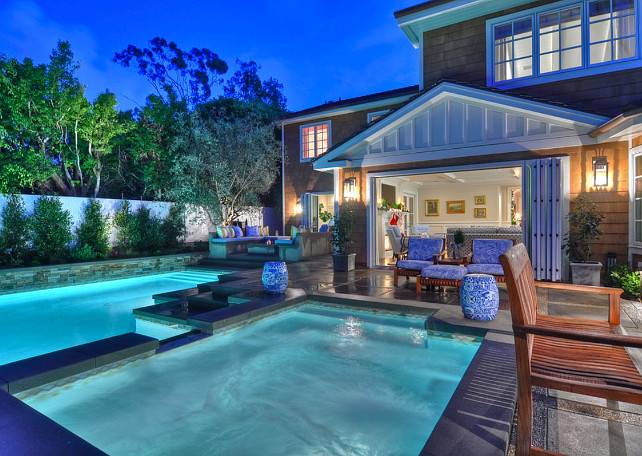 You're probably familiar with the saying 'two heads is better than one, but apparently, two backyard swimming pools are also better than one. This lovely little set up features two large pool separated into two sections which can be great for families – especially those with people who enjoy splashing.
image via homebunch.com
While summer days can often be brutally hot, lots of people still enjoy using their backyard swimming pools during the evening. With that being said, this pool features an impressive design that boasts not only a beautiful pool, but a beautiful fireplace as well. There's no need to race inside to dry off when you can just sit back and enjoy the fire instead.
image via moneyallowed.com
No matter how many backyard swimming pools you've seen, there's a good chance you've never seen anything like this. Completely decked out with colorful lighting, this pool gives the illusion that the water is actually changing colors. Not only is this pool awesome to look at, but it must be pretty awesome to swim in as well.
image via sikhco.com
What this pool lacks inside, it makes up for in beauty. This fabulous hardwood deck adds a sleek and modern touch to this lovely design. But if the glistening hardwood isn't enough to catch your eye, the water fall and the great view should do the trick.
image via infoshutter.com
Why get a backyard swimming pool when you can have backyard swimming pools? This double set up has plenty of space for everyone. There's also ample seating for those who don't enjoy swimming, and the torch also adds a nice touch.
image via uspoolbuilder.com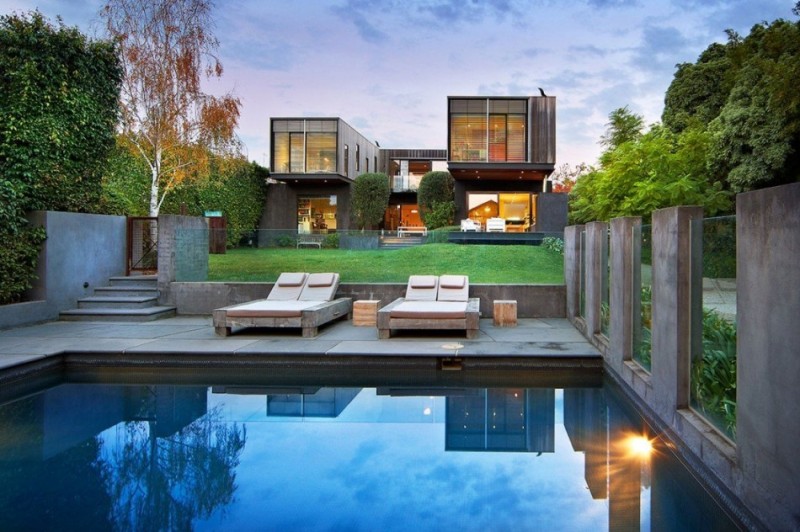 This pool is a bit of a walk from the house, but as you can see, it's well worth it. This unique design in which the pool is surrounded by stone, will definitely attract a lot of attention from neighbors and guests.
image via decoist.com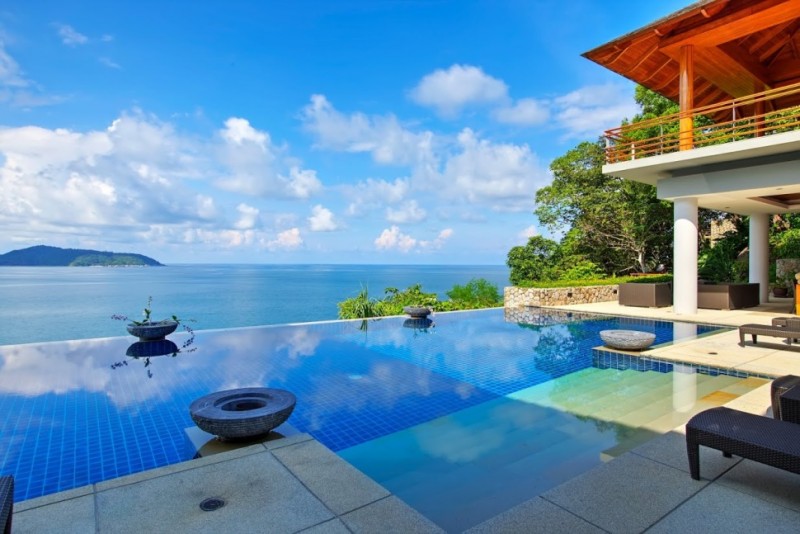 Most times, people have to spend money to stay at expensive hotels to find an infinity pool, but this backyard comes fully equipped. Featuring a fantastic view of the ocean, this backyard swimming pool is the perfect place to take a dip and relax.
image via partyscanner.com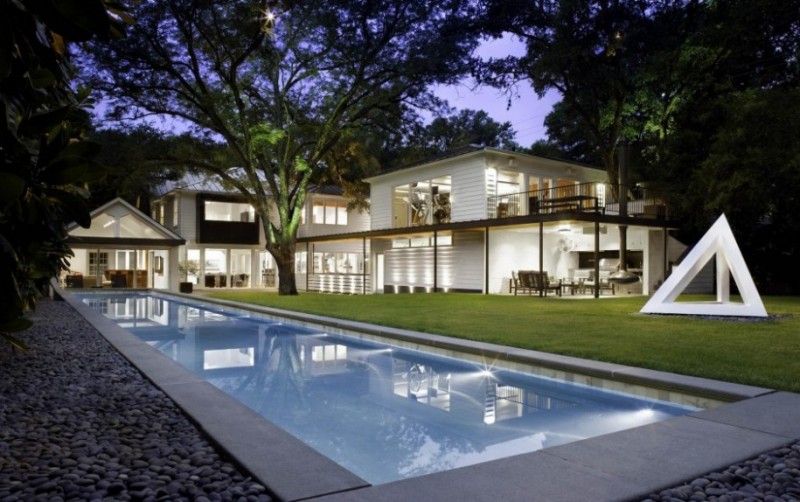 This modern style minimalist pool takes backyard design to a new level with its long rectangular build. Although this pool might not be the best for anything other than swimming laps, it's certainly nice to look at.
image via examsuites.com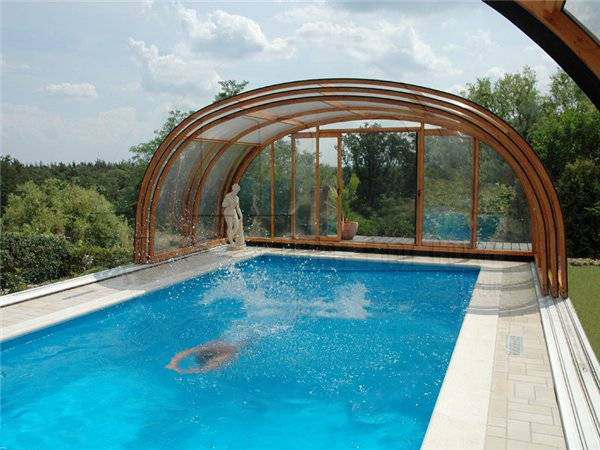 Enclosures aren't something you see often, especially when it comes to backyard swimming pools. However, adding an enclosure is a great way to make any swimming pool stand out. This lovely clear wooden structure adds a luxurious touch to this great pool
image via interiorish.blogspot.com
Imagine walking out of your back door and seeing this every day. Better yet, can you see yourself sipping your morning coffee with your feet in the pool? This swimming pool and hot tub combination is simple yet beautiful and is great for enjoying a beautiful day out by the pool.
image via rimonthly.com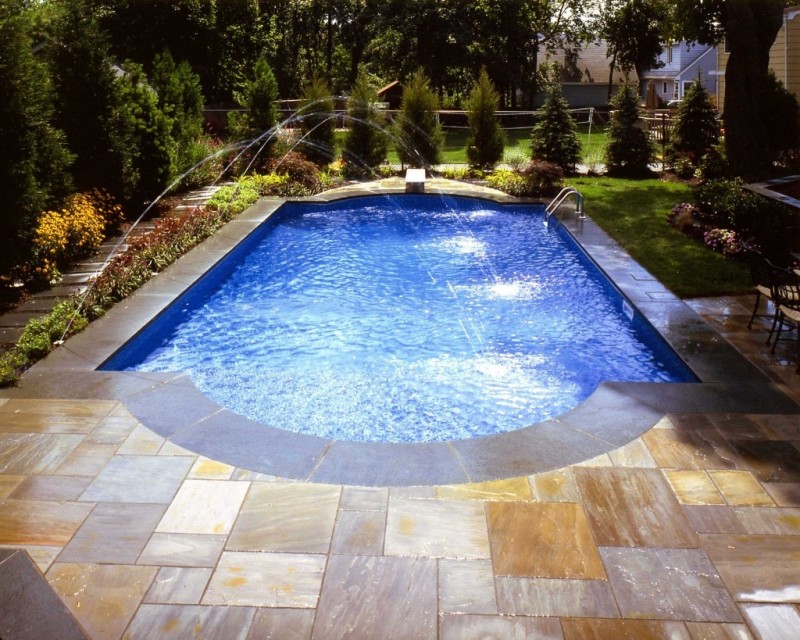 With streams of water arching over this backyard get away, this swimming pool is great for cooling off in the summer heat. Surrounded by beautiful landscaping and a stone patio, this pool is also very easy on the eyes.
image via chantiki.com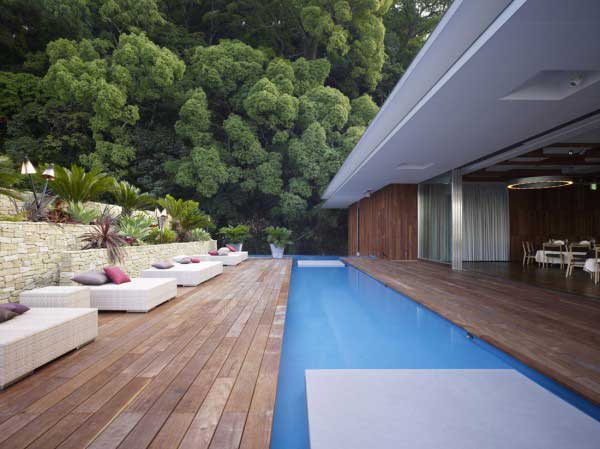 Most backyard swimming pools don't look like they've come straight out of a movie, but one does. This simple design is another that might not be the best for those who really want to swim, but for those who enjoy having a convenient place to cool off, this pool is perfect. On top of that, the lovely seating options give this pool an almost lounge-like feel.
image via busydoor.co
Borrowing a hint of Mexican design, this pool backyard swimming pool is extremely creative and uses the perfect amount of color. Complete with beautiful landscaping, this pool also blends in very nicely to its surroundings.
image via decorcamp.com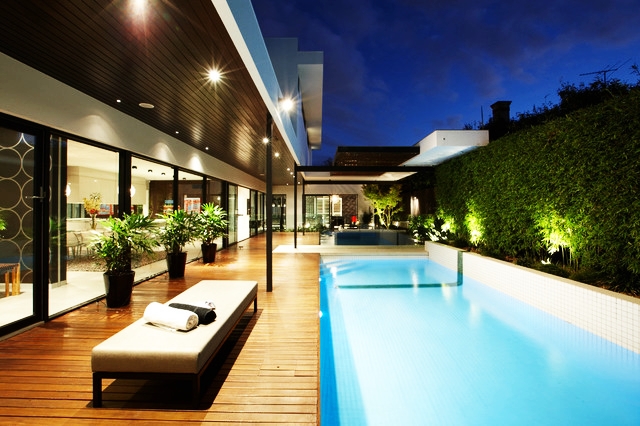 This pool has a quiet design that is both modern and luxurious. Although it doesn't have some of the additions such as waterfalls and fire pits, it still manages to feel complete. This pool also has a great view from the house, and being able to walk right from the living room to the pool is an added luxury.
image via luciehome.com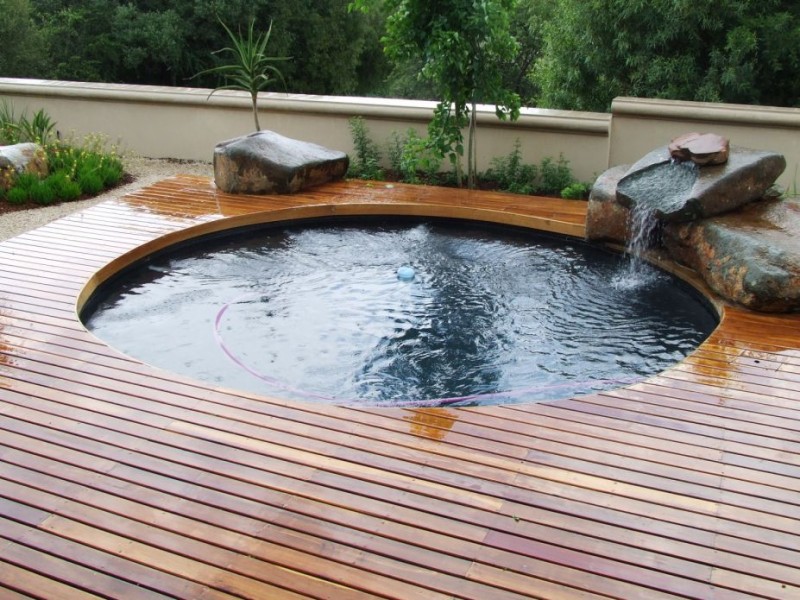 Although lots of people have round backyard swimming pools, most people's don't look like this. This lovely pool borrows the very common circular design, and turns it into something better. The addition of this stained deck as well as the rocks and the waterfall have put this pool in a league of its own.
image via shirtstock.com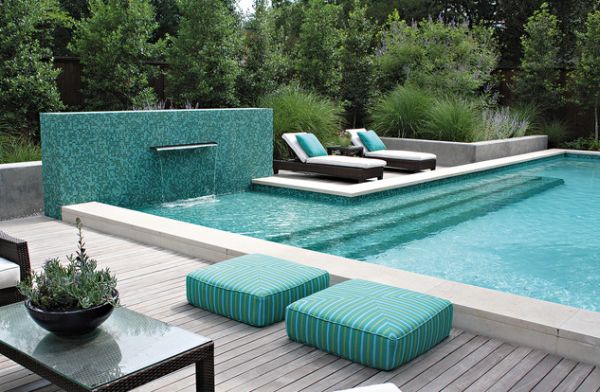 Color schemes probably aren't something people often consider when they're thinking of backyard swimming pools, but this design proves that the right color can make a great pool look even better.
image via johnjamescharest.com
This is one of those pools that makes swimming in the backyard seem like a newfound luxury. This pool combines size with a very attractive design that looks good from all angles.
image via homebackyard.co
Most backyard swimming pools can't say they have lit floors, but here's one that can. This incredible pool spans nearly the entire length of the backyard, and is light the whole way. If long and narrow backyard swimming pools aren't your thing – don't worry, this one opens up into a much wider space once it gets to the end. Whoever said you can't always get what you want must've never seen this cool design.
image via tendir.com