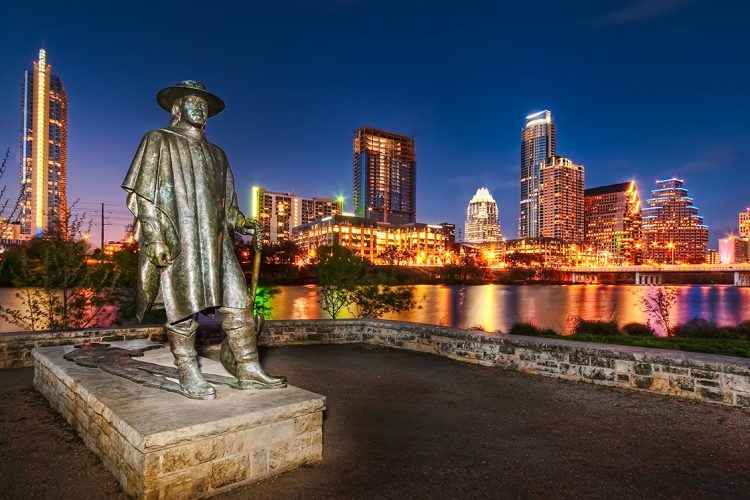 People are constantly relocating from one city to another either for a job, family or a variety of other reasons. The United States Census Bureau recently released its most recent data on the population of American cities in the United States. Some metropolitan areas are experiencing tremendous growth, especially in the South. The West has also done tremendously on the population growth front. The following is a comprehensive list of the top 10 U.S. cities with the fastest population growth.
While people flock to cities for a variety of reasons, some of the biggest factors including job growth and availability, unemployment rate and of course, median pay. Typically those cities that score well in these three categories experience the highest overall growth rate.
One: Austin, Texas
The number one fastest growing city is Austin, Texas. This is no surprise given its exceptional live music scene, incredible festivals, University of Texas, high median pay and equilibrium between unemployment and job growth rate. In 2015, the city recorded a population growth rate of 3.15%. The south-by-southwest music festival draws millions of visitors each year to this city, many of who decide to stay permanently. Austin is the wild brother in Texas who counters the normal values and viewpoints to provide an exciting and dynamic location to reside.
Two: San Francisco, California
New residents are drawn to San Francisco due to its laid-back atmosphere and gorgeous weather. San Francisco and the surrounding suburbs continue to experience a population and a median pay of $89,100 certainly helps make the decision to move easier. The unemployment rate is an excellent 3.15% while the job growth rate is 4.49%. Although the project growth of the city proper is 0.77% in 2016, the growth rate in 2015 was 1.24%. Also, since the job growth rate is much higher than the unemployment rate, there continues to be a surplus of jobs in the Bay Area.
Three: Dallas, Texas
As the second city in Texas to make the list and within the top five Dallas continues to be a popular place due to an almost even job growth rate with unemployment which is the ideal balance for any metropolitan area. The median pay is a much higher-than-average $69,300 and the job growth rate is 3.86% with a 3.96% unemployment figure. The projected population growth rate in 2016 is 1.58%, down slightly from last year.
Four: Seattle, Washington
Many residents are flocking to Seattle, Washington because of its moderate climate, high pay and excellent job growth. The city is clean, walkable and has many sports and cultural events on a regular basis. The Seattle area is also home to Microsoft which is a major employer in the metropolitan region. The median pay in Seattle is $73,700 with a 4.2% unemployment rate and a 3.32% job growth rate. The 2016 projected population growth rate is a steady 1.34%.
Five: Salt Lake City, Utah
As Utah's largest city and the capital of the state, Salt Lake City has a high median pay of $63,600 and low unemployment rate of 3.33%. To counter the unemployment rate, the job growth rate is 3.57%. The city is experiencing a population growth rate of 1.40% versus 1.05% in 2015.
Six: Ogden, Utah
Nestled in the middle of the Rockies, Ogden, Utah offers world-class skiing during the winter and a variety of festivals and outdoor activities in the summer. The median pay is $57,100 and the projected population growth rate is 1.37%, down slightly from 1.64%. Unemployment is at a low of 3.49% while the job growth rate is 3.57%. This means that there is more job growth than those who are employed which is always a good sign.
Seven: Orlando, Florida
As the core part of the Orlando-Kissimmee-Sanford Metropolitan Area in the Sunshine State, Orlando attracts millions of visitors each year because of Disney World and many of them stay. The Median income is $56,800, unemployment is 4.63% and the job growth rate is 2.98%. The projected population growth rate is 2.03% versus a 2.31% rate in 2015.
Eight: San Jose, California
As one of two California cities in the top 10, also part of the San Jose-Sunnyvale-Santa Clara Metropolitan Area and within a short distance of San Francisco, San Jose is the closest city to Silicon Valley where startup technology companies continue to emerge. The median pay is an astronomical $106,000, the unemployment rate is 3.85% and the job growth rate is 5.36%. Although the population growth is under 1%, there is a high potential for continued growth.
Nine: Raleigh, North Carolina
As part of the Triangle (Raleigh, Durham, Chapel Hill), it is no surprise Raleigh made this list. With a higher-than-average median pay of $65,800, and unemployment rate of 4.76% and a continued job growth of 2.71%, Raleigh continues to attract top talent to its Research Triangle Park area of big businesses. In 2015, the population growth rate was 2.28% and this year the projected rate is 1.44%. There are also three major universities in the area – North Carolina State University, Duke University and the University of North Carolina – fresh graduates make Raleigh their permanent home.
Ten: Cape Coral, Florida
Located in the Fort Meyers Metropolitan Area, Cape Coral is an attractive place to live with an unemployment rate of 4.73% and a job growth rate of 3.73%. Also, the median pay is $53,800 with a low cost of living. The projected population growth rate is 2.15%, down slightly from the 2015 growth rate of 2.84%. With a more moderate climate when compared to South Florida, Cape Coral is not longer drawing just retired residents. Many young professionals are seeking more comfortable temperatures in the south.
Final thoughts
Most of the growth percentages are simply projected so they can easily change within a year. There are many factors that go into these percentages but often provide an accurate representation of the city's overall climate. With so many Americans constantly moving for a variety of reasons, this list provides additional insight as to why certain cities are expecting a population boom.
The most surprising migration is into Utah which has two cities on the list. California and the South are constantly on these types of lists due to their weather and job growth. The Midwest and Northeast were not represented at all. Given that Northeastern cities tend to be the oldest in the United States, they do not see tremendous growth year-on-end.