It used to be that the mudroom was a forgotten corner off to the side of the kitchen or near the garage where shoes, tools, and knickknacks were tossed and left to sit until needed. Until about a decade ago, no one really paid much attention to making this area of the house aesthetically pleasing, but now it's become as big a part of a home's design as the main entryway. Many even carve out spaces in modestly sized homes for makeshift mudrooms, and there's practically no design limits on this handy area. To give you design inspiration for your own home, here are ten great mudroom ideas.
1. A mudroom and home base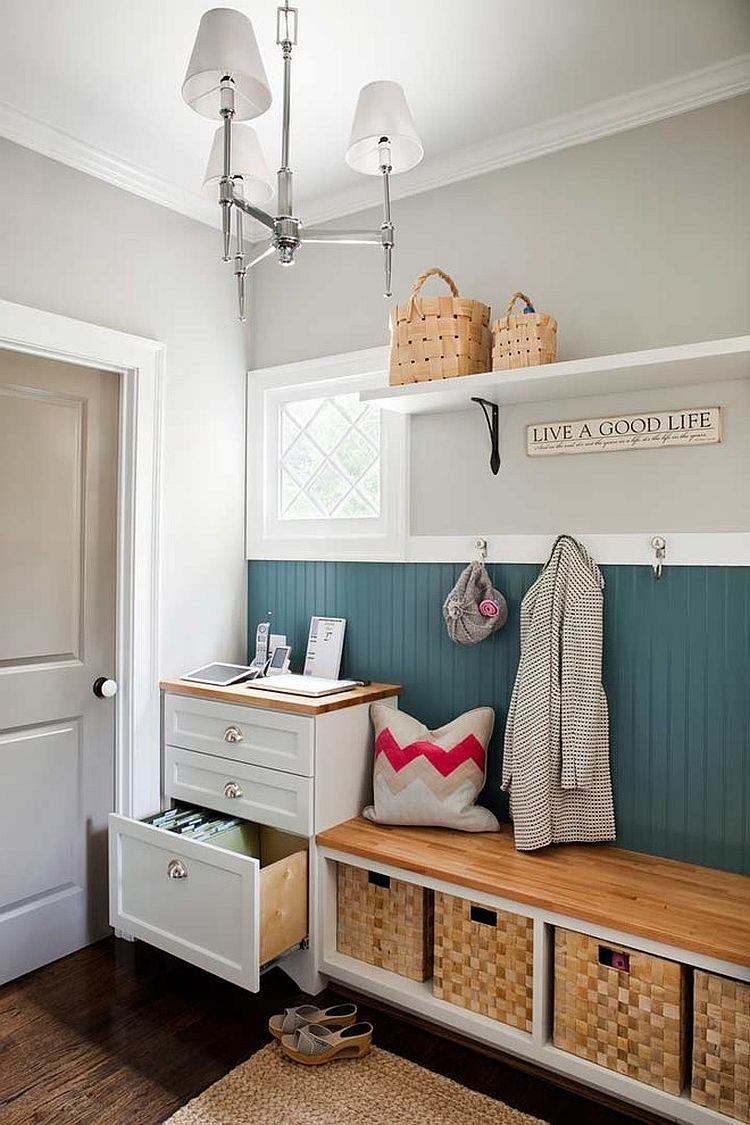 If space is at a premium, there's no reason you can't make your mudroom part of your home's command center. That's exactly what the design of this space does, and the combo of gorgeous wood flooring, a beautiful blue plaint on the walls, and good looking accessories make it look amazing. While this mudroom has a bench for seating, hooks for hanging coats and hats, and storage, it also has space for filing away important papers and a phone.
2. Re-purposing a room
This home didn't actually come with a built in area for a mudroom, so the owners took a room near the kitchen, installed a sliding barn door, and turned it into a mudroom. The look of the door matches the benches and storage inside, and the style of the accent rug and window treatments are perfect complements. If your home has a small room near your entry that you don't use, consider doing the same and turning it into a space that's functional and stylish.
3. Rich details
This design shows that mudrooms can have as much architectural interest and detail as other areas in the home. In fact, it's often easier to put fine details into a mudroom because it's smaller and costs less to outfit. Here a wood planked ceiling adds warmth and looks amazing, as does the dark tile on the floor. Sitting near a slew of windows allows plenty of light into the space, and the way it's organized is both efficient and attractive.
4. Going wall to wall
This mudroom goes the entire length of a space, yet it's not too imposing. Painting the area bright white helps it retain a spacious and open feeling, as does the effort to emphasize symmetry in the space. There are sets of hooks in the area, but adding a closet between two benches to hang jackets was a brilliant idea.
5. A masculine design
Single guys can benefit from having a mudroom, especially if they're into sports or enjoy outdoor adventures. This masculine space has plenty of storage for surf boards, sports gear, shoes, and accessories. Instead of having one wood tone there are two integrated in the storage unit, which gives it a unique look. A sturdy bench and two art prints bring the design together and give it a cool edge.
6. Creating a niche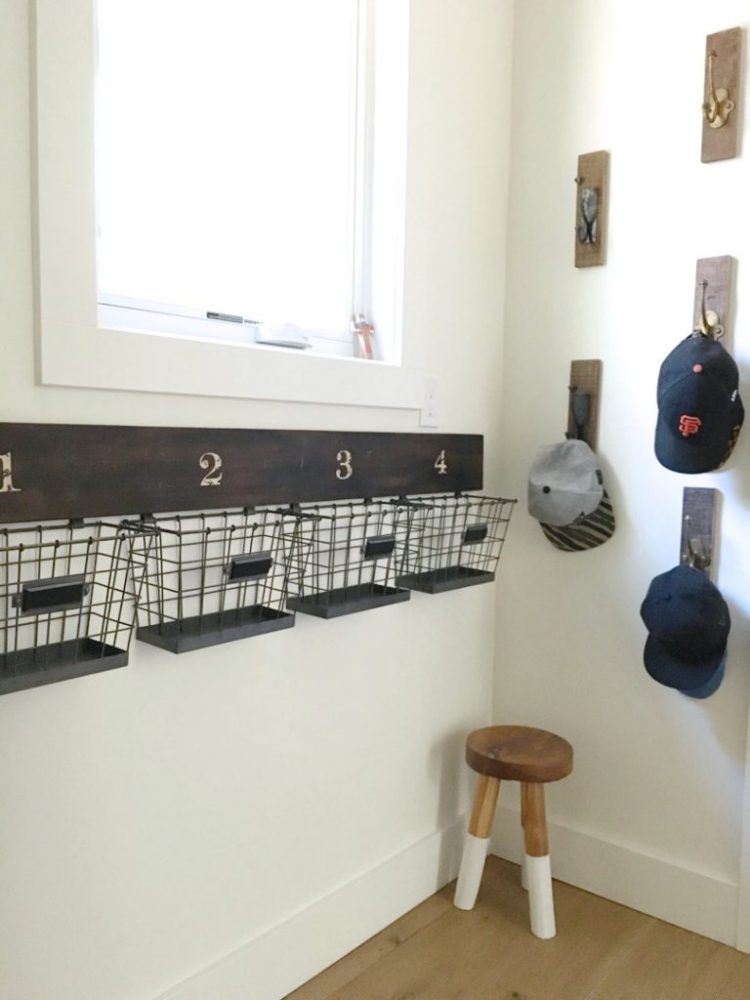 As great as they can be, the fact is that most people simply don't have a dedicated mudroom in their homes. Still, that doesn't mean you can't reap the benefits that mudrooms provide. This design shows how you truly can fit one into just about any home and have it look good. There are plenty of hooks for placing clothes and accessories, a small stool for sitting to take off shoes, and numbered baskets to keep everyone's belongings organized. As long as the space functions as a mudroom would, there's no rule that you must have a big area with built-in shelving and a long bench.
7. Classic style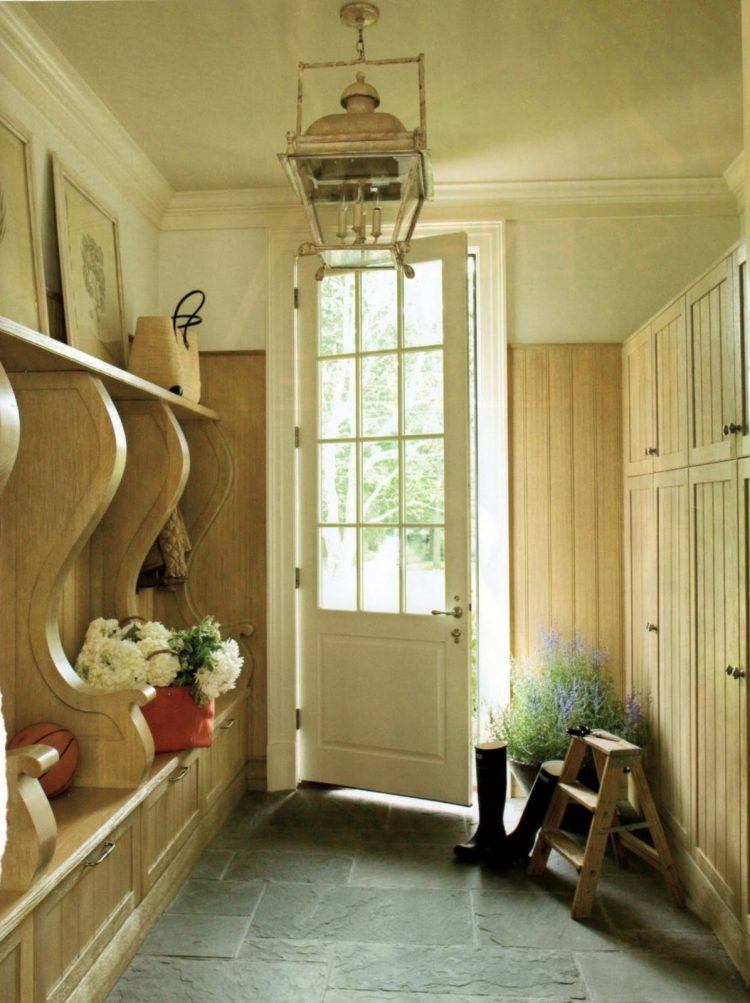 This design calls to mind the way mudrooms used to look long ago, and it's truly lovely. The tone of the wood pairs well with the look of the flooring, and a vintage style light fixture hanging above gives the room an old world feel. A pretty potted plant near the door makes it feel homey, and two art prints above the shelving and seating unit give the space even more character.
8. The minimalist mudroom
Today it's easy to find pictures of mudrooms clad in art, tons of colors, decorative elements, and all manner of things. Some of them look nice, while others tend to look cluttered because there's so much going on. If you like the idea of having a mudroom but don't want to crowd it with unnecessary decorations, this space will likely appeal to you. It has an earth toned area rug, which helps hide any dirt tracked inside, as well as a rich orange color on the walls. A simple shelving unit with bench seating completes the space, and the overall look of it is streamlined and attractive.
9. A beach theme
Just as you can incorporate themes into other rooms in your home, you can have a themed mudroom. This one flaunts a bright and modern beach theme, but it's not at all kitschy. A simple plaque hung high on the wall, a coat of soothing blue paint, white storage, and an interesting light fixture are enough to pull off the look. The space was built for efficiency first, and it does a great job of containing shoes and preventing clutter by the door. Even if you don't have a carved out niche like this home does, you can still put in a bench, paint an accent wall, and put up an assortment of hooks to re-create this design.
10. Chic and sophisticated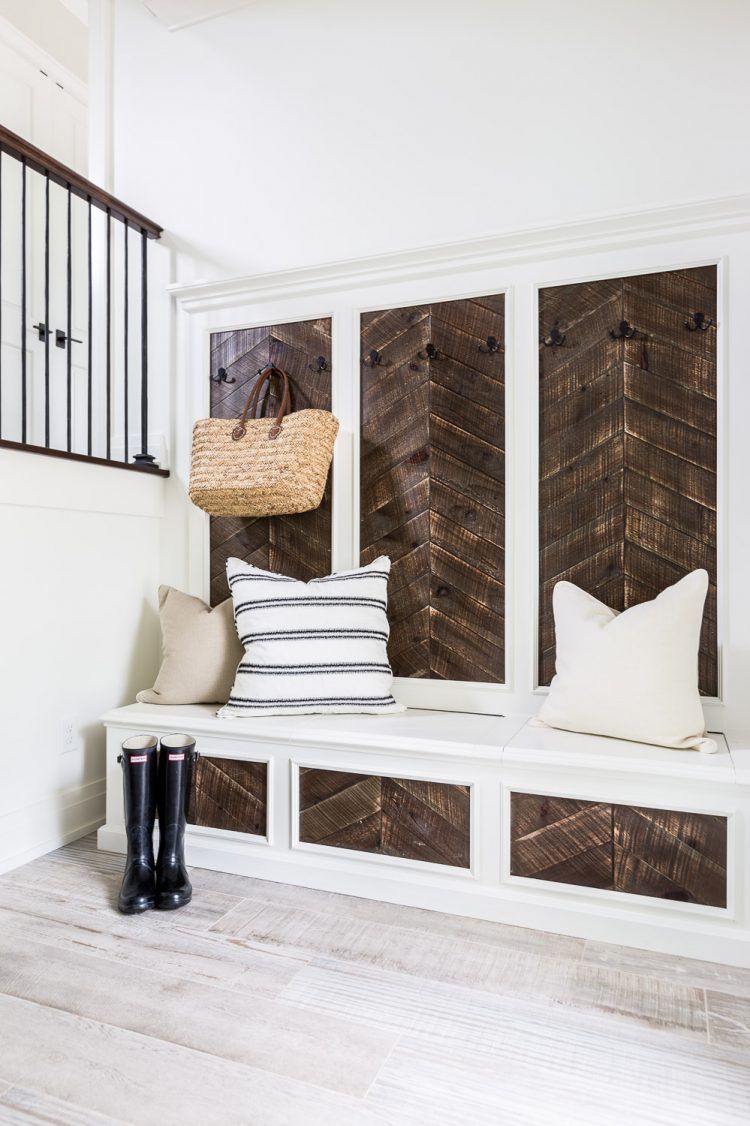 This is the type of mudroom that doesn't overtly look like a mudroom at all. It sits near a set of stairs and simply appears to be a very stylish looking seating area. It still has the handy conveniences that one would expect in a mudroom, such as hooks, seating, and storage, but that storage is hidden behind attractive panels. The design does an excellent job of blending the small utility area into the rest of the room, which is part of why it looks so stunning.