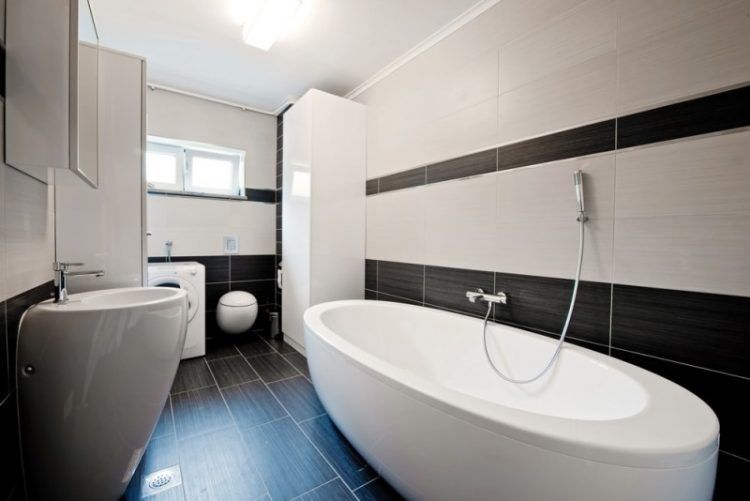 Black and white are both neutral colors that can go with practically any other color of the spectrum. Black tile is among the most versatile and popular choices for bathroom decor because of its warmth and ability to add character to any room when it's used in the right ways. We've found some spectacular examples of bathrooms which feature the use of black tile with other mediums. These will give you some ideas about the many ways you can use black tiles to create mood, character and atmosphere in your bathrooms.
Here are ten gorgeous bathrooms with black tile.
1. Black tile patterned inset Bathroom
This unique layout uses a black tile flooring with an ornate use of geometric shapes for forming a patterned backdrop against the walls which are overlaid to form an alcove for the lavatory. This design features an innovative use of dark tiling on the floors and walls with contrasting white for the sink and toilet for a one of a kind look that exudes charm and class.
2. Soho Modern Black Tile Bathroom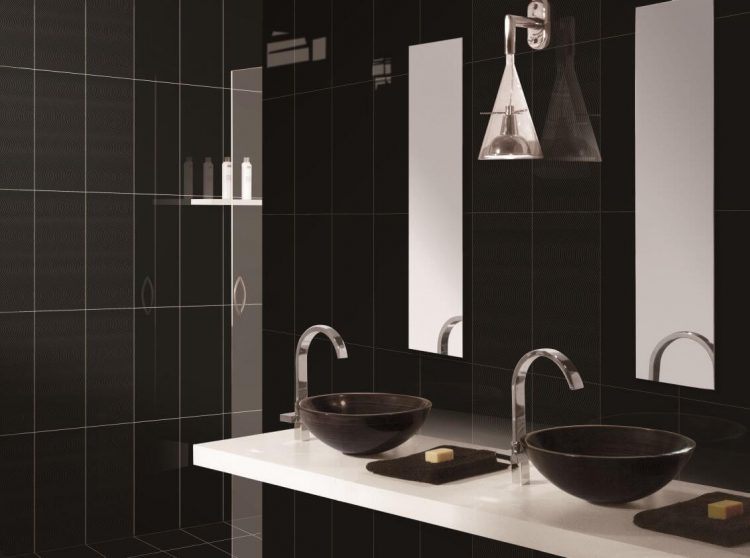 The use of Black Gloss Soho tiles create a sleek and contemporary atmosphere in this classic design. Black tiles are used on the floors and the walls and accented with long rectangular mirrors for accent. The clean lines of the tiling, mirrors and countertops are balanced by rounded wash basins and updated curved sink spouts for artistry in color and form.
3. Black on White Modern Pattern Bathroom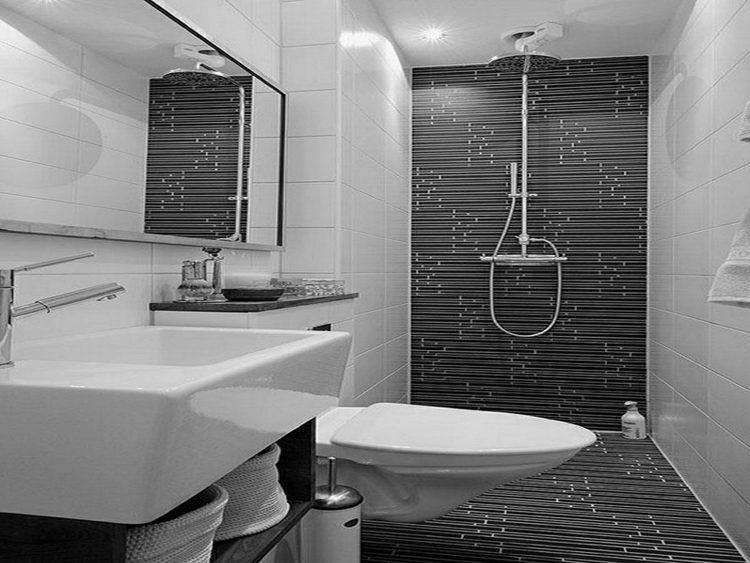 This bathroom decor features a white base with uniquely patterned wall tile that resembles an ultra modern brick design with thin lines. The tiles are used to accent one main wall and the floor area with an accented inner storage area for symmetry. This pattern is a contemporary use of traditional white with black accent tiliing for a one of a kind bathroom decor.
4. Shades of Black miniature tiled bathroom
This bathroom features a myriad of color variations with texture and patterns that meld together to form a contemporary artistic expression that blends together with perfection. Miniature black wall tiles in varying black shades complement the shower area against Faux slate walls. The combination of variances create a classic look and feel with the skillful use of tiles featuring contrasting textures and patterns.
5. Classic black and white bathroom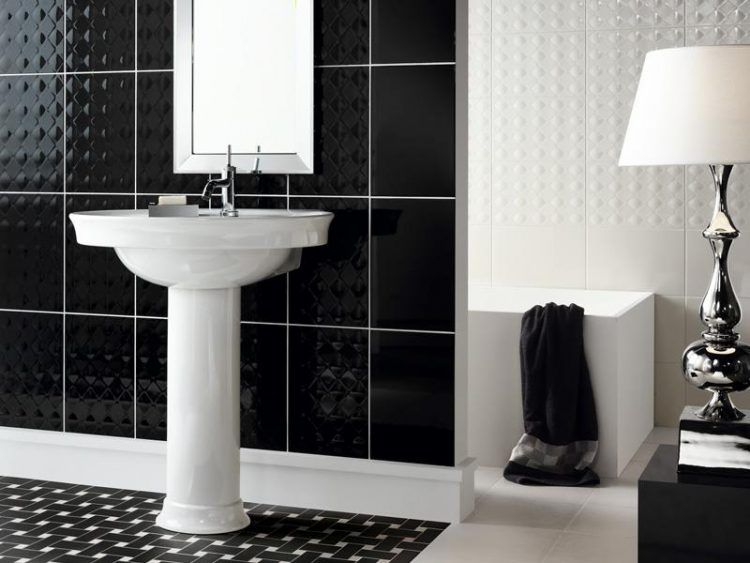 Oversized black wall tiles are accented with thin lines of white caulking for a magnificent contrast of black and white for a yin and yang effect with sharp and clean lines. Each wall tile features slightly rounded and textured diamond shapes in a consistent pattern for greater effect. Floor tiles feature a pattern of small rectangular blacks which are offset and accented with small white square insets for a lovely black and white pattern that seems with a side directional movement for visual effect. This bathroom is one of the most elegant examples that we've seen with regards to the use of black and white accenting.
6. Minimalist Black tile accent ties
Note the dividing wall that features the use of black tile insets that are small, yet add to the ambiance of the environment. The bathroom itself is set in warm dark to medium dark earth tones. No black tile is used on any other component of the bathroom, but the mimimal use on the separating partition adds additional warmth and character to the earthy decor. The main shower area is separated by the divider and is walled with black tile which adds an elongating effect. We think that this is one of the most unique uses of color and space that we've seen.
7. Black accents on white base bathroom decor
This elegant bathroom features white tile flooring with black caulking. The walls are covered with large textured black tiles with white caulking that give it a magnificent contrast effect. The strategic use of color juxtapositions helps to create the illusion of a larger space and adds to the luxurious feeling that you get when you enter this room .
8. Inset black tile luxury bathroom
A traditional white color scheme featuring large rectangular glossy white tiles with texturing are accented with the use of rectangular black tiles against the shower wall, divider and adjacent bathroom wall. This is complemented by a white tile floor that features an inset of black tiliing in the center of the room which creates an island effect for additional elegance and the feeling of luxury and class.
9. Black and white brickery with octagonal accents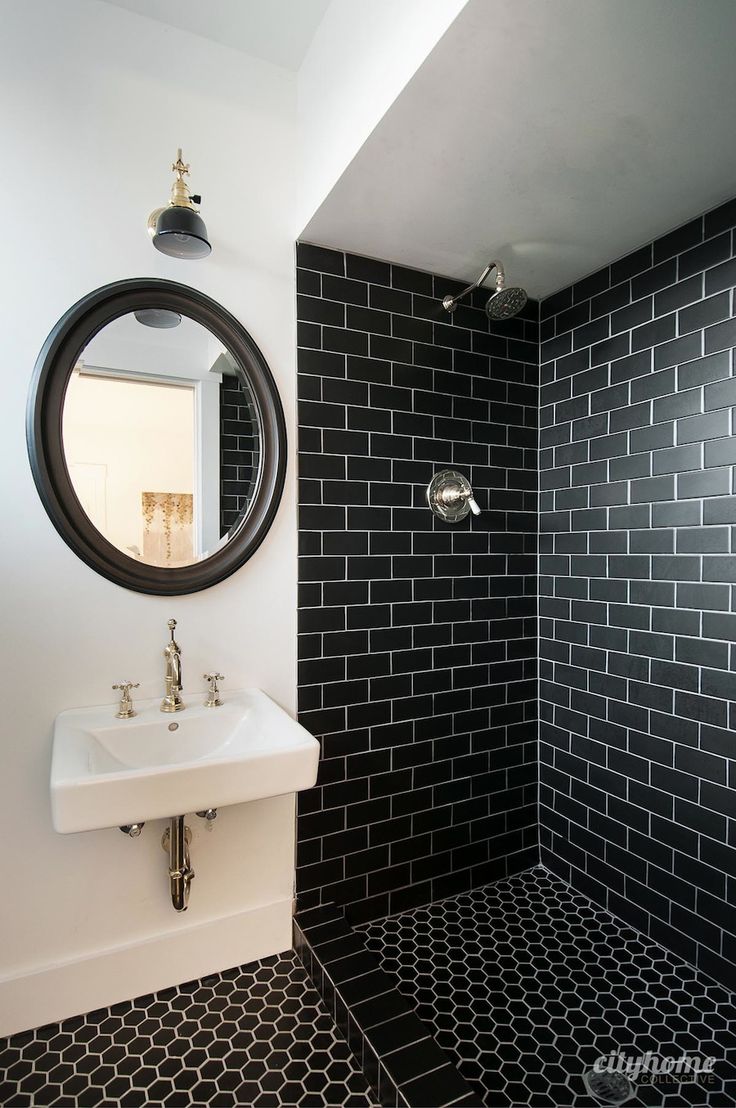 This wonderful traditional bathroom is enhanced with white painted walls and the addition of black brick pattern tiles with clean white accent lines in the shower area. The entrance is accented with black tile that features an octagonal black pattern with white geometric lines to add character and texture to the overall decorating scheme.
10. Color meets shape classical black tile bathroom
This amazing decorating scheme features large black tile walls with a tub enclosure that of small square tiles offset with clean white caulking lines for a contrast of texture and color that sets makes the bathtub appear to rise on a pedestal above the floor. Long rectangular floor tiles are glossy and feature an inset trailing of tiny black tiles outlined in white grouting for a spectacular effect that moves the room in a forward direction.
Final thoughts
These are ten ways that black tile can be used to transform an ordinary bathroom into one that exudes vitrually any emotion that you desire. Whether you're after the classic look with clean lines and a little contrast, or a more one of a kind look, you can find black tiles in a variety of patterns, sizes, color tones and textures to achieve the dream bathroom.