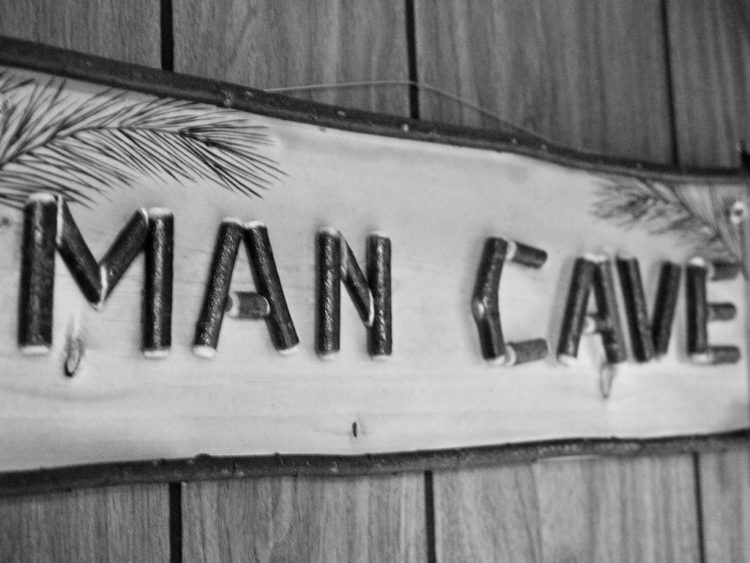 From the final touchdown of the big game to an eventful game of pool with your buddies, a man cave is a place to go to relax either by yourself or with your friends. It's not a room that should look just like the rest of the house or even be a place where the entire family hangs out. The ultimate man cave is one where you can sit back and crack open a beer or let loose with people after work or on the weekends without worrying about what's going on in the rest of the home. There are some tips to help you create your space with little effort.
Relaxation Central
Any ultimate cave needs seating. It's not just any old seating, either. You need to have a comfortable recliner so that you can prop your feet up after a long day and even a couch or two for your guests to have somewhere to sit when they visit. You could even use the couch as a place to catch a quick nap in the quiet of your personal space. Position the chairs and couches so that you can easily view the television or talk to each other without shouting across the room. If your man cave is located somewhere inside the house and not the garage, then you may want to make sure that the couches can also double as beds—like a futon. This way, your space can be used as a guest bedroom if needed.
Entertainment for All
No man cave is complete without some kind of entertainment. A dart board or two attached to the wall and a large-screen television should be at the forefront of the items to include along with a pool table. If you're considering having your man cave be in the garage, you should make sure that it has a good door, like those from AAA Garage Door, Inc, so that it can be easily opened up. You may even want to decorate or paint the door to match whatever theme you may be going for. The door can be easily opened up to allow fresh air or sunlight in.
Filling the Belly
Whether it's a cold drink or a few snacks, you want to create a bar area in the man cave. The ideal place for the bar is along a wall that is away from the entertainment. This will allow for enough room to prepare food and drinks before taking plates over to sit on the couch or chairs. Another idea is to put stools around the bar for detailed conversations or if you plan on only having a few drinks with your friends. Underneath or to the side of the bar, you will definitely want to have a mini fridge or two to store your drinks and snacks. Make sure to keep a variety available so that you don't get bored with eating or drinking the same thing. With this type of setup, you might want to make sure that you have plumbing put in as well as a sink installed. This way, you don't have to keep bringing plates and cups into the house to be cleaned. Instead, you can keep your own specialty collection in your own man cave. Otherwise, you might want to consider having a good amount of paper plates and red solo cups packed away in a cabinet somewhere, ready to be used by you and your friends.
Adding Personality
Make the man cave your own. Add pictures to the walls, lights around the bar, the furniture that you're comfortable on and the flooring that you want to see in the room. Showcase trophies and items that you are proud to display that you might not be able to keep in the home, such as a sports collection. If you're really into Star Wars, Star Trek, Lord of the Rings, or any other movie or TV series, don't be afraid to let it show. Let your interests be your guide as you decide what type of furniture you want to get, how to paint the walls, and what type of décor you put in.
When you begin planning your man cave, you need to think about the reason for the design. It should be a place where you are comfortable and can enjoy time with other people. A benefit of creating your cave is that it's an area that you can add your own special touch to without worrying about what anyone thinks.