Window treatments are a functional and decorative accessory in a room. Style, color and fabric type are features you should consider when choosing window treatments. The overall décor style, color scheme and fabric patterns in the room also play a role in determining what color and style of window treatment will be aesthetically appealing and appropriately functional for each room.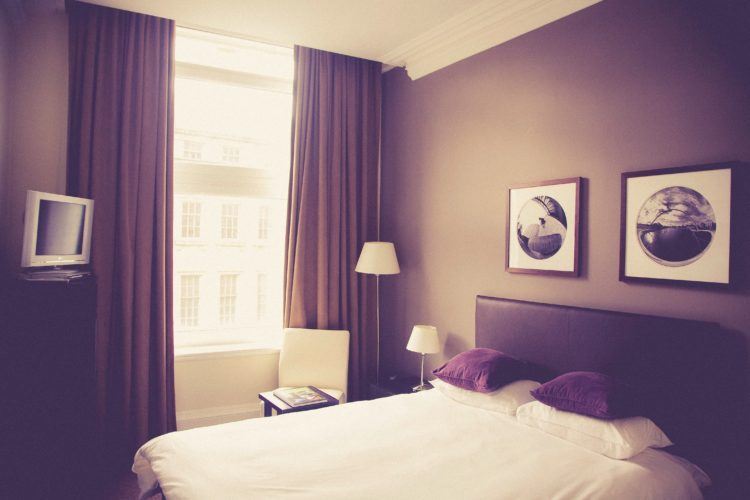 Tips for Choosing Curtain Colors
There are décor factors you can use as a guide when choosing curtain colors. Neutral colored walls are an ideal background for white, ivory, cream and gray curtains. Adding embellishments to the curtains such as an appliqued ribbon or trim in a contrasting color will add elegance to the curtains. You can select a fabric that has a touch of the wall color in its pattern or design. Choosing curtains in a color that is complementary to your wall color is a long-standing design trend. Monochromatic curtains featuring slight variations of color give a room an atmosphere of sophistication.
Curtain Styles and Types
In addition to the basic curtain style that varies in length according to the material and the location of the curtain, there are several other styles to choose from. Swag, scarves and valances are alternative to full coverage curtains.
Curtain types range from sheer to blackout and include a variety of privacy levels in between. You can get creative with curtain accessories and presentation styles such as tie backs, overlaps or hourglass designs, so that your windows become an artistic element in the room. There are a lot of options, so you might want to work with someone like Blind Magic or a similar business to get some advice specific to your home.
Drapes and Blinds
Your window treatment is not limited to one type of covering. Layering window treatments, such as using blinds and drapes, will add visual depth to the window area. Layering also gives you more control over the lighting that flows into the room and to the level of privacy in the room. Another advantage of adding drapes to a window with blinds is that they soften the overall atmosphere in the room.
Window Treatment Options
Curtains can be used as a solitary window treatment or in combination with window blinds. Roman shades can be used as an alternative to floor-to-ceiling curtains. They are available in a wide range of colors and in interesting patterns. Plantation shutters can enhance the beauty of interior and exterior spaces. They are revered for the energy saving benefit and light control option they provide.
Window treatments can be a subtle part of a room or a vibrant, eye-catching part of a room's décor. Because they are such an integral part of the room, it's essential that you give serious consideration to the color, pattern and fabric you select. Keep in mind that a room may go through various changes or updates as time goes by. You may want to select a window treatment that can transition with diverse decorating styles.