Beverly Hills is home to many of the most famous and elite members of high society in California. Movie stars, famous directors, producers, singer/songwriters, investment moguls and the list goes on. It is an area that is reserved for people with ample means. The real estate values in this neighborhood are high. Tourist agencies know the value of taking guests on excursions to view some of the architectural beauty and lavish residences in the area. They include a history of who has lived in the homes for a complete package that includes interesting facts.
We've put together a guide that highlights the ten most expensive homes in Beverly Hills for your viewing pleasure.
1. Palazzo di Amore, Beverly Hills, CA
This massive luxury mansion is the most expensive home in Beverly Hills and is currently worth over $100 million. It has a spacious 53,000 square feet of living area with 12 bedrooms and 23 bathrooms. The master suite is 5,000 sq ft. It also has a 27 car garage and its own entertainment complex. a 25 acre parcel with a vinyard is included with the massive luxury structure. It includes a guest house, a reflecting pool that is 128 feet in length, a spa and formal gardens.
Real estate tycoon Jeff Greene currently owns the home. Guests are greeted by a marble fountain once they gain access through the gated driveway. The interior of the home is lavish with inlaid marble floors, statuary adornments and pilasters which give it a classical decor. The entertainment complex is complete with a 50 seat theater, game room and bowling alley. Guests who don't want to climb the stairs may opt for the elevator. The ballroom is equipped with laser lights, a revolving dance floor and a DJ booth. The formal dining area seats up to 250 guests comfortably.
2. 1181 North Hillcrest Rd.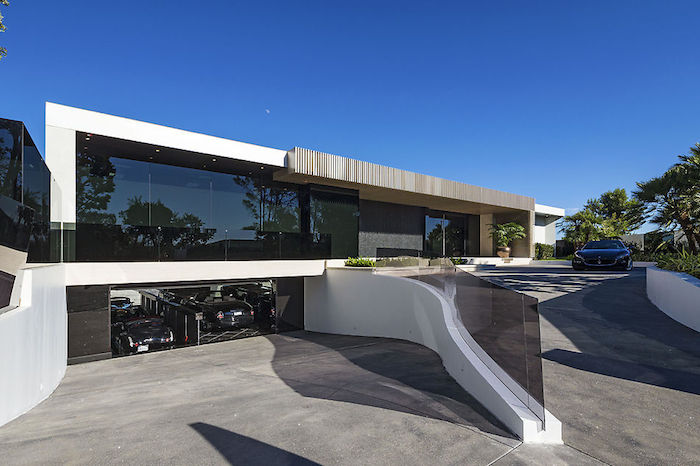 This home sold for a pricetag of $70 million to Markus Persson, the creator of Minecraft. It features a spectacular panoramic view of Malibu Beach through the downtown district of Los Angeles. The home is 23,000 square feet. It features 8 bedrooms and 15 baths all in modern contemporary decor. Also included are a dining room, family room, recreation room and walk in closets. It is a condo that was built in 2014. The garage includes 16 parking spaces. The pool has a unique architecture that is reminiscent of a flowing fountain that continues on to multiple levels. The home is two stories and each floor is packed with expansively spaced rooms and luxury design with clean and straight architecture.
3. 918 Roxbury Drive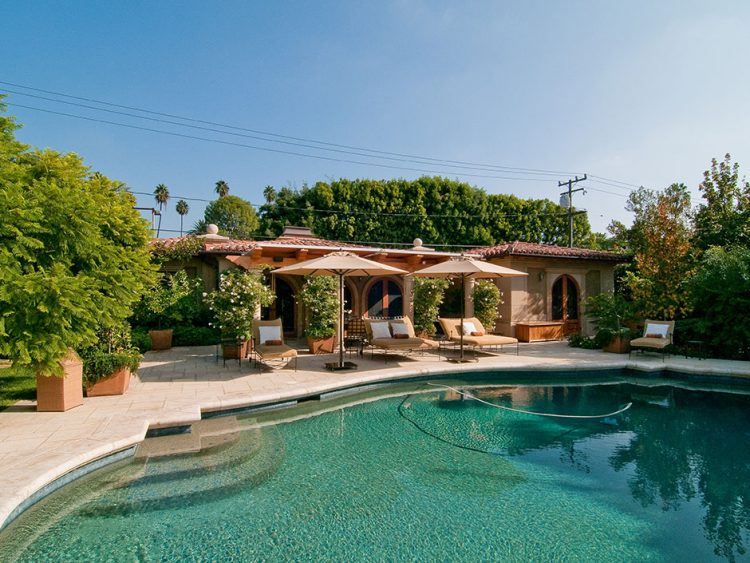 Sold for $36 Million in 2015, this home is a mansion built in Italian style. If features a gated drive and 1.34 acres of property surrounding the home. The decor is contemporary Italian, the design masterpiece of architect Kevin Clark. The home was finished in 2000. There is 14,422 square feet of living space with walnut and inlaid marble floors. The ceilings are coffered with a total of seven antique fireplaces throughout. It includes eight bedrooms and 11 bathrooms, grand dining and living rooms, a library and office, wine cellar and home theater.
4. 1036 Summit Drive
This magnificent home sold for $23,000,000 in 2016. It was designed by Juan Pablo Molyneaux. It features a Mediterranean style with a Florentine Villa approach. This private home has 47,000 square feet of living space with an amazing great room featuring arched french doors; 5 beds and 9 baths; two suite bedrooms; pool and spa on extended balcony; French country style kitchen; customized patio with a fountain made from Portuguese tiles; mahogany wood flooring; gold flake detailing against Sienna Venetian plaster walled and sand hued stone. A safe room has also been built into the home with Kevlar bullet proof walls. The hoome also features a lighted tennis court, 8 seat theater, full outdoor kitchen made of marble and a temperature and humidity controlled sauna/gym.
5. 1014 N Roxbury Drive
This home sold for $19,000,000 in 2015. It offers 56,000 square feet of living space with bouble gating and two large motor courts. the garage has a capacity for storing three cars. The home has four guest bedrooms and two master suites. The entry way is two story. Elegant living and dining rooms which lead to the large backyard. A guest house sits near the tennis court which sits on one of the largest lots in the area.
6. 1023 N. Roxbury Drive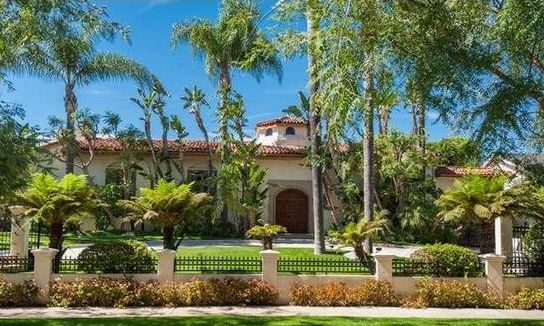 The going price for this home was $30,000,000 in 1980. It is now estimated at approximately $17,000,000 in value. The living area is 11,703 square feet with 8 bedrooms and 7 baths. A domed entry leads through the tennis court to the Mediterranean style home. Hand painted murals grace the high ceilings. Three family suites have private baths and balconies with two staff quarters. The gaming room is setup for billiards and media and features a wine room and full wet bar. The guest suite has a full bath and kitchen and leads to the spa and pool area. Fountains grace the courtyard of this spectacular Beverly Hills home.
7. 1201 Laurel Way
Refurbished 11,200 square foot mansion that went for $31,000,000 before renovations. It is now estimated at $42,000,000. It features glass walls with three stories, six bedrooms, ten baths, a personal gym, screening room, putting green and wine cellar that will hold up to 1,000 bottles. The zen garden and infinity pool complete this one of a kind wonder.
8. 1169 N. Hillcrest Road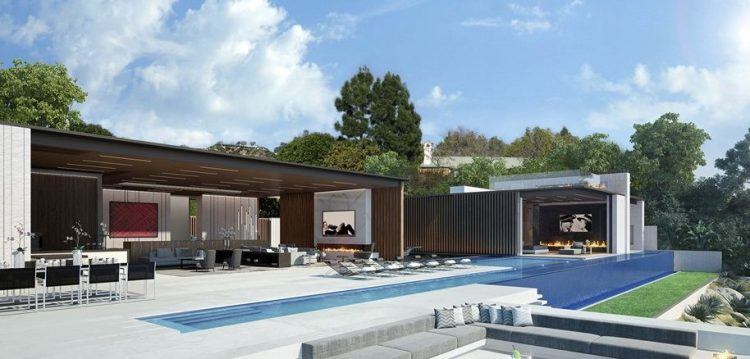 This property recently sold for $16,000,000. It features a clear view of downtown LA with a panoramic view to the Pacific Ocean. The lot size is just over an acre. Michael Palumbo designed the 24,500 square foot home with 7 bedrooms and 14 baths. The sophisticated and elegant decor features a glass foyey with water pools on the exterior and an acrylic swimming pool. The entertainment room has a bowling alley with two lanes, a nightclub bar, theater room, lounge, salon, wellness center and gym in addition to teh 140 foot pool.
9. 2571 Wallingford Drive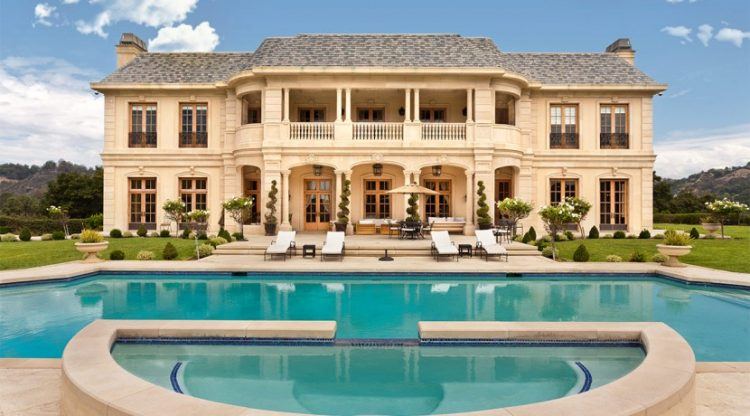 The value of this home is $16,672,000. The home has 22,000 square feet of sophisticated and elegant living space. Amazing view of the canyons it comes with over five acres of property. It is richly embellished in French style and color with authentic Baroque decor. It has a master suite with dual bath and walk in closets,7 total beds and 12.5 baths, a wine cellar with a 1,500 bottle capacity, climate controlled tasting room, pool and spa, media theater, gourmet barbecue area, sauna, 20 car parking spaces and elevator.
10. 46 Beverly Park Circle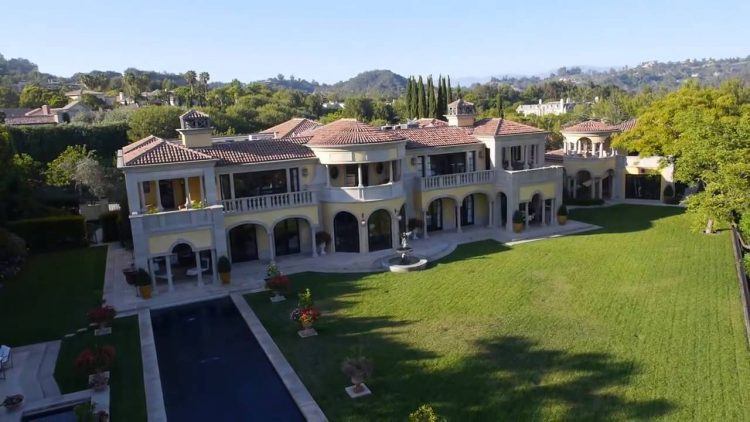 This lovely home sold for $29,995,000 and offers 11,598 square feet of living space. It has 6 bedrooms and 7 baths. It sits on approximately two acres with a tennis court, palm trees, reflection pond, spa, pool and guest pavilion that comes with a full kitchen. The interior of the home features onyx and marble countertops with wood details. It offers a magnificent view of the canyons.