Fall is here and your old summer decor may not fit the season. This is the time of year when the weather is getting cooler and leaves are beginning to turn. It signals a change in the landscape and it's also the ideal time to switch the motif of your dining room. Harvest season is filled with warm and comforting earth colors. These can easily be incorporate into your home because the majority of them are neutral in color and can be made to blend in with most decor.
You can choose to add a variety of elements into your fall decorating scheme, or keep it simple. It really doesn't take much to change the ambiance of a room. The use of symbolism, color and texture are the main elements to consider when you're deciding on the most useful accents. The style that you choose should reflect your personality and sense of decorating style. Whether the theme of your dining room is rustic, whimsical, minimalist or luxury formal, a few well placed items can make tremendous changes in the look and feel of the room. One of the most amazing results of introducing a theme into your decor is the emotion that it evokes.
Here are ten ideas that will help you create the perfect fall dining room with the addition of a few simple items.
Fall's Bounty table runner
The addition of an earth toned table runner lays the foundation for this unique collection of gourds, leaves with the vibrant and rich colors of fall and an assortment of specialty pumpkins which add a touch of rustic flair. Vintage candleholders and a natural beeswax candle create the ambiance of fall through the use of the elements that are associated with this time of year. These gourds and pumpkins can be hard to find because they are specialty vegetables.
Some of the bestplaces to look for them during fall months are farmers' markets, fruit stands and retailers who specialize in fall decor. It's best to have the real thing, but if they are unavailable, replicas from the local craft store will do.
Simple elegance Fall centerpiece with gilded glassware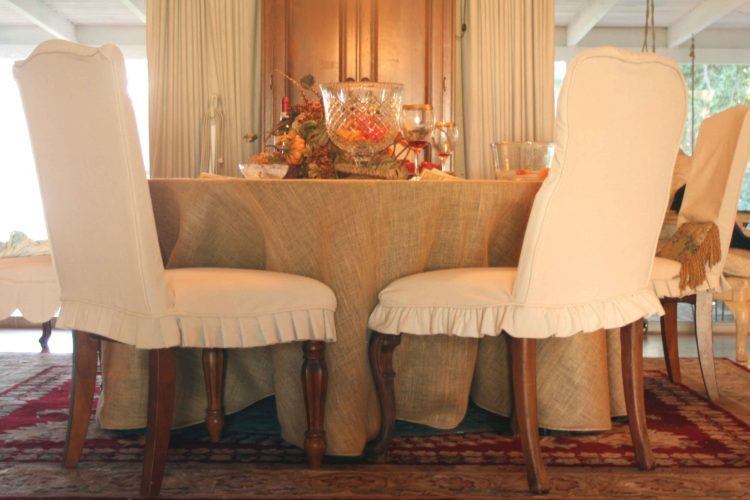 A cream colored tablecloth graces the table that features a classic fall collection of fall foliage, leaves and flowers that create a gentle warmth. The large crystal pedestal trifle bowl is the perfect container for red,orange and gold silk leaves. The theme is complemented by the addition of gold gilded stemware that transforms the area into a fall dining room.
Harvest accent table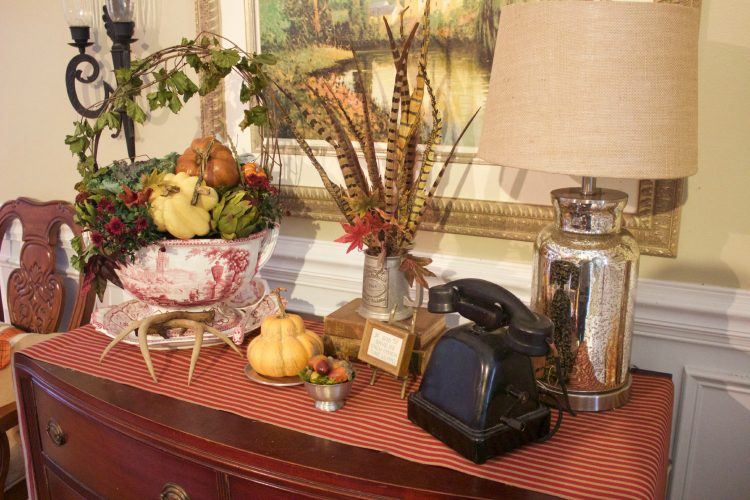 This approach transforms a sideboard into a traditional fall accent piece that exudes the elements of rustic with vintage appeal. Use a simple runner with earth tones and garnish with a few relics of the past. This setting includes a vintage telephone for accent. The antique wash basin is used to hold an assortment of symbols of fall. In this case, an assortment of harvest foods with fall foliage. Pheasant feathers are held in a pewter tin cup that sits atop antique books. This creates a feeling of fall as it would have been in another era.
Bountiful Elegance Fall Table setting
This fall table features the use of glazed frosted white porcelain pumpkins to accent elegant white place settings. The full centerpiece features a large cream colored silk flower arrangement accented with fall foliage and traditional pheasant feathers. The addition of the vintage white and brown cream pitcher and dark brown cloth napkins with fall napkin holders delivers a powerful message that fall is here. This is an ideal setting for more formal dining areas.
Folk style Pumpkins
This dining room creates the feeling of a light invitation for fall to begin. The colors are light and not overstated. The folk style pumpkins send the message that harvest is in the air. This scheme uses two pumpkins with contrasting styles and color which help to balance one another. The fall flower and herb arrangements create a natural atmosphere that hints at the beginning of fall. The inspirational message at the center of the table indicates that the season of thankfulness is upon us.
The glass vases are a nice touch and although not shown, imagine the warmth that this room would produce during evening hours with the candles lit. This approach is the best suited for dining rooms that lean towards natural materials and a rustic or folk theme that is a little on the trendy side. Most of the materials for this decor can be purchased at a local craft store or from an online vendor specializing in folk art.
Simple fall dining table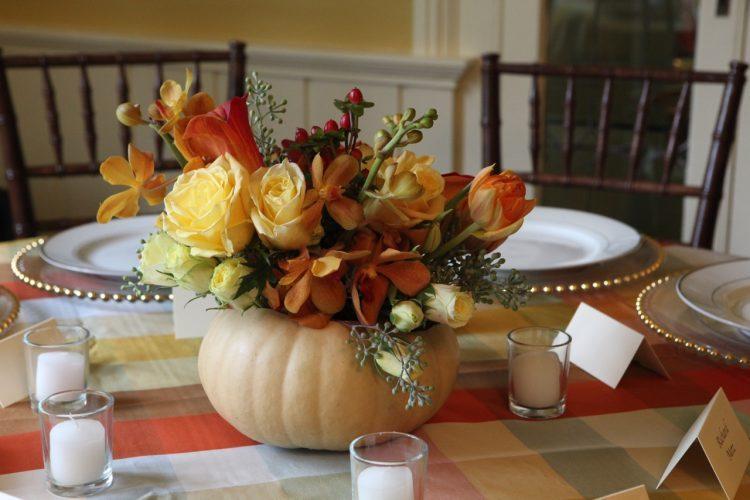 A simple tablecloth with fall colors is treated with a centerpiece that is made of a hollowed tan colored pumpkin (squash may also be used) filled with yellow roses and accent foliage of fall colors. The addition of small white candles in plain votive cups complements the simplicity of this gentle fall look.
Candles and pumpkins
This dining room is transformed with the use of white taper candles placed in a variety of rustic holders to create the feeling of going home to the old farm. The addition of a 5 inch pillar candle placed in a brandy snifter filled with dried corn adds to the rural atmosphere and the feeling that harvest has just taken place. Fall foliage and a variety of smaller gourds and pumpkins complete the decorating scheme.
Twigs and light votives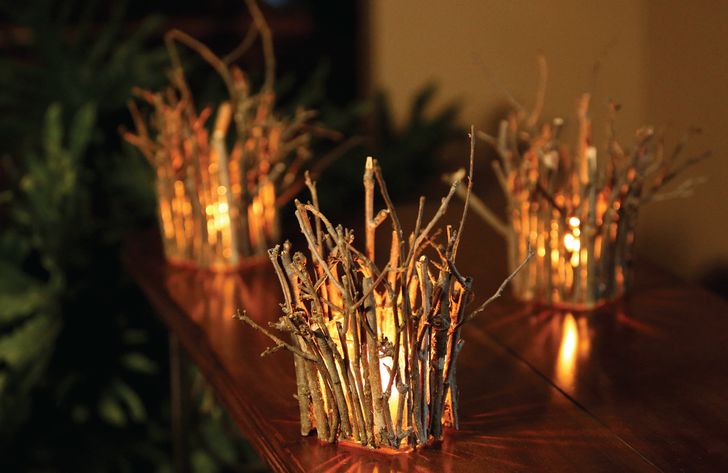 Dried twigs are fastened to the sides of votive candle cups to create these one of a kind candles that symbolize the change of seasons while adding the charm of candle light. A very simple and earthy approach to adding a fall theme to your dining room. These unique votives make an excellent centerpiece for the dining table, or work well when placed on an accent table.
Chrysanthemums and fall leaves
This simple idea uses traditional butterscotch colored chrysanthemum blooms in a simple vase set on a runner of fall leaves cut from construction paper. Gold accent votive cups hold tiny candles that glow softly as accents to complete this simple, yet effective fall look.
Sunflower sweetness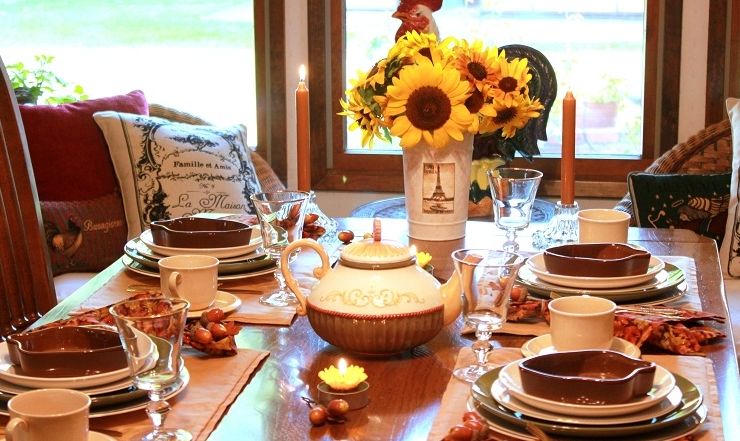 This idea uses a simple centerpiece featuring sunflowers in a white vase. The use of a complementary votive candle and taper candle in fall colors create a feeling of fall for an inexpensive and easy decorating idea.