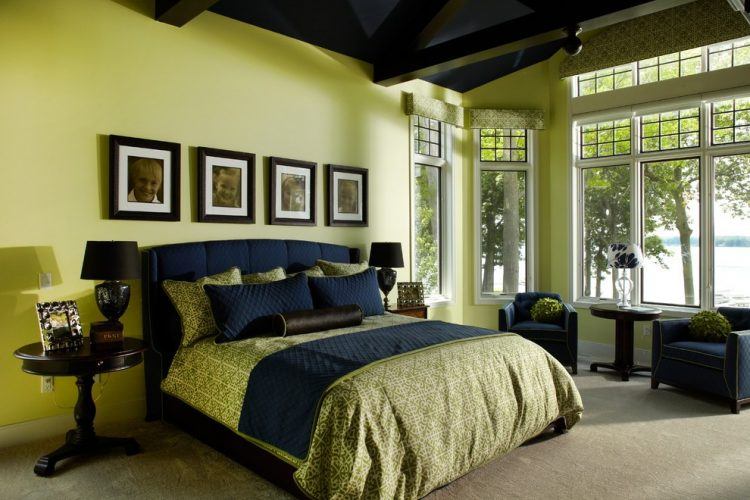 The colors that you choose for your home have a significant impact on the way each room ends up looking and feeling. One of the most refreshing and rejuvenating colors that you can incorporate into your bedroom is green. Not only is it highly versatile and pleasant to look at, the range of shades is seemingly endless. From chic lime to lovely pistachio and stately hunter green, you can surely find a hue that suits your bedroom's decor.
Here are ten green bedrooms that look fantastic and have great character.
1. Lovely lime and pink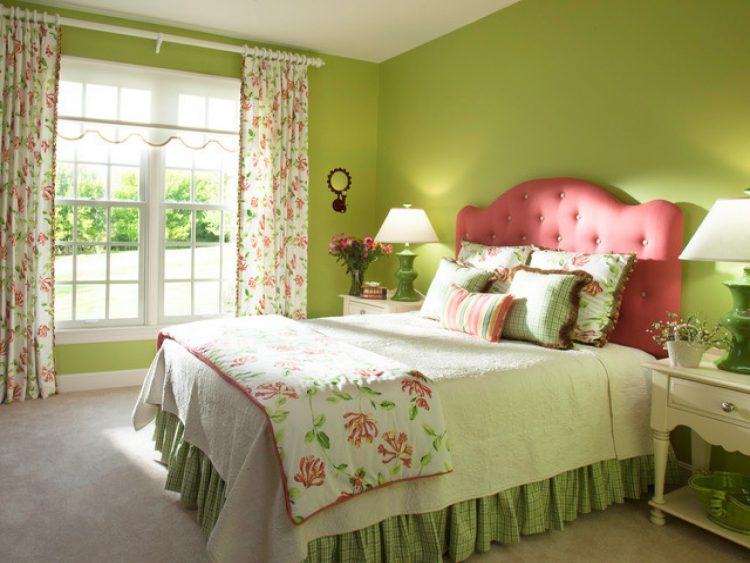 Green and pink is a classic, feminine combination and in this bedroom it looks beautiful. Two accent pillows, a bedspread, and the window curtains are comprised of the same matching fabric, and two additional coordinating prints were used for the rest of the bedding. A tufted pink headboard embellished with lime buttons is set against a bright green wall to create a traditional design with a few key contemporary updates.
2. Contemporary meets traditional
This bedroom flaunts a refreshing take on traditional style. Bright green walls aren't what one would normally think to place into a bedroom with classic furniture, fabrics, and art, but it all comes together fabulously here. All of the colors in the fabrics and art print coordinate with each other, and the neutral bedding and light fixture hanging over the bed are great accents.
If you have a traditional bedroom with furniture and bedding that you love, but you want to give it a small facelift, try vibrant wall paint — it can make a huge difference. Had this bedroom been painted pale or hunter green, it wouldn't have as much of a contemporary edge. The choice to go with such a bold and vibrant color is what keeps the space from feeling outdated.
3. Simple, relaxed style
Bright green bedrooms are often chosen for kids because it's a happy and youthful color. This teen's bedroom features bold white and lime stripes along one wall, as well as lime green furniture and accents. A light gray rug helps anchor the space, and custom window treatments coordinate with the room's look without being too matchy-matchy. The result is a bedroom with cool style that any teen would love.
4. A modern and mellow combination
Few would think to mix mint with a deeper, grassy shade of green, but it works exceptionally well in this bedroom. The two hues play off each other and create balance. Mint walls, bedding, and seating dominate the space, but pops of deep green keep the room from looking flat and boring. A modern light fixture, sconces, and floor lamps add function as well as decorative elements to the space.
5. Elegance and sophistication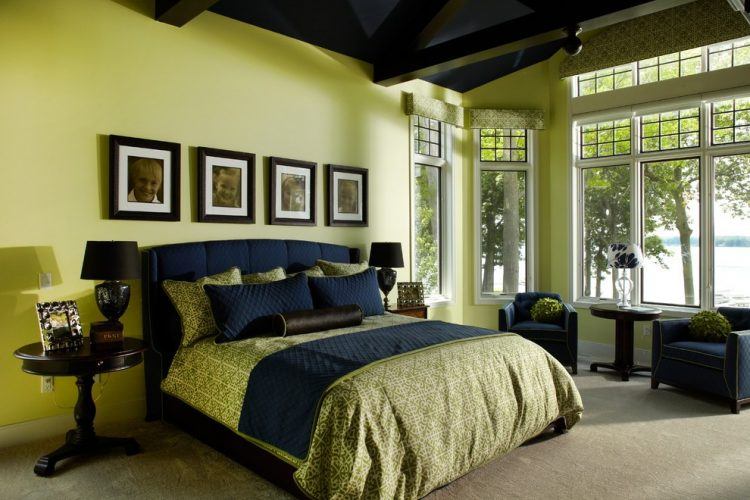 Bright green bedrooms aren't just for kids and can actually look quite sophisticated. This room has light chartreuse wall paint that makes a beautiful background for the dramatic black bed and beamed ceiling. The seating area has green accents as well as light green piping on the chairs. Green window treatments and matching bedding are the ideal way to finish off this elegant master suite.
To avoid a putting together an area that's too overly coordinated, do as was done in this bedroom and use different, but complementary, night stands. When you have so many elements that mirror each other in a bedroom, doing just that one thing can help break up the space and keep it interesting.
6. Modern and trendy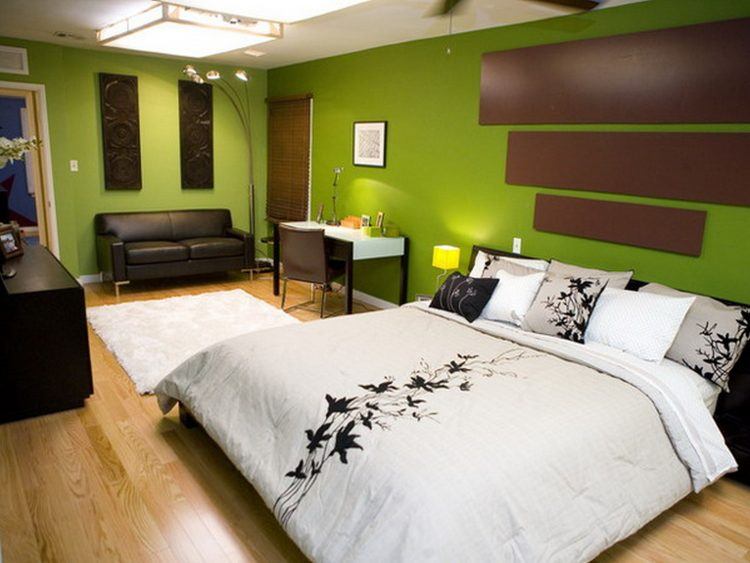 Many think that working with vibrant shades of green is tricky and that it only works well when paired with white hues. The latter couldn't be further from the truth, and this bedroom is proof. Chocolate brown pairs with the bold green shade wonderfully and creates a contemporary space. Having brown accents and furniture helps keep the lime green wall paint from being too stimulating, which is important in a bedroom.
7. A room with flair
One of the great things about green bedrooms is how well they take to nature themes. The two large art prints above the bed in this room set the scene, and a mix of striped green and dotted wallpapers look gorgeous as a background. The graphic print area rugs and window treatments in the space have patterns that provide visual interest without being overwhelming. The rest of the elements in the room including the bed, seating area, and storage have clean lines that lend a modern aesthetic to the area.
8. Beautiful classic elements
Green bedrooms often reflect a traditional style, such as this grand space. Sage, olive, pistachio, and pale greens mix together wonderfully to create a bedroom that looks very sophisticated and classic. The stately furniture, plush fabrics, and vintage floral art prints work together to create cohesiveness. Since the walls are painted green, leaving the coffered ceiling white keeps the room from feeling too closed in.
9. Chic green and white
The decor in this bedroom is right on trend and features a bright shade of green pared with white. Touches of gold throughout the space give it a luxurious look, and the crisp white bedding coordinates well with the white in the floral wallpaper. A small vase of fuchsia flowers on a side table adds a pretty, feminine accent to the space and is the perfect finishing touch.
10. A luxurious retreat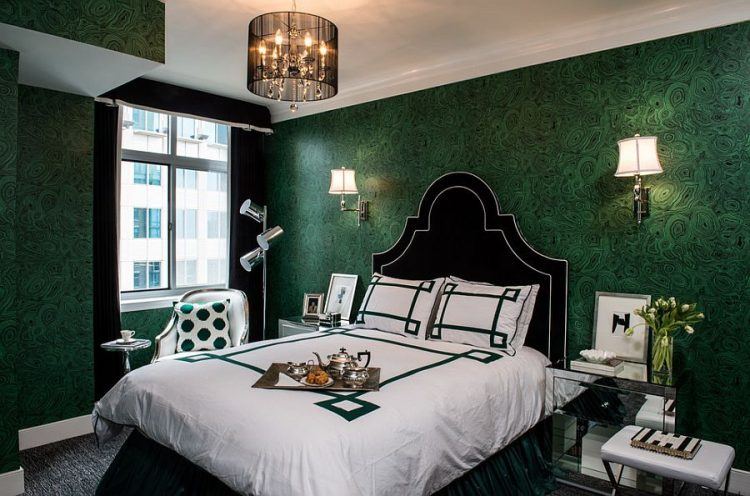 Green bedrooms with deep tones can be incredibly beautiful and upscale, such as this malachite gem. The room's walls are covered in designer wallpaper that recalls the look of a sliced malachite stone, and the bed skirt and headboard complement the dark green. Glamorous touches are added by a mirrored nightstand and modern light fixture, while white bedding and seating provide neutral pieces to keep the room from feeling too heavy.