For those that want style and sophistication in addition to comfort in their dining area, but have limited space to work with, these design ideas will inspire you to create the dining room of your dreams using what available space you already have. You may be thinking that just because you don't have a large area for your dining room that you won't be able to do much with it. That assumption is far from the case if you just use a few simple design rules and get creative with your placement and focal points.
By using a variety of design techniques and strategically placed color and materials you can make a place that will have guests wanting to stay. A few carefully placed furniture pieces and a unique strategy will give you plenty of seating and a beautiful area that will look lovely for years to come. Some of these ideas may require a specific type of space but most of the suggestions can be modified a bit to incorporate what you have to work with without completely altering the concept. The finished product should maximize space and visual impact.
Color Palette
Using a specific color palette in conjunction with smartly designed furnishings will give your dining room the illusion of being much larger than it is. This is especially true if there is a good deal of natural light provided by large windows. Anytime that a dining room has plenty of windows it makes space seem much larger. In this example, a gray theme was used with contemporary design to create a very comfortable and seemingly large dining area. The space available is not as much as it initially appears to be. This style maximizes the use of space and adds flair and sophistication. The best feature of all is that this style can also blend with a variety of other design styles in other parts of your home.
Large Furniture
Another way to create the illusion of space is to use large furniture that makes a big visual impact. Using a large dining room table with eye-catching details along with big comfortable chairs gives the viewer the idea that the room is larger than it really is. If this design is done correctly, you can pull off the big formal dining area beautifully with only limited space. Another important part of creating this illusion is to make sure that there is a good natural light source. Mirrors can also be strategically placed to create the illusion of more natural light.
Wrap Around Booth Style Seating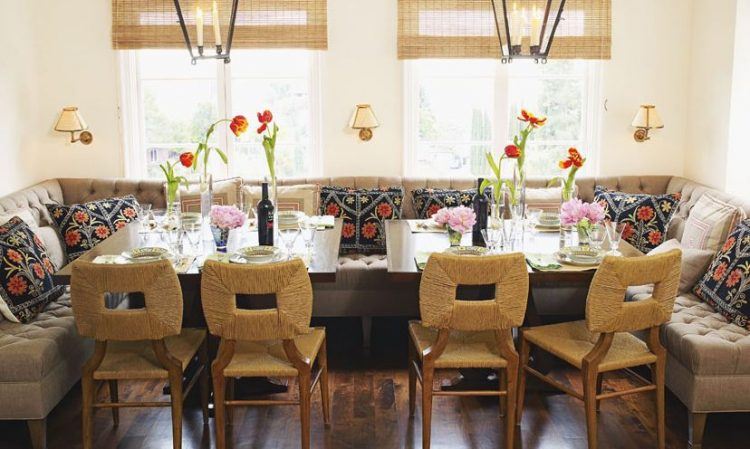 Using a wrap around booth style seating scheme can maximize your dining capacity and create a warm, cozy feel. We are familiar with the booth style seating when we casually dine. The setup is great for conversations and maximizes the amount of space available to guests when dining. To upgrade the idea find a fun and stylish booth style seat and pair with some fun and creatively styled chairs to add texture and contrast. This is a unique way to get the most out of limited space and is a great idea if you entertain frequently. Guest love the comfort of the booth, and everyone feels as though they can see everyone without being crammed together or feel too far away.
Naturally Textured Wall
The best way to add a touch of drama and grandeur without looking too over the top, it to incorporate a naturally textured wall. There should only be one wall done in this style to avoid being too busy or detracting from the desired impact. A large dining table with a tall arrangement gives an illusion of height and space. Elegant and comfortable furniture make this a desirable living room design idea. The great thing about this idea is that you only need a small amount of space to make the desired look.
Curved Seating and Round Tables
If you have a very limited amount of space with which to work with, then you can maximize your seating capacity and provide comfort and style with some careful planning and clever tricks. If you have a small space with which to create a dining area then simply acquire a curved bench style seat and place it again the dining room wall. Put a medium size round table in front of it to match the lines of the bench. It will create the illusion of space and add a sophisticated element of style. With the remaining space at the other end of the table, you can place two fun and comfortably designed chairs. This breaks up the curves and adds dimension to the area. This will make a small nook seem like a large dining room.
Light Color Scheme with Accents
By using a light color scheme with appropriately placed natural wood accents to add texture. You can make your living area warm and inviting without seeming too small or cramped. You just need to make sure that you use very light neutral colors for the chairs and window treatments as well as paint and flooring. Inject color by using various wood tones which will warm up the design so it doesn't seem too cold or formal. A tall, eye-catching floral design will help keep the space warm and relaxing.
Add Formal Lighting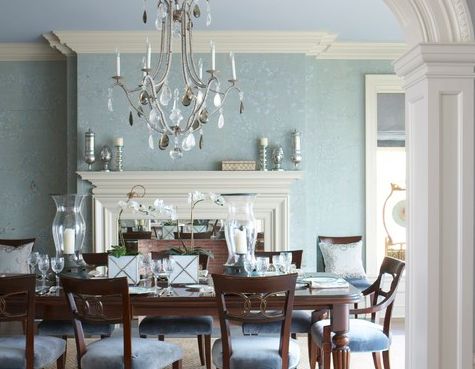 The best way to make a dining room space seem grand is to add formal lighting such as a chandelier. A large chandelier will add sophistication and set the focal point of the room higher which gives the idea of space. When using a large light fixture, you will want to keep your overall design simple yet elegant. If too much color or other features are incorporated, it will seem busy and will not be cohesive. Be sure to use comfortable seating and try to use a larger dining table so the chandelier does not overpower the rest of the design.
Natural Light
If you happen to have great lighting for your dining area, then you are on your way to having a beautiful dining room already. Harness the natural light by using warm neutral tones. This will make the space seem larger and will add warmth to the area. Use flowers for pops of color to keep the design from becoming boring. Use lighter tones of wood to blend with the design along with different textures. Play with the seating a bit by using a different style along with your regular chairs such as ottoman-style seating. This will add texture and intrigue to overcome the ability of a neutral palette to become boring.
Using mostly All-White
If you are bold and don't mind trying something completely different, then this idea may be for you. You always hear that you shouldn't do a room in one single color. In this case, you would be doing the room in white all over except for just a few strategically located places. These places with the color contrast will bring the focal point to wherever they are located. In this instance, it is the seating of the dining area that gets all of the attention. The room would normally blend into everything else but these dark colors pull the room back into focus and give the illusion of the area being very large. The other small splashes of color take the form of small knick-knack and a small flower arrangement done with bright colors. This is a design idea that is very contemporary and creates a huge impact in a small area. To keep the space from seeming cold be sure to use varying textures. If done correctly, this style will have your guest wanting to sit and stay for a while.
Well-designed dining table and large chairs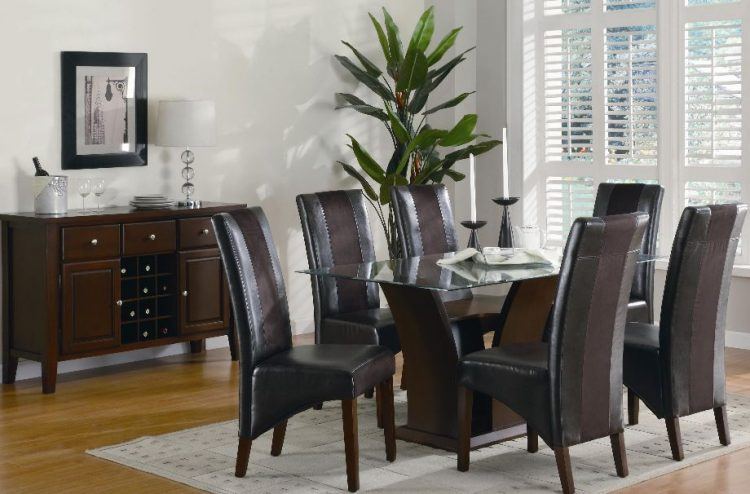 A great way to maximize space in a small home is to use a small but well-designed dining table paired with large comfortable chairs. The chairs will make the table seem larger than it is. You can use plush fabric or leather to add impact and interest to the design. The centerpiece is naturally going to be the dining room set, but don't forget to add equally impressive design features on the walls and surrounding areas to balance out space and make it seem cohesive. A strategically placed floral arrangement will bring a natural quality to the design to prevent it from seeming too cold or over the top.