If you want to have access to the gorgeous neighborhood known as Majors Cove in Edgartown,MA then look no further than this gorgeous custom built waterfront home that's on the market for $4.25 million.   Presented by Sandpiper Realty, the 6,025 sq ft home sitting on 1.5 acres has plenty to offer.  The home, which was built in 1988, consists of 6 bedrooms, 6 bathrooms,  a bar, media/game room, tennis courts, separate guest house, pool, large deck and much more.
The house has a wonderful layout, providing large, open spaces for entertaining, but also lots of quiet nooks for reading and resting. Floor to ceiling walls of windows and French doors highlight the beautiful views, and all the wings of the house are adjoined by a central courtyard that features formal gardens, summer bloomers and masses of climbing roses.
Check out pictures below:
The design, quality and craftsmanship of this waterfront home will impress the most discerning buyer, while the grounds, views, easy water access, and convenient location will provide enjoyment and stress relief in every season
Grab your kayak or jump on your paddle board to explore the shores of Sengy, or hop in your motorboat for a day on Nantucket Sound. Four miles of walking paths meander through the woods, fields, salt marshes and shores of Felix Neck Wildlife Sanctuary right next door.
The gourmet kitchen is separated from the expansive dining and living areas with a high granite serving bar, and is further enhanced by a separate catering kitchen. The craftsmanship is unparalleled, with paneled vaulted ceilings, wooden columns, and built-in shelving and window seats.
Only the finest stainless steel appliances.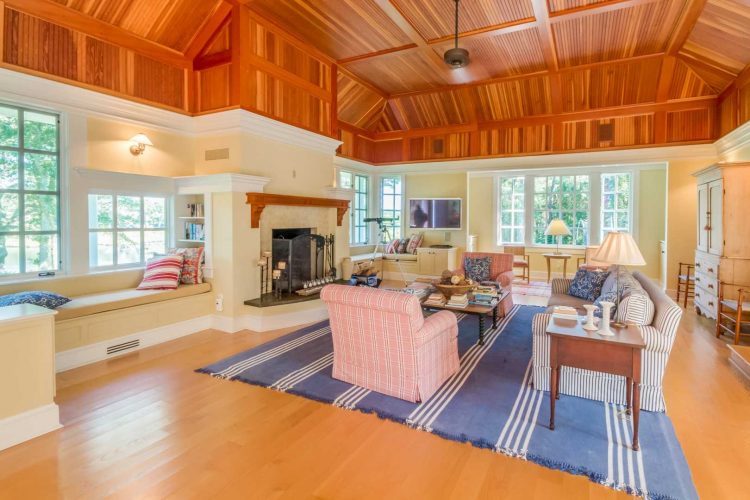 A separate living room highlighted by gorgeous wooden ceilings, window seats, and a large fireplace with wooden mantle.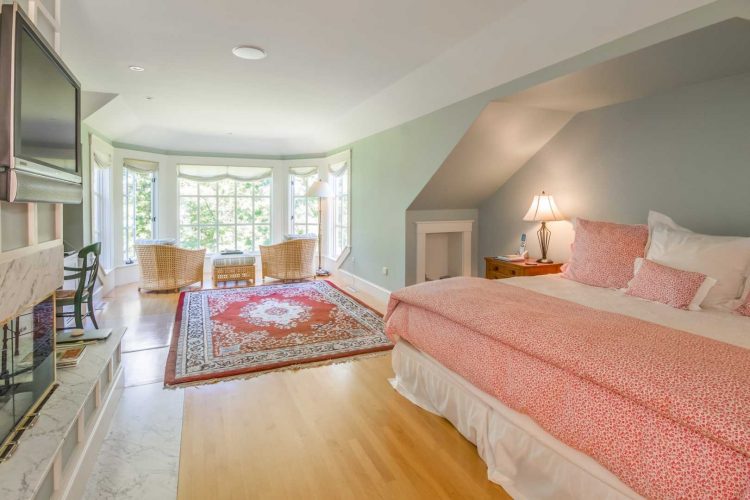 The master bedroom has a private staircase, fireplace and sitting area with stunning views toward Nantucket Sound. Four more bedrooms and an inviting family/media room make up a separate wing, all spilling onto the courtyard.
Master bathroom with a beautiful view of the lake.
Master bedroom closet with ample space.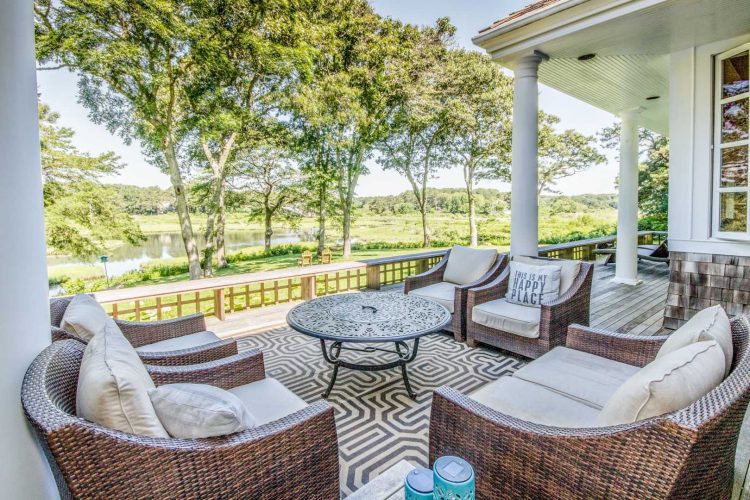 This is most definitely a "happy place."