Marble has timeless beauty and looks great in all types of kitchens. From the spacious and grand to the modestly sized, marble is a top choice. It has a reputation for being difficult to care for, but having a marble kitchen isn't nearly as tedious as many think — avoid acidic cleaners and you'll stave off etching and keep your marble looking gorgeous. The pay off in terms of style and attractiveness are well worth giving just a bit of extra attention to how your marble surfaces are cleaned. Here are ten stunning marble kitchens that will give you tons of design ideas.
1. Distinctive features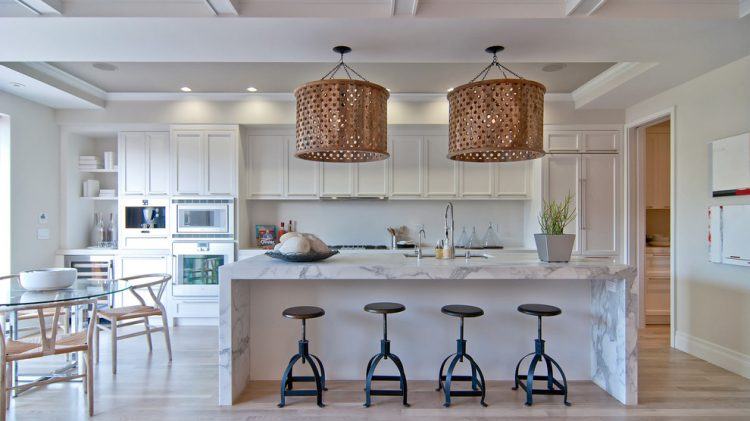 There's so much to love about the design of this kitchen, such as its coffered ceilings, fabulous copper light fixtures, and gorgeous marble island and counters. Each element comes together flawlessly, and the look is modern and quite stylish. Some worry that having marble counters and an island will leave their kitchen feeling too stark or cold. To eliminate that possibility, take a cue from this design and add in warm elements such as a bold light fixture or rich wood floors.
2. A range of textures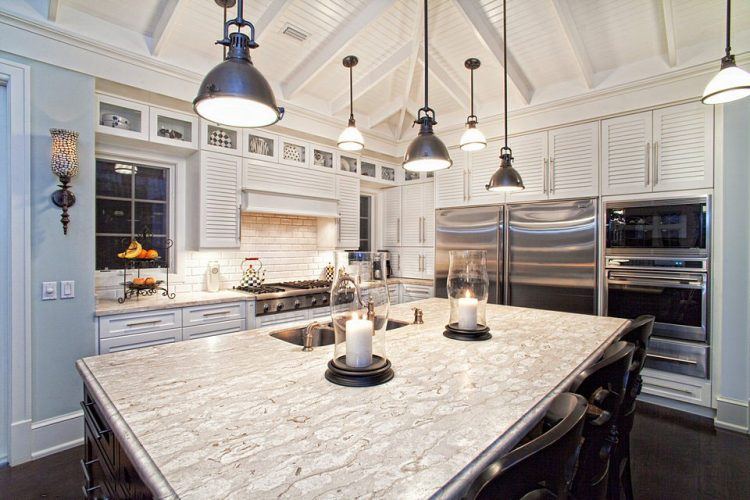 Marble kitchens can look impeccably chic, which is the case for this one. What makes it look so fantastic is not just the huge marble island and matching counters, but the variety of textures within the space. A marble tile backsplash, slatted cabinets, and planked ceiling all share the same tone, but each stands out in its own way because they feature different textures. Combined with an assortment of interesting hanging lights, this kitchen is definitely crave worthy.
3. Tons of character
Anyone who thinks that marble kitchens lack character should take a look at this gem. It's a bit whimsical, very stylish, and quite charming. The marble counters throughout the space pair well with the style of the backsplash and a large golden light fixture hanging over the island. Adding a few pretty art prints, a lovely pennant banner, and other great decorative elements makes this kitchen come alive and feel inviting.
4. Marble all around
One of the great things about marble kitchens is that they look expensive, but the material itself is quite affordable when compared to other options such as quartz, lava stone, or granite. This kitchen is clad in marble from the floors up to the walls. If you already have counters that you love, but you want to integrate marble into your kitchen, consider switching to marble floors or a backsplash. If you want to be bold, do both. This kitchen's finishes look amazing paired with its towering cabinets.
5. Colorful additions
While this kitchen is small, its marble counters make a big impact. However, to keep it from looking cold — especially considering the all-white walls and cabinets — the design includes pops of fun color throughout. Blues, aquas, mint, and warm yellow decor are strategically placed to give the space a fun, stylish, and casual appeal.
6. Old World charm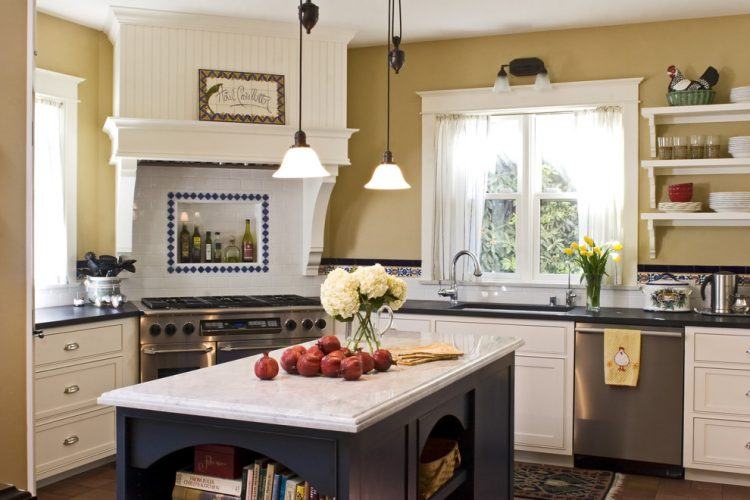 These days it's popular for contemporary and transitional kitchens to sport carrara marble, but you can also use it with stunning effects in kitchens with a classic, traditional, or rustic style. This kitchen has many charming traditional elements and decor, but the marble counters fit in beautifully. Warm walls play well with the hue of the island, and rich blues and golds give it a French country vibe. This design proves just how versatile marble can be in the kitchen.
7. Clean and bright
If you fancy kitchens that are mostly white and have a bright, spacious, and clean aesthetic, this one will catch your attention. Although there's not a lot of color in the design, it still looks gorgeous because of the fine elements within it including marble covering a number of surfaces. A trio of monochrome art prints, rattan stools, and glass apothecary jars of varying heights pull the look together and make the space look incredible.
8. An upscale gourmet kitchen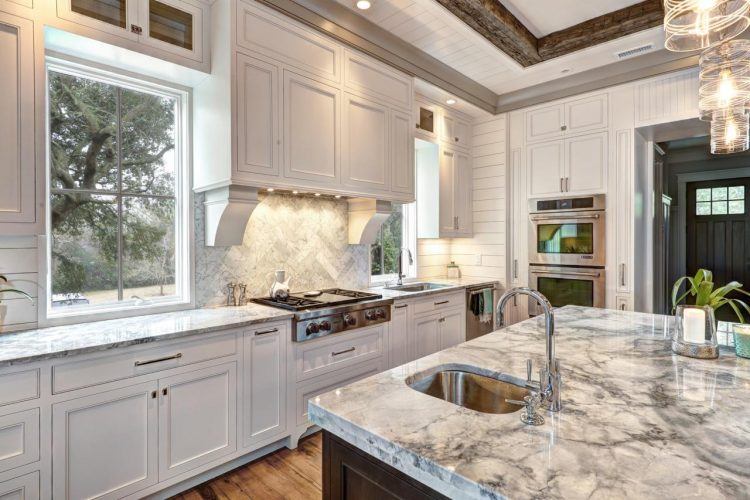 Knotted wood floors, wood lined tray ceilings, and marble combine to make this kitchen look fabulous. It has a transitional appeal due to the combo of materials and rustic elements, but it's also upscale because everything in it looks so well done. This kitchen shows how to pull off the look of an expensive kitchen without necessarily spending a ton of money. If you try to mimic this design, don't skip on the bright white cabinetry — it's an essential part of what makes it so appealing.
9. Simply sophisticated
Here's another way to combine wood and marble. Instead of on the ceiling, this kitchen has a mix of butcher block wood and marble counter tops. The wood floor also stands out and brings warmth to the design. Adding in distinctive tile on the walls, accents of pale aqua, and two beautiful drum lights over the island give this kitchen a definite air of elegance and sophistication. Having a well planed space helps make it look so attractive, as do the kitchen's brushed stainless steel appliances and finishes.
10. A bold design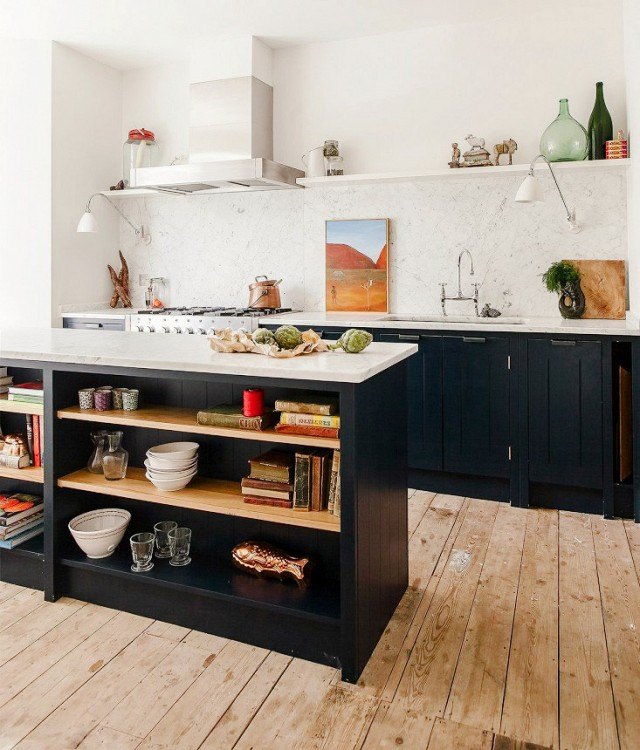 Many don't think to pair marble counters and walls with black cabinets, but it works exceedingly well in this design. Painting the lower cabinets and island matte black, as opposed to a glossy finish, allows them to fit in nicely alongside the marble. The counters and backsplash are comprised of the same type of marble — if you want an easy way to integrate marble into your kitchen, the backsplash is a great place to do it. Instead of hanging cabinets, this kitchen has open shelving on the wall and in the front of the island. Knotted wood floors, organic decor, and an eclectic mix of art make the space look amazing.