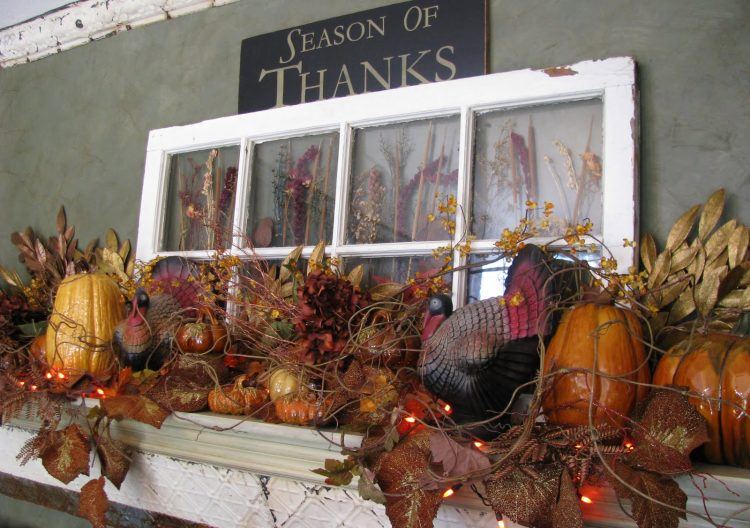 When Late October rolls around and the Halloween decorations start going up, the basis of Thanksgiving decor is being established. Rich fall colors that revolve around the colors of changing leaves and the end of the harvest season serve as a precursor for kicking off the holiday season. Thanksgiving decorating is fun and exciting because it offers a way to prepare the home by setting the perfect environment for entertaining family and friends during this special time of year.
If you're having trouble deciding the best approach to take for this year's holiday decor, we have ten gorgeous Thanksgiving looks for your living room for your consideration. Our hope is that these magnificent ideas will inspire you to find the perfect look to start your holiday season out on the right foot.
1. Thanksgiving Holiday Living Room with attached dining room festive decor
The addition of the iconic Tom Turkey in rich fall colors is the perfect addition to this flawlessly organized table that incorporates the overall theme of thanksgiving with muted natural earth tones with the table cover that points towards harvest time and the elegant use of crystal and place settings with a traditional Thanksgiving turkey motif that ties in with the turkey centerpiece that is garnished with fall leaves and berries in a rich rust color that adds to the ambiance of the table decor. The careful placement of taper candles with votives add a touch of romance and coziness to this classic table setting that sets the mood for the Thanksgiving feast to come.
2. Cornucopia of Creativity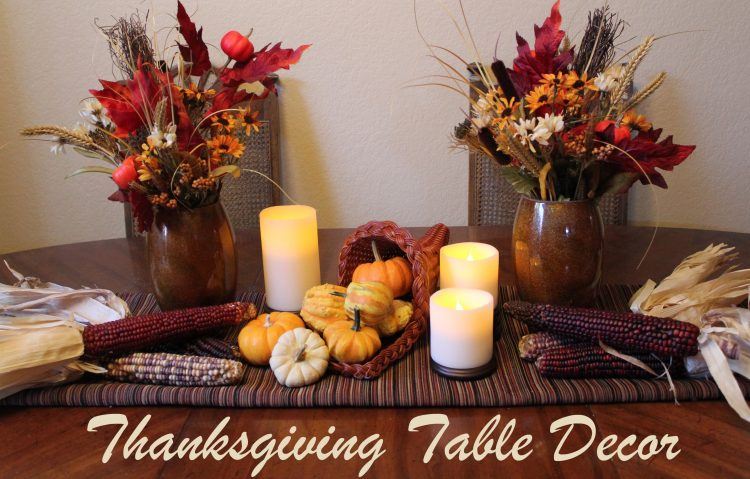 Living room tables offer the perfect space for creating the ultimate in Thanksgiving decor. You may freely take your creative license to use the elements seen in this amazing use of the colors and symbols of harvest time and fall. Since Thanksgiving revolves around gratitude for a bountiful harvest, the use of dried gourds, decorative pumpkins and ears of corn complete with remnants of the husk are the basis of this decorating scheme.
The Cornucopia or horn of plenty contains items from the bounty and the use of earth tone vases are complementary for holding any combination of fall leaves or flower arrangements that are the most complementary for your current living room decor. Make the most of your table space by using these elements and adding items that tie it in with the rest of the room.
3. The Warm Lights of Thanksgiving
This living room features a creative approach to Thanksgiving decor with the use of warm earth tones and white lights for reflectivity. The careful arrangements of dried fall leaves in simple vases set atop the mantel are enhanced with the use of soft white light strings which are distributed sparsely yet evenly throughout the arrangements. Hand crafted Pumpkins are a whimsical touch as they are framed with natural materials and left in an open weave design for a one of a kind look. The two lanterns give the arrangement an old timey and vintage appeal that adds a feeling of coziness.
4. Season of Thanks Living Room Decor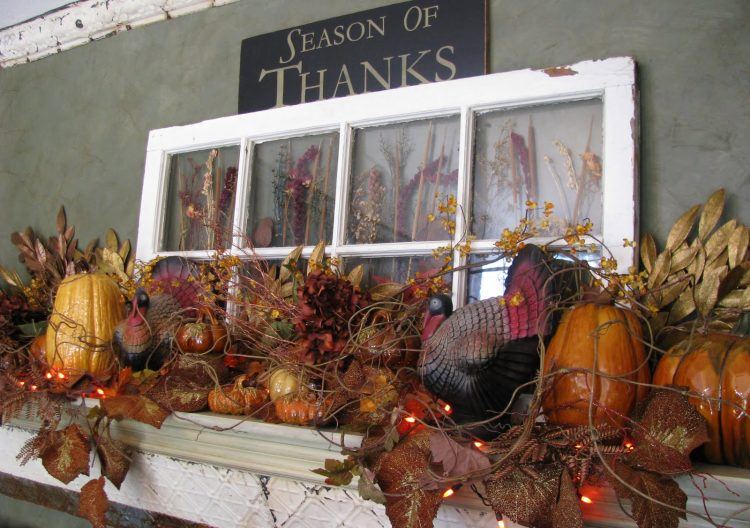 This lavish decor relies on the use of a wide variety of symbols of the Thanksgiving season. Fall leaf garlands are arranged atop the mantel and are expertly highlighted with the sparse use of orange light strands that lighten darker areas for more spectacular eye appeal. This theme uses a variety of pumpkins in different shapes, colors and textures which adds amazing variety.
Two larger Tom Turkeys add to the overall theme of Thanksgiving that sets it apart from more generic displays of fall decor. This is all centered around a rustic window pane in the background that gives the sense of coming home for the holidays for an overall design that works well in creating a sentimental and lavish display for a rustic Thanksgiving homecoming.
5. Country Pumpkin Living Room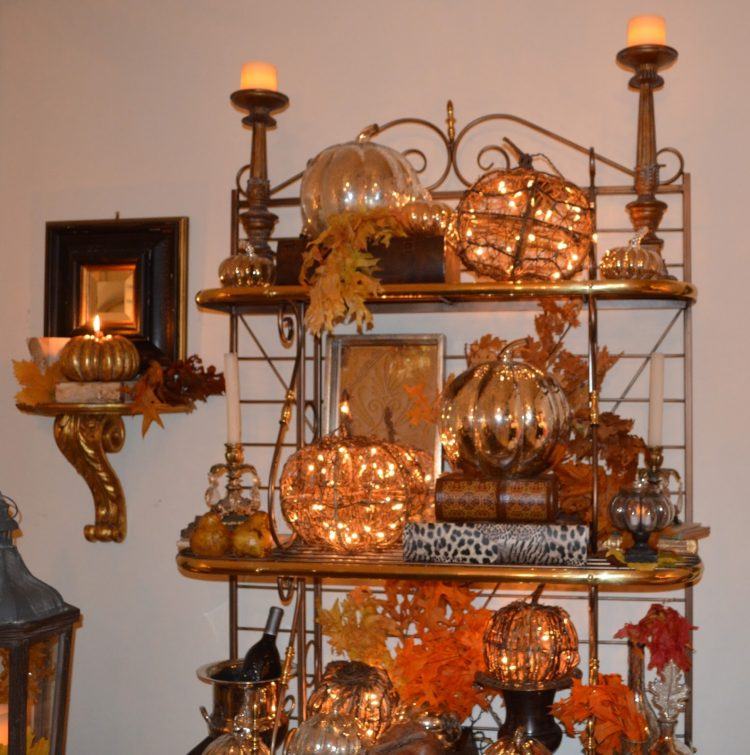 This decor features a prominent display of artistically crafted pumpkins in rich earth tones and in a variety of styles. Some are placed on pedestals that create the sense that this designer rack is a dedicated display to the glory of the country pumpkin. An adjacent shelf features a jazzy gold gilded pumpkin candle for an effect that adds elegance to country charm. The delicate uses of string lighting in the framework pumpkins along with the use of pillar style candle holders complete this unique and lavish approach to country style Thanksgiving decor.
6. Simple accents translate into lavish decor
This living room takes the art of simplicity to extreme levels by showing just how effective a few well placed accents can be in the creation of a luxury Thanksgiving decor that transforms the ordinary into an environment that is warm, welcoming and conjures all of the special feelings and memories associated with the holiday season. The living room features natural earth tone decor with dark woods dominating.
A flat mirror base is placed on an accent table and adorned with glass pillar vases which are skillfully filled with decorator mini pumpkins on the bottom and brightly burning votive candles atop for an eye catching display that is classy and elegant to say the least. A few well placed gourds and fall leaf arrangements in other areas of the room take a few simple elements of Thanksgiving decorating and use them to achieve an amazing effect.
7. Modern Stylish Minimalist Thanksgiving Living Room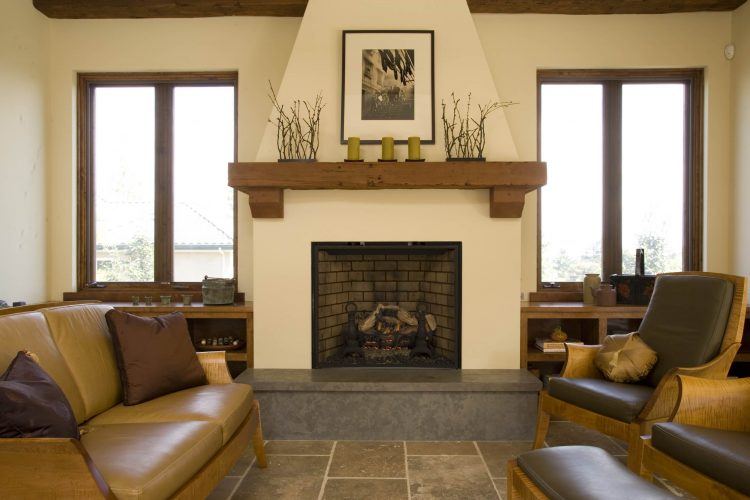 Not everyone preferes to take the traditional approach to Thanksgiving decor. More modern and ultra modern design schemes can still include understated elements of the fall season without compromising the flow of energy through a room or disrupting the ongoing minimalist approach. This living room features the careful placement of earth tone pillar candles with arrangements of fall twigs on either side for a display that signals fall has arrived without over doing it. This approach is recommended for those who live in homes with a dedicated theme but need a little help in indicating that a special season is afoot.
8. Upscale Thanksgiving decor for vaulted living room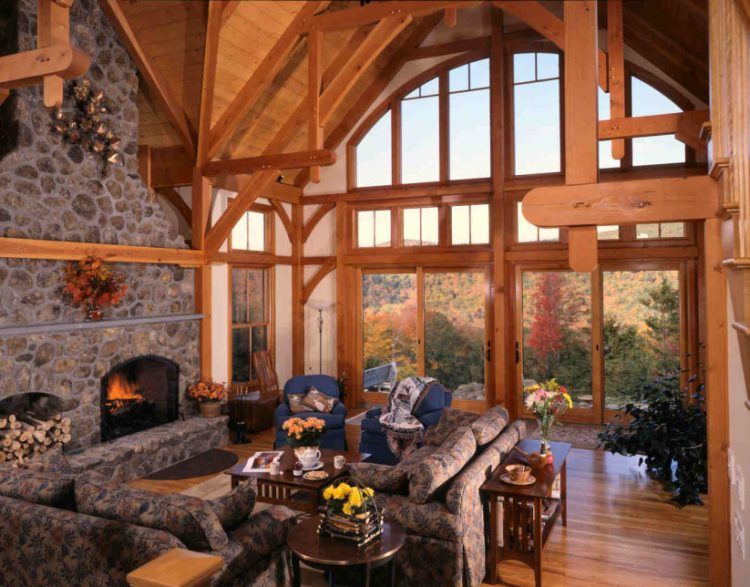 This living room features vaulted ceilings and an amazing view of the fall foliage outside. The masonry wall surrounding the fireplace is embellished with spectacular arrangements of fall foliage. To tie these in with the fall theme, additional floral arrangements in oranges and yellows are used sparingly to create a minimalist essence that fall is in the air and a special day is drawing near.
9. Fall candles and falling leaves decor
This living room features the use of candles and magnificently colored fall leaf arrangements for a lavish display of fall colors and textures. The variety of candle styles and sizes are appealing to the eye and add an elegant sense of coziness. This arrangement can be organized on any table or shelf space for a tasteful living room decorating scheme for the Thanksgiving season.
10. Thanks Rustic Thanksgiving theme for living room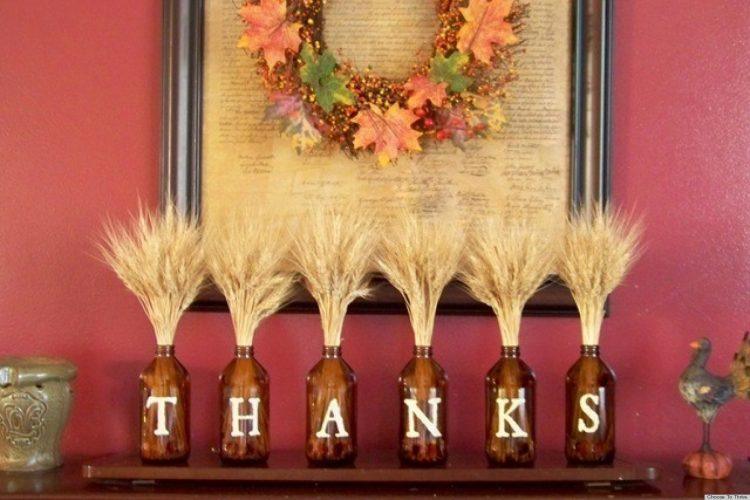 Our final selection is a simple design that yields dramatic results. The mantel in this living room is decorated with rustic brown glass bottles that hold bunches of wheat stalks with heads intact for the sign that harvest is done and it's time to celebrate. Directly above, the hand crafted fall wreath is embellished with individual leaves in rich orange, yellow and varying earth tones for a nice effect.