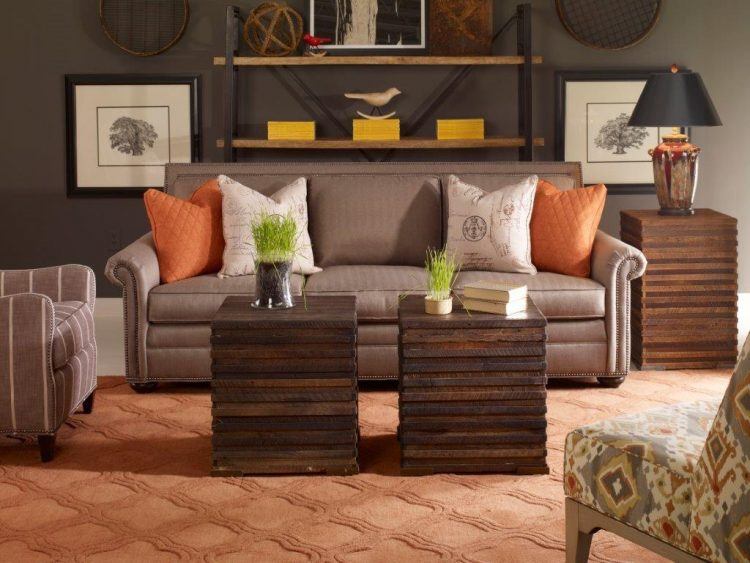 Brown is often overlooked and thought of as a safe shade to decorate with, but it can be incredibly versatile and even add excitement and drama to any room. It's particularly fitting for living areas, where it can provide the right touch of color and style to complement the furniture and decor of a space. Living rooms that are smaller benefit from lighter shades of brown, which can help open up the area while providing a more interesting alternative to white walls, and larger living areas can get away with containing an abundance of deep brown shades. For any size room, browns with a warm tinge of red or orange look stylish and have a big design impact. Here are ten shades of brown that are perfect to use in living rooms.
1. Sherwin-Williams, Tea Chest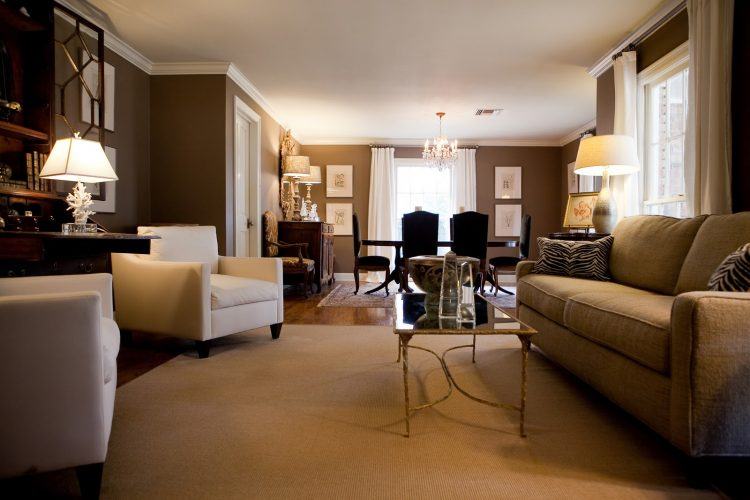 Tea chest is a lovely shade of brown that's on the neutral end of the spectrum, although it's fairly dark. This particular shade looks great paired with white, cream, tan, or black, and in this design the living room combines all of these colors to create a very fashion forward and chic space. Keeping the trim and ceiling of the room white helps prevent the brown from making the room feel too closed in, as does the choice of window treatments.
2. Benjamin Moore, Shale
The allure of very light shades of brown is that you can add color to your living room with it, yet you don't have to worry about the finished look being too dramatic. This living room features a brown called Shale, which is a creamy neutral that literally works with any color palette. The design here uses Shale as a backdrop for dark brown furniture, dreamy art prints with earthy neutrals, and pops of bold color.
3. Farrow & Ball, Etruscan Red
Shades of brown with red undertones are perfect for adding warmth to a space and are well suited for a range of decor. Farrow & Ball's Etruscan Red is actually a brown color with plenty of red thrown in, which makes it look rich and earthy. It's the ideal shade to use in a room filled with exotic, global decor, black furniture, and white accents. The color is used in this living room on a feature wall, but it would also look beautiful on an interior door.
4. Behr, Sweet Georgia Brown
This lovely shade from Behr, called Sweet Georgia Brown, has a tiny bit of gray mixed in that makes it a rich neutral perfect for any living room. If you love the color and have a smaller space, consider using the shade on an accent or feature wall, or on a portion of the room. That's the strategy used here, and it helps make the space look more inviting. Larger living rooms would look incredible with Sweet Georgia Brown all over the walls or even on the ceiling.
5. Benjamin Moore, Night Horizon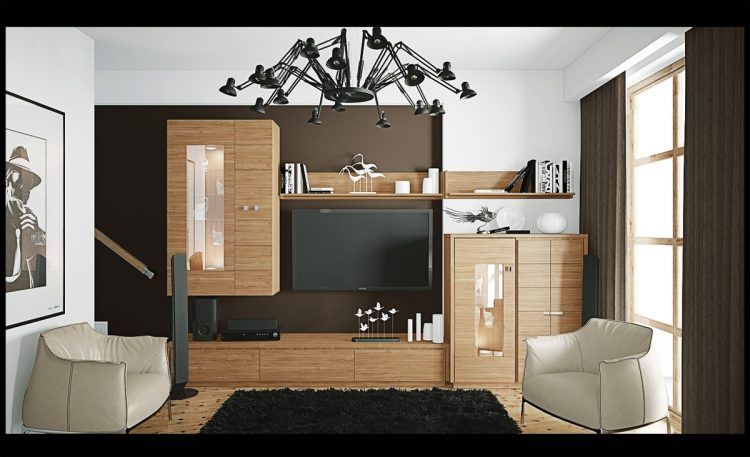 This living area shows how gorgeous dark shades of brown can be. The color seen on the feature wall is called Night Horizon and it doesn't lean too cool or warm, which makes it a great option for accent walls and interior doors. Many describe it as being like a pool of melted dark chocolate, which is definitely an accurate way to describe its hue and richness. If you're daring and want to paint your entire living room with this color it would certainly have a stunning effect, although the darkness of the shade would make the room appear smaller than it actually is.
6. Farrow & Ball, Buff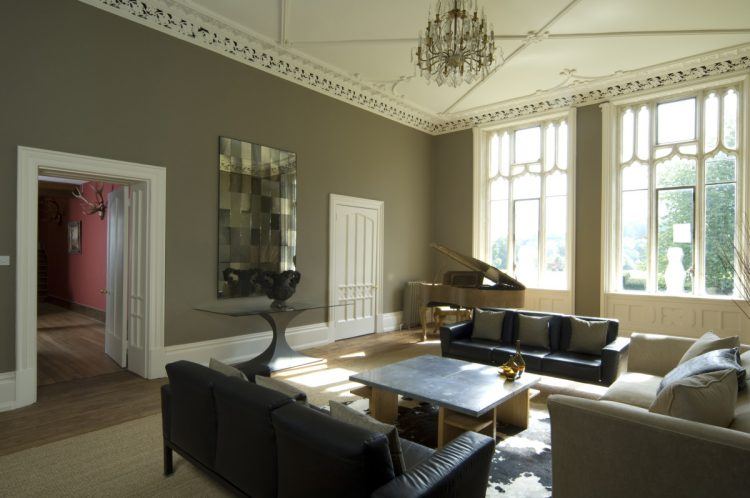 Browns that have gray undertones have become increasingly popular because of their chic and modern appeal. This oft used color from Farrow & Ball is Buff, and it's a beautiful choice for living rooms of all decor styles. It adds a nice splash of color to this contemporary living space and helps highlight the unique architectural elements of the room. Buff is commonly used in traditional and transitional living areas as well as those with a modern aesthetic.
7. Restoration Hardware, Cappuccino
If you're looking for shades of brown that aren't too light or dark, have a bit of warmth, and will make your living room feel more welcoming and cozy, consider Restoration Hardware's Cappuccino. It's well liked among designers because of its creamy appearance and how beautifully it pairs with a wide range of decor. In this transitional design it complements graphic print curtains, an assortment of patterned throw pillows, and a whimsical collection of decorative pieces.
8. Benjamin Moore, Middlebury Brown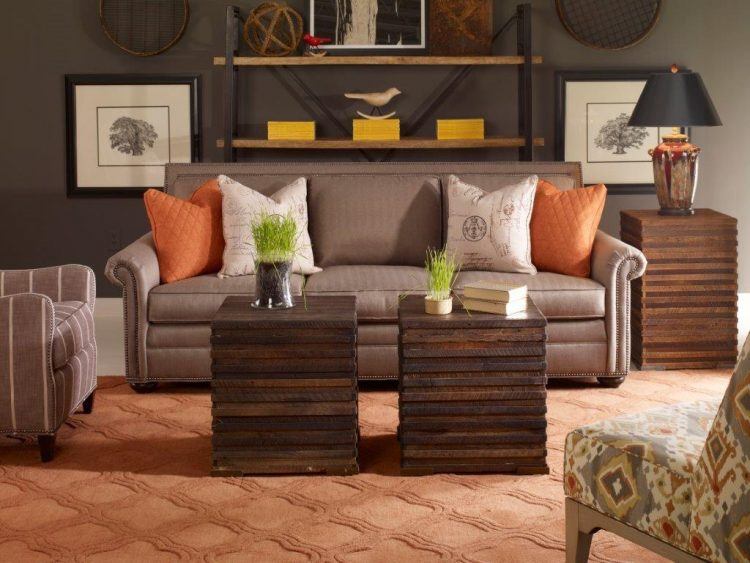 Another well loved brown that has gray undertones is Middlebury Brown from Benjamin Moore. While most shades as dark as this one are typically reserved for accent walls, Middlebury Brown is often used on all walls of living rooms, even smaller ones. It's so updated and chic that it looks great alongside vibrant shades, such as the soft pumpkin and yellow seen in this design.
9. Glidden, Gentle Fawn
Glidden's Gentle Fawn is a gorgeous neutral that leans slightly warm, but easily works well with cool colors. Dark gray around the fireplace in this home makes a surprisingly stylish combo when paired with the shade, and the brown also makes a nice background for the gray furniture and area rug in the space. Gentle Fawn is the type of brown that you can put on all walls of your living room without making it appear closed in, but at the same time it's distinctive enough to be easily noticed.
10. Benjamin Moore, Roasted Sesame Seed
Warm shades of brown reminiscent of caramel do wonders for livening up a living room, and a great option in this vein is Roasted Sesame Seed from Benjamin Moore. It looks exceptionally beautiful with white trim, and the color can also be used on the ceiling. In this eclectic design Roasted Sesame Seed is apart of a palate that includes rich rust and bold lime. It's an unconventional combination, but it works due to the style of the space and a collection of colorful art prints on the wall.