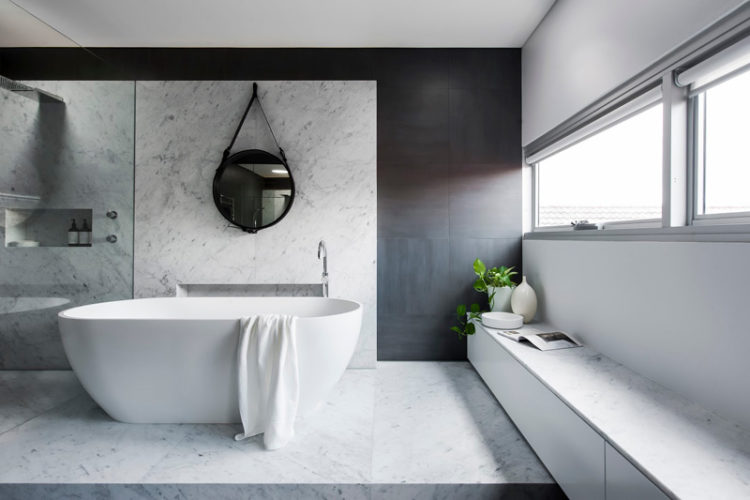 When it comes to interior design, colors are very important. The colors you chose for your space can definitely make or break the overall look and feel. But have you ever thought about using just one color for an entire space? The idea of monochromatic colors can be a little scary for some people, because the thought of using just one color may seem boring or lazy. However, that isn't the case at all. When used correctly, monochromatic colors can really be a great decision for your interior design. The key to effectively utilizing monochromatic colors lies in understanding how to work with different shades, tints, and tones of the same color. Check out 10 bathrooms with monochromatic colors.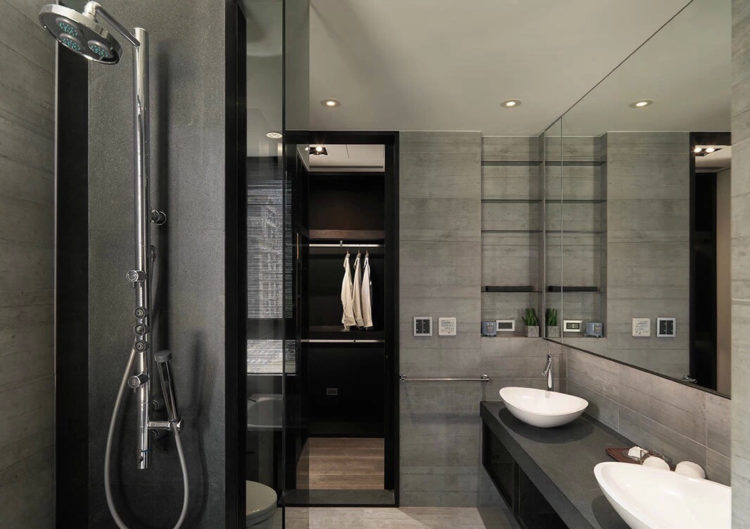 Monochromatic colors give this modern bathroom an incredibly sleek look that is mature and stylish.
image via home-designing.com
When most people think of monochromatic colors, they tend to leant towards blacks and grays. However, those aren't the only options when it comes to giving your bathroom (or any room for that matter) a monochromatic design.
image via homedit.com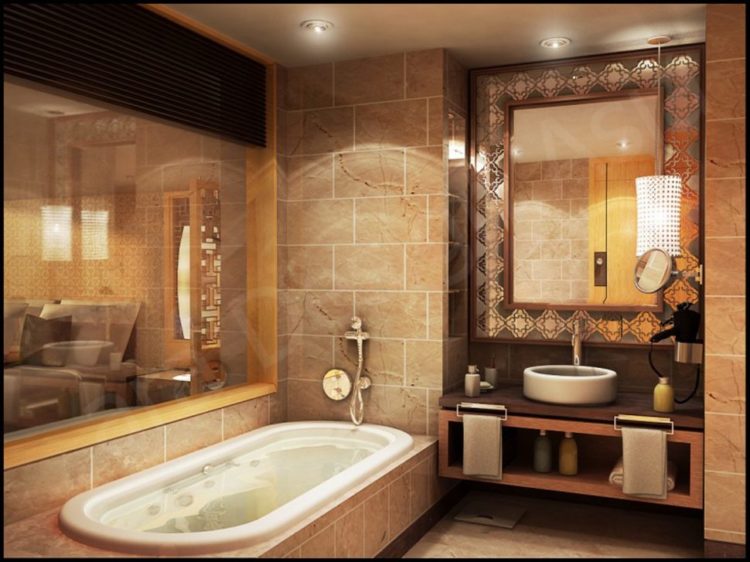 Elegant and comfortable, this bathroom stays away from bright colors in favor of tans and browns.
image via aknsa.com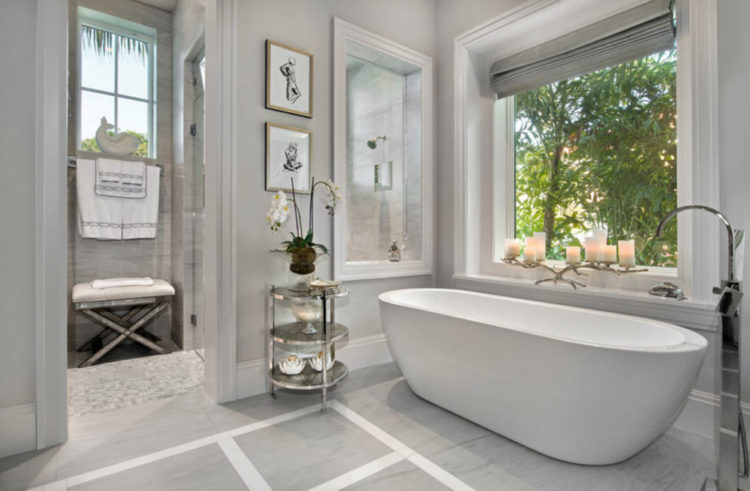 Picking the right color scheme is more than just about which colors you like. It's no secret that the color of a room has the ability to effect your mood, and different colors can also give the appearance of more or less space.
image via moderninterior.design
Green is a great choice for people who are looking for a monochromatic color scheme but want to stay away from the traditional options.
image via southernliving.com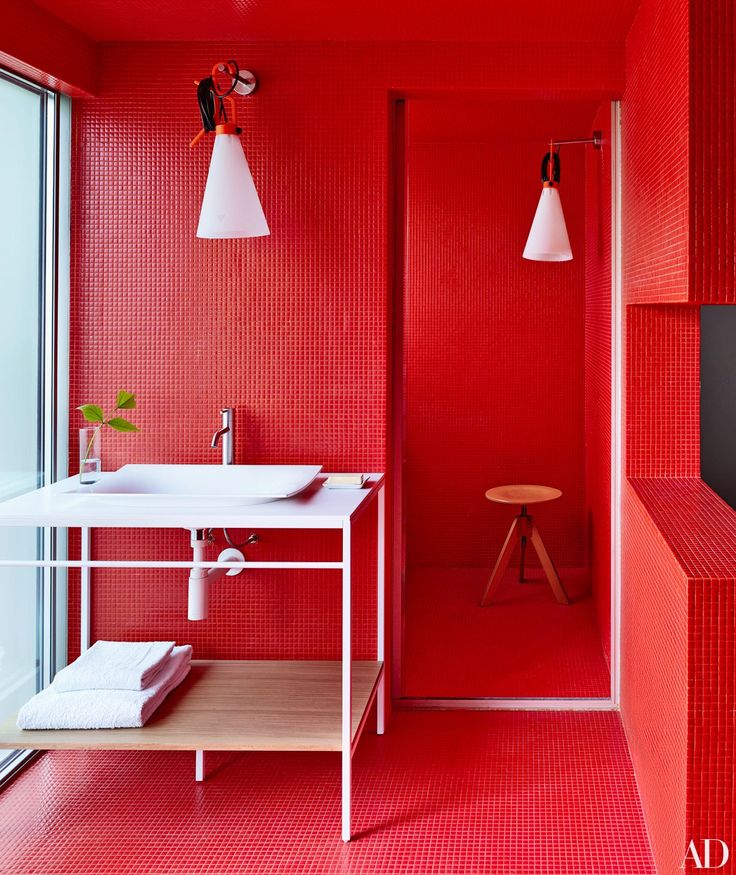 Bright colors can be a little overwhelming in large spaces. However, they can work well in bathrooms because these rooms usually tend to be on the smaller side.
image via https://www.pinterest.com/patricialbutler/
Playing with different shades of blue, this bathroom is all about simple style.
image via idolza.com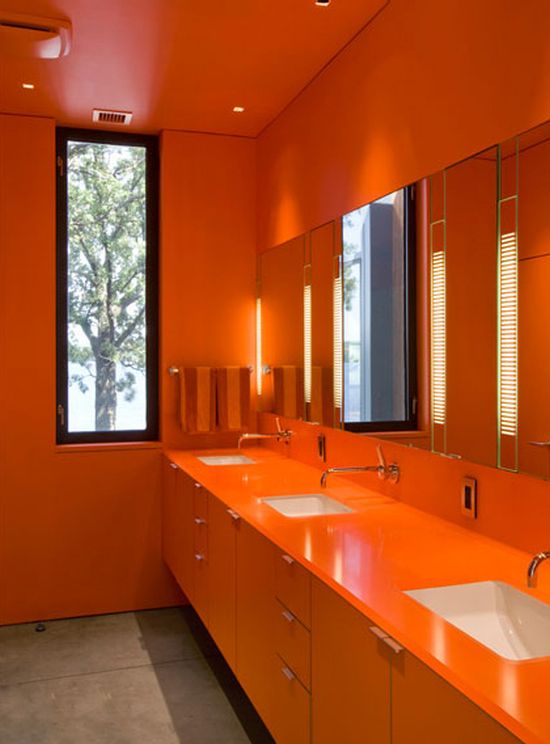 Orange is a color that certainly isn't for everybody, but when used the right way, it can really give your space a unique look and feel.
image via homedit.com
Different shades of blue help to make up the tile that covers the floors and walls of this bathroom.
image via 
Evkrata.com
Are you a fan of purple? This awesome bathroom design gives you an idea of how you can use the color and its various tones and shades to create the perfect bathroom.
image via terrysfabrics.co.uk
lead image via contemporist.com