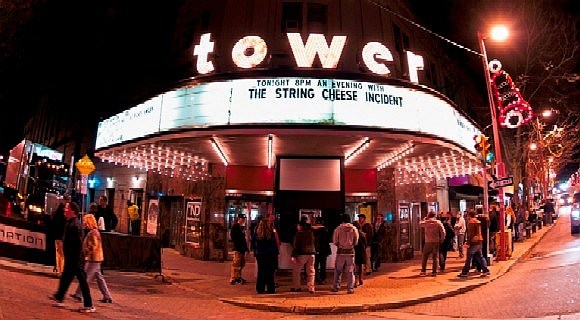 Located right outside of Philadelphia, Upper Darby, PA is a township that includes an incredibly diverse population. Although many people would expect it to be a small quiet suburb, that isn't the case. Upper Darby has a population of more than 62,500 people, and Upper Darby high school is the largest high school in all of Pennsylvania with a total of about 4,000 students. All in all, Upper Darby has an interesting atmosphere that offers a city-like environment with several things to see and do. From live entertainment to delicious food, there is a little something in Upper Darby for everyone. Keep reading for 5 fun things to do near Upper Darby, Pennsylvania.
Tower Theater
If you love live music, you'll definitely want to make a stop at the Tower Theater. Located right in Upper Darby, this popular venue originally opened its doors in 1927, and has been a popular venue since the 1970s. The Tower Theater is known for its incredible acoustics, and many artists and bands have recorded live albums there.
Studio Movie Grill
There's nothing better than dinner and a movie, and the Studio Movie Grill is a great place to enjoy both. The Studio Movie Grill experience offers "an immersive movie-going experience with custom luxury recliners paired with laser projection, studio extreme large format auditoriums, and Q-SYS sound systems so you can enjoy this season's biggest blockbuster, take in a family feature, or host a private event."
Eastern State Penitentiary
Located outside of Upper Darby, the Eastern State Penitentiary is one of the area's most popular attractions; especially around Halloween time. Opened in 1829 and closed in 1971, the prison housed several infamous criminals including Al Capone. Over the years, Eastern State Penitentiary has gained a reputation for being haunted, and guests can take tours of the facility.
Naylor's Run Park
If you want to get out and enjoy a beautiful day in Upper Darby, Naylor's Run Park is the perfect spot. This location is a popular place for families and other people looking to hang out and relax. The park offers tennis courts, picnic areas, and baseball fields.
Philadelphia Museum of Art
As one of the most popular attractions in Philadelphia, the Museum of Art is one of the places that should definitely be on your list of places to visit. Not only are there lots of beautiful exhibits to see, but the Philadelphia Museum of Art  is also home to the unforgettable 'stairs' scene from Rocky.
lead image via jambase.com