If you're like lots of people, your dining room probably doesn't get used on a daily basis. Most of us only use our dining rooms for big holiday dinners or other special occasions. However, even though these rooms don't get a lot of traffic, it's still important that they look good. That's because the space where we share big meals with our loved ones is a place that usually means a lot to us – and no element of these spaces is more important than the dining room table. Picking the perfect dining room table isn't always the easiest task. Not only do you want a table that will look good, but you want one that will also be practical for your needs and your space. Fortunately, there are lots of options out there. Take a look at 10 stylish dining room tables you'll love.
When shopping for dining room tables, it's important to go with something that matches the overall look of your room. So, if you've got a formal space, you want to go with a table that has a more formal design. The same goes for people with more casual dining rooms.
Having enough seating is a major concern when people think about dining room tables. This beautiful and sturdy table is capable of seating six people.
This five piece dining room table set can sit up to four people, and it has the perfect design for a formal or casual dining room.
Boasting a sleek black finish and a contemporary design, this seven piece dining room table set is designed to "Make a bold statement in your dining room."
Who said dining room tables had to be boring? This awesome contemporary dining table is "a true innovative furniture that will sure impress your guest." The item boasts a LED glass top that will add a very cool element to your space.
Glass top dining room tables are perfect at providing a sleek and elegant look that is sure to make your space look impressive.
If you want your dining room to be welcoming without being too casual, this table is an excellent choice. According to the product's description, this table can "Create a warm and inviting dining area with this distressed reclaimed-look dining table. This table can sit up to 6 and can be paired with matching side chairs or a bench for a more casual look. "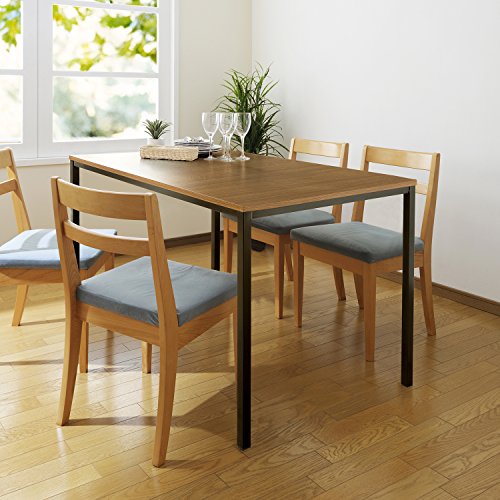 With a modern minimalist design, this table is simple and practical – but still stylish and attractive.
This contemporary dining table is "made of solid compressed bamboo wood which is very durable."  On top of that, metal legs make for an incredibly sturdy design.
A tempered glass top gives this table a durable and easy to clean design that is complimented by a nice steel frame.
lead image via roomservicestore.com