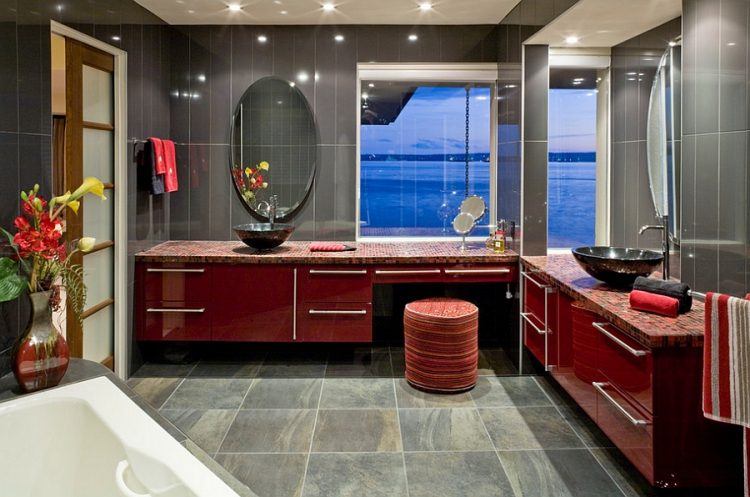 Red is a color that practically guarantees huge color payoff — if you want to add interest to a space with minimal effort, simply adding a touch of red paint, furniture, or decor will go a long way. It's common to see red living areas, kitchens, and dining rooms, but red bathrooms are another story. Though the color isn't seen in the bathroom as often as blues, greens, whites, and yellows, it can definitely work.
Here are ten red bathrooms that will give you design inspiration.
1. Exotic beauty
This bathroom is a great example of how to use red sparingly but still make a big style impact. Just a segment of the wall is painted red, and aside from one vase and a scattering of red tile, the bathroom is black, gray, and white. Still, the deep jewel like tones of the tile and vase and warmth of the red paint command attention and add an exotic touch to the space.
2. Bold red wallpaper
Why stop at covering the walls when you can also wallpaper the ceiling? That's what was done in this red bathroom and the result is unique, but not overwhelming. The bold print easily stands out in the otherwise white space, and the shade of red pairs well with the warm wood tones in the room.
3. A winning combination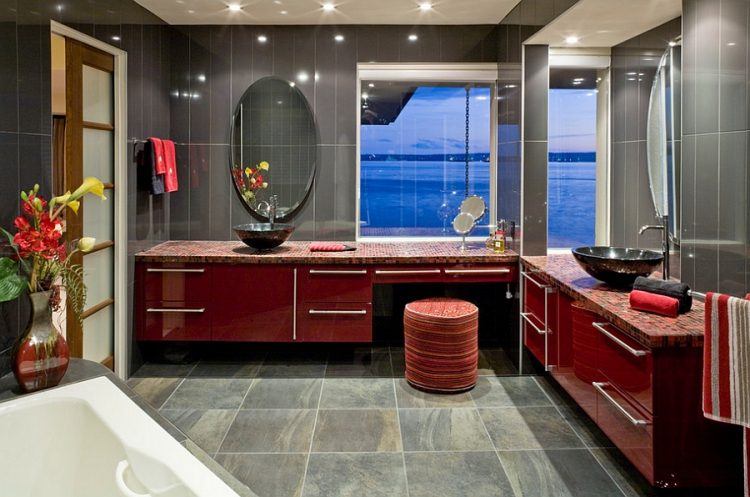 If you like clean lines and contemporary decor, take some design cues from this red bathroom. The tile on the floors and walls are gray, but red stands out the most because it's used for the room's seating, counters, and cabinets. This is a nice option for those who would prefer not to paint their walls red: buy red cabinetry or paint your existing counters and vanity red. The lacquered cabinets and polished tile glisten and emphasize the clean lines of the space.
4. Colorful and contemporary tile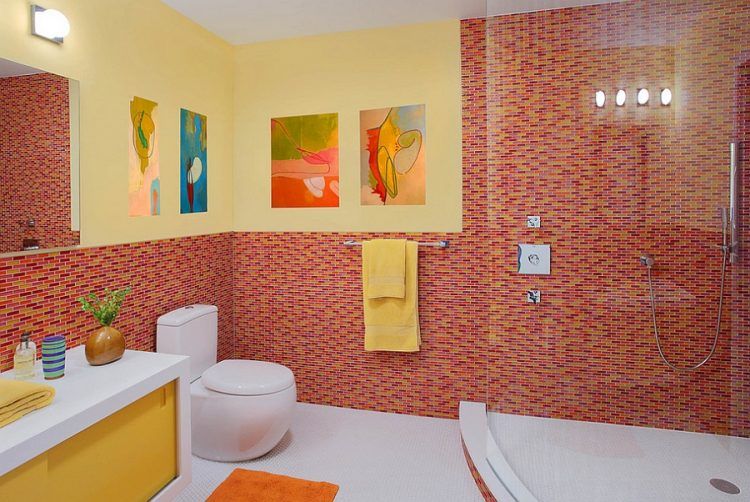 Using vibrant tiles is a great way to finish your red bathroom, and you can opt to either tile a small segment of the walls or use it more extensively. In this space, various shades of red, orange, and yellow cover nearly all of the walls, and it's also used to frame the bottom of the shower. White ceilings and a bit of light yellow paint work well with the colorful tile and provide a nice backdrop for a group of modern art prints. White tiles on the floor and white counters bring balance to the design.
5. Dramatic and glamorous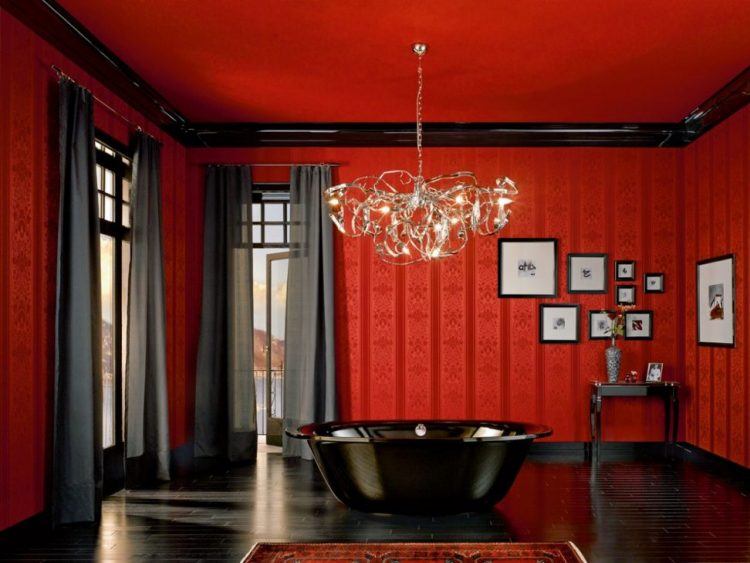 Here, a striking shade of red brings a ton of drama to a modern bathroom. It's not just the red ceilings, wall, and area rug that stand out, but a huge light fixture hanging above the bathtub as well. The avant-garde chandelier adds the perfect statement piece to make this red bathroom fashionable. A black stand-alone bathtub and simple black floor to ceiling curtains complement the trim around the ceiling and provide a bold contrast to all of the red.
6. Simple elegance
The decor in this space is simple, but that's because not much embellishment is needed. A bold shade of red paint covers the walls and window seat, and the tub sports the same shade. White tile and a white sink help balance things out, as does the light wood flooring. A pair of attractive art prints with simple black frames adds a touch of class and decoration to the room.
7. Mediterranean flair
If you like global decor, this space will provide plenty of inspiration as you design your own bathroom. The Mediterranean inspired red bathroom is bright and spacious, thanks to a generously sized window. The window features bright red trim, and red is seen elsewhere in the bath linens, rug, and decorative tile on the wall. There are a number of beautiful organic and natural elements in the room, which gives the space a lively aesthetic.
8. An abundance of rich color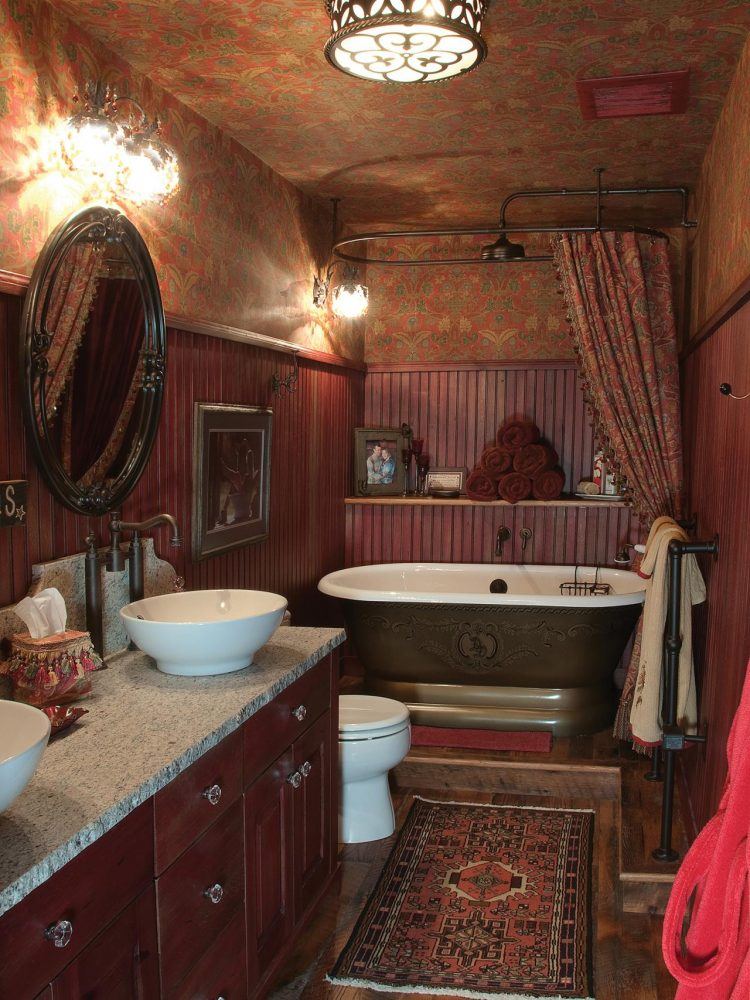 This red bathroom has rustic and traditional elements and it looks absolutely gorgeous. The space is packed with color, from the ceiling to the floors. Walls and cabinets stained a rich red shade pair with a ceiling that's covered in wallpaper with red, gold, deep green, and brown tones — to say that the overall look is opulent is an understatement. Even the bathtub has a touch of gold color, and the shower curtain matches the print used on the ceiling. If you want an interesting way to add red to your bathroom, try using wallpaper on the ceiling or painting it.
9. Touches of red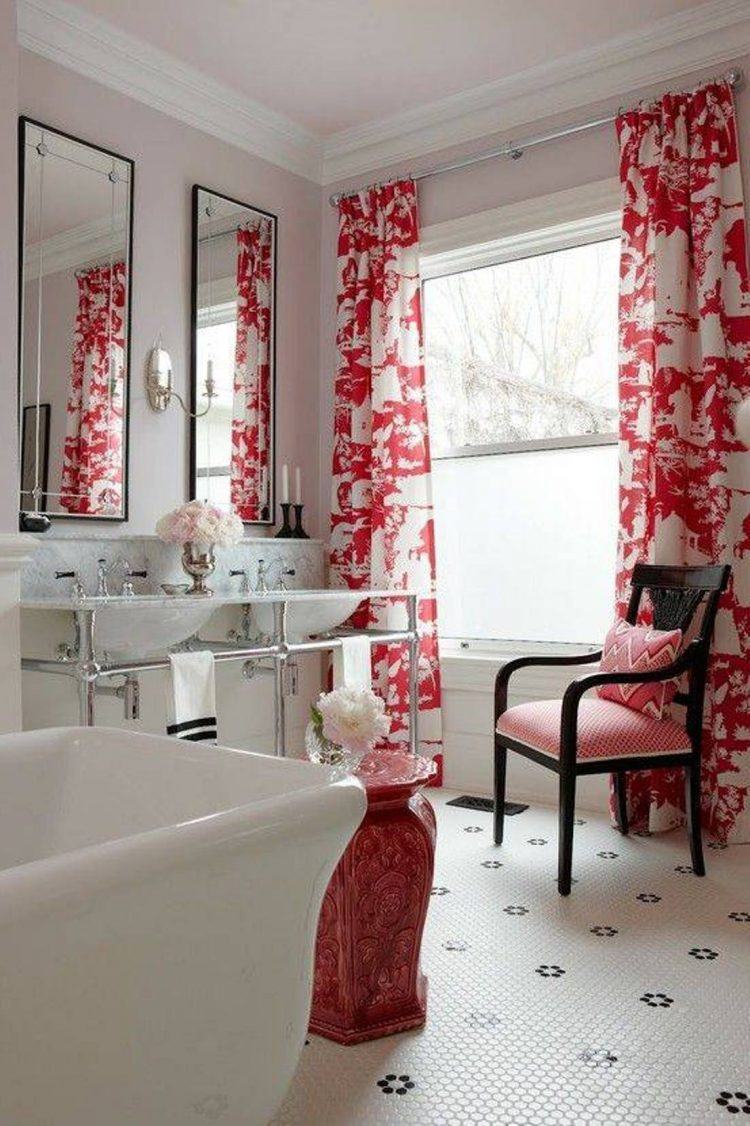 If you don't want to paint your walls red or put up red tile, an affordable alternative is hanging red curtains in the bathroom. This is a great option for renters, or anyone who is unsure of how much they'll like having a red bathroom. Window treatments are relatively inexpensive to buy or make, and you can quickly switch them out as the seasons or your mood changes. Aside from the lovely curtains in this space, pops of color are provided by a chair with a red patterned cushion and pillow and a red pedestal table. The rest of the bathroom's decor and tiles are black and white.
10. The statement tub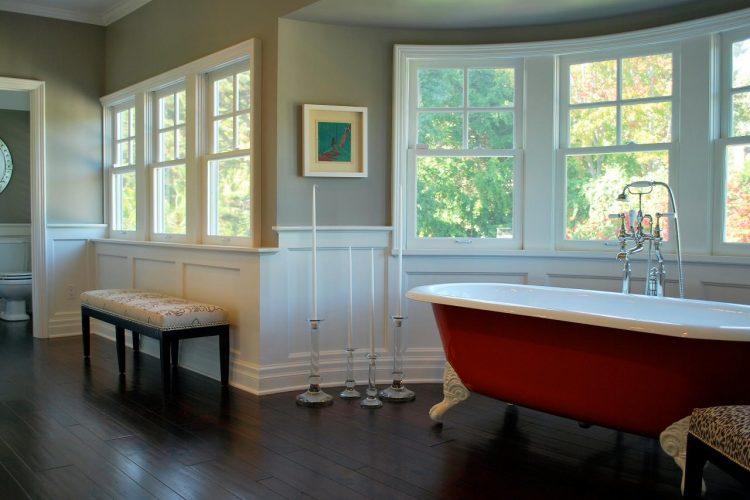 It's not the window treatments, shower curtain, walls, or even any pieces of decor that make this a red bathroom, but a sole, stunning claw foot bathtub. It looks elegant and refined, and it's a testament to how powerful even just a bit of red can be. The other shades in the room instantly fall back, and the tub's bright hue shines. A few neutral accessories and patterned seating add just the right finishing touches to this chic bathroom.