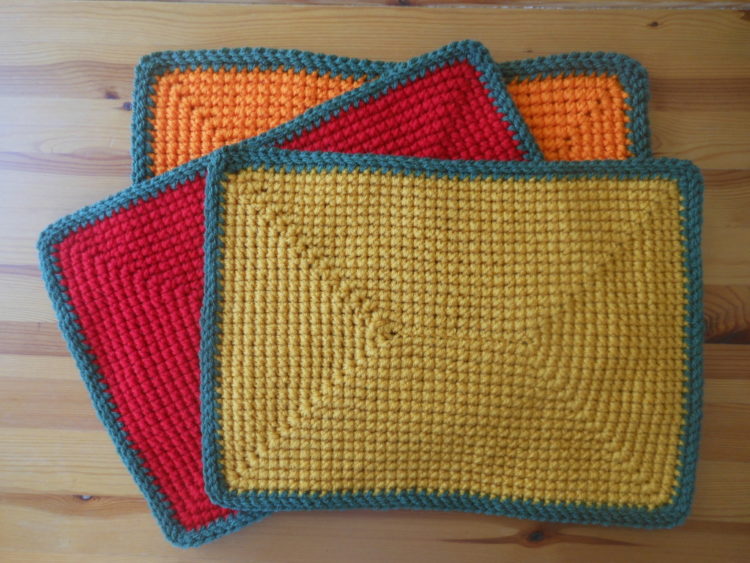 When is that last time you gave a second thought to your place mats? Probably never, right? Right. That's because place mats don't seem like a big deal to most people. Sure, they're necessary for protecting your table from spills and stains, but most people don't see them as anything more than that. However, place mats can be the perfect accessory for your dining table. Whether formal or informal, a nice place setting is always nice, so why not have place mats that you can be proud of. Plus, since place mats are easy to change, you can have different sets for different occasions. Why not give your table a chance to look its best? Here are 10 cool place mats for your ngng table.
Place mats with a simple design can be used for any kind of table and any kind of occasion. Plus, this set has a reversible design which means both sides of each place mat can be used.
If a plain design isn't really your thing, you might want to consider a set of place mats with a simple design.
Rectangular place mats may be the most common, but circular designs can also be a nice option for your dining table.
Made from burlap, these place mats have a simple yet unique design that will definitely catch people's attention as soon as they sit at your table.
If you want to incorporate a little bit of extra color into your kitchen, place mats can help you do that. On top of that, this set has a non-slip design which ensures that they'll stay in place.
Dark colors can be a perfect fit for formal dining room spaces. However, these place mats aren't just all about style. As the item's description states, the place mats' "insulation could reach to 80℃, could protect dinning table from scalding and create an enjoyable dining environment".
Not only is this place met set stylish, but it's also durable and easy to clean. In addition, the set is great for indoor and outdoor use.
Bright and colorful, these place mats are ideal for every day use. According to the project's description, "The place mats are hand-woven by 100% cotton and linen which are environmental, durable, and easy to clean".
This set of six place mats features a different bird design on each. If you're interested in something different, then you'll appreciate this unique set.
Both simple and practical, these clear plastic place mats are easy to care for and clean.
lead image via guidepatterns.com