If you're lucky enough to have a home theater in your home, then you probably want to make sure it's as cool and comfortable as possible. Watching your favorite movies is a great experience in itself, but it's even better when you're doing it in a pleasant environment where you can feel relaxed. Fortunately, there are lots of home theater seating options out there to help you make your space the best it can possibly be. From couch style seating to individual chairs, finding the best seating for you and your space won't be too hard. Check out these 10 home theater seating options for ultimate comfort.
Complete with cup holders, these set of three attached recliners will provide you with a comfortable movie watching experience right in your home.
Not only are these receivers stylish and comfortable, but they're also high-tech. This team features powered headrests as well as USB ports to make it easy to charge phones and other mobile devices.
This item features "Overstuffed arms, seats and backs upholstered with high-density foam." Microfiber allows these chairs to be durable and easy to clean.
There's nothing better than kicking back with your feet up while enjoying a good movie. This sleek leather recliner is the perfect place to do just that.
Looking for a top of the line theater experience? These seats are all about it. Not only are these recliners built on a sturdy steel frame, but they also have an integrated vibrating massager.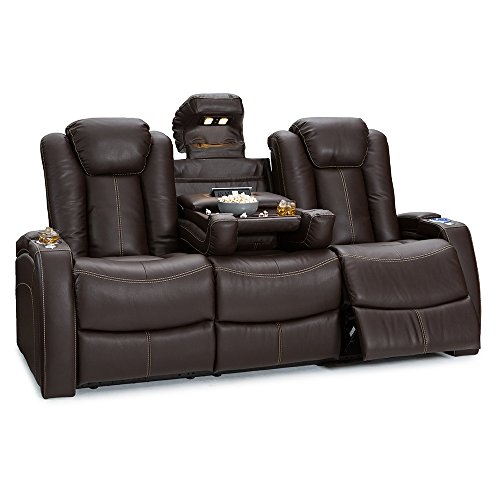 Not only are these leather recliners soft and comfortable, but they also have plenty of space to hold your drinks and snacks.
This oversized bean bag chair may be a completely different type of option, but it's perfect for those going for a more casual look in their home theater.
Memory foam isn't just for mattresses. This high quality recliner is made with memory foam and features a built-in massager.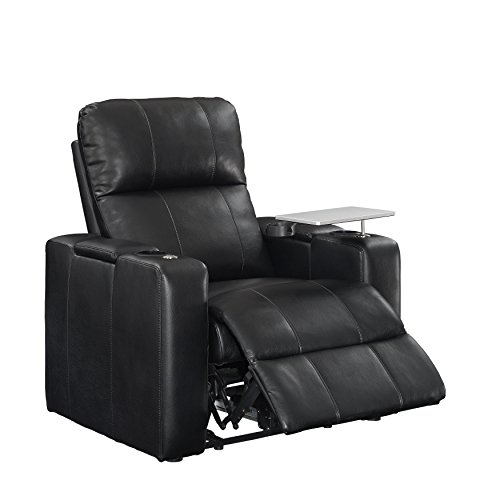 This awesome recliner has everything you need to enjoy your movie and then some. Not only does it have power foot rest, but it also features a tray and a USB port.
This set of three leather recliners features a strong wooden frame and plush pillow top seat cushions.