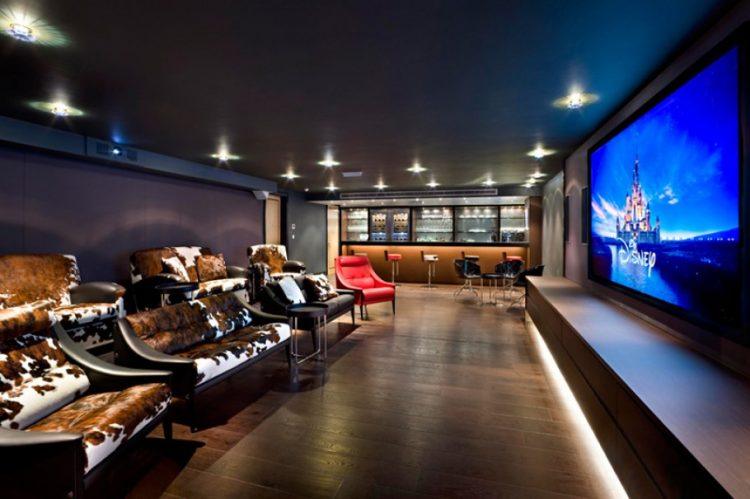 In 2014, the Custom Electronic Design & Installation Association (CEDIA) noted that Americans had spent ten percent more on home theaters than the year before. This total was $14 billion. Though the average cost for a typical home theater is about $25,000 there are those which cost more than $500 thousand. This is the luxury category, and the ultra-luxurious tastes of the owners of these custom built theaters is producing more growth in this category than any other.
CEDIA sales director, Ron Fleming noted that $2 million or more installations are common. So far, the most expensive built was $6 million. The room to house the 30 seat theater was $2 million, the projector system and its related technology was nearly $2 million and its sound system was an additional $2 million. It was built by Jeremy Kipnis of Kipnis Studios in Connecticut.
Adding to the trend are services that deliver access to films when they are released to the public. Anyone who is wealthy avoids the lines of typical movie theaters, and enjoys newly released films at home. First run films are sent via the Internet by companies such as Prima Cinema. There are high priced licensing fees that go along with these services, too, and these range in the thousands.
Some wealthy home theater owners prefer high technology, while others enjoy the comfort and luxury of their private viewing rooms. Themes and architectural eras top the lists of many clients when they decide to create their own theater.
Here are 15 with top notch themes and tech.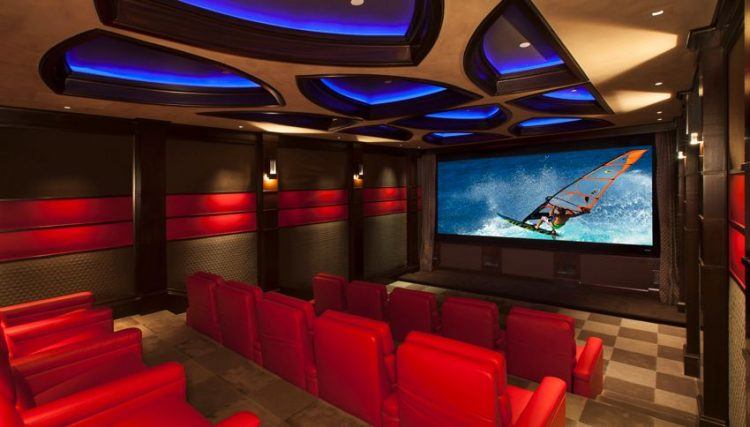 The Ferrari
Future Home won the 2014 CEDIA Best Theater Over $450,000 Silver Award for its Ferrari home theater. One of the owner's favorite things included his Ferrari's, so those became the inspiration for this project. Some of the design features which immediately scream Ferrari are the LED ceiling lights and the bright red upholstery on the seats.
One interesting thing about this theater is that the owner had Future Home's Murray Kunis design it first. With the dedicated theater room designed, then the architect completed the remaining 25,000 square foot design for the home.
The theater is about 600 square feet of high performance technology:
The screen is 16 feet of Stewart Filmscreen product
The screen has a wide viewing field, specified by THX
Tiered seating for 16 theater guests assures excellent picture viewing
The projector is digital commercial grade Christie 2K
The projector provides 10K lumens, with color and performance standards far above average consumer versions
The projector also has zoom capabilities built into its design
Images can switch aspect ratios without requiring a motorized sled or anamorphic lens
Front audio speakers are by JBL, Model: Synthesis SK900
Eight surround speakers are stationed with two per seating row and two located at the room's rear, also by JBL, Model: S4A
There are three subwoofers, each 18 inches, Model: S1S-EX
Fabric screens all speakers, without interfering with acoustics, except for those behind the viewing screen
The speaker power is driven by JBL amplifiers, including Models: Synthesis S8020, S7165
The entire system is matched for timbre
Acoustical treatments are hidden from view, with the primary front speakers located in a built in baffle wall using THX specifications
Optimal audio was achieved by calibrating with JBL's digital equalizer, Model: SDEC
The theater sounds do not disturb the house because the side walls are double framed with the ceiling suspended underneath a concrete slab supporting the main floor.
All of these technical additions provide sensory viewing satisfaction. Complementing the ideal performance specs is the Ferrari inspired interior. The 3D ceiling functions as an acoustic measure, but also incorporates LED lighting and uses the iconic shields used in Ferrari autos. The iconic shapes create ten segments with lighting colors which can be changed using a Creston system. There are leather wall panels and leather upholstery on the theater seats, which evoke the luxurious comfort of the Ferrari brand.
The equipment miraculously is enclosed in a very small room, considering how much needed to be located there. The list is a technical delight:
Apple TV
Creston Products:
Delivery System, Model: ADMS Intermedia
Controller, Model: CP3
Digital Media HDMI Distribution
Surround Sound Processor, Model: PSPHD
9T Panel, Model: TPMC
Christie DCI Projector, Model: CP 2210
DirecTV HD DVR, Model: HR24
Integra 30.3 Blu-ray Player
JBL Products:
Three Subwoofers. Model: S1S-EX
Eight Surround Speakers, Model: S4A
Synthesis Amplifier, Model: S7165
Synthesis Amplifier, Model: S820
Synthesis Room EQ, Model: SDEC 4000
Synthesis Main LCR Speakers, Model: SK 9900
Liberty Wire
Middle Atlantic Hardware and Racks, plus MAP UPS 2200VA
Panamax Pro Power Management, SK 9900
Stewart Filmscreen; Motorized Masking MicoPerf Screen
http://www.electronichouse.com/daily/home-theater/ferrari-inspired-home-theater-combines-muscle-and-style/
http://www.futurehometheater.com/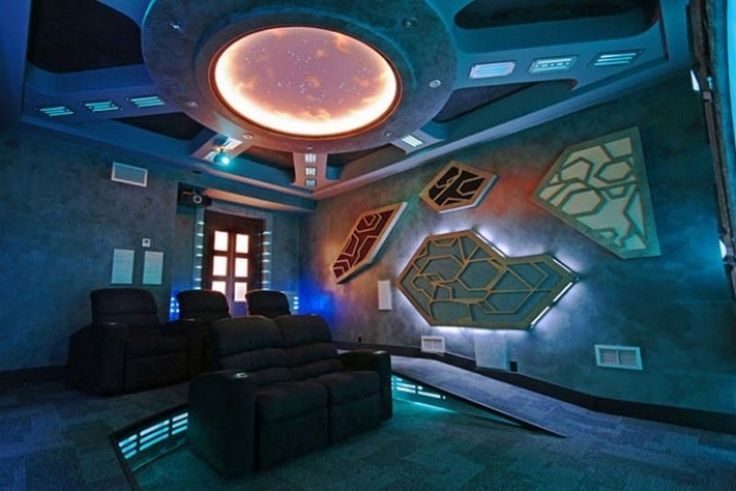 The Stargate Atlantis
It was 2009 when this whopping $70k home theater first made the news. It was inspired by the television series Stargate Atlantis, and designed by fan extraordinaire, Jacob Yarmuth. He expressed his complete admiration for the show by dreaming up this state of the art room. Visual Concepts Home Theater and Automation brought his dream to life.
It was the skills of this top quality systems integrator that supported Yarmuth's dream, with President Jacob Abbott fully on board. The company's mission was to build a truly unique space for Yarmuth, and the project was difficult because of the expectations Yarmuth had for precisely reproducing elements of the popular show.
Yarmuth wanted accuracy in the iconic gate, looking for realistic, correctly colored symbols perfectly laid out. He was a stickler for tech, and the room shows it. Though he did not do the engineering, when the project was completed he focused on the home automation system, involving himself with the Control4. Ultimately, VC Home Theaters started to view him as a potential programmer, which explains the extent that this particular theater maintained its attention to tech details.
Because the gate was such an iconic element, it had to be built with extreme accuracy. Many discussions centered around what materials it required, how its lighting should be, and how to transport it from the company to the home destination. It was a huge technical challenge, because Yarmuth wanted it to appear completely functional. Two projectors were used in the room to accomplish this. One is part of the theater equipment, and the other is a smaller one which creates the rippling water when the gate is open. When the theater projecter is off, the water projector is on. Theater guests walking by the gate view the rippling effect inside.
The Stargate's tech features:
A computer designed the doors
The casing was backlit and painted to match the Stargate
Pneumatic rams open the pocket doors
Motion sensors open the pocket doors
An air compressor in the basement runs the pneumatic components
The motion sensors are part of the Control4 system, which controls the pneumatic relays
The floor was raised in the room. THX format speakers were installed, with the LCR's located behind the faux Stargate. The lighting, equipment and pneumatics are enclosed inside a room adjacent to the theater entrance.
Other companies working on the theater project were the Sound Answercustom and Numinus Domes. They designed the sound panels, and designer Andrew Caldwell cut them and the Stargate using a computer and a CnC router so that the fit was exact.
Other significant project features:
A fiber optic ceiling which shows a star scape with comets darting through every few minutes
A 10-foot diagonal circuit screen which shows 96 inch diagonal images
Two Sony megachangers which are capable of accommodating 800 DVDs
THX speakers by Atlantis, placed behind the screen; providing surround sound through 7 channels
Subwoofers in the walls; by Polk Audio, Model: IW155
A light amplifier providing High Definition images; JVC Model: RS-1 D-ILA
A motion sensor opens the custom air pocket doors
A medium density fiberboard build
Custom faux finishes on the interior to create the look of the actual Stargate set
The room was built in its entirety in the company's Nashville division, and shipped to its Louisville division, which completed the installation.
http://www.soundandvision.com/content/stargate-theater#H5QqTAGyBFFoRSy0.97
http://www.vchometheaters.com/
http://www.ubergizmo.com/2009/12/stargate-atlantis-home-theater/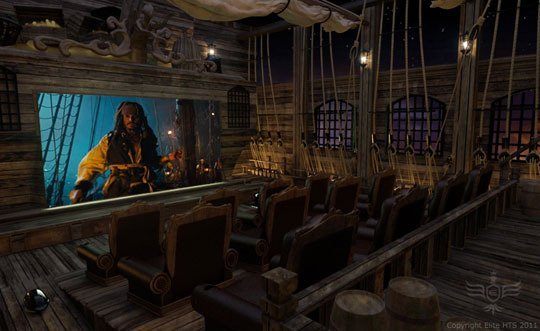 The Pirates of the Caribbean
When a Palm Beach resident decided to build an extravagant home theater, he was inspired by a Pirates of the Caribbean film. Reportedly inspired in the amount of $2.5 million. Bobby Bala, Elite Home Theater Seating designer noted that the company wanted the theater to include an experience that would allow their client to escape into fantasy. Film favorites influenced their designs, allowing clients a deeper experience interacting with cinema.
Construction features planned include a stone floor and walls, an entrance, a ticket booth, gas lanterns, and hand painted canvases on the ceiling with renderings of stormy skies. The theater, on the deck of a pirate ship, has luxurious theater chairs. There are sails and rigging overhead, with weathered timbers completing the look of a sea-worn sailing vessel. Refreshments would come from the ship's tavern. The anonymous owner is one lucky pirate.
http://www.apartmenttherapy.com/the-25-million-pirates-of-the-148992
http://www.dailymail.co.uk/news/article-2001724/Ahoy-hearties-Take-seat-2-5million-Pirates-Caribbean-themed-home-movie-theatre.html
The Star Trek
This is one of many home theaters based on Trekkie dreams. But this is considered by industry experts to be one of the top shelf versions. It's part of a home in Palm Beach County Florida, and its owner, who has remained anonymous, is a science fiction fan.
The original plan for the home was to build a traditional theater. But Jay Miller, Acoustic Innovations President, could see that the company's client collected video games. This opened the door for discussing all sorts of themes. But, the decision centered on sci-fi.
With discussions beginning in 2002, the first idea focused on the original Enterprise; the NCC-1701. Since much had happened in the Starship world during the discussions, the final choice settled on the newer Enterprise NCC-1701-D. Eventually, a three area project evolved, including an intergalactic bar and ready room and the theater. The areas took six months to design, filling 22 by 70 feet.
By 2007, the Custom Electronic Design and Installation Association (CEDIA) had chosen the equipment room as its top award winning themed theater. The organization was completely impressed with the design and the owner was, to quote Hoover, "blown away".
In addition to the amazing theater, the client's massive collection of Star Trek memorabilia was included in the décor. Other sci-fi movies and TV series collectibles rounded out the visuals. The doors were created to be activated by motion and include sound effects from the series. Fun touches include the Red Alert button that controls full-out flashing and blaring Star Trek sounds, which always startles guests. The entire project is considered to be one of the company's showcases, and a spectacular originator of many other spin-off theaters.
The equipment list for that award winning equipment room is here for the Trekkie techies:
AV distribution items
Source gear
A Kaleidescape hard drive storage system with eight servers and 3,816 DVDs
Algolith Mosquito Noise Reducer, Model: HDMI 3D MPEG
Crestron Products:
Dual Port Ethernet Card; C2ENET-2
Room Solution Box; CNXRMC
Professional Dual Bus Control System; PRO2
Combination Docking Station and Charger; TPMC-10-DS
WiFi Touchpanel; Isys i/O; TPMC-10
DIRECTV Satellite Receiver w/ TiVo; HR10-250 HD
Gefen HD Switcher; EXT-HD-441 4 HDMI x1 DVI
Custom Computer Gaming System; GuiFX Game Server
JBL Products:
Hercules Center; K2S1000DG 3-way Dual 10-inch
Two Hercules Floorstanding; K2S9800DG 3-way 15-inch
Four THX Surrounds; S1A Dual 8-inch Dipole Ambient
Four THX Subwoofers; S1S-EX 18-inch
Nine THX Powered Amplifiers; S800 2-Channel
THX Digital EQ/Crossover; SDEC2500A
THX Digital Surround Processor plus System Controller; SDP-40
Synthesis K2 Synthesis Hercules System
JVC Mini-DV / VHS Combo Player; SR-VS30U
Kaleidescape Digital Movie Player; KPLAYER-2500
Key Digital Component; KD-MSW8x3 plus Matrix Switcher; RGBHV
Marantz Progressive Scan Universal DVD Player; DV9600
Middle Atlantic 44-Space 25-inch Deep Stand-Alone Rack, ERK-4425
Two Middle Atlantic 45-Space Rack Rails; RRF-45
Mitsubishi VCR, S-VHS; Model: HSU748
Odyssey Controller; 340c D-BOX Series 3
Odyssey Actuator Set; 4600p D-BOX XL-series
Custom Moto-Fab Aluminum D-Box Seating Frame
Two Pacific Digital 8×10 Memory Frames; MF-810SW
Two Panamax Battery Back-up/Surge Protectors; M1500-UPS
Nine Panamax Rack Mountable Surge Protectors, 20A; MAX4400
Pioneer DVD/LD Player; DVL-909
Richard Gray Power conditioner; RGPC1200
Sony Front Projector; Q004R1 Qualia 004 SXRD
Sony Lens; Long Throw; VPLLZP550; paired to Qualia 004
Stewart Filmscreen; Screen Control Interface; BRIC Masking
Stewart Filmscreen; Masking Screen; 135 inches, Horizontal; EMSNH135H, with Microperf
http://www.electronichouse.com/daily/home-theater/the-most-out-of-this-world-star-trek-themed-home-theater/
The Traditional
This Future Home Traditional design won the Custom Electronic Design and Installation Award (CEDIA) for 2004 Best Home Theater (Level VII) $600,000 – $800,000 for the 2004 EXPO. Located in Southwest Arizona, the wide screen image was "so brilliant" that the company pictured it on its website rather than using a standard image to replicate it. The theater features an ISP calibrated video capable of exceeding the standards normal for a professional theater. It also has a twelve-foot screen for optimal viewing, within the luxurious theater interior.
http://futurehometheater.com/traditional/
The Million Dollar Lounge
The basement of this estate holds a lounge area, just outside of the mansion's three level glass elevator. Floating, wrapping stairs circle around the elevator. The lounge is filled with comfortable seating, lush fabric walls, a swanky bar and beautiful furnishings. Hidden behind automatic doors, a luxurious home theater has reclining seats, a fiber optic ceiling with shooting stars, and a huge screen for maximum theater experience. The audio visual equipment alone is over $1.5 million.
http://videos.hgtv.com/video/million_dollar-home-theater-0187685
The Opulent Room
This theater in the White Stallion Estate is filled with elegant materials and top quality furnishings. The cost for the carpets was over $1 million. The seats are custom made, and recline. Fine French fabrics are used throughout. All the screens are built-in throughout the house, and the walls are covered with velvet. The hand-carved moldings are decorated with silver leaf. The color theme is dark burgundy, and the room evokes a sensibility of traditional opulence.
http://videos.hgtv.com/video/opulent-home-theater-room-0187716
The Fabulous Canadian
A grand staircase leads to the old world style cinema in this Canadian estate. It has the feel of an old world picture palace. A touchscreen controls the electronics and is hidden by artwork. There is a private wine cellar, completely catalogued by computer, in the theater. The auditorium has solid slab granite, solid marble and wool carpets, real gold leafing, gold trimmed chairs, and touchscreen control panels that cost $8k each. The chairs have arm storage for trays and snacking. These trays are solid granite, too. The ceiling has a fiber optic program that cost over $50K. The curtains covering the screen open with a touch, too. The entire theater space cost close to over $1 million dollars. It is a fine and elegant space filled with the luxurious amenities of the theaters of the past plus expensive technology of the future.
http://videos.hgtv.com/video/fabulous-canadian-home-theater-0183287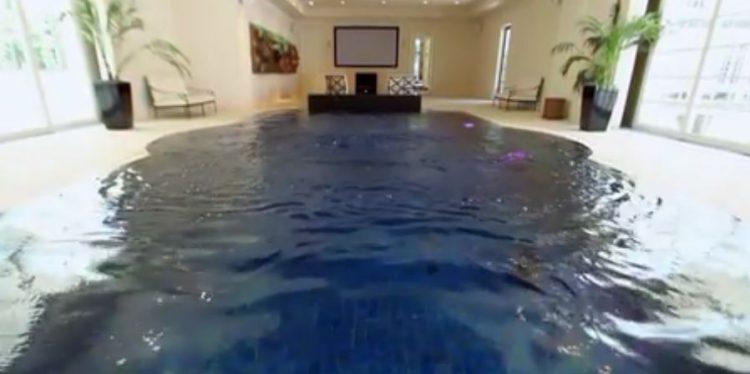 The Swimming Pool
The 26,000 square foot Victorian estate built in 2009 has a classic Georgian mansion feel. It is custom made through and through. But the show stopping indoor swimming pool and 2,200 square foot theater is astounding. It has a seating area for non-swimmers. The swimming pool is dramatic, and situated near the front of the screen for easy viewing. It has custom cut infinity edges made with black onyx. Iridescent tile and special lighting brings multiple colors to the pool. The indoor pool has 40,000 gallons of salt water. It requires special treatment to control mold and mildew. Special filters keep moisture out and fun in. It has motorized hurricane, bullet proof doors. The owner wanted to provide theater quality viewing of films, games, and television shows. He also wanted to make sure everyone enjoyed the experience. What an experience it is.
http://videos.hgtv.com/video/million-dollar-rooms-home-theater-with-swimming-pool-0190932
The Extravagant Home
In La Jolla, California there is an extravagant home located right on the beach. It is 8,400 square feet with its own golf course and driving range. It sits on three ocean-front lots. The room the owner built to bring everyone together is called "Manville". It has nine plasma flat screens surrounding one gigantic main viewing screen, 27 custom built reclining seats, an adjacent bar, a poker playing area, and enough space for the owner to watch football with friends. The walls were insulated with recycled denim. This former Marine owner is happiest when his family and close friends gather together in this over the top room to watch the home theater in action. The entire project cost over $1 million.
http://videos.hgtv.com/video/extravagant-home-theater-0136086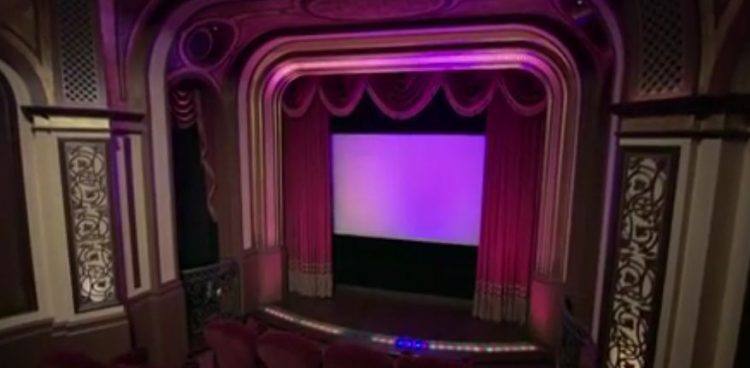 The Moving Seats Experience
Irvine, California has a mansion built for entertaining. The exterior features Italian buildings favored by the owner. A custom home theater in this home has intricate designs and the highest performing technology. The custom ceiling is designed to be acoustically perfect, and cost over $1 million on its own. There are 150 speakers designed to maximize perfect sound. The room can convert from a film viewing center to a concert hall with just a few control switches due to the high caliber of technology included. The chairs in the theater are outfitted with moving seats that follow the action in the theater. The entire theater is built on moving platforms which adjust according to the scenes in the films. This room is actually a multi-million dollar project.
http://videos.hgtv.com/video/a-home-theater-that-moves-you-0197286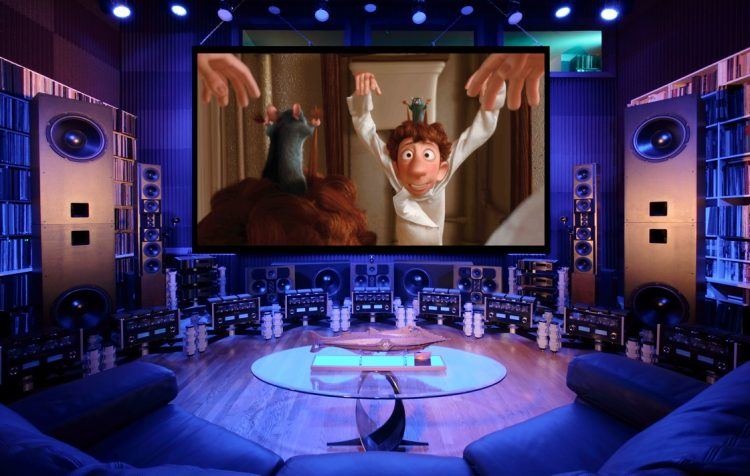 The $6 Million Dollar Professional
Jeremy Kipnis, professional producer and music engineer built a home theater which is designed for both concerts and film viewing pleasure. It includes 36 amplifiers, 39 separate speakers and an equipment list that many would lust after. There are literally hundreds of components included in terms of projectors, speakers, amplifiers and various power sources, and all are state of the art.
Seating is available for a cozy group of up to 6 on the Arizona Leather couch plus director's chair. There are also 24 recliners upholstered in premium leather for theater viewing. The hall is two stories tall, with beautiful wood flooring and a clean and open contemporary design. There is a balcony with a vaulted ceiling, and everything about the space is tailored for beautiful acoustics. Kipnis has completed a similar $6 million project in Argentina for a wealthy client.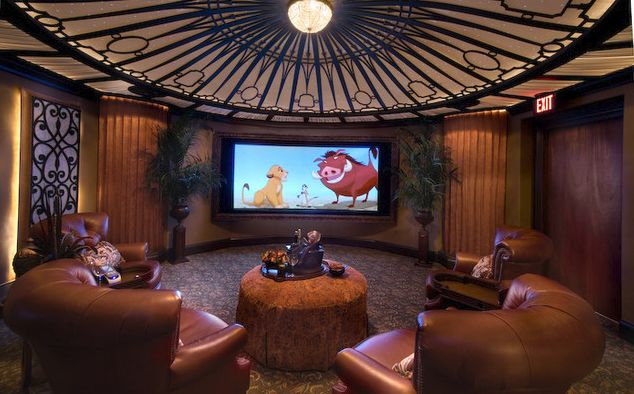 The Titanic
Designing home theaters for the Nashville region, Donny Hackett is famous for his thematic theaters. He has many in his online portfolio, but his Titanic theme has been requested by many clients. It contains a domed ceiling and other design details inspired by the movie. The dome incorporates fiber optics, with 1,000 twinkling stars. His theaters range from $50,000 to $200,000, with seating for 6 guests to 15.
http://donnyhackettdesign.com/
The Twenty Thousand Leagues Under the Sea
This 10 seat theater has components fabricated by hand, a cinema projector and surround sound. It cost somewhere between $500k and $1 million to create. It used the 1954 Disney film as its inspiration. The interior captures the imagination of Jules Verne's fans, using elements of the Nautilus submarine which journeyed through the ocean depths. There are wall panels for acoustic balance, but these are made of velvet, and the ceiling hatch is very clever because it conceals the overhead projector.
Horror
Master props designer Tom Spina has carved out a niche in luxury themed home theaters with his horror designer skills. The price for this particular fearful creation ranged in the $50,000 to $100,000 range, and it includes a 62- inch plasma high definition television, custom sculpted furniture and shelving and an enormous amount of completely authentic movie props from classics like Nightmare on Elm Street and Friday the 13th. This man cave was built for Wesley Cannon, who wanted a spectacular space to honor the genre. There is a museum adjacent to the viewing area which has full scale models from classic horror films. The surfaces are built to resemble rocks, which is fitting for the inhabitants of this cave.