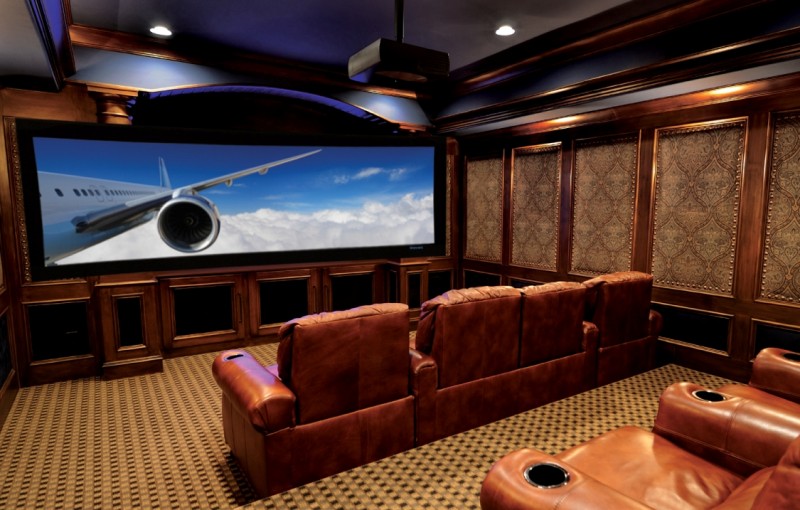 Most people wish there was a space in their home that they could design as their very own home theater. After all, going to the movies is a very popular pastime, and each week countless people flock to movie theaters to check out the latest films. While ticket prices have sky-rocketed over the last several years, just sitting on the couch and watching a movie at home can't really compare to the feeling that comes from sitting in a beautiful theater with an incredible sound system. With that being said, many home theater designs combine the best of local theaters with the comforts of home, and watching a movie in these spaces is a brand new experience. Here are 20 home theater designs that will blow you away.
image via www.privateannuities.net
Sure, most movie theaters have seats that slightly recline, but in your home movie theater, you can come up with a design that includes full-out recliners and couches. The use of wood floors also adds a nice touch to this comfortable home theater.
image via designsandinteriors.com
Sometimes simplicity is the way to go, and this home theater design proves that your space doesn't have to be over-the-top and busy to be beautiful. Filled with tan leather recliners and stadium seating, this home theater is the perfect spot to hang out and catch up on all your favorite movies.
image via decorcamp.com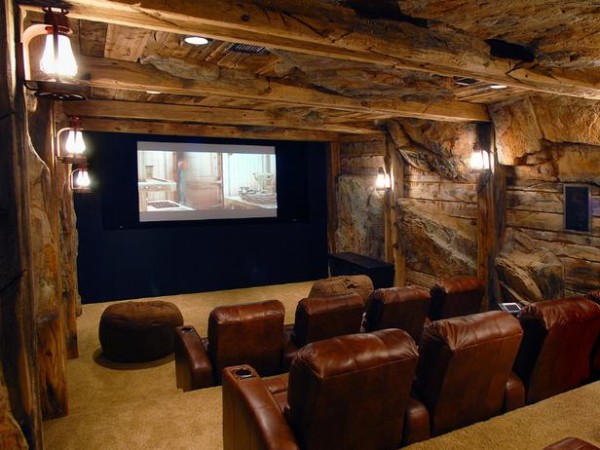 If you're into the rustic style, this home theater will definitely catch your eye. Although it doesn't feature the fancy layout that many of the other home theaters on this list have, it still gets the job done, and the leather seats at the perfect amount of luxury.
image via www.coolthingsworld.com
With a somewhat futuristic approach, this home theater design adds a nice splash of color with the use of blue LED lighting. Although the overall design is pretty simple, the lights add a bit of a personal touch. With this lights illuminating the walls and the floors, navigating the room during a movie will be a breeze, not to mention the fact that it just looks amazing.
image via www.irepairhome.com
This home theater has a little something for everyone. If simply being able to recline your seat isn't enough for you, these movie theater style chaise lounges provide the perfect amount of comfort. However, the downside to a design like this is that you may never be able to get through an entire movie, because with seats like this you'll be asleep in no time.
image via www.interiorbyte.com
Combining the best of both worlds, this home theater boasts a casual style as well as a classic movie theater design. A set up like this can be perfect for families who want to hang out in the same room but still find themselves needing a little bit of space.
image via homestartosphere.com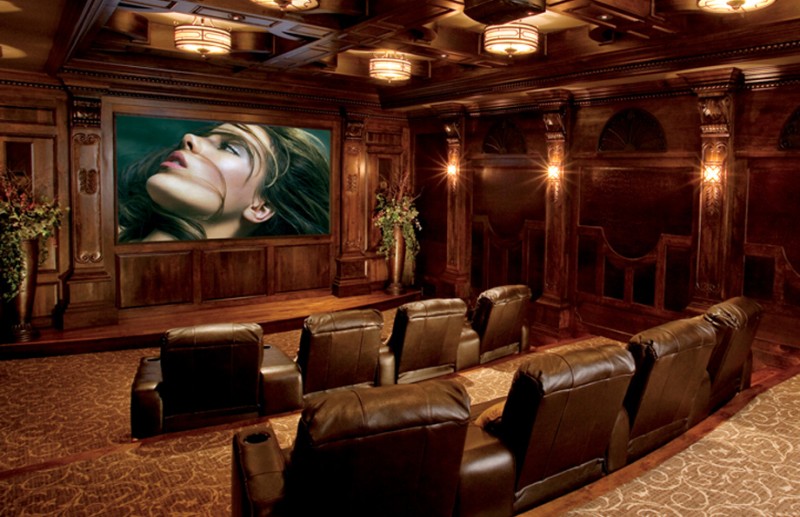 While some people prefer more casual designs, this luxurious home theater is classy and elegant. The wood paneling on the walls and around the screen make the room beautiful, and the leather seats are a great seating choice. The stadium seating is also a nice touch that makes for a better viewing experience. This room is so attractive that it's the perfect place to hang out even when you're not watching a movie.
image via www.chateau-tdg.com
Who says movies are the only thing you can watch in a home theater? Not only does this space boast the kind of set up you'd expect form a movie theater, but it also features a small stage which can be used for putting on shows and other productions. Families with creative people will love this design, and might end up finding themselves using the stage more than the screen.
image via hometone.com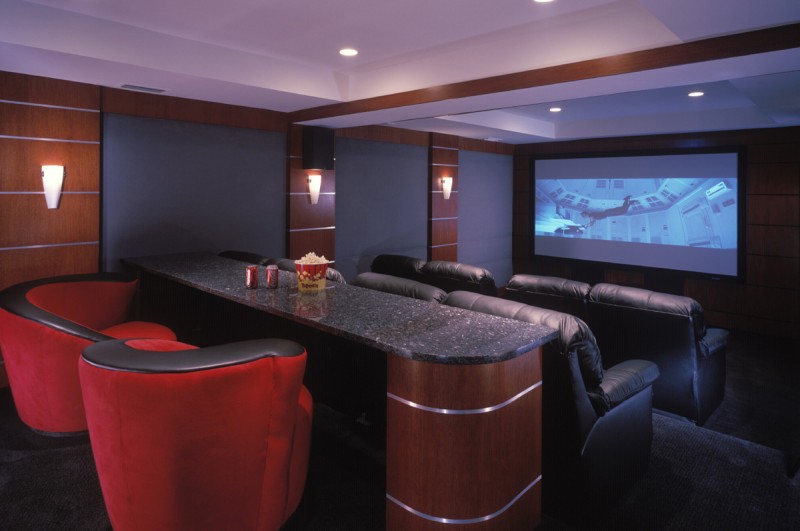 Everybody knows that snacking during a movie is almost as important as actually watching it. With that being said, having a place to put your food and/or drinks can be very important. The table in this home theater is the perfect place to enjoy your food without having to compromise the movie — or your comfort.
image via decodir.com
This home theater may not be one of the biggest on the list, but it is certainly beautiful. The classic black and gold design is elegant and detailed. However, what's most impressive about this home theater is the large bed-like seating in the front of the room. Again, staying a wake throughout the movie might be a little tough, but there's nothing better than being comfortable.
image via zillow.com
This home theater is incredibly detailed from top to bottom. Both the carpet and ceiling are patterned and blend nicely with the oversized purple seats. Watching movies in a home theater like this will make going out to the movies feel like a chore.
image via www.alibaba.com
One of the best things about having a home theater is that you can be as creative as you want. This Star Wars themed design will make your home theater feel like an actual part of the story, and it'll easily become the most popular room in the house.
image via www.geeky-gadgets.com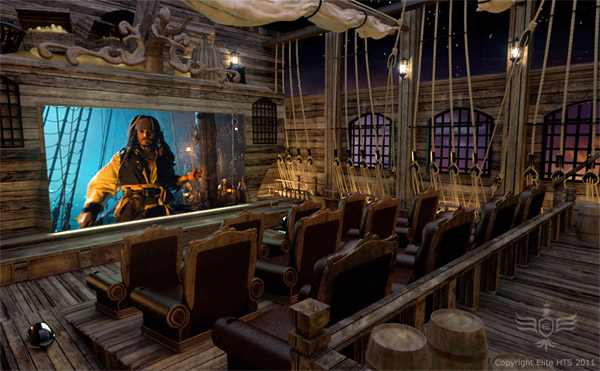 If you're a fan of Pirates of the Caribbean, you'll definitely love this awesome home theater. Modeled after a pirate ship, this theater is unique and fun. Whether you plan to watch pirate movies or not, this theater will definitely make you feel like you're a part of the story. Enjoying movies at home will be a new experience in a space like this.
image via technabob.com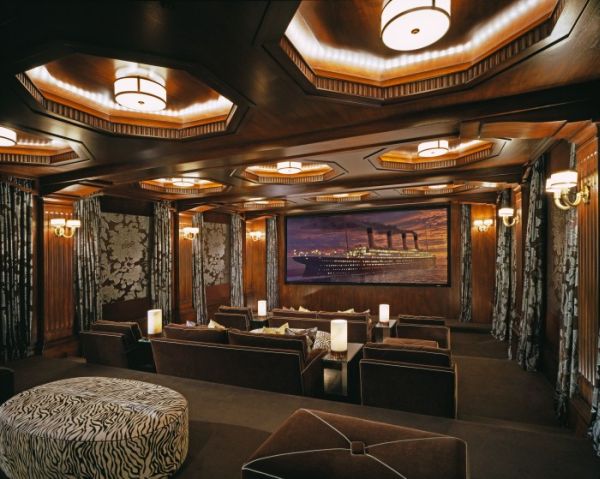 Set up like a lounge, this home theater has a design that is comfortable, casual, and classic. The oversized plush seating is great for entertaining guests, and gives people plenty of room to stretch out. Also, lighting fixtures may not seem important in a home theater, but this design proves that the right fixtures can make the room stand out even more.
image via decoist.com
Leather is a popular material for furniture in almost any room in the house. It's durable, attractive, and comfortable. These large black leather seats look amazing in this home theater, and also help the room feel more modern and sleek. Even if you don't have room in your home for a large theater, adding leather seats to any space can be a wise choice.
image via buzzfeed.com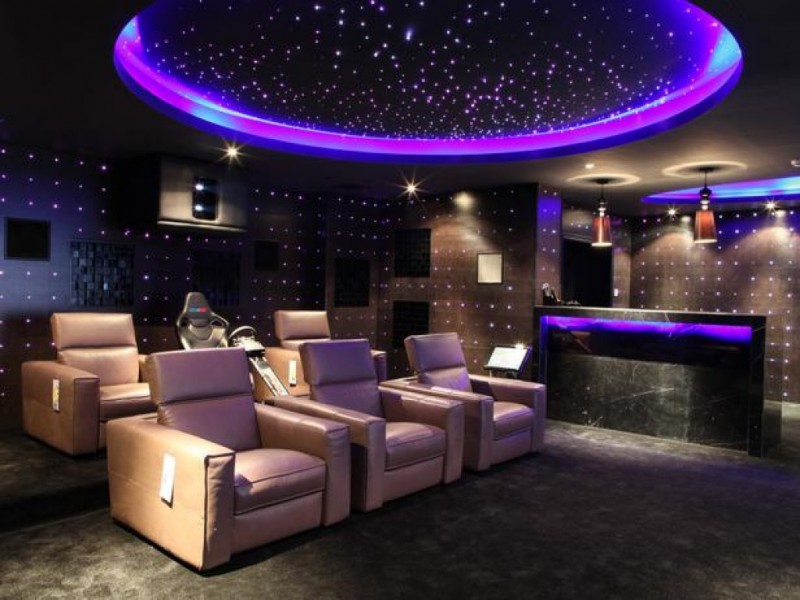 Why just have a home theater when you can have something even better? Aside from its use as a home theater, this room also features a bar area and a gaming chair. The lightning in the ceiling and on the walls is also a great way to make this space feel cool.
image via makeover.house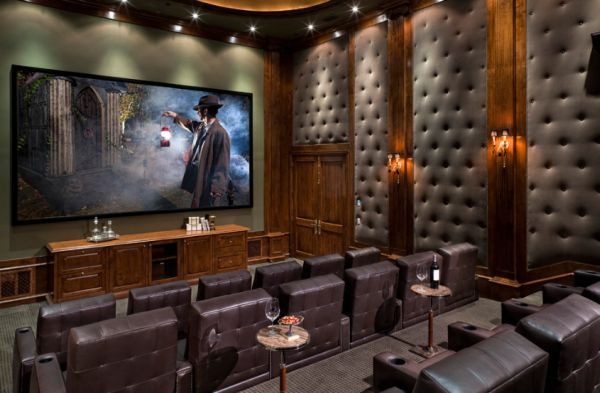 With an old-fashioned look, this home theater design is extremely eye-catching. Although a home theater may not seem like a space that needs many accessories this room proves that you can never go wrong with the perfect accessories. These small drink tables are not only practical, but they're also a great addition to the overall design.
image via www.centralinteriordesign.com
One of the most important things when watching a movie is the sound quality. In fact, one of the main reasons people enjoy going out to movie theaters (other than the popcorn) is the amazing surround sound. However, getting the full experience won't be a problem in this home theater which is fully outfitted with top-of-the-line speakers.
image via www.awesomeinventions.com
Imagine having a theater like this in your house. There's a good chance you would never go to the movies again. With this kind of theater, staying home can easily feel like a night out. This spacious layout offers two seating options and every seat is a good seat.
image via houzz.com
There's nothing better than relaxing, and this home theater design promotes just that. Complete with comfortable seating and blankets, watching a movie in a home theater like this could easily turn into a slumber party.
image via www.watsonrock.com