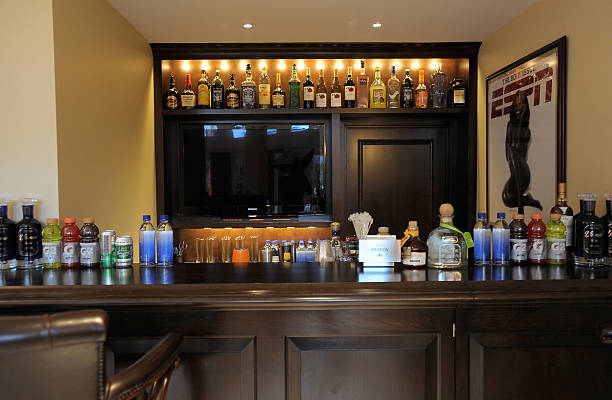 If you have a bar in your home, it's probably one of your favorite features in the entire house. Not only does having your own bar save you from having to take trips out for drinks, but it also provides you with the perfect place to entertain family and friends. However, no home bar is complete without the perfect furniture. Home bar furniture can include various pieces that can come in several different designs and styles. Once you know exactly how you want your home bar to look, the rest is easy. Completing your home bar could be as simple as picking out the right furniture. Check out these 10 awesome pieces of home bar furniture.
Need a little extra space for your favorite bottles and glasses? This bar table will provide you with just that and then some.
Simple and stylish, this small bar and chair combo is perfect for people who want a home bar but don't have lots of extra space.
When it comes to home bar furniture — or furniture for any bar for that matter — there's nothing like the stool. Offering a rustic design, this item also boasts 'modern appeal.'
Adequate storage space is a must for any home bar. If you've got a nice collection of bottles, this bar cabinet will give you the perfect place to store them.
If the traditional bar stool design isn't really your thing, you might prefer these stools instead. A padded leather design and a back will allow you to sit at your bar in comfort.
With plenty of space for all of your beloved bottles, this bar cabinet is a stylish and practical to complete your home bar.
Home bars don't always look the same and that's fine. This small bar table can be a nice addition to an existing home bar, or can act as a home bar area itself.
There's much more to this globe than meets the eye, and once you lift the cover you'll be met with a pleasant surprise that will set your home bar apart from the rest.
Who says home bar furniture can't be stylish? These awesome stools are comfortable and cool – exactly what your modern home bar needs.
Do you feel like your home bar is missing something? This item could be the key. Simple and elegant, this bar table will bring a little extra oomph into your space.
Lead  (Photo by Charley Gallay/Getty Images for SW)