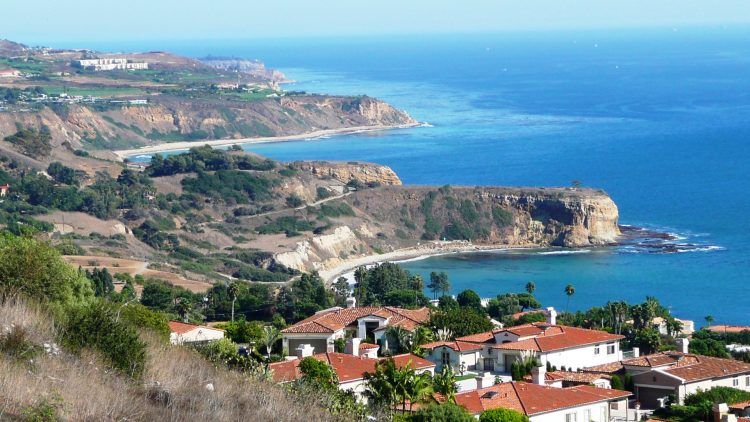 California has some of the highest real estate prices in the country, and it also has more than its fair share of expensive rentals. From its run down apartments to its swankier condos in sought after areas, one thing is clear: if you plan to live here, prepare to spend a huge chunk of your income on housing because California real estate isn't cheap. Financial experts routinely tell the masses that it's best not to spend more than a third of your take home pay on a mortgage or rent, but that's not easy in The Golden State.
As rents rise higher, accomplishing the latter will become even less likely for the average California resident. Even those who have substantial incomes don't get much for their money compared to other states. Still, if you can spare at least $10,000 and do some hard searching, you can rent a pretty nice pad in California.
1. A grand house on a cul de sac in Toluca Lake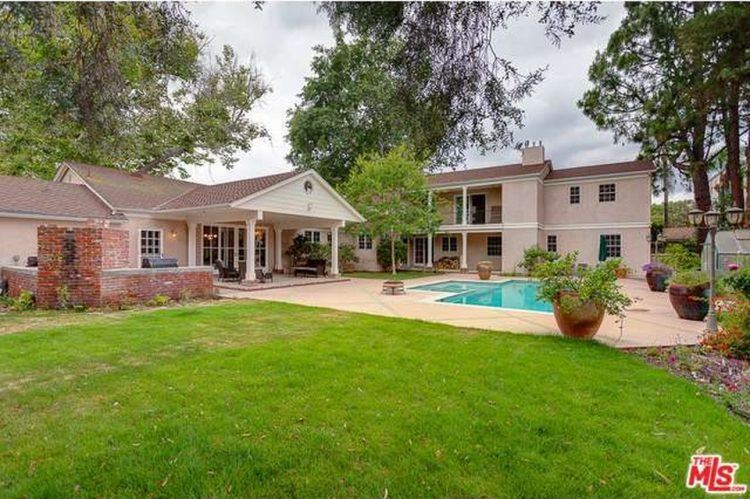 A great neighborhood filled with lush greenery, nice homes, and a house decked out with tons of amenities — what more could you ask for? Well, you could ask for more if you're paying the $9,900 per month it costs to rent this Toluca Lake home, but for California this is quite a steal. The house has six bedrooms, seven bathrooms, and is 5,402 square feet — plenty roomy for anyone who has a family or is sharing a house with another couple or several roommates. Within this spacious abode is a huge living room with a fire place, built in shelving and bookcases, and a bay window. Seriously, the living room here is a book lover's dream with all of its storage options and the layout.
In addition, the house sports a master suite upstairs with a corner fireplace, private balcony, step up tub, dual vanities, and a steam shower. Foodies might want to rent this house based on the kitchen alone, which has an oversized center island, stainless steel appliances, dual wall ovens, and a breakfast nook. As for your wine collection? Just put it in the built in wine holders. Filling out the house is a big study, expansive laundry room, and gym with mirrored walls. On the .46 acre lot is a large backyard, spa, covered patio, pool, and a built in outdoor kitchen.
http://www.zillow.com/homedetails/4736-Sancola-Ave-Toluca-Lake-CA-91602/20042343_zpid/
2. A pretty beach home in Dana Point
When you think of classic California living, visions of a cute little house along the beach probably come to mind. This rental in Dana Point isn't that little, but it is right next to the beach and definitely has a sunny California flair. The two story 4 bedroom, 4 bathroom house is contained within 2,188 square feet. This is the place to be if you like bringing the outdoors in, as it has a big deck with access from the upstairs master suite. You can literally go into the back yard and see waves crashing against the sand.
Inside you'll find an expansive open floor plan and a family room with a nice cottage feel. There's also a den and extra room on the first floor that has a fireplace. The kitchen was recently updated, so no ugly old appliances live here. In addition to an interesting light fixture over the breakfast area, the kitchen features white paneling, two eating areas, and a bar counter top. Upstairs is the master suite and two bedrooms, which come with twin and queen size beds. There's enough parking outside of this house for up to six cars plus it has a one car garage. The cost to rent it? $10,000 per month. Considering the climate of California real estate and this home's features, that's not a bad deal.
http://www.zillow.com/homedetails/35325-Beach-Rd-Dana-Point-CA-92624/25597444_zpid/
3. A seasonal lease with a big pool in Palm Desert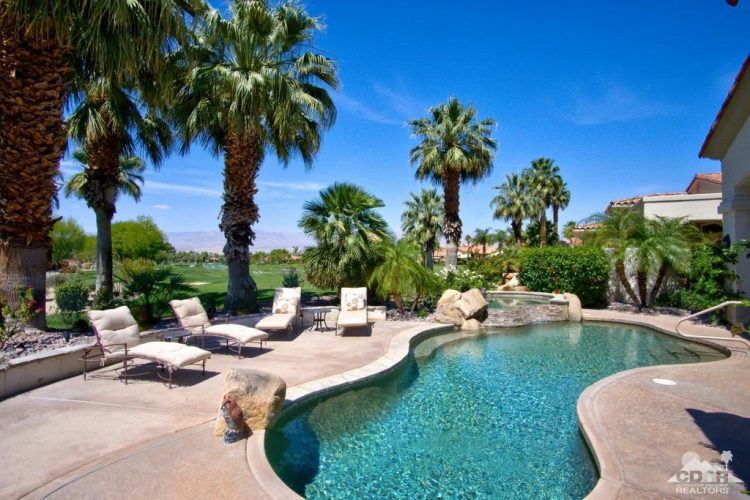 Let's say you've got cash to blow, like house hopping, and want to stay in a place that has plenty of room for your designer wardrobe — this is the house you need to rent. The 3 bed, 5 bathroom beauty in Palm Desert, California is situated in a neighborhood that's filled with other luxury homes, palm trees, and plenty of entertainment options. The house is a total of 3,869 square feet, and the centerpiece of it isn't inside but in the back yard: a big pool that has a spa, sitting area, and a look that will make you want to laze around on a float for hours. There's also a nice view of the area's lakes, mountains, and fairways from the backyard, a built-in barbecue pit, and a fire pit. It seems like it was built to make outdoor entertaining easier and more spectacular.
Inside, there's a two car garage, one full bathroom, three quarter bathrooms, and one half bath. Crown molding, shelved fireplaces, and chic window treatments come with the rental, as does the deluxe master suite. This particular room has its own fire place, a sitting area, and not one but two walk in closets. Near the family room is an office, nice piano, and a well equipped kitchen. The kitchen itself has a seating area, but the house also has a big formal dining room. The cost to rent this house is $10,000 per month, but it's a short term lease.
http://www.zillow.com/homedetails/700-Mission-Creek-Dr-Palm-Desert-CA-92211/52474570_zpid/
4. A Mediterranean house in Hollywood Hills
A celeb worthy home in the Hollywood Hills for less than $10,000 a month? No, it's not impossible. This rental is $9,995 per month and is quite a sight. Located on .85 acres in Los Angeles, this house in the Nichols Canyon neighborhood has four bedrooms, four baths, and 3,750 square feet of space. It's basically a miniature estate in itself, complete with gorgeous views, several fireplaces, and top appliances including a washer and dryer. The master suite has a walk in dressing room-closet combo and a big spa tub. Anyone who enjoys films or is an audiophile will love that the ceilings and pre-wired with surround sound. There's also a projection screen that's prefect for movie night. Beautiful outdoor living spaces and landscaping, elegant details, and flooring that looks like it came from a designer showroom make this rental a bargain.
http://www.zillow.com/homedetails/2679-Astral-Dr-Los-Angeles-CA-90046/20803180_zpid/
5. Intriguing architectural details in Rancho Santa Fe
This Rancho Santa Fe house appears to have dual personalities. One the outside, it has a Spanish style, classic tiled roof, and landscaping much like every other home in the area and throughout the bulk of California real estate. Inside, it's a serene dream packed with modern details, fabulous archways, and European touches. The bathtub itself is a beauty in terms of design, and you've got to see the indoor sauna. Outside is a nature lover's paradise filled with a pool, gazebo, hammock, plenty of seating, and fruit trees galore. Its 3,464 square feet holds three bedrooms and three and a half baths, all on 2.76 acres of land. Those with the funds can rent this house for $10,000 per month.
http://www.zillow.com/homedetails/17174-El-Vuelo-Rancho-Santa-Fe-CA-92091/16732022_zpid/