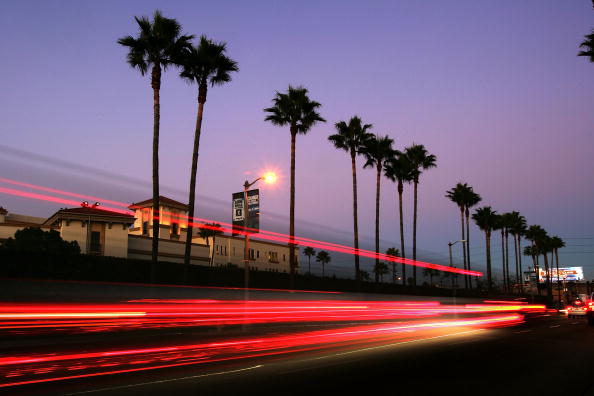 Out of all the 50 states, there's something about living in California that a lot of people just can't resist. While everybody has different things that draw them to The Golden State, one thing is for sure: California is a great place to live. Seriously, for lots of people, their ideal location is somewhere in California, and even if you can't see yourself living there, it's definitely a place that you'll want to visit at least once. With a state that literally has something to offer everyone, you can't really go wrong with choosing it as your home. So whether you're a native of Californian, or just relocated to the state, here are 10 major advantages to living in California.
Californians have a lower chance of dying
You may have always felt like living in California would be good for your mental health, well it looks like living in California can be good for your physical health as well. Sure, everybody's gotta go some time, but people in California have a better chance of surviving than people in other parts of the country. The mortality rate in California is lower than many other places, and people in California tend to live longer.
(Photo by Oli Scarff/Getty Images)
The weather
For the most part, the weather all over California is beautiful. However, those living in California know that there's a little more variety in temperatures than most people think. Depending where you end up, you could be dealing with extremely warm temperatures, or something a little more bearable. However, no matter what type of weather you feel most comfortable in, there's a good chance you can find a place in California that will fit what you like the best. Plus, if you're the kind of person who just can't live without snow – you're in luck. Although California isn't a place that usually associated with snow, the mountains in the Northern part of the state do get snow.
(Photo by David McNew/Getty Images)
In-N-Out Burger
One of the best parts about living anywhere is getting to explore all of great food options in the area. And California has a treat that people everywhere just can't seem to resist. Founded in 1948, In-N-Out Burger is one of the most popular fast food chains in California. If you're like most Americans, you've probably had more fast food burgers then you can count, so you're probably wondering what's so special about this place. Well, it's one of those things you have to eat to believe, and anyone who is living or has lived in California knows that it's one of the best things about the West coast.
 (Photo by Andrew Burton/Getty Images)
There's lots of diversity
As one of the biggest states in the country, it should come as no surprise that California is full of diversity. With several big cities, and a history that includes people from many ethic groups, California is a melting pot in its own right. The millions of people who the state home come from various backgrounds and each bring unique experiences and perspectives to the table. If diversity is something that's important to you, yu can definitely find it living in California, and it's always great to learn from other groups of people.
 (Photo by Spencer Platt/Getty Images)
Great education
Education is an issue that is on the forefront of many Americans' minds. Whether you're currently seeking an education, or planning for the future, it's always good to know what to expect. The good news is that people living in California tend to be more education than people in some other parts of the United States. On top of that, California has lots of great public and private colleges and universities that attract people from all over the world.
(Getty Images)
There's plenty of great sights to see
It's no secret that California has some of the most interesting sites and attractions in the country. Many of the state's major cities, including Los Angeles and San Francisco are great places if you're looking to see something cool and interesting. If you've ever wanted to see the Hollywood Walk of Fame, or The Golden Gate Bridge, California is definitely the place to go. And since the state is so big, there's a good chance you can spend your whole life living in California, and still not see all of the things you want to see.
(Photo by Disney Parks via Getty Images)
Beaches
With over 800 miles of coast line, California is the perfect place for those who love hanging out by the water. For most people, having so many beach options would simply be a dream come true. And with the warm weather, many of the beaches are frequented all throughout the year. While most people living in California have admitted that they don't get to go to the beach as often as they'd like, it's nice knowing that it is an option when you do decide to go.
(Photo by David McNew/Getty Images)
People living in California tend to be healthier
In recent years, health has becoming an extremely concerning issue for many Americans. Unfortunately, many people's diets are full of processed foods and sugars, and these things can help lead to lasting health issues. However, people living in California tend to be healthier and less likely to be overweight. California has one of the lowest obesity rates in the country, and if there's one stereotype about California that may hold true, it's that those who live there are very concerned about their appearance.
 (Photo by Dan Kitwood/Getty Images)
Great sports
Thanks to its massive size, California offers a number of sports teams, and many sports even have more than one time. Who you cheer for will likely rely on where in the state you live, but no matter who you choose to cheer for, it's kind of hard to go wrong. Several of California's professional teams have a history for being successful franchises, and in 2014, the San Francisco Giants won The World Series
 (Photo by Stephen Dunn/Getty Images)
You can tell everyone you live in California!
Let's be honest, one of the best things about living in California is the bragging rights that come along with being able to say you live in one of the coolest states in the country. While lots of people will only dream of calling California home, you'll actually be able to say you live there.
(Photo by David McNew/Getty Images)
Lead (Photo by David McNew/Getty Images)