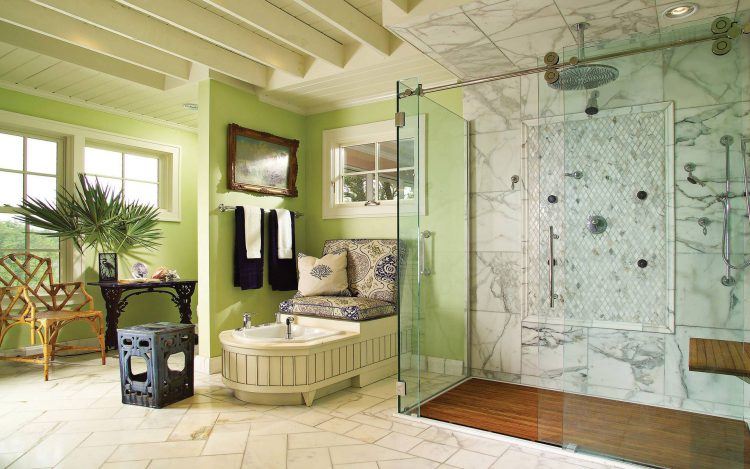 Green is a lively and rejuvenating color, which makes it an excellent choice for bathrooms. Whether you opt for a bright green shower curtain, jade tile, or walls that are painted sea green, it's hard to go wrong with this color. It's also well suited for a wide range of decor styles, and even if you have outdated fixtures or cabinets in your bathroom, making green the highlight of the space will give it a fresh new face.
For a bit of design inspiration, here are ten stunning green bathrooms.
1. Serene and stylish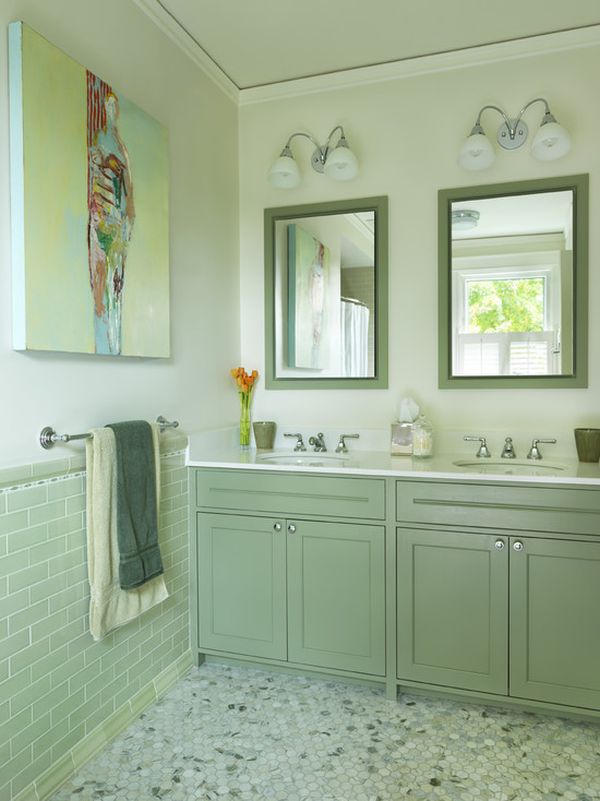 The calming effect of green bathrooms is part of what make them a great design choice. Here, light shades of pistachio and sage work together to create a soothing space. The walls and ceiling are a neutral white, as are the counter tops. However, part of the wall is covered with green tiles and the cabinets are painted a matching shade.
One art print hung above a towel rack adds a statement piece of decor, plus it contains hues that perfectly meld with the green and white color palette. You can achieve the same aesthetic in your own bathroom by choosing a large painting or art print that you like and pairing it with a light shade of green, such as sea foam, mint, or palm.
2. Contemporary colors
Lime green and brown aren't colors that most would think of to use in a bathroom, but it looks gorgeous here. The rich color of the wood combined with a contemporary tile and bold wall paint suits this bathroom well and also complements the architectural elements in the space. With so many visually interesting pieces of tile on the wall, keeping the shower tile and tub white provides balance. Rather than using a frame for the bathroom mirror, the tiled background serves as an artful backdrop.
3. Light and airy
You can use green tile and wall paint for a double dose of color and style. The choice to do so in this space paid off well, and it's also a great way to save money. Instead of tiling all of your walls, pick a few segments or do only half with a tile that you love and paint the rest. Because large windows are positioned above the tub, this bathroom has a light and open feel. The abundant natural light makes the tile glisten even more.
4. A luxurious retreat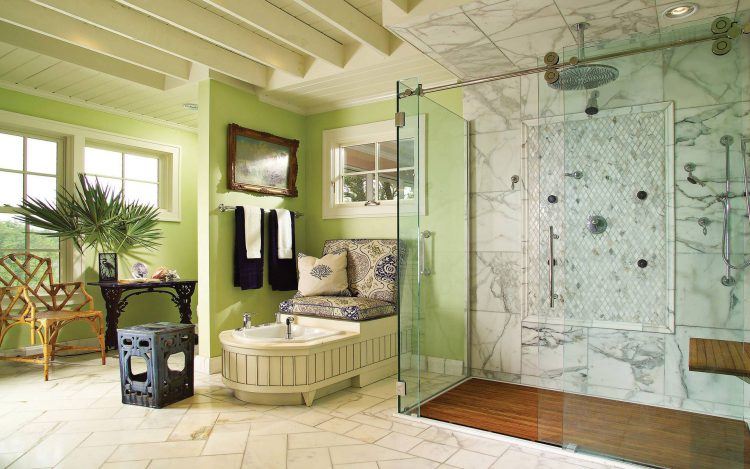 Picture the pedicure station at an upscale day spa, and you'll instantly see the connection with this bathroom. It exudes style, luxury, and elegance, but the look isn't at all pretentious. A lovely shade of chartreuse covers the walls, which pairs well with the white ceiling and marble tile. Lavish features such as a custom shower and soaking chair making this a relaxing retreat that's far from the ordinary bathroom. The plant on the table not only adds more green to the design, it's also a beautiful organic element.
5. Striking contrasts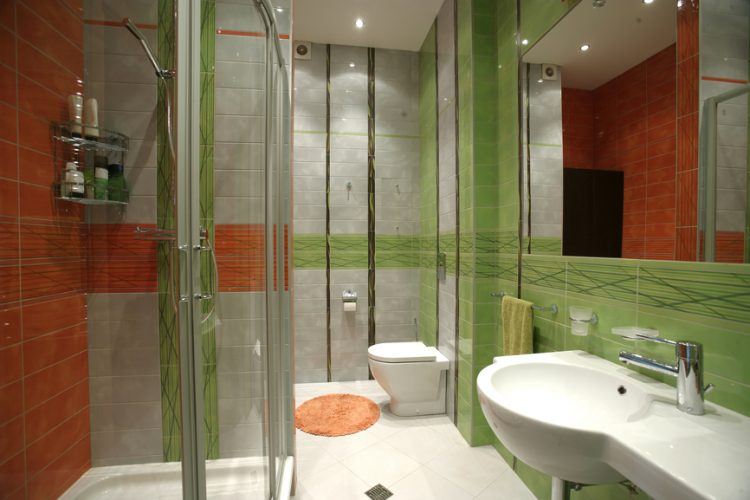 Contemporary green bathrooms can be sleek and stylish, such as this one. The light green tile stands out the most, and it looks great paired with a rustic red shade. It's an unexpected color combination that helps pull the room together and brings warmth to the otherwise white and gray space. Because the tile chosen is so decorative, practically no additional accessories or pieces of decor were needed. Since there's so much color on the walls, it was a smart choice to keep the floor tiles, commode, and sink white.
6. Beautiful global style
Different styles of green tile dominate this bathroom, which has a global feel. Combined with the marble, the tiles themselves are like pieces of art. Deep jewel tones, emerald, and gilded features pair with shades of white to create a bathroom that's elegant and exotic all at once. Another distinguished element in the room is the painted door — it's a nice alternative to painting your bathroom walls or putting up green tile.
7. Spa-like ambiance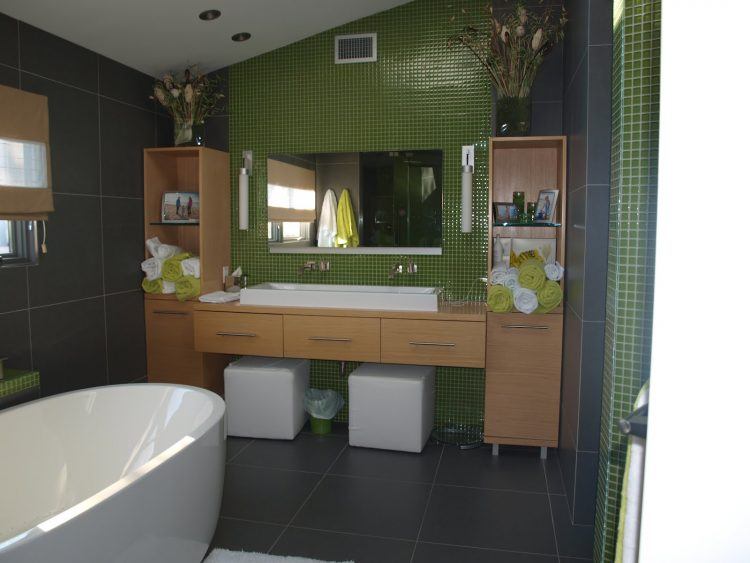 It's typically blue or white that's chosen for spa-like bathrooms, but green bathrooms can accomplish the same effect. Lime tile, towels, and key accessories add color to the gray and white bathroom, and it truly does look like a fabulous spa. The gorgeous over-sized tub adds to the aesthetic, as does the way all of the toiletries and linens are arranged. Window treatments and cabinets in the same light brown hue are complementary and bring a natural element to the space.
8. Sophisticated and glam
Green bathrooms can definitely take a sophisticated turn, as this one proves. The combo of warm reddish brown and sage look great together, and the addition of silver and black accents keeps the look up to date and glamorous. Luxurious light fixtures, dramatic curtains, and exquisite decor make this bathroom one that's perfect for pampering.
9. Refreshing and minimalist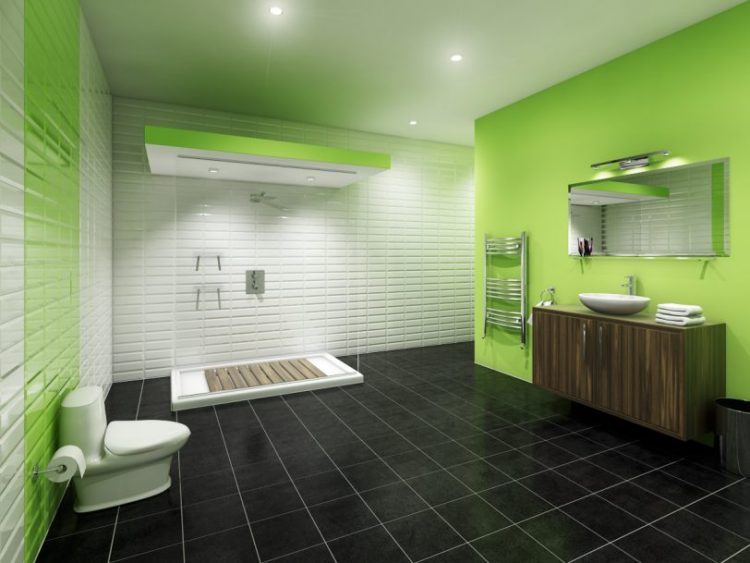 If this bathroom didn't have its bright green walls, its minimalist look would be quite sterile in black and white alone. In many ways the green paint serves as the decoration in the bathroom, as there are no art prints or pieces of decor to speak of. still, the overall look is cheerful and rejuvenating, while retaining very clean, simple lines and a minimalist aesthetic.
10. A retro re-do
This small bathroom with retro black and white tile got a fresh look with the addition of vibrant green paint on the walls. A shower curtain with a bold graphic print adds a nice touch, and the finished look is fun and relaxed. Few other pieces of decor were needed, which makes this a very budget friendly design to replicate. Choose your preferred shade of green, a visually interesting shower curtain, and you'll have a made over bathroom without spending a bundle.