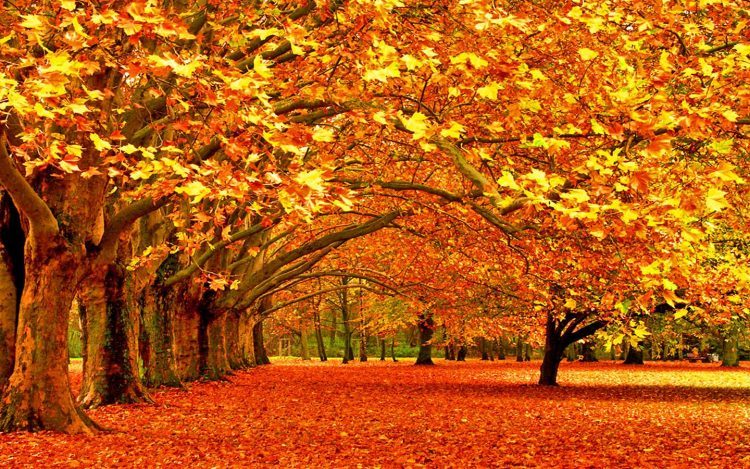 While some people decorate their porches year round, it seems that the fall season is the one where people really get into the decorating spirit and deck out their houses in all types of ways. Whether you have a large porch with plenty of space or a very small area to worth with, it's possible to design a fall look that will complement the exterior of your home.  It really just depends on your budget, how much you want to do, and how creative you want to get.
Here are ten ways that you can give your porch a wonderful look this fall.
Stage a comfy seating area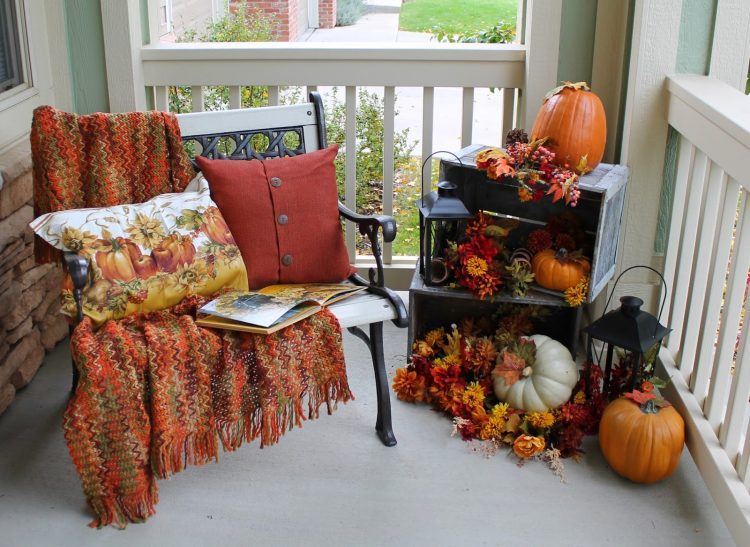 The fall season is embodied by comfort, warmth, and abundance, and staging a seating area on your porch is a great way to achieve an autumnal look and feel. Two vibrant throw pillows and a blanket are set on a small bench, and next to it is a display of foliage and pumpkins in golds, oranges, reds, and yellows. A pair of black lanterns gives the design a classic look and feel, and if LED candles were inserted the lanterns would also serve as functional lighting.
Don't be afraid to use nontraditional colors
Most of us think of orange, yellow, gold, sage, and other fall shades when autumn comes around, but you can help your porch stand out by integrating other hues. Here, a bench is clad with jade and cobalt pillows, which are definitely nontraditional choices. A cobalt vase adds another splash of color, and a simple arrangement of bright yellow flowers and a few pumpkins brings it back around to the fall season. If you're not into fall colors or your home's exterior doesn't mesh well with those shades, use this porch for design inspiration.
Put up a quaint sign
If you'd prefer not to adorn your entry with pumpkins, create a porch fall look by putting up a simple chalkboard sign. It's a great way to welcome visitors and you can easily change its look in mere seconds. This porch also has two pots of white flowers, a weathered chair, and a small table which add to the design and help create a look that's charming and rustic.
Don't underestimate the power of throw pillows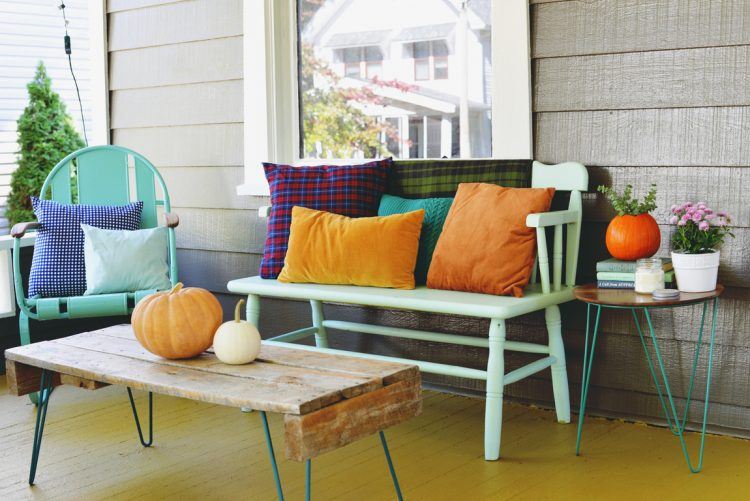 This porch shows that just a few simple touches can create a fall setting that looks beautiful. Just a few small yellow and white pumpkins are placed here and there, but the real highlight of the porch is the collection of throw pillows in various fall shades. It's bright, fun, and full of style. If you have room on your porch for a bench or chairs, definitely consider putting out an assortment of comfortable outdoor pillows.
Make an abundant path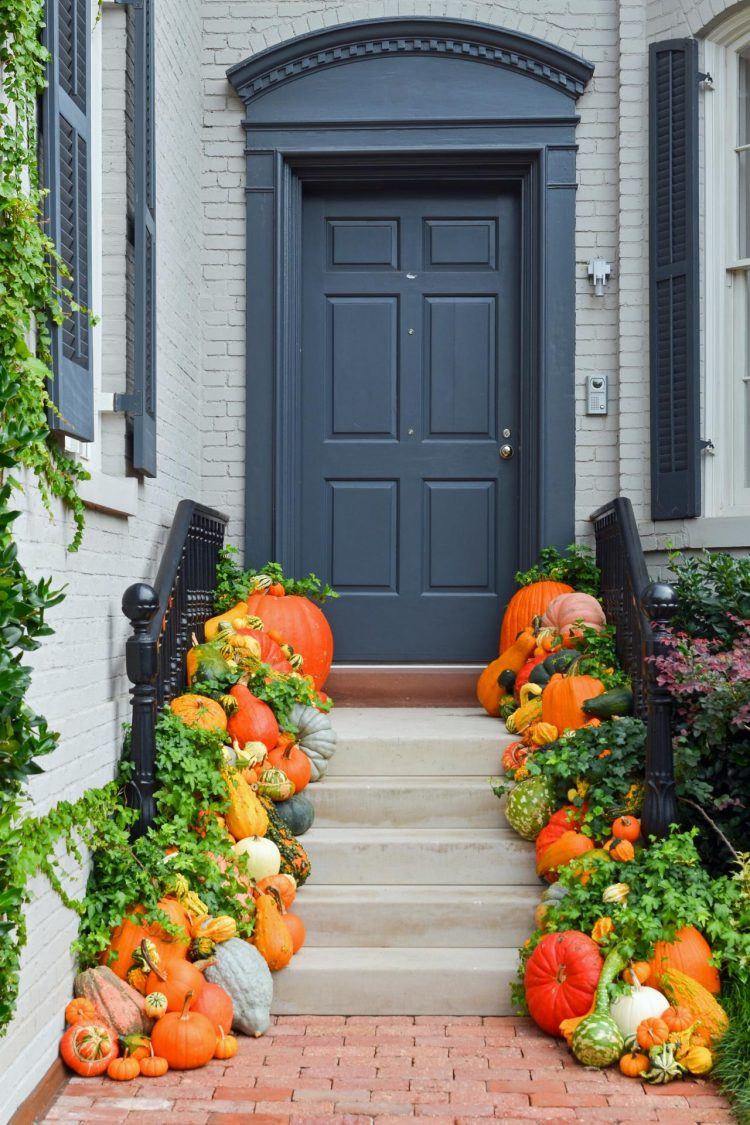 Gourds and pumpkins are synonymous with the fall season, and they can look incredible when placed in punches on your porch. This porch fall look integrates a large variety of different pumpkins and gourds, all neatly lining the path to the door. Aside from the fruits, the porch has no other decor — because it creates such a dramatic effect, no other decorations are needed.
It's not too early to put out lights
Yes, most people put lights outside for the winter season, but you can definitely do it in fall and create a stylish space. This porch fall look has a harvest theme, and it contains all of the elements that one would expect in an autumnal setting. There's a pumpkin, cute scarecrows, and plush pillows on the bench sitting outside, as well as dried corn stalks. What makes the scene come alive, however, is a simple strand of red outdoor lights hanging above the doorway. You don't have to go overboard hanging up lights, and just a small amount can be the perfect way to bring your fall porch together. As a bonus, it's not difficult to find outdoor string lights during the fall season, and you can often get them on sale.
Hang up a garland
Classic fall foliage, such as mums and marigolds, look beautiful on a porch. If you don't have much room to put out potted plants or you prefer to keep your entry clear, hang a garland. This porch does have one small basket of vibrant flowers sitting by the door, but the main focal point is a flowing garland that hangs over the door and drapes to the ground. There are bright reds, golds, oranges, and a few lavender blooms for an interesting pop of color. If you prefer, you can even use a garland made of faux flowers — it will last longer and be less expensive than the real thing and still look great.
Add some character
Your porch fall look doesn't have to contain cutesy decorations or a huge amount of elements. This porch shows how just a few pieces with character and charm can make a big impact. The handwritten-style sign looks wonderful, and it matches the look of the welcome mat. Two tall candle holders with LED lights are not only useful, but they look quite stylish in this design.
Go with shades of orange
Orange is a quintessential autumn shade that you can use to add an instant bit of flair to your porch. This home's exterior decor consists of a pair of pumpkins and potted orange flowers — it's a very simple arrangement, but it looks welcoming, bright, and uncluttered.
Keep it simple
How do you create a porch fall look when you don't have a porch at all? By brightening up the door as best you can and adding a lively wreath. This entry has one sole wreath as its decoration, but set against the clean white door it's a beautiful, simple way to welcome in the season. If you're a renter or you have a small doorway that doesn't allow for the placement of a lot of decorations, you can take the same approach.