In this modern age, technological gadgets are becoming more common parts of the daily human life. This technology boom has even spilled over into the most everyday items like furniture. While some search for furnishing that are visually appealing, comfortable and practical, others opt for a more multi-functional set which the following five high-tech furniture pieces deliver. The thought process is, why go for an ordinary couch or chair when you can have furniture that creatively features an integrated keyboard or can instantly transform into a touchscreen mechanism to aid in daily tasks.
High-Tech Serenity Gardens
The 3G Zen coffee table will certainly WOW guests at your next dinner party. Addictive and mesmerizing to watch, the 3G Zen is a must-buy for every high-tech room. The table draws doodles and words in the and that is situated beneath a pane of glass. The table is equipped with an SD card that contains a variety of preset sculpting patterns. There is also an iPhone and Android app that can be downloaded allowing users to write messages to those at the table and create designs that are updated right in front of your eyes instantly.
High-tech serenity gardens are not just an excellent tool to WOW your friends. Instead, it can be an amazing resource for those with stressful jobs to use in an office setting. Have a bad meeting? Sit down at and manipulate your high-tech serenity garden to help eliminate stress and return to a productive state of mind.
Keyboard Integrated Chairs
In an effort to help you sit better, the "Origin" is an ergonomic chair that integrates technology. The concept was created to untether workers from long hours at their desks. With the addition of a split keyboard that is built into the arms of the chair, you can sit back and maintain excellent posture while working. The chair is fully adjustable and built for the average office worker. By simply distributing your arm weight over the armrest while typing, the Origin prevents common injuries like carpel tunnel and repetitive stress syndrome. Additionally, the wireless keyboard allows you to sit are whatever distance you find to be the most comfortable.
Ergonomically, humans should sit as close to the keyboard as possible and form a 90-degree angle with their arms and the keyboard. Many have repetitive stress syndrome as a result of poor posture while typing. The Origin seems to completely eliminate that issue by forcing you to sit with your arms at a 90-degree angle in order to type.
Tech Charging Furniture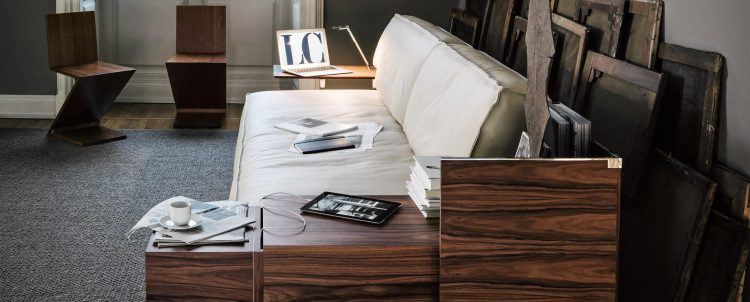 The Philippe Starck My World couch is a new piece of high-tech furniture that was created to aid the modern resident in comfort and convenience. Within the furniture are power outlets and a Powermat charging tool for wireless charging. The name My World fits the product perfectly in that it serves many ends. There are modular sections that can be added and manipulated to any size that you deem appropriate for the living space. This is a reasonable investment for those who have large or cramped spaces. Minimalist enthusiasts will love the drawer that hides all wires in the couch.
Having wires crisscrossing all over the floor so every device can be charged is annoying, unsightly and could cause a safety hazard. As a result, the Philippe Starck My World couch has listened to their consumers and integrated charging technology directly into the furniture. Gone are the days of constantly getting up and walking to the wall to check your charging phone. Instead, your phone is right next to you at all times whether you are watching television, reading a magazine or simply talking with your family.
Touchscreen Café Tabletops
The touchscreen café tabletop allows you to order food and pay for your meal without ever really talking to a waiter. The touchscreen tabletop is basically a touchscreen PC that is integrated into a table and is covered with reinforced glass to protect the PC and touchscreen. One of the leading products in the industry is Moneual's MTT3000 Touch Table PC. The company hopes to revolutionize café culture and the restaurant industry. This product can be configured to perform all tasks as a regular PC and is not restricted to restaurants only. Additional applications range from reading print to watching videos to surfing the Web and logging in to social media.
With so many potential application, touchscreen café tabletops truly are the future. Moneual's MTT3000 currently operates on Windows 10 giving you all of the comfort of a familiar operating system and all of the functionality of a tablet. With society's need for customization, speed and automation, touchscreen café tabletops will eventually become a mainstream item in homes, restaurants and offices around the world.
UFO Chair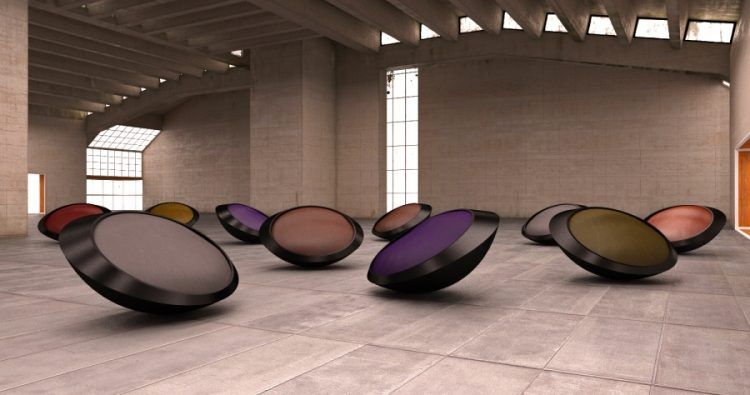 Known as an "unidentified furniture object," the UFO Chair boasts futuristic levels of versatility. Created by Italian design company IT ONEOFF, the UFO chair eliminates the archaic methods of sitting: only in one place without rocking far and rocking front to back. At $9,000, the UFO chair is unencumbered by the boundaries of physics and direction. The chair spins, flips and rocks in any direction for the ultimate in comfort levels. Although this chair does not use any electronic components to be futuristic, it relies on good old fashioned science and physics. Although this may seem difficult to sit in at first, like any new product, there is a breaking in period that must be experienced prior to enjoying the chair in its entirety.
With so much new technology available in the marketplace, it can be difficult to focus on just one device that will make your life easier. Given that furniture is some of the most used components in our home, it is often wise to focus directly on the new technology. The five aforementioned high-tech furniture is just the tip of the iceberg with regards to what is being developed in research and development labs around the world. Stay tuned because the world of high-tech furniture and technology in general is about to become much more interesting and functional.