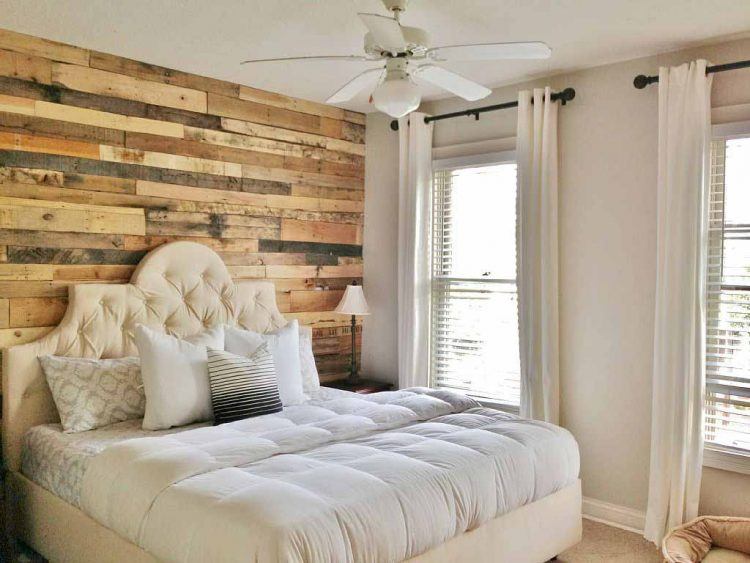 The bedroom is the perfect space to infuse your personal style, and it should also be a retreat where you can find comfort and solace from the days' stresses. In 2016 there were many bedroom design trends that were focused on making the room a stylish space — there was the explosion of Scandinavian design, bold designer wallpaper, chevron patterns, and open displays being used instead of traditional nightstands. In 2017 we'll see a turn towards making the bedroom more relaxing and rejuvenating. Here are five of the biggest bedroom decorating trends to watch out for next year.
1. Greenery, Jewel Tones, and Navy
Greenery is Pantone's Color of the Year for 2017, and it will no doubt be making an appearance in many more bedrooms. The color is bright and cheery, so it's perfect to use as an accent or in small doses, especially if your aim is to create a more tranquil space. Jewel tones will also be trendy in 2017, and they happen to pair well with greenery. For a fashion forward look go with amethyst or turquoise.
As for navy, it's starting to replace black as the new "it" dark neutral. What's interesting is that navy meshes well with a number of jewel tones, from ruby and citrine to emerald. It's also a great match for Greenery, so this is the perfect time for navy to come to the forefront. This navy bedroom incorporates several design trends that will be big in 2017, including a bold accent wall and innovative side tables made from hung circles of reclaimed wood.
2. Upholstered Headboards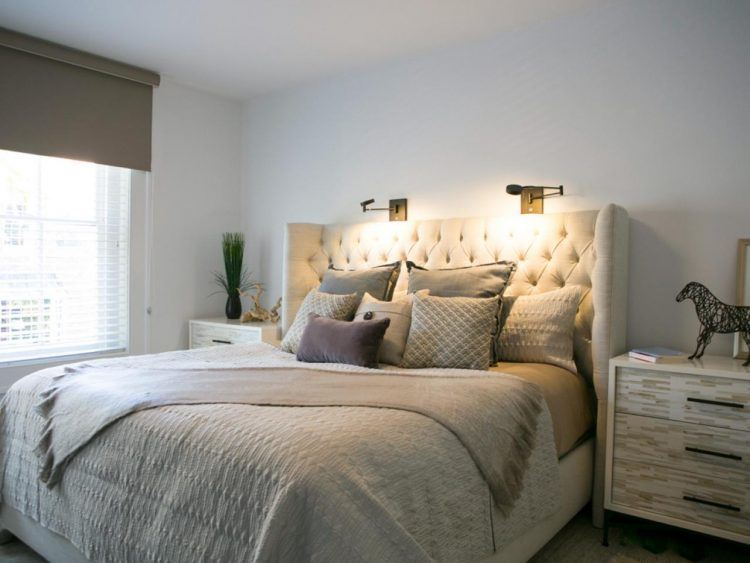 This was a huge trend in 2016, and it's still going to be at the forefront in 2017. There's something about upholstered headboards that makes them alluring — they're plush, luxurious, and stylish, but still accessible. You don't have to splurge on one, and can instead create your own DIY version. With a few yards of quilt batting, an inexpensive wood board, your favorite home decor weight fabric, and a staple gun you'll have a new upholstered headboard in less than an hour. To make hanging a DIY headboard easier, use a French cleat.
The headboard in this room features sides that curve around, which gives the room a cozy yet upscale appearance — imagine sitting up in bed and getting the feeling of being snug all around. The style of tufting on it has become quite trendy and will continue to be seen on upholstered headboards well into 2017. Paired with an assortment of soft neutral pillows and a small selection of decorative accents, the headboard helps make the room look much more like a relaxing private retreat.
3. Reclaimed Wood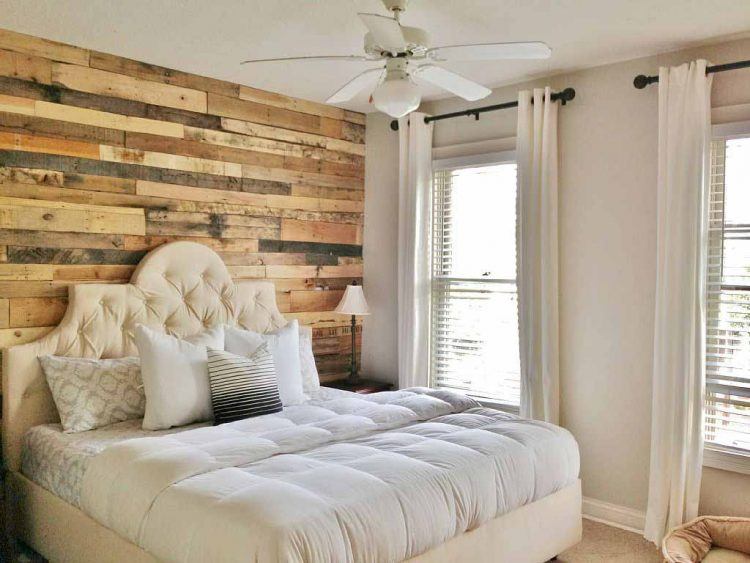 Home design in general is moving towards incorporating more natural materials, and in the bedroom reclaimed wood will be quite prominent. It was already making waves as a trend during 2016, but in 2017 it's going to be one of the most "in" things to put into the bedroom. There's so many ways that you can adopt this trend, and it doesn't have to cost much money at all.
This is one of the bedroom decorating trends that will be seen everywhere in the bedroom, from the floor to furniture and even the ceiling. The bedroom here has a feature wall located behind a bed that's covered in planks of reclaimed wood. The rest of the room's decor and furniture are neutral and the bed strikes a chic and elegant profile, but the addition of the wood gives the space a distinctively rustic, warm, and cozy touch. This is a great trend to get in on if you've been looking for a way to make your bedroom feel more inviting and intimate.
4. Butterfly Motifs and Mixed Patterns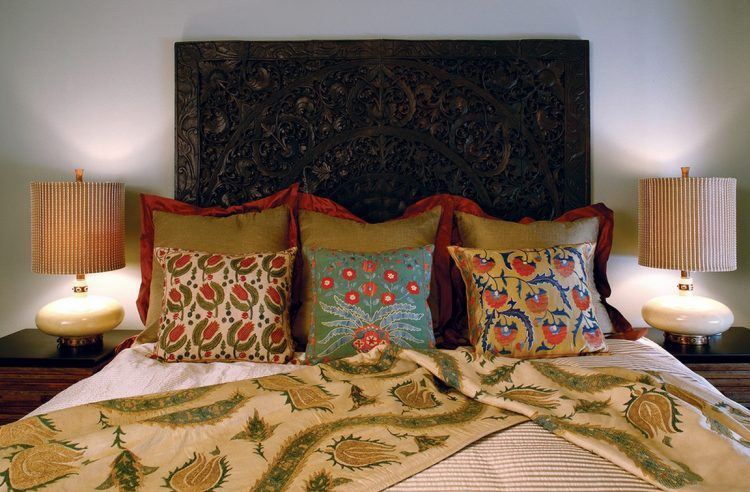 Mixed patterns are going to be one of the more popular bedroom decorating trends next year, and that's no surprise since mixed patterned tile will also be big in the kitchen. The beauty of mixing and matching patterns is that it adds visual interest, character, and charm to the bedroom. The key to getting it right is ensuring that the patterns you choose are all linked together in some way. In this room the pillows have drastically different fabrics, but they all contain the same shades of red and blue. Each one featuring a floral pattern also links the throw pillows together and provides a cohesive look.
Another pattern that you'll see more of in bedrooms in 2017 is butterflies. This won't be the kiddy version, but sophisticated designs that are suitable for adult spaces — think richly colored wallpaper with a vintage flair, floral background, and embossed butterflies. Large art prints and paintings featuring the delicate creatures and butterfly silhouettes are also starting to pop up more and more on home design blogs. If you want to incorporate this trend without spending a bundle, opt for butterfly motif throw pillows or window treatments.
5. Luxurious Faux Finishes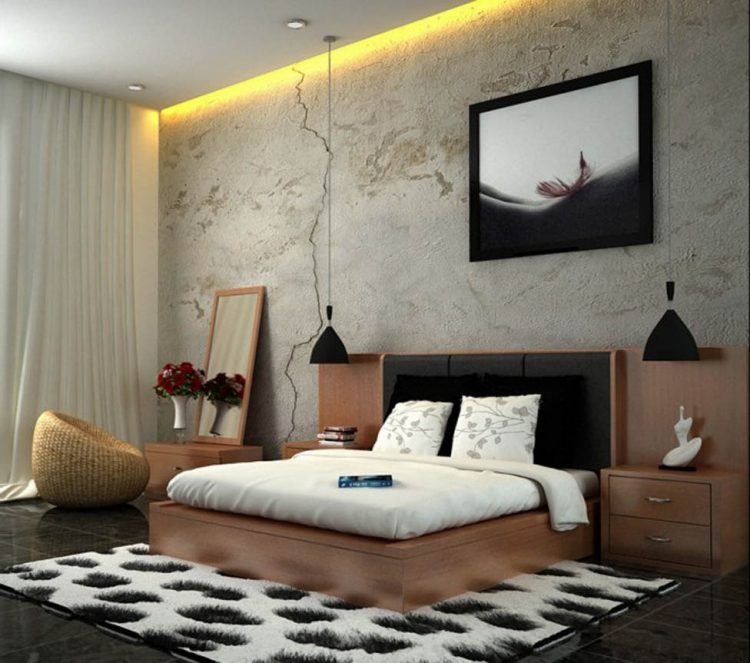 Making home design more accessible seems to be a theme in 2017, especially when it comes to bedroom decorating trends. This is why faux finishes that give the look of luxury for a fraction of the cost will be popular going into next year. If you've been eyeing a faux leather headboard or wallpaper with the look of stone, now is the time to go ahead and get it. The wonderful thing about this trend is that it's so accessible and versatile, plus it won't result in you spending tons of money just to revamp your bedroom.
The trend towards luxe elements, faux or not, ties into another general 2017 home design trend: the incorporation of marble. The wall in this bedroom has a look that's like marbled stone, and it's quite realistic. It would cost tens of thousands of dollars to put up a real stone facade in a bedroom like this, but by choosing a great looking wallpaper and applying it carefully you can mimic the look of just about any luxurious material that you want. This trend works better in small doses, so don't use it too liberally. For instance, an accent or feature wall covered in faux marble wallpaper would look great, but it would be overwhelming if it covered all four walls of a bedroom.