Sacramento, California is an area known for beautiful weather, beautiful people, and little-known facts. One item of interest is that Sacramento wasn't always the capital of California. The state of California had six different capitals, and Sacramento took two turns at it before its permanent honor was bestowed in 1879, at the California Convention. The folks in Sacramento are so polite that they constructed a roller coaster called "The Screamer"; however, they forbade folks to actually yell out on the ride, so as to not bother the neighbors.
In this eclectic California city, there's plenty of high priced shopping and all sort of varieties of services that the best money can buy. Still, if you are sniffing out a bargain in Sac-Town, the only place to go is Craigslist Sacramento. There the not-so-rich and famous can post ads to garner the collectible of their dreams, sell their unwanted accumulation of stuff, and offer whatever is worth doing for a song.
Here are some of the craziest ads that have appeared recently on Craigslist Sacramento.  You better act quickly.
Picky Feline Stockpile
When your cat is a picky eater, it's a smart idea to buy in bulk. That way, when she decides she doesn't like her food, you can just sell it on Craigslist! This ad features 41 cans of premium cat food – new! – $30, https://sacramento.craigslist.org/for/5694668915.html. The brand name is "Weruva Splash Dance, which is a great food – my cat is just nuts." the owner proclaims. Also included in this feline rejected flavor assortment is " 2 other types she stopped eating, Impulse and Applawse."
Play "The Office" at Home
If you want to feel like you are still at work in your off hours, or give your home office that compartmentalized feel, you can have your very own cubicle farm. This ad, Herman Miller With As Much Glass as You Need, https://sacramento.craigslist.org/fud/5688794783.html, headlines as if you will be getting your own employee named Herman included with the deal. Unfortunately, it's just plain old cubicles.
Holy Bargain Shoes
If you're looking for that special baby gift, how about a pair of 1950′ s CANADIAN SEALSKIN CHILD'S MOCASSINS – $10, https://sacramento.craigslist.org/clt/5672541869.html. These handcrafted shoes made from skinned seals have character (and a hole in the right sole). if you don't believe how special they are, the seller has " MANY FAMILY PHOTOS OF MYSELF WEARING THESE." The posting also includes some trivia about the seller, "APPROXIMATELY 6″ LONG. HOLE IN RIGHT SOLE (ALWAYS WEAR HOLE IN LEFT SOLE AS AN ADULT…ODD)."
Latrine for Rent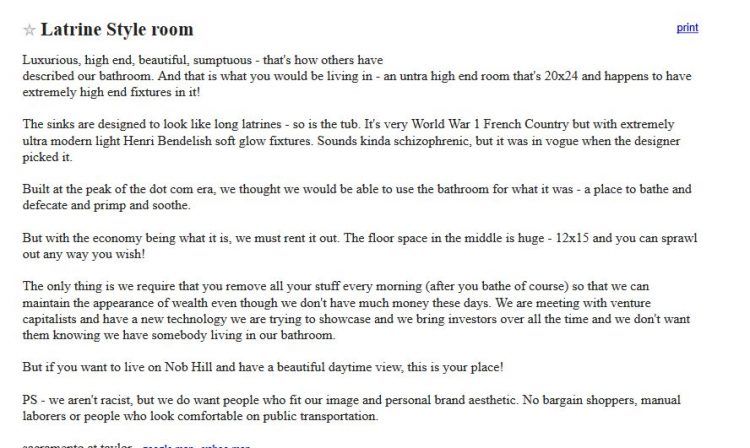 What do to if money is tight and you have an extra vintage style lavatory? You advertise it as a room for rent on Craigslist. This "Best of Craigslist" Sacramento ad, Latrine Style room, http://www.craigslist.org/about/best/sfo/1036298838.html, says that this room was " Built at the peak of the dot com era, we thought we would be able to use the bathroom for what it was – a place to bathe and defecate and primp and soothe. But with the economy being what it is, we must rent it out." The only downside is that the person who rents the space has to "remove all your stuff every morning (after you bathe of course) so that we can maintain the appearance of wealth even though we don't have much money these days."
Frozen Rodents
This ad for Live and Frozen Feeder Rat, https://sacramento.craigslist.org/for/5661150141.html, features a cartoon mouse wearing a rather stunned expression. You have your choice of "Pinkie Rat: $1.99, Fuzzy Rat: $2.19, Hopper/Pup Rat: $2.49, Small Rat: $2.99m Medium Rat: $3.99, Large Rat: $4.99 or Jumbo Rat: $7.99–all alive and frozen.
Sufferin Succotash
It's a Sylvester & Tweety Bird Model Sheet – $350, https://sacramento.craigslist.org/clt/5698552621.html, from the old cartoon series. If you are into Hanna-Barbera cartoons, "Also available is a size comparison model sheet depicting Yogi Bear , Boo Boo, Snagglepuss and Huckleberry Hound." This is quite an underground item, as "This is a rare model sheet never intended for sale to the public. This celluloid was issued to illustrators only and was not permitted to leave the Warner bros. lot."
Pokemon Project
Where to go when you need a Pokemon ball painted? Why, Craigslist Sacramento, of course. This poster will Need Someone to Help Paint me a Pokemon Ball, https://sacramento.craigslist.org/crg/5680275928.html. The poster already has a chromium steel ball that is very heavy. He or she just needs an expert Pokeartist to make it look just like Pokemon to earn a cool $150.
Hatching Service for Lazy Folks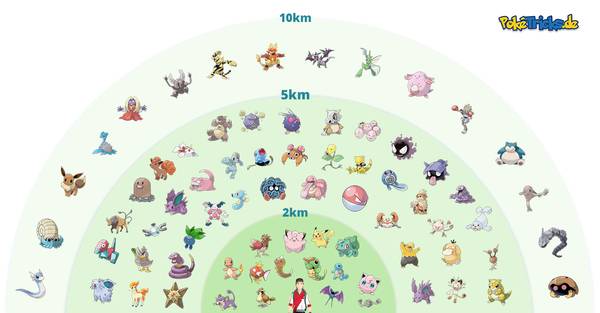 If you want to hatch those little Pokemon but can't be bothered getting up to walk, fear not, as this person offers a Pokemon Go Walking Service, https://sacramento.craigslist.org/vgm/5696504767.html. This is a unique find as "I'm offering my egg hatching services with a guaranteed turn around time of 12 hours after receiving payment. If I don't deliver within 12 hours, my service was free! You will get as many Pokemon hatched as you have incubators for the distance selected." So settle back in your armchair and have someone hatch your Pokemon.
Put that Back

Trust The Best of Craigslist to have some classic ads posted by residents of Sacramento. In this vintage ad from the "Free Stuff" Section, a generous soul proclaims: I SAID EVERYTHING ON THE TARP, NOT THE TARP ITSELF!, http://www.craigslist.org/about/best/sac/396375017.html. Apparently, Kevin is not holding a grudge, he just wants his tarp back. The one who took off with it needs to "Just put it back on the lawn, please. You don't even have to say anything."
Have a Weird Tale to Tell?
If you are Looking to Solve something Unexplained?, https://sacramento.craigslist.org/tlg/5700352674.html, this poster has the gig of your dreams. "If a strange even has changed your life and you're ready to tell your story and have help finding the truth we want to hear from you!". It's a casting call, but only for those who have had creepy encounters with otherworldly beings such as "Mysterious Creatures in the Woods" and the like. So if you have run into that "strange even" be sure to contact this producer.