Known as the "Charm City", Baltimore, MD, is a city of firsts–in 1774, the first US Post Office was opened, and the first Dental School in the World was founded in Baltimore in 1840. Baltimore is also the city of birth for many interesting characters including John Waters, who set his films in the iconic city, innovative musician Frank Zappa, and Germany's favorite actor David Hasselhoff.
The City of Baltimore also has wacky and fun things to do–like a "Bring Your Own Grog" Pirate Cruise and a Belgian Beer Festival. Unfortunately, the city also has its share of crime, as referenced on the Murder Ink page of the City Paper. The television show "Homicide: Life on the Street" was set appropriately in Baltimore. With all that oddness going for it, there's bound to be some folks doing some crazy things in Baltimore.
One place on the internet where this weirdness is honestly reflected is on Craigslist. Anyone who wants to buy, sell, seek or trade something crazy, creepy, or downright insane has access to post their advertisement.
Here are some of the craziest ads from Craigslist Baltimore:
1. Moose Adornment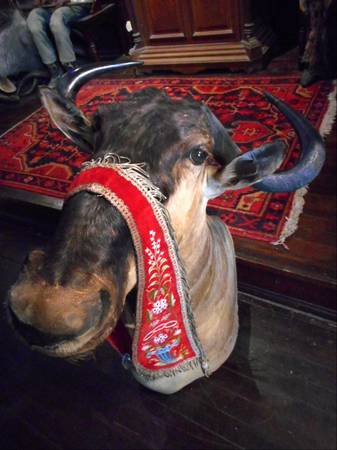 If you are selling a vintage, Odd Fellows Ceremonial Collar – ca. 1920's – 1930's, https://baltimore.craigslist.org/clt/5653830335.html, what better way to display the item than to take a photo of it draped over a stuffed moose head's nose? All of the photos show the animal modeling the collar over its eyes and nose. Apparently, "These collars were worn in lodge ceremonies." and now this dead moose gets to wear it until a buyer snaps the collar up for $25.
2. Litter Box Barter
This person in Baltimore was offering, Litter box cleaning for pancakes,  http://www.craigslist.org/about/best/bal/1580110650.html. According to the posting, "I have a terrible problem. My litter box is dirty and smells horrible and I don't want to clean it. I am amazing at making pancakes, however. I will trade my pancake skills for a clean litter box. Serious inquiries only." The ad was so interesting that it made The Best of Craigslist Baltimore. The question is if cleaning out that litter box would make someone lose their appetite for breakfast.
3. Belly Button Lint
Another ad on The Best of Craiglist Baltimore is simply titled: belly button lint, http://www.craigslist.org/about/best/bal/3683322042.html. The barter seeker is willing to "trade for muscle car, harley, rifles gold coins work also or make cash offer ,also interested in motor cycles. no lowball serious only willing to split if you don't have what i'm looking for" Included in the ad is the poster with jars of what seems to be his fuzzy looking stuff.
4. Snowed In and Desperate
Baltimore has its share of winter storms, and when you are snowed in and can't get out, you must find an ingenious way to get supplies. This poster that made the list for The Best of Craigslist Baltimore is offering, 100$ for two brownies and 1 pt. ice cream, http://www.craigslist.org/about/best/bal/1589192642.html. According to the ad, the items must be hand delivered, "Must be in person, no aircraft drones, catapults, etc. Serious inquiries only. Must be delivered by 9pm this evening." This person suffering from cabin fever with a sweet tooth says he has a "crisp 100$ bill" to give to the person who will brave the weather and deliver.
5. I Love Creepy Dolls
Craigslist always has an assortment of creepy collectible dolls for sale, but these items, Lucy and Ricky dolls, 18 inch – $4050, https://baltimore.craigslist.org/clt/5685051541.html, seem eerie rather that nostalgic. Locked with frozen smiles in place, the Lucy doll is displayed on her own with her trademark red hair and 1950s dress; however, Ricky is shown with some costumed women who may or may not be Lucy, it's hard to tell. The ad tells prospective buyers to "Check out the pictures," which is not necessarily a good thing for the price the seller is asking.
6. Presidents and Dictators Collectibles
If you've ever wanted your own set of Vintage Russian Leaders Nesting Dolls, https://baltimore.craigslist.org/clt/5673720954.html, you are in luck. This collection includes "Yelzin, Gorbachev, Breznev, Stalin and Lenin. $30."
7. Someone's Dead Grandmother in Urn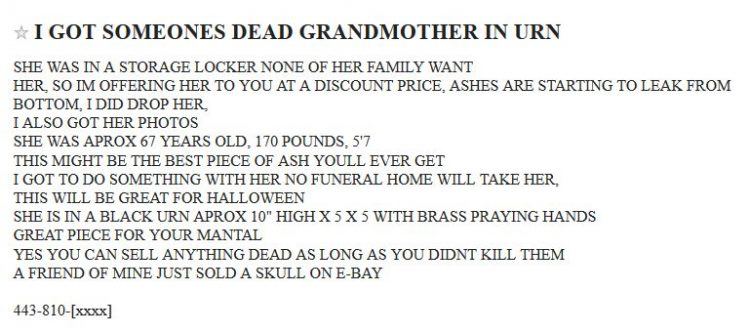 Another gem mined from The Best of Craigslist Baltimore, is I GOT SOMEONES DEAD GRANDMOTHER IN URN, http://www.craigslist.org/about/best/bal/1393232597.html. On the upside, the seller has photos and a full description of this woman whose remains no one wants. The downside is that the "ASHES ARE STARTING TO LEAK FROM BOTTOM, I DID DROP HER." The seller is confident to find a buyer as "YES YOU CAN SELL ANYTHING DEAD AS LONG AS YOU DIDN'T KILL THEM A FRIEND OF MINE JUST SOLD A SKULL ON E-BAY".
8. Creepy Items Wanted
This poster is looking for "Your Unwanted Creepy Items" https://baltimore.craigslist.org/wan/5680694152.html, for example, something that "was passed down to you that creeps you out or gives you a bad feeling. I want those things, assuming they look as creepy as they make you feel." Perhaps he or she is too late to get Grandma's ashes that were posted for sale in 2009.
9. Popcorn Lovers Pokemon Home
This room for rent, $620 Come catch your new room and Pokemon!, https://baltimore.craigslist.org/roo/5695457533.html, features an empty room, except for a little Pokemon Pikachu doll standing all alone against one of the walls. It's an immediate opening, as they are "Looking to fill the 4th spot in our popcorn loving home effective NOW!" They are a kind group of folks to live with as "if someone breaks their arm- we help put their hair in a ponytail/shovel the snow off their car!"
10. Scrooge McDuck's Secret?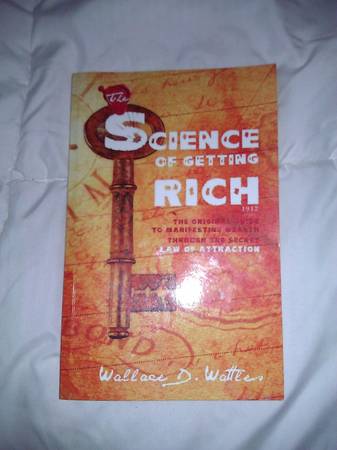 For anyone who wants to know how to use the laws of science to accumulate wealth, there is the Science of Getting Rich, https://baltimore.craigslist.org/bks/5706314170.html, a handbook, for only $3.  The seller says it is "used" but perhaps not used enough, or the science is a bit faulty if the seller is only asking three bucks for the item.