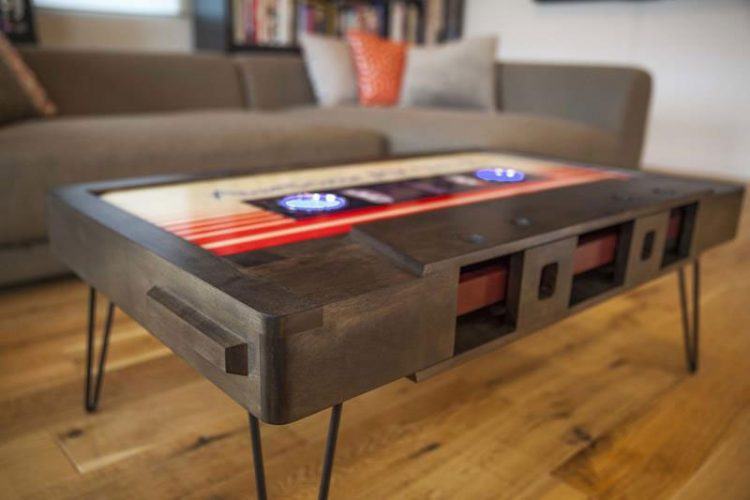 If there's one thing we're always looking for here at Housely, it's a way to improve your home.  Whether that's through fine materials, curb appeal, doing maintenance, or your home's aesthetic, there are just so many things that can add personality as well as quality to the place you live in.   And that's why when we came across these awesome retro cassette tape coffee tables by LA-based Taybles, we had to share them with you.
The coffee tables, which are made from hardwood, come in a variety of stains and finishes including LED cup holders and storage underneath. The legs are made from steel. The cassette tape coffee tables were first conceived a few years back by artists Taylor, Justin and Zach who together also comprise the art collective, 214 Graffiti.  What's even more interesting is just how accurate these tables are.  The sides of the table look exactly like the side of the tapes where you actually see the ribbon of the cassette.  And on some of the tops, you'll notice etchings that say things like "Mixtape" which give them the authentic "I used to have those!" look.
Customized tables are available through their website as are their current designs available for sale (starting from US$1,599). You can also order the tables through their Etsy store if you prefer. Have a look at some of these designs and styles for your next potential coffee table purchase.  One thing's for certain.  You'll get plenty of interesting looks from guests that visit.