The full power of creativity has been unleashed in the world of modern coffee table styles. This is where you get to invest in the most dynamic, specialized tables that will serve as an eye-catching focal point to your living room. Before we venture into unfamiliar territory, let us begin by giving you a how to guide on selecting a coffee table that's right for you.  Some may think that this is just a simple decision but there are a number of factors to consider.   Below you'll find the six most important factors:
Budget
Modern coffee tables can range drastically from very budget friendly to ultra-expensive. As such, it might help knowing what you are willing to spend on it before going shopping. You should break down your budget into such areas as furniture, lighting, and accessories. The furniture items include the chairs, tables, and of course, the coffee tables, with the bigger pieces taking up most of the allocated portion. Fortunately, you can bend slightly on your budget when you see something worth buying, so long as the quality of your chairs or sofa is not compromised.
Shape
As you try to find the right place to accommodate your coffee table, consider the right shape for that space. Is it a small and narrow room, or is it large and wide? What's more, do you have any pets or kids? If you have pets or children, an oval or round coffee table would be ideal. The curved edge will ensure that the table does not have any sharp corners, which may cause injuries when one bumps or falls into it. When you choose a rectangular shape, allow at least thirty inches between the table and your television console to give you enough space for walking between the 2 pieces. You don't have to worry about this quandary with a rounded table, as it will naturally curve away from your television console.
Size
The height of the coffee table is also significant. It should be at least one-to-two inches above the seat of your sofa. A typical table is about 16 to 18 inches, which matches well with a standard-sized couch. However, you will need a taller table if you have a higher sofa, one that is around 20 to 21 inches high. This will also come in handy if you host guests on regular basis, as it will make it easier for your visitors to set down a plate or a glass.
Functionality
You will also need to determine the primary purpose of your coffee table. Will it serve to provide storage or more like a decorative piece? How much storage space will you need? Some modern coffee table styles usually include drawers or shelves to accommodate most things, whether it's that pile of magazines you hope to read someday, or your kid's stash of toys. In any case, chances are you will need to be able to place down a plate or drink without risking tipping it over. Go for a piece that will hold snack plates and drinks with ease. If you are more into decor, choose one with texture and lines in your favorite material.
Material
Talk of the devil… different coffee table styles come in a wide range of materials as well. These include industrial tables in metal. Materials like glass blended with either steel or brass provide a more sophisticated style. It doesn't matter if it is walnut, cherry, maple, or oak, wood has it own appeal. Cherry and walnut provide a more formal outlook while maple and oak are more casual. Consider using Lucite, which tends to evoke the illusion of a floating table with a more modern sensation.
Scale
The significance of scale cannot be overemphasized. All pieces in your room should have the right scale. For instance, pairing a rusty coffee table that belonged in your grandmother's attic with a clunky, overstuffed comfy couch is not the appropriate scale. An overstuffed couch would better be paired with a big-sized table. Since the two pieces have the same size and weight, they will be more suited for each other. The dainty table on the other hand, should be paired with a smaller, more feeble settee or love-seat. Scale is all about the visual weight and size of items in a space being comparable.
What about the cost?
If you are aiming for a bargain, it might be tempting to go for a particleboard number coated in a veneer, which is less than $30. But if the table will be used regularly (like playing host on a frequent basis or children doing their school projects), this type of table will likely stain and scratch. What's more, veneer is very prone to peeling. More suitable budget alternatives: bamboo, reed, or treated wicker, which go for $50 onward and are strong enough to accommodate heavy piles of books.
If you are looking for a sustainable piece that is also family friendly, consider using solid wood that is mostly recommended for its versatility and durability. There are limitless coffee table styles to choose from that vary widely in price, from unfinished birch for $60 to white oak stunners for $2,000 that will last through generations. There are also long lasting, but not so warm looking molded or glass acrylic (for example Plexiglas, Lucite) that bring the illusion of space. These start at $150 and extend to thousands of dollars, especially those in contemporary collectors' pieces. When it all comes down to it, anything can be used to make a coffee table – driftwood, aluminum, copper, cork, or even a recycled antique door. The most important thing is that it matches your taste.
Now that you understand the buying process for coffee tables, here are the top five types of coffee tables trending right now.
1. Traditional
Traditional coffee tables are arguably the most popular ones in the market. This style stretches back throughout the last century, illustrating how timeless their appeal is. Traditional tables are almost always constructed with wood, which is then crafted into an oval or rectangular surface.
2. Contemporary
Contemporary category is a wide range of coffee tables consisting of various stylistic touchstones. Essentially, it refers to any furniture that has a modern style, evoking a trendy appearance with novel attributes. A contemporary coffee table may, for instance, come with a set of wedge-shaped ottomans attached to the main table body.
3. Modern
Modern coffee tables are those that belong to a particular range of twentieth century design philosophy, from mid-century style to Bauhaus movements and the Art Deco. It usually emphasizes clean shapes, simplicity, and the merging of aesthetic and functional aims.
4. Rustic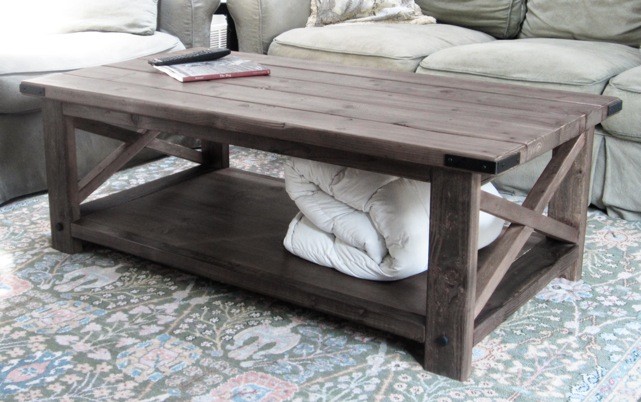 Rustic coffee tables bring out the countryside atmosphere in old-fashioned times. They are almost always made of wood, but with simpler pattern designs than those of a modern or traditional coffee table. Some models come with brass fittings, bringing out a certain bygone sensation.
5. Industrial
Industrial tables are reminiscent of factory tools, using wood and metal in more sturdy, rough-hewn construction. This style can go well with loft-design living rooms, or evoke a much more ideal contrast to milder surroundings.