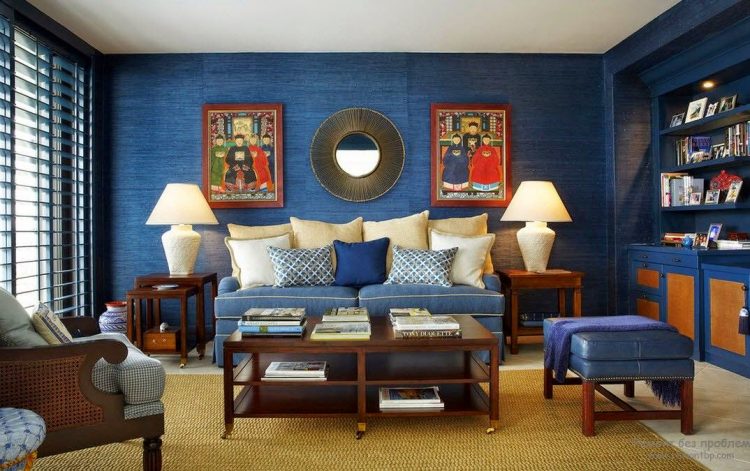 When it comes to living room colors, few have the versatility and likability of blue. Not only does blue translate through each and every season, it's super easy to decorate with. If you'd like to add more color to your space but you're intimidated by the prospect of using a "loud" color such as bright orange or chartreuse, try a vibrant shade of blue. This one color works for every design style, whether you prefer modern, traditional, contemporary, eclectic, or even Tuscan decor.
Here are ten blue living room ideas to give you design inspiration.
1. A laid back vibe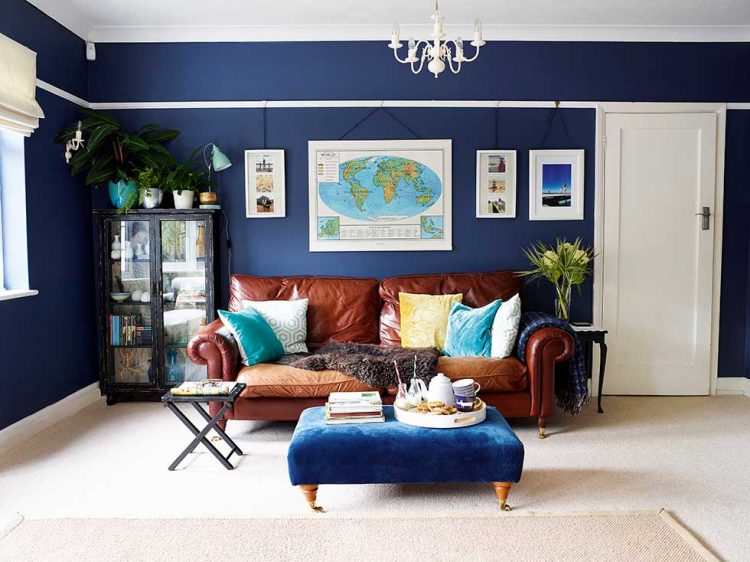 A blue living room doesn't have to be dramatic, and the color can work quite well in a simple contemporary design. This living area is mainly comprised of clean lines and simple patterns, but a bright blue ottoman and navy wall paint make the entire design pop. If you want visual interest without adding a lot of texture or prints to your home, a coat of paint can make a world of difference.
2. Tons of teal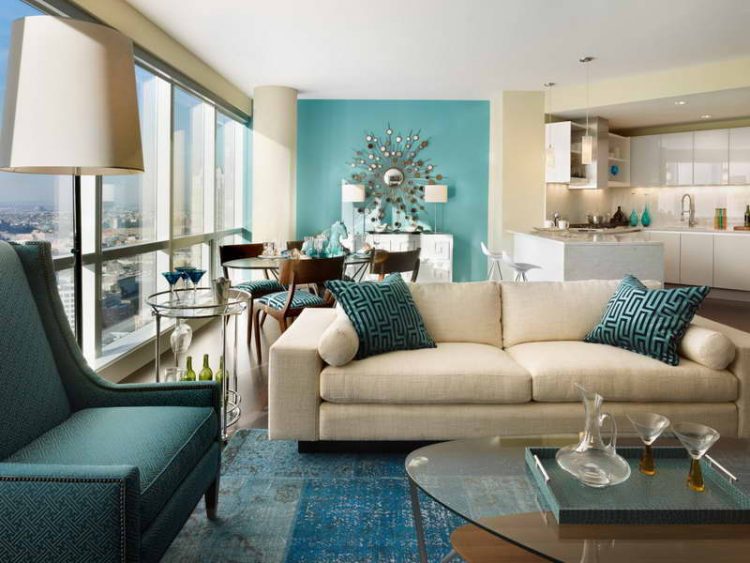 Teal is a trendy color choice, and it looks fabulous in this open concept living space. The dining area, kitchen, and living room have no walls separating them, so it was essential that everything worked together without clashing. Just one small accent wall was enough to make the room more vibrant and appealing, and a few key pieces in teal and cream give the area an upscale look. Because of the open concept design, the cabinets and appliances in the kitchen were left white so the color in the living room could take center stage.
3. The perfect place to read
If your living area is where you tend to kick back and read, blue is an ideal color choice. It promotes relaxation and focus, making reading a more pleasurable experience. This blue living room has beautiful built in shelving that's painted a bold shade, and a plush window seat that's also painted blue provides a cozy place to curl up with a book. A large complementary graphic print rug looks great in the middle of the room's seating. The accent shade in this space is burnt orange, which works surprisingly well alongside the blue and cream.
4. Contemporary blue and chocolate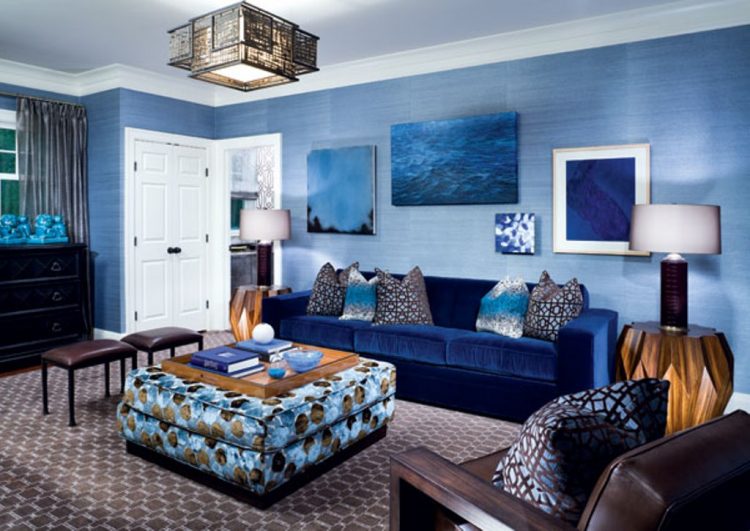 This eclectic space is filled with different patterns, as well as varying shades of blue. The finished look almost has a gradient feel because of the many types of blue in the room including aqua, cobalt, slate, and navy. The combination is definitely daring, but it manages to work when everything is put together. Chocolate furniture, lamps, and a large brown area rug serve as neutral pieces that keep the look from being too busy.
5. Gorgeous textured walls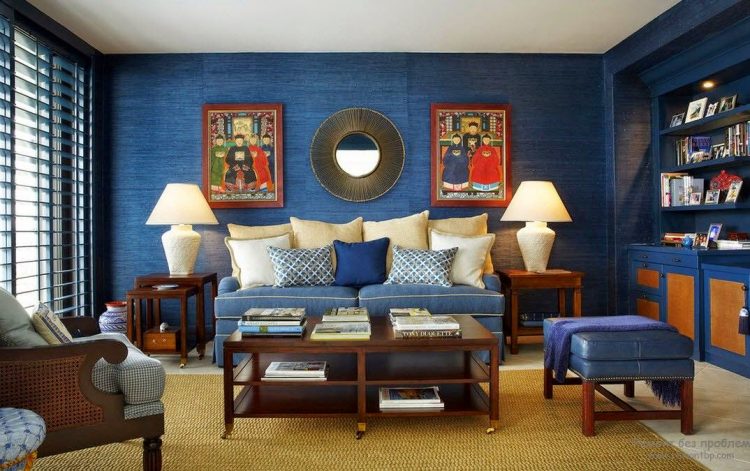 Any paint color can look flat or boring if there's enough of it, so to maintain visual interest this blue living room has textured walls. You can opt for a faux finish, wallpaper, or experiment with different painting techniques to get the same look. The bold background brings together the room's furnishings, art, and decorative elements and helps create an effortless look. Having a neutral area rug, opting for blinds that let in a generous around of light, and keeping the ceilings white prevents the dark walls from making the room feel too closed in.
6. Trendy and chic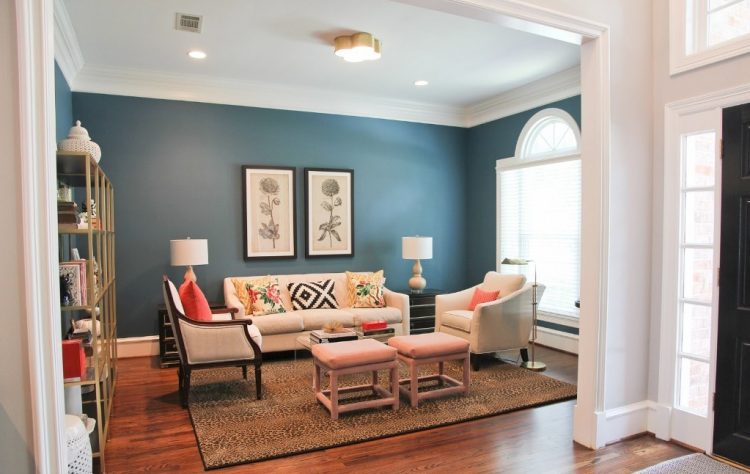 The wall in this blue living room is what makes the space distinctive, but there's not much of the shade seen elsewhere in the space. Still, this room is an example of how much blue wall paint can transform the vibe of an area. It now looks chic, trendy, and a bit exotic thanks to the area rug. Floral motifs in the artwork and throw pillows provide a lovely complement, and the mix of seating keeps the design interesting.
7. Bold prints and colors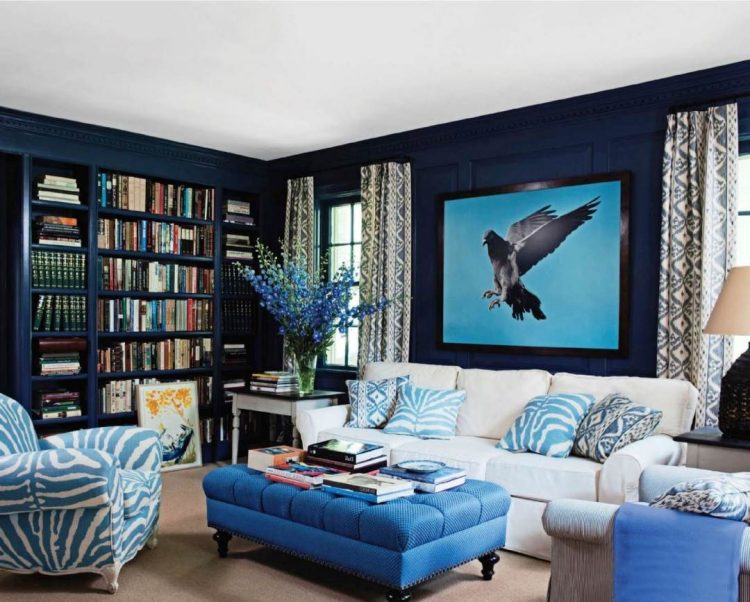 The theme in this blue living room is full of contrasts. The walls and built in shelving are painted a deep blue, while the furniture, seating, and accents have lighter sky blue tones. A mix of three interesting graphic prints livens up the space, while keeping the ottoman solid prevents the design from looking disjointed. With so many patterns going on in this living room, it was a smart choice to limit the artwork to just one large print hanging over the sofa.
8. Sophisticated in blue
The versatility of blue is seen in this living area, which is packed with sophistication and trendy elements. The window treatments incorporate the gray tones seen throughout the space and provide cohesiveness as well as chic decor. Rather than feature a blue sofa, blue throw pillows and an ottoman provide a splash of color. This is a great decor tip to use if you want lots of color in a room, but don't want to splurge on new furniture: add in a few pillows or a less expensive ottoman instead.
9. Traditional elements
Inky navy walls give this blue living room a classic and stately feel. Traditional style furniture melds wonderfully with the dramatic wall paint, and a rustic touch is provided by the decor. To keep the area from feeling too heavy, cream colored seating and a white ceiling were integrated into the space.
10. Anchoring the room
The main element that anchors this blue living room is a large graphic print rug. Everything else, from the seating and window treatments to the room's art and decorations, uses the rug as a backdrop and the result is gorgeous. If you want a blue living space but don't want to paint your walls, try putting in a big area rug instead. Keep the print clean and simple, and the rest of your furniture and decor will pair well with it.