For lots of people, having a full bar at home would be a dream come true. Unfortunately, that isn't a realistic option for many people, but that doesn't mean there aren't other ways to enjoy a bar atmosphere in your home. Bar tables can give your home a bar-like atmosphere without taking up too much space. Although these tables are typically small, bar tables can also come with some storage space for bottles and glasses. If you're looking to bring a little bit of bar to your home, these tables are an easy and inexpensive way to do just that. Here are 10 beautiful bar tables for your home.
This small round bar table has a pub-style design that is perfect for a small space. This table can be used to enjoy a drink, light snack, or meal.
This modern bar table isn't just great for enjoying your favorite drinks, but it's also perfect for serving them as well.
Complete with a built-in wine rack, this bar table was made on wheels so that it can be easily moved to any area in your home.
A contemporary design gives this item a sleek dark finish. Two large shelves allow for plenty of storage space for glasses and bottles.
Looking for a simple bar table that will look good in your space. This lovely wooden table with a square design could be exactly what you need.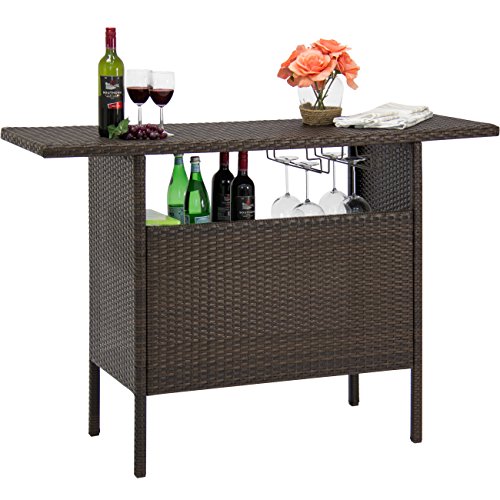 Designed for outdoor use, this wicker bar table can be a great addition to your spring or summer set up.
Fans of modern design will definitely enjoy this sleek chrome item that features spacious storage shelves for your favorite bar items.
Sometimes simple is the best way to go, and this table is proof. As the item's description states, "Both rustic and modern, this bar height table is the perfect spot to chat and dine in any dining room, kitchen, breakfast room, or rathskeller".
This pub height bar table has a sturdy metal frame that provides stability and durability to withstand every day use.
This modern bar table features a 360 degree swivel design as well as an option to adjust the table's height.