In the world of bathroom design, floating style sinks have become increasingly popular. As more modern styles come into play – these cool contemporary sinks are quickly becoming a fun option for people looking to put a new twist on something that has been the same for as long as most people can remember. Although bathrooms don't always get the love they deserve, they too could use a little re-design from time to time. If you're looking for a way to put a little flair in your bathroom, one of these floating style sinks may be just what you need. Washing your hands and brushing your teeth will never be the same again. Here are 20 gorgeous bathrooms with floating style sinks.
image via houzz.com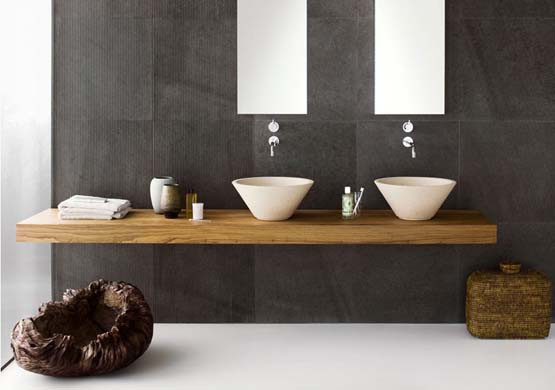 If there's one place where keeping it simple is usually a good idea, it's the bathroom. This minimalist design makes sure that things don't get too complex, which allows the double floating style sinks stand out even more.
image via thisforall.net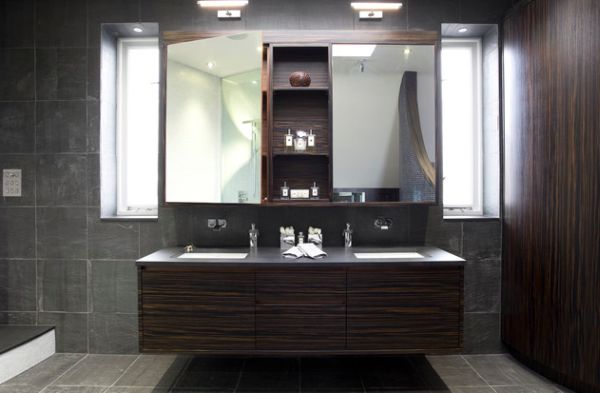 The use of gray tile gives this room a very nice and classic look. However, wood isn't something you see a lot of in bathrooms, but design which features two floating sinks and a vanity prove that dark wood can look good in any room of the house.
image via decoist.com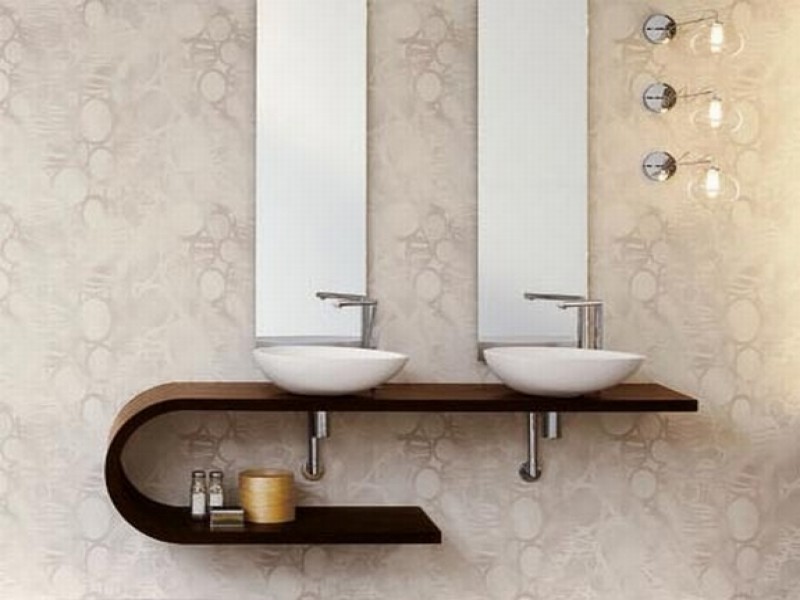 One of the best things about floating style sinks is that they can give your bathroom a very sleek design that sometimes isn't possible with traditional sinks. This curvy floating sink may not have a lot of useable space, but it's got an amazing design that will look good in any bathroom.
image via heroworld.co
Imagine walking into your bathroom every day and seeing a cool sink like this? This floating sink and vanity is all about keeping it things stylish while taking up a minimal amount of space. Despite the fact that there is very little counter space, this design does feature a floating cabinet that is perfect for storage.
image via www.tradewindsimports.com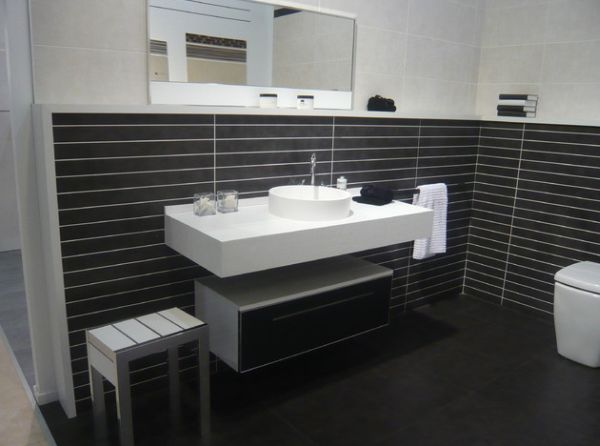 Black isn't a popular color when it comes to bathrooms, but these design shows that when used correctly – black can be a great color for your bathroom. This black and gray set up comes full circle with this white floating sink and vanity.
image via wowbathroomideas.net
If you're like most people, you probably spend more time in the bathroom than you'd like to admit, but with a design like this – it's easy to see why. This creative floating sink is designed on a tilt to allow flowing water to head directly towards the drain.
image via dacosin.com
This basin style floating sink provides a bit of a classic look with a very modern design. However, one of the best things about this sleek sink and vanity combo is that despite it's thin build, the pipes are not completely out in the open.
image via robertblinfors.blogspot.com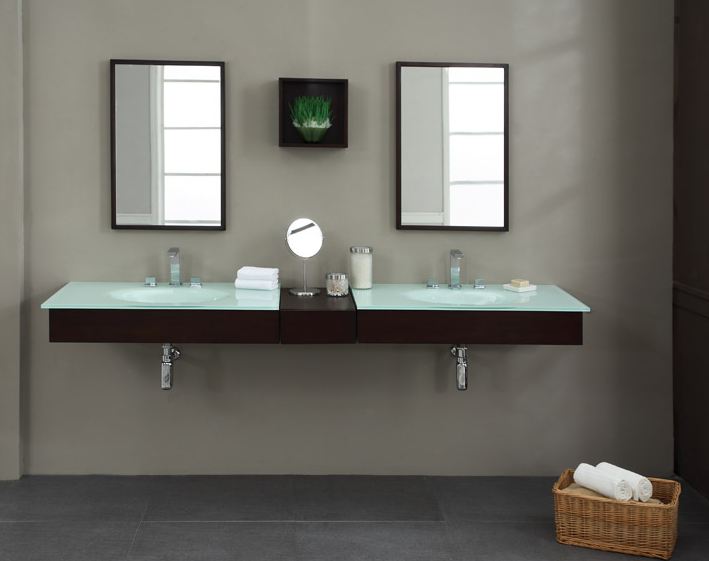 This double floating sink design puts a contemporary spin on the typical his and hers bathroom set up. With glass tops over a dark vanity, these sinks are perfect for any couple who plans on spending a lot of time in the bathroom together.
image via www.listvanities.com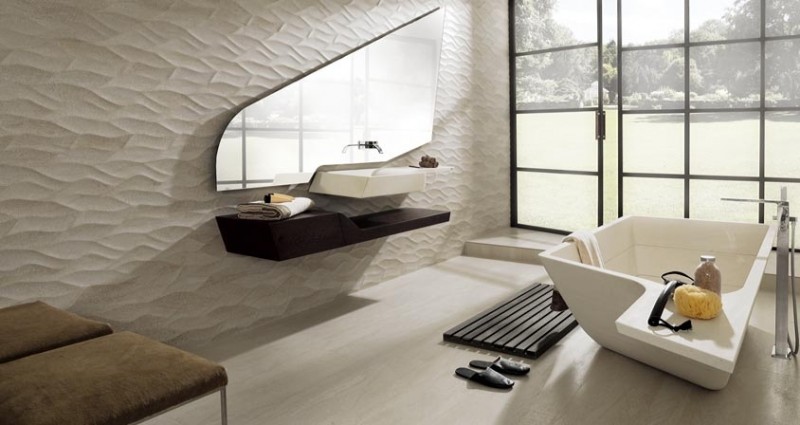 This large luxurious bathroom is beautiful from start to finish, and the floating sink adds to the clean look and feel. With everything you could want or need, including plenty of natural lighting – this floating sink is just a really cool bonus.
image via www.home-designing.com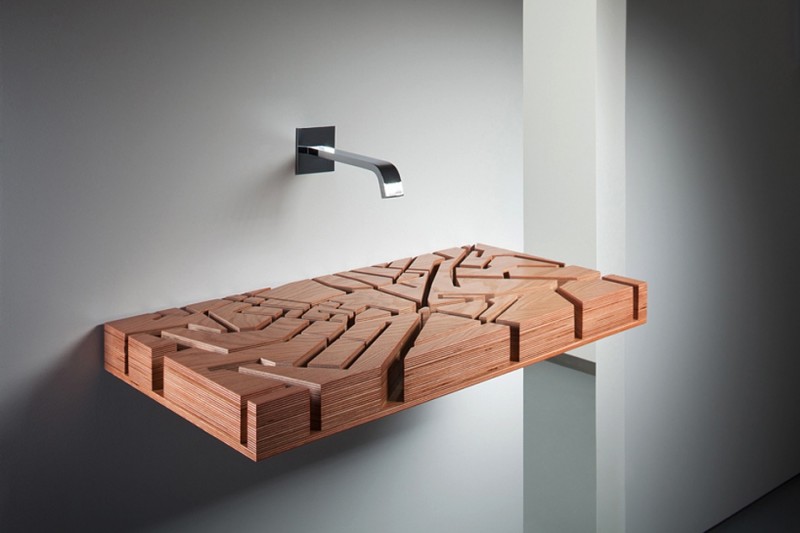 No matter how many cool sinks you've seen – there's a good chance you've never seen anything like this. Sure, this might not be the most practical thing in the world, but it will definitely get people's heads turning. This wooden sink, carved in the form of a maze, is so cool that you probably won't even want to use it.
image via bestgarden.net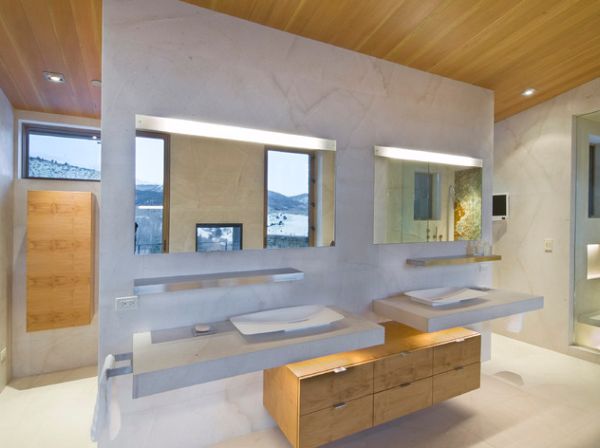 This bathroom design is spacious, open, and fresh. So, it's only right that this twin floating sinks be a part of the room. With a minimalist and almost futuristic design, these sinks and vanities add a touch of uniqueness to this already incredible space.
image via www.galahome.com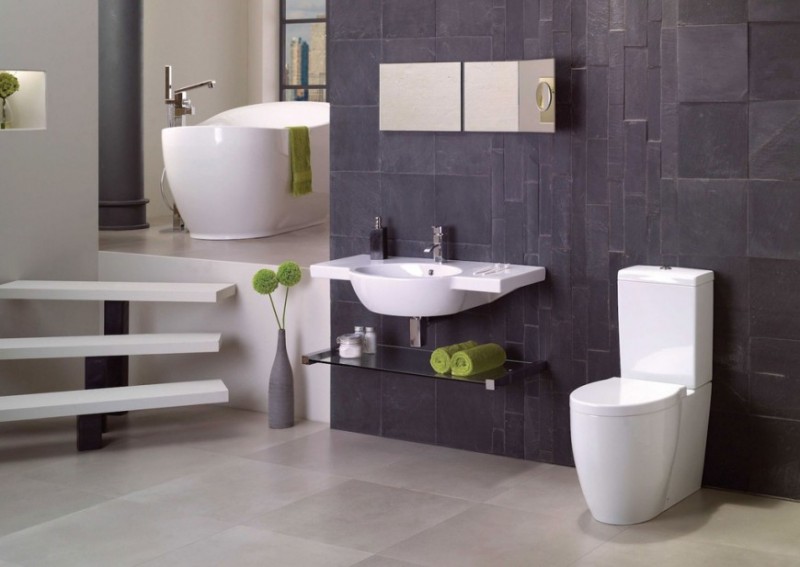 Round sinks and rectangular sinks are almost equally as popular, and as a result, lots of people have a difficult time choosing which one will work best in their homes. However, sometimes you can get everything you want all at once. This sink, which appears to be almost completely suspended in the air, features a design that is both round and rectangular.
image via www.homestratosphere.com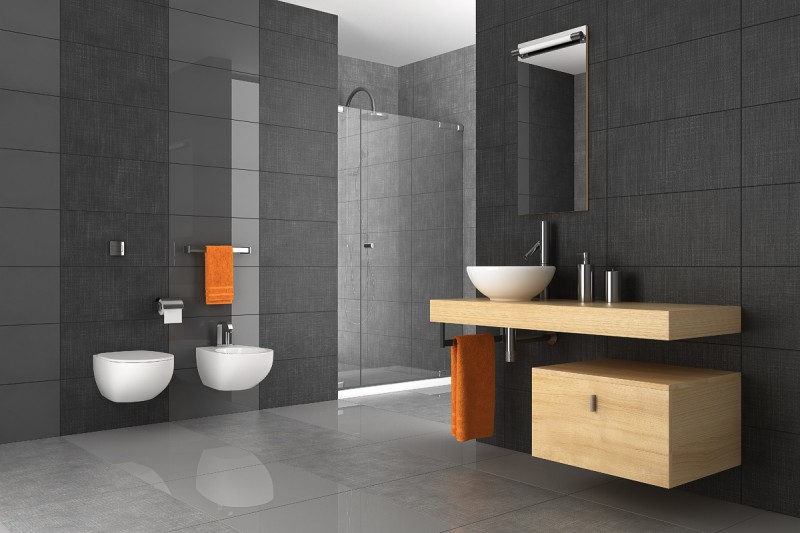 Sinks aren't the only things in your bathroom that can float. This design features a whole room of floating objects and this sink and vanity combination is a nice added bonus. However, while many floating style sinks sacrifice space for style, this design doesn't seem to do that.
image via meddiodesign.com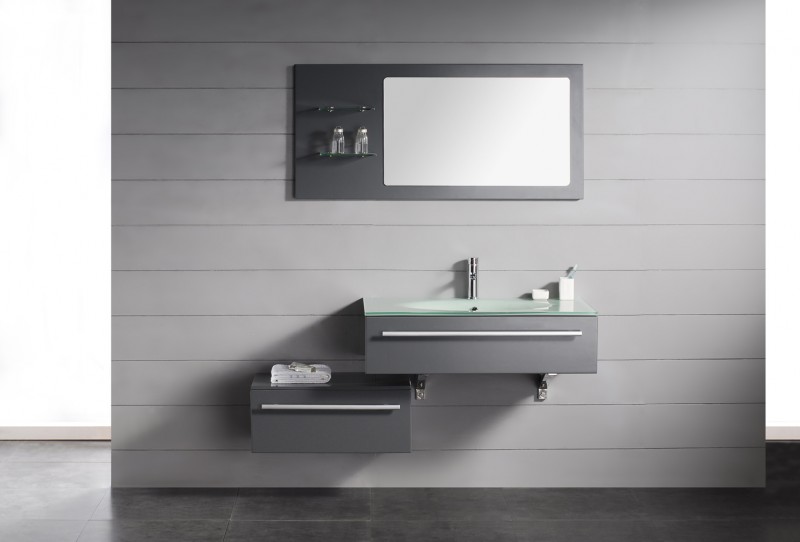 Although gray has a bit of a reputation for being a sort of dim color – when used correctly, gray can add a luxurious feel to a room. This two-toned gray bathroom keeps everything very simple, and looks incredibly sleek in the process. The addition of a floating style sink helps continue this easy-going theme while maintaining a tough of elegance.
image via www.aostafurniture.com
Anyone who visits your home with be looking for an excuse to use the bathroom once they get a glimpse of this lavish layout. With a beautiful ceramic tile divider, this floating sink which appears to be sitting on a piece of marble, is simply amazing.
image via www.huz.name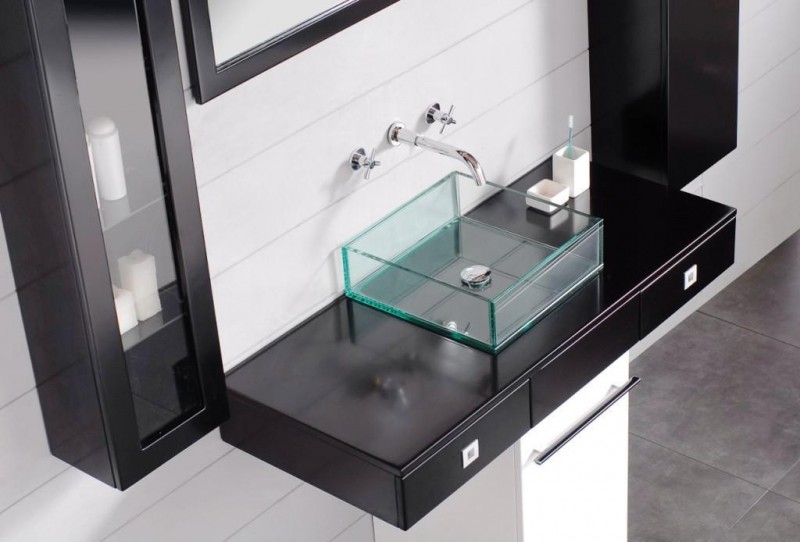 Glass sinks aren't something you see very often, but after seeing this design you're going to be wishing you had one. This square glass sink is perfect for anyone who wants something unique and fun to look at.
image via cura.undertheoklahomasky.com
When it comes to sinks, use of color or something that is almost completely absent. Think about it, when's the last time you saw a sink that wasn't white? Exactly. This perfectly floating dark blue sink is another that features a tilted design, and it's use of color only makes it more attractive.
image via www.metrodecoration.com
If you want a floating sink, but don't want to let go of tradition – this is perfect for you. This sink features a typical design that most people would be familiar with. However, transforming this classic into a floating sink is a great way to bring the best of both worlds together.
image via www.homcy.com
If you've ever thought that bathrooms simple weren't meant to be cool and trendy – you were wrong. This design with a floating style sink is proof that what is often deemed the smelliest room in the house can actually be the most stylish.
image via www.buckeyestateblog.com
If you spend a lot of time in front of the mirror every day, then you'll probably find this design pretty appealing. With a floating style sink that spans the entire length of the mirror, you'll have plenty of space for all of things you need to help you get ready in the morning.
image via taopic.com