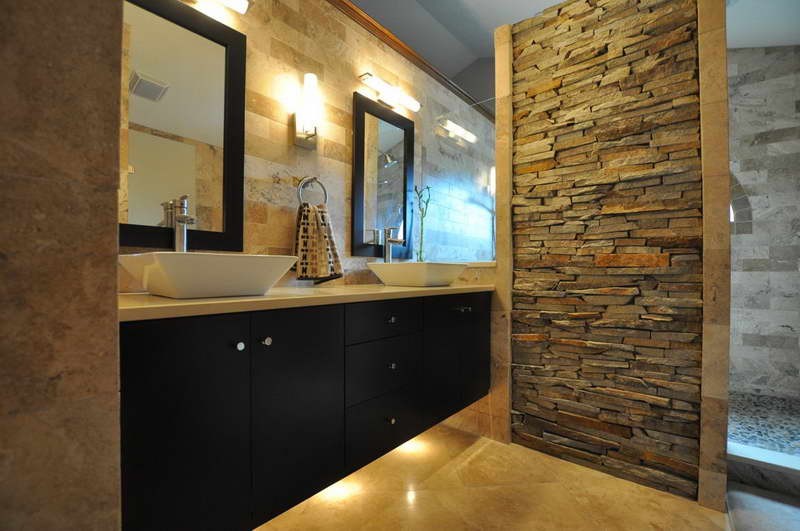 When it comes to bathroom design, the use of stone materials for walls and floors is becoming more and more popular. While there are plenty of other options that can make your bathroom look good, there's just something about the use of stone that takes things to another level. If you've ever seen a bathroom with stone walls you know just how captivating they can be. Although bathrooms don't always get the love they deserve, when designed right, they can become one of the most beautiful rooms in any home. Sometimes all it takes is a little creativity, and a little help from mother nature. Here are 20 beautiful bathroom designs with stone walls.
image via lanewstalk.com
Designed by Pearson Design Group, this rustic bathroom with stone walls is the perfect mix of simplicity and luxury. Making great use of wood and stone, this bathroom also has a cool and laid back feel that
image via architecturendesign.net
Made from dry stone, this beautiful bathroom design is elegant and simple all at once. While most people tend to use paint to create an accent wall, this creative design proves that stone can also be a very good option.
image via houzz.com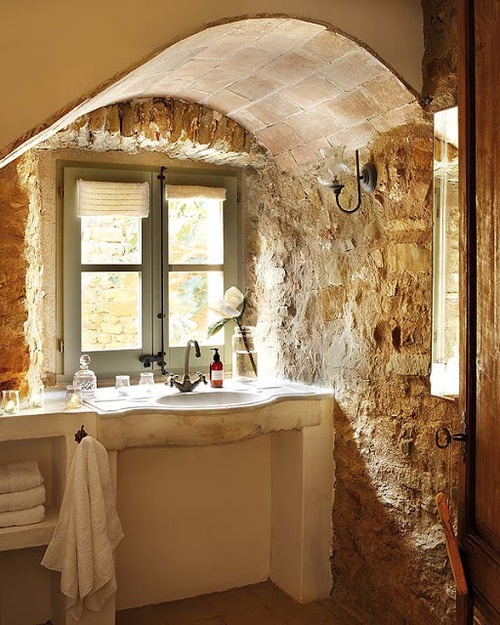 Somethings nothing beats the natural look, and here's proof. This bathroom goes from simple to special thanks to this cool stone wall. Despite having the appearance of something almost ancient, this bathroom is still able to find balance with a modern appeal.
image via digsdigs.com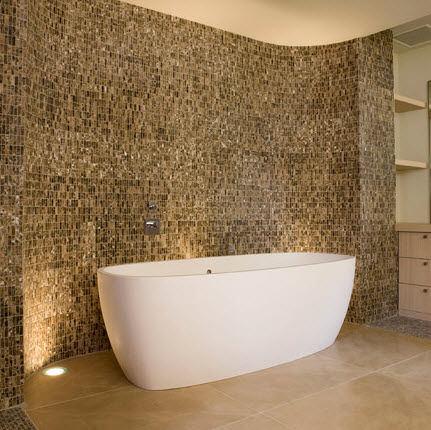 This tiled stone look is all about mixing the sleek and rough elements of stone. With just enough shine to look finished, but still retaining some of natural elements, this wall comes together nicely to create a beautiful backdrop for this freestanding tub.
image via messagenote.com
Almost completely covered in large limestone tiles, this modern bathroom is all about keeping things sleek and seamless. Although it's no secret that most people's bathroom walls are simply painted — or maybe even wallpapered — this design shows that it's possible to get a neat and clean look by taking a more natural route.
image via wallhome.net
Many people may fear that using a stone wall in their bathroom will make the space feel cold and uninviting. However, this space with dry stone walls almost all the way around shows that with the right design, a bathroom with stone walls can still feel cute and cozy.
image via freshpalace.com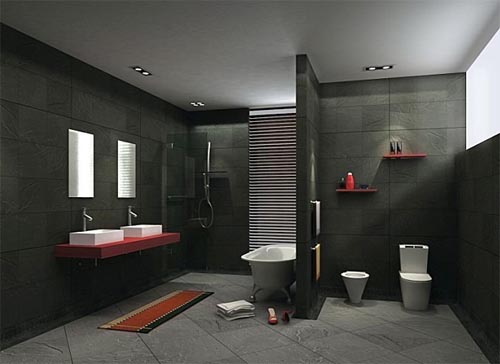 Dark colors aren't something you see very often in bathrooms. However, like anything else, anything can work when t's done right. These dark limestone tiles make this bathroom feel modern, luxurious, and clean.
image via getgreenhome.com
When you think of stone, there probably aren't too many color variations that come to mind. For that reason, those who enjoy a little color may find themselves shying away from stone. However, that doesn't need to be the case. Natural stones can come in a variety of colors, shades, and tones. This wall of stone bricks, which offers some slight color variation, is the perfect fit for this modern bathroom with a wooden vanity.
image via www.giesendesign.com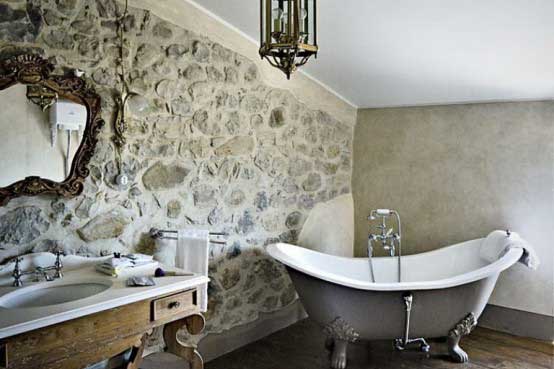 Boasting a classic stone wall, this bathroom almost looks like it jumped straight off the pages of a history book. By being both simple and detailed, this bathroom is proof that no matter what type of design you're going for – there's a stone wall out there that can bring something extra to your bathroom.
image via decohubs.com
Attention to detail is key when designing the perfect room, and it's important to make sure that no aspect goes unnoticed. With a floating vanity and double mirror design, this luxurious modern bathroom finishes off its sleek look with this shiny stone wall.
image via www.housetohome.co.uk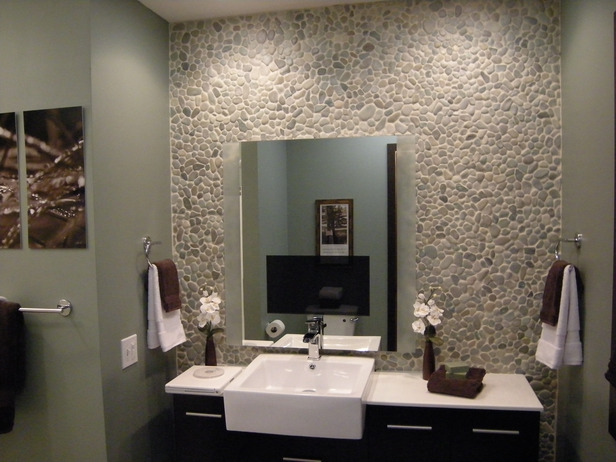 This wall made of river rock is yet another example of how keeping it simple can often be the best way to go. While there's nothing flashy about this wall, it is still unique and eye-catching. This type of design is perfect for people who want to be creative and play it safe at the same time.
image via denoxa.com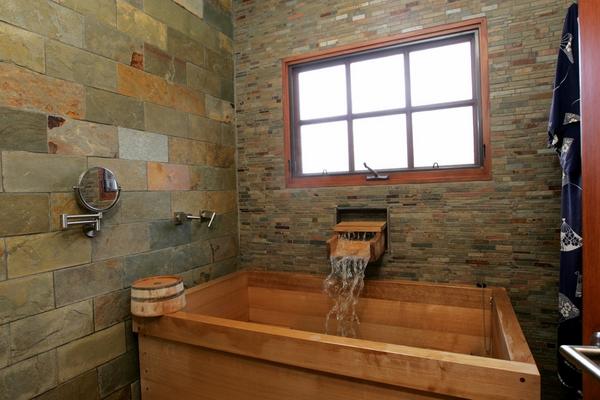 One of the best things about using stone is that it can be a very versatile material, and sometimes you can get everything you want at the same time. This bathroom, which uses different sized stone bricks, offers two different looks that come together very nicely.
image via buzzkilled.com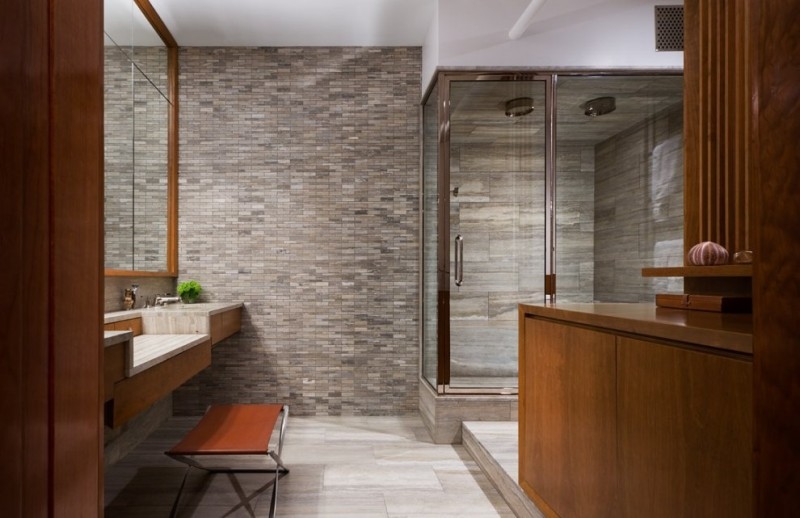 Again, mother nature is about to show you just what she's capable of. Wood and stone can be the perfect combination, and this bathroom shows you why. The wall, made of varying shades of gray stone, nicely compliments the wooden structures that line the bathroom.
image via architectureinteriordesigns.com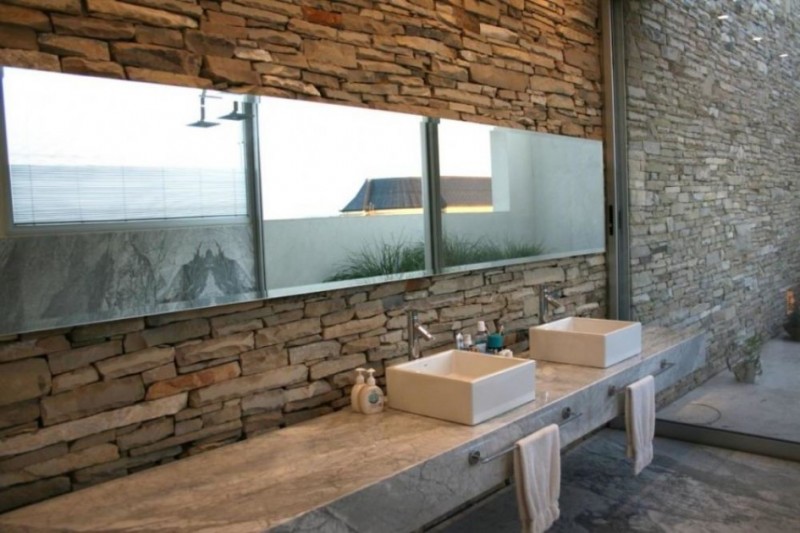 Rustic stone walls are popular for both indoor and outdoor use. With a look that is almost effortless, this type of design can really work great for a bathroom. Working with the marble-top vanity, this stone wall adds just enough flair to not be over whelming.
image via houzmagz.com
Free standing tubs are becoming increasingly popular in top of the line luxury bathrooms, and it's easy to see why. With that being said, if you're going to remodel your bathroom to fit the highest standards, you might as well go all the way. With limestone on the floor and the walls, this modern bathroom literally leaves no stone unturned.
image via www.home-designing.com
This classic stone wall borrows an old look that many people are familiar with and blends it with the best of today's designs. Although some may feel that this bathroom feels a little dark and old, with the right amount of lighting – this space can really work well.
image via thefabweb.com
This amazing stack stone walls almost looks like it's being held together by nothing but luck. With rocks packed together tightly to give this space just the right amount of umph, this bathroom has a very earthy feel that is really unique.
image via amanzigranite.com
Black bathrooms certainly aren't something you see every day. In fact, regardless of the material, most people wouldn't even dream of having a room in their home with all black walls. However, for anyone who has ever wanted to experiment with black but has been unsure of how it would turn out, this stone design shows it's possible when accented with the right colors.
image via photos.hgtv.com
This bathroom makes great use of river rock for the walls and the floor. These rocks add just enough color to keep this bathroom interesting, but not too much that it's overwhelming or distracting.
image via www.mathmorph.com
This bathroom is rustic from start to finish, and the use of bluff stone walls add to these element of a simple –almost outdoorsy– design. By making use of earth tones, this  bathroom is able to keep things simple while also creating a design that is naturally intricate.
image via crunchylipstick.blogspot.com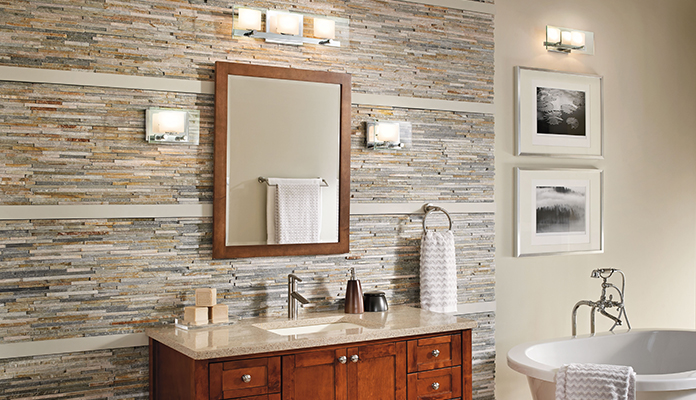 These semi-colorful quartz wall tiles almost look like wall paper in this unique design. This beautiful wall shows the versatility of stone and is also an example of how you can achieve almost any look with the use of stone.
image via www.painreliefmedica.com