When it comes to the overall design of your bathroom, mirror ideas are essential. After all, if there's one place that most people spend too much of their time, it's in the bathroom mirror. And aside from that, the right mirror can give your whole bathroom design a unique and classy look. While most people probably don't pay much attention to their mirrors, other than to look in them, the way a mirror is shaped and designed can definitely have an impact on a room's overall look. If you're planning on remodeling/redesigning your bathroom, you'll definitely want to consider installing a new mirror.Here are 20 bathroom mirror ideas to reflect an elegant style.
image via iraq.scottjameshubbard.com
When it comes to bathroom mirror ideas, you can never go wrong with a classic look. However, while this mirror boasts a classic appeal, the designs around the frame make for a very creative and beautiful change. With a mirror like this, your bathroom will definitely have a cleaner and classier feel.
image via www.interiorexteriorideas.com
Two mirrors is better than one, especially when they look like this. These simple, yet elegant bathroom mirrors prove that you don't always have to go with something over-the-top to get the look you're going for.
image via decorpad.com
If you're thinking of bathroom mirror ideas, and find yourself stuck – it never hurts to go with what you know. This mirror has a bit of a traditional look, but features a frame that is just decorative enough to make this piece stand out. If your bathroom features a laid back look – a mirror like this could be the perfect addition.
image via chantiki.com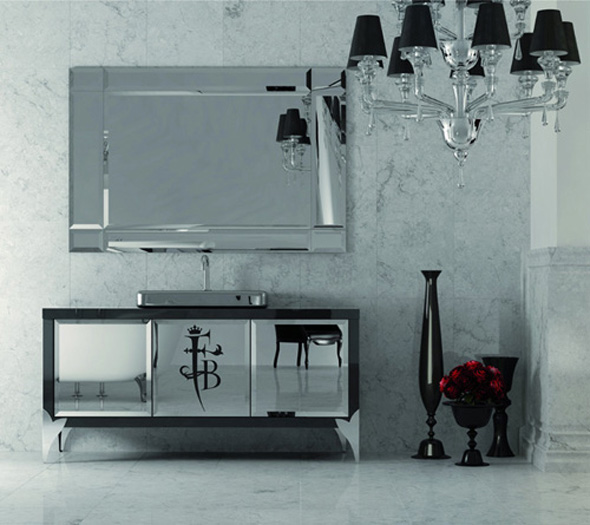 If there's one thing most elegant designs have in common, it's that they are extremely slick. This metallic bathroom mirror takes the ideas of elegance and puts them together to create a very eye-catching design. This, combined with the metallic finish that is present throughout the rest of the bathroom, really gives this space a luxurious look.
image via www.blairmus.com
For most people, round mirrors are a little in the boring side. Also, they tend to be smaller which means that there's useable space. However, this design which, features a beautifully decorate frame, has enough pizzazz to steal the show.
image via magz-design.com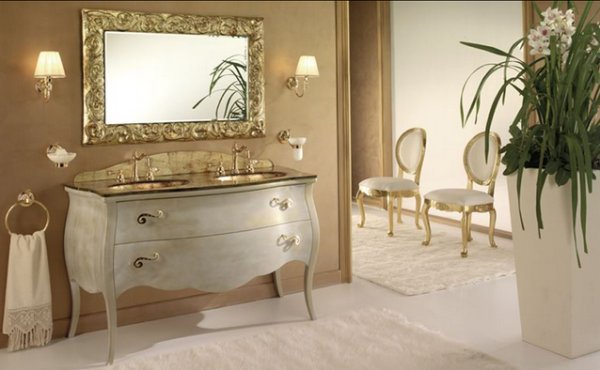 When it comes to bathroom mirror ideas, gold is definitely king. Nothing says elegance like gold objects, and they can really take things to another level. This rectangular mirror adds a classic and classy touch to this bathroom, and as you can see, it's easy to find furniture and other accessories that will compliment this mirror.
image via alldoing.blogspot.com
There aren't many bathroom mirror ideas that will include beautifully carved wooden mirrors. However, this unique mirror shows just what happens when people decide to get a little creative. Featuring an intricately carved design, this mirror manages to be elegant while remaining simple.
image via dewebsign.com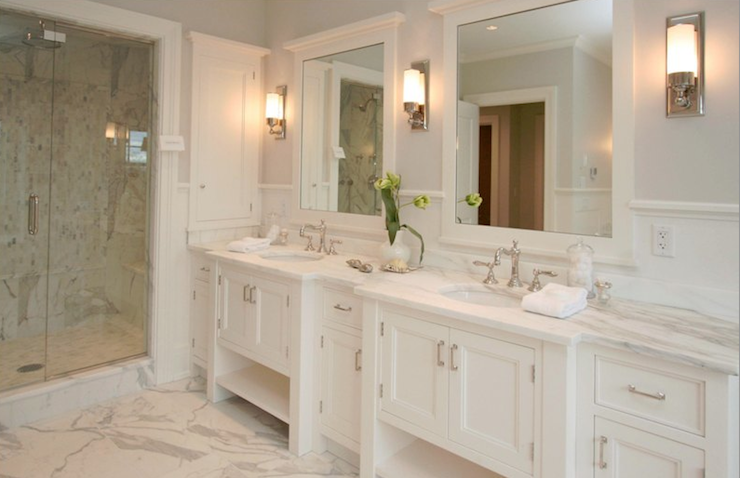 This is another example of how sometimes the simplest bathroom mirror ideas can be the most elegant. Stripped completely down to the basics, these twin white bathroom mirrors don't have any fancy designs or carvings. However, the design of the frame is just enough to take these mirrors from plain to classy.
image via www.soupehe.com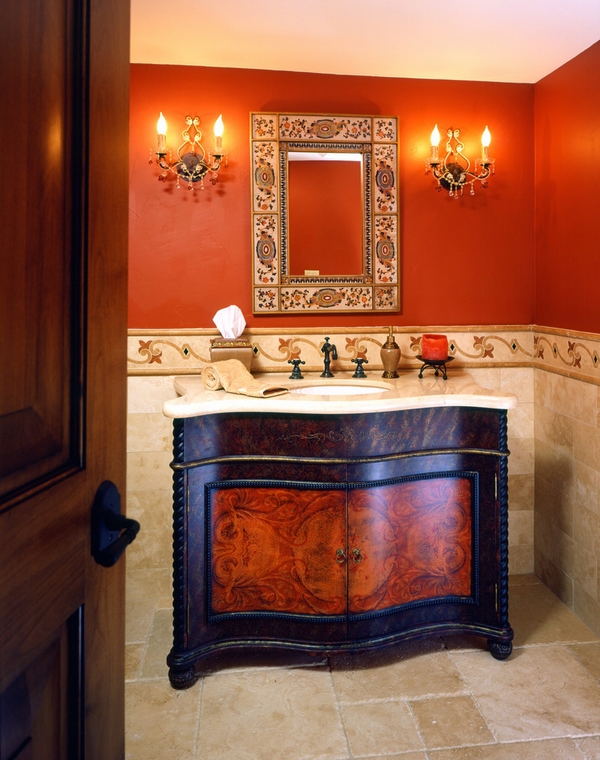 This mirror is certainly not the biggest on the list, but it is definitely one of the most creative. The frame, which is made of ceramic tile, is covered in beautiful earth tone painted designs which fit perfectly with the overall theme of the bathroom.
image via www.minimalisti.com
Oval shaped mirrors can be very attractive, and they're also not something that you'll see every day. These types of mirrors are also a great alternative for people who want a round shape but feel like a traditional circle might be a little bit too small.
image via inetrior.com
Gold isn't for everybody, but silver is definitely another great option for an elegant bathroom mirror. The best thing about silver is that it looks great in almost any room, and it can be just what you need to give your bathroom an extra boost.
image via madebymood.com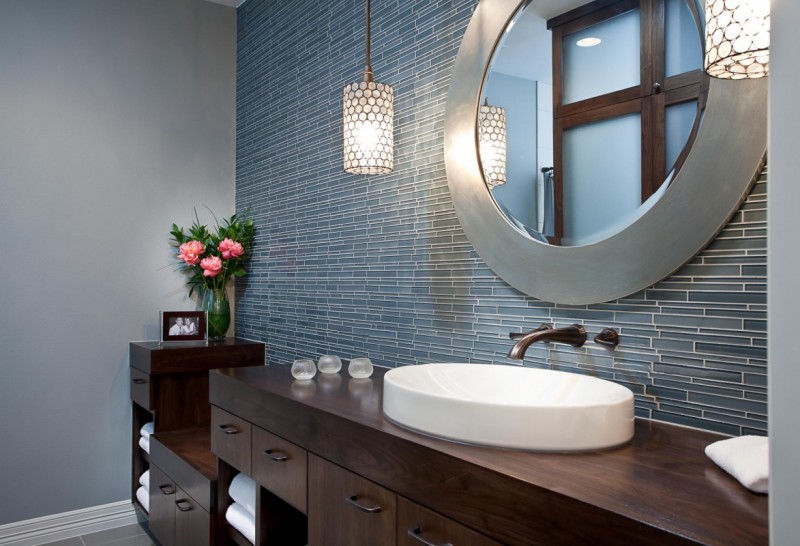 This round mirror is another example of how silver can look good in any setting. This time; however, this round mirror fits perfectly with the circular sink and lightning fixtures. Matching the shape of your mirror with the shape of your sink is also a good idea and can be a nice subtle way to tie everything together.
image via www.homedecodir.com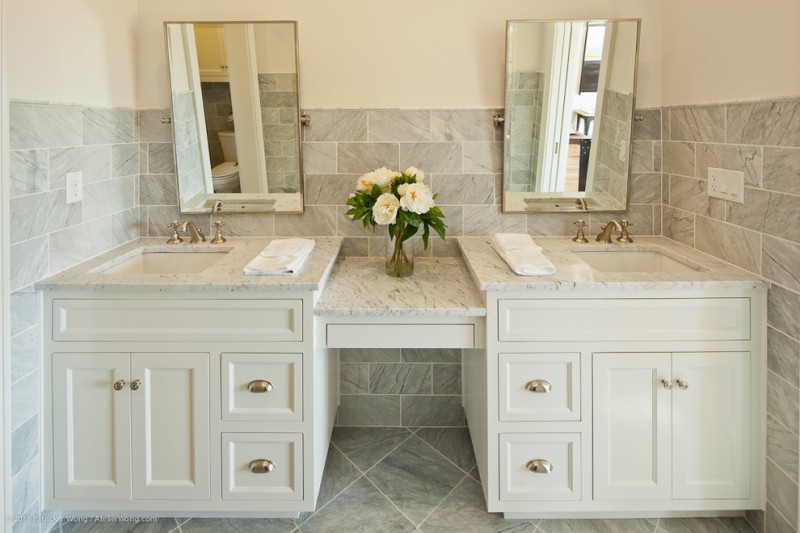 Nestled in very simple silver frames, these bathroom mirrors are nice because they can be tilted up and down. This is a cool feature for anyone who spends a lot of time in the mirror and sometimes feels like they need to see things from a different angle.
image via apartementlifestyle.net
In the world of bathroom mirror ideas, creativity is a key component. While playing it safe and going with a common of traditional look is easy, utilizing a design that you don't see often can also be the right idea. These mirrors, which appear to covered in rose pedals, offer a unique look and really make this bathroom stand out from the rest.
image via www.advenaes.org
One of the best things about bathroom mirror ideas is that they rarely get old. Sure, everything ages, and things often go out of style – but for the most part, mirrors are timeless. Although this mirror features an antique look, it fights right in with the rest of this design. Also, the use of an older style mirror is great way to complement the marble counters.
image via decorationsuggestions.com
This is another mirror that doesn't offer a large viewing area – but it makes up for it by offering a lot of style. With a look that immediately grabs your attention, this sun-burst style mirror, goes perfectly with the gold accents that are all throughout this bathroom.
image via www.magetjooz.com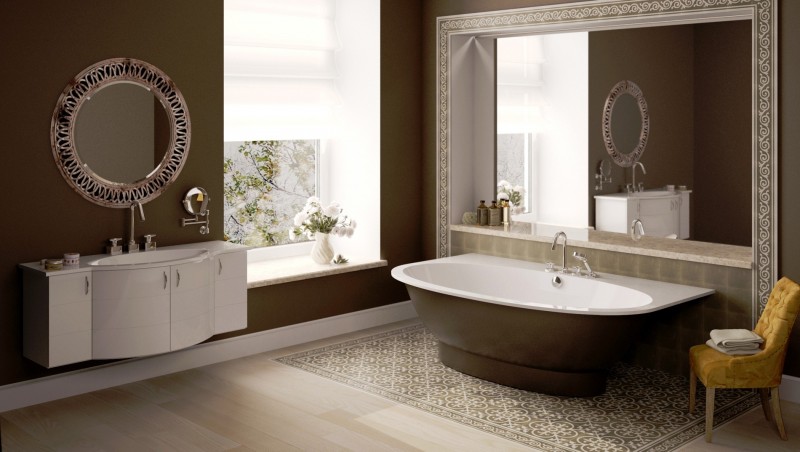 This bathroom features something that you won't find in every bathroom – and that is two completely separate mirrors. Using both the circular and rectangular shape, this bathroom shows how effective it can be to NOT match. Also, the oversized mirror by the bathtub makes the room look larger, and gives the room a little extra oomph.
image via tenantsweb.org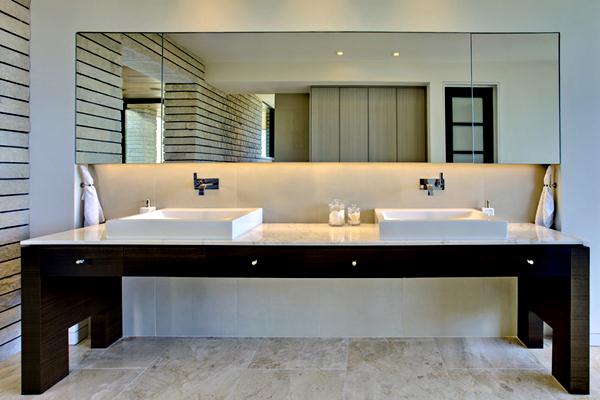 Many modern bathroom mirror ideas feature a look that puts all of the emphasis on the mirror and less on a decorative frame. This sleek design looks is extremely clean, and allows for the focus in the bathroom to be on the vanity and other areas.
image via interiordesign-if.com
This is another example of just how fun creative bathroom mirror ideas can be. While most people think that a mirror can only be one object, this design combines several smaller mirrors to make one very interesting structure. Although this might not be the most practical mirror on the world, it's certainly a good option for decoration.
image via redecoratehomes.com
Slightly resembling the window of a ship, this bathroom mirror is noticeable but, doesn't do anything to take away from the rest of the room. Its design is both modern and antique, which allows it blends in nicely with the rest of the items in the bathroom.
image via hgtv.com