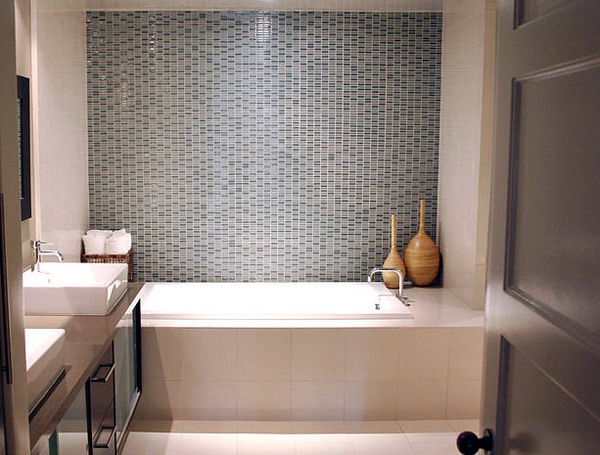 If there's one thing most people can never get enough of – it's space. Very rarely will you hear about someone complaining that they have too much space; especially when it comes to their homes. With that being said, if there's one place in a house that usually doesn't have much room to spare, it's the bathroom. While bathrooms don't need to be the biggest room in the house, it's still nice to have a decent amount of space. Unfortunately; however, for most people, that simply isn't the reality. However, with the right small bathroom ideas, it's possible to make even the tiniest bathroom feel a little more spacious. After all, every king and queen deserves the best when it comes to their thrones. Here are 20 of the most amazing small bathroom ideas.
image via slsinteriordesign.com
This bathroom doesn't may not have a lot of space, but it definitely has a lot of style. Having a small bathroom doesn't mean that you can't spruce up the space that you do have and turn it into something great. These nice earth tones add a relaxing feel to the area, and the walk in shower definitely makes the room feel a little bigger.
image via www.bathroomremodel.com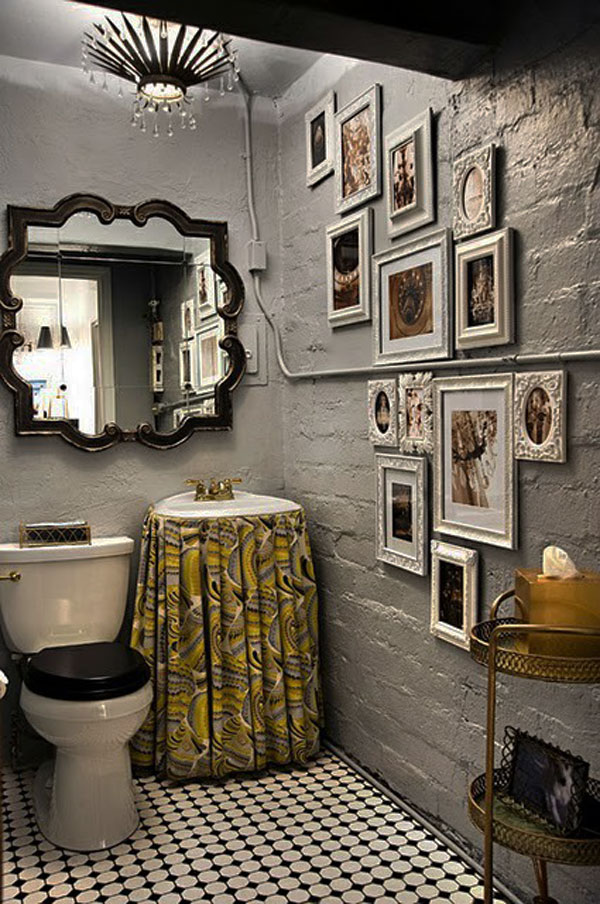 This tiny bathroom makes great use of the walls to liven up the small space. Adding the right decorations to any room can certainly help it feel more welcoming and open. Also, using stands to hold items is a great way to make a small bathroom feel less cluttered.
image via www.goodshomedesign.com
Even compared to other small bathrooms, this one is tiny. However, this design makes great use of the space by adding shelves for extra storage and having a stand up shower.
image via www.ikeadecoration.com
Picking the right color is essential to any room, but especially a small one. This bright-colored paint definitely opens up this small bathroom, and helps takes your focus off of the fact that this room doesn't have very much space.
image via www.sparkworks.com
This small bathroom features a beautiful design that it's easy to forget that the room isn't very large. This combination of colors as well as a very contemporary design definitely makes this room stand out and demand attention .
image via smallhouselife.com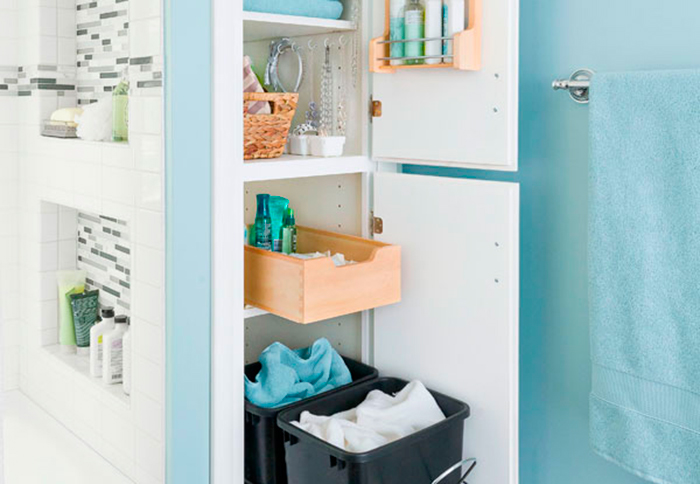 This organized storage cabinet can be great for any small bathroom. If everything has a place than it's easier to keep things organized, and you won't have to worry about your bathroom being overwhelmed with a bunch of stuff.
image via lowes.com
This smooth design almost gives off a futuristic vibe, and the white all around the room makes everything feel clean and sleek. This bathroom also has plenty of storage space which is essential to making any small space open up.
image via www.presenthouses.com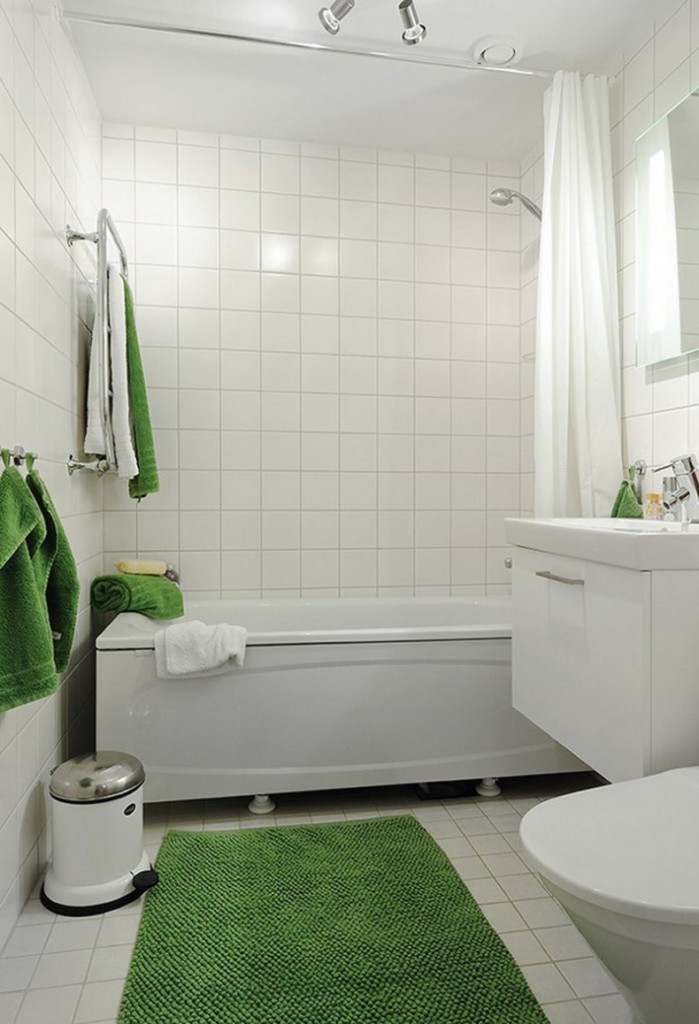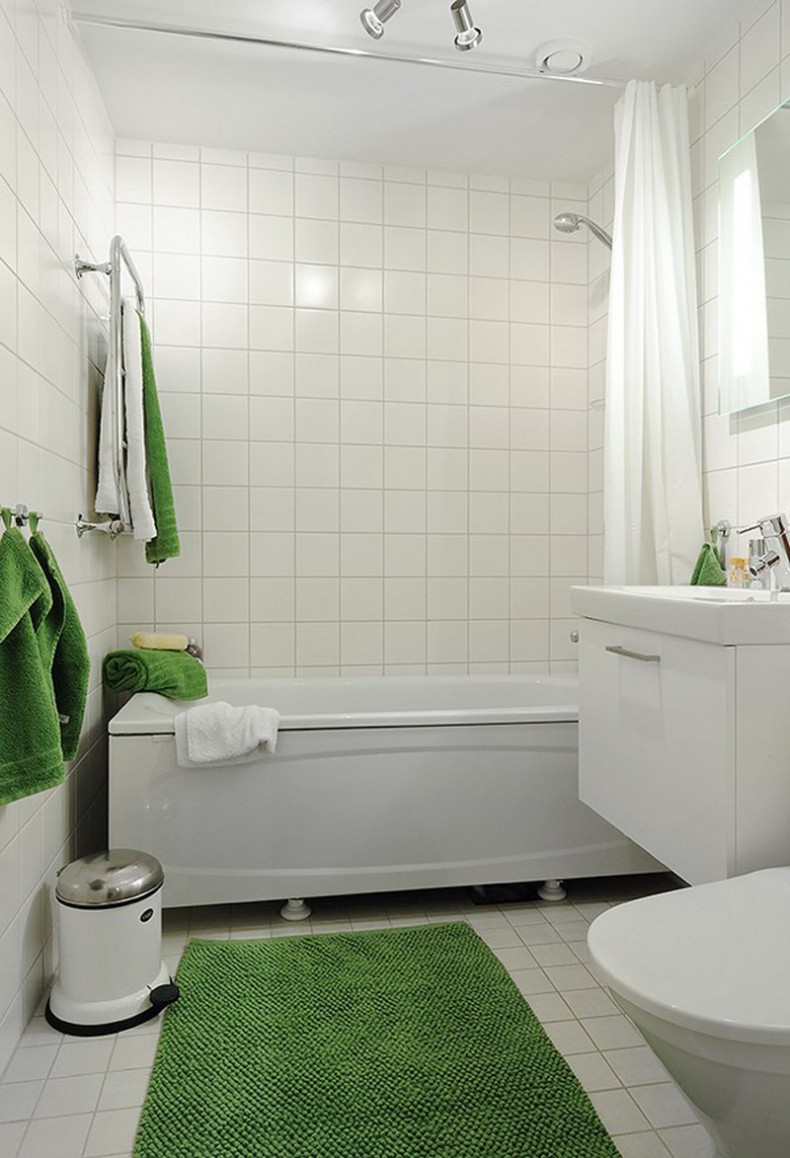 When it comes to small bathroom ideas, sometimes it's great to incorporate more than one idea at a time. This small bathroom makes great use of color while also adding some nice storage space built into the sink, and some high quality lighting fixtures.
image via stiventures.com
Stand alone towel racks aren't something you see in a lot of bathrooms, especially small ones. However, using a stand like this can be a great way to make use of space that would have otherwise gone wasted and can keep towels from being hung in random places all over the room.
image via shelterness.com
Mirrors are great for any room, but especially the little ones. Adding a mirror to your small bathroom can be a great way to accessorize and using mirrors can help make a space seem much larger. Since most bathrooms have mirrors anyway, it definitely won't hurt.
image via www.danielguillan.net
Plants are a great addition to any room in the house. Having plants around can literally bring a breath of fresh air into your home, and can also make things feel more warm and comfortable. However, most people don't think of adding plants to their bathrooms, but doing so can be a good choice.
image via room-decorating-ideas.com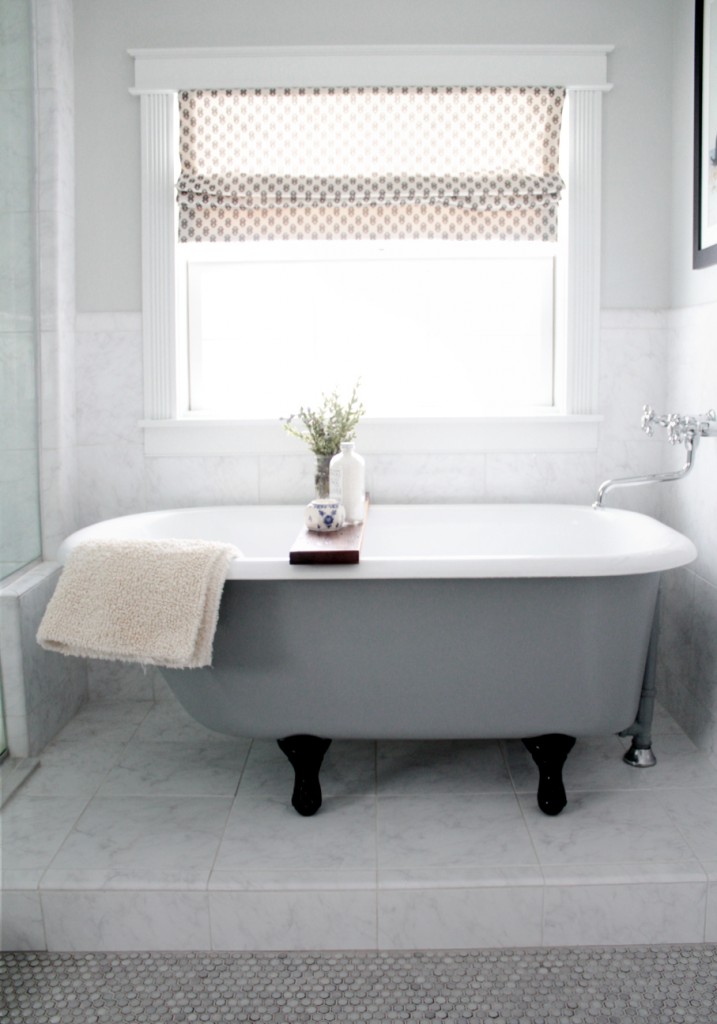 Natural light is a great idea for any small bathroom. While adding extra windows or a sky light is simply out of the question for most people, making the best use of the natural light you have can definitely help make things beautiful and bright.
image via homelinkbg.com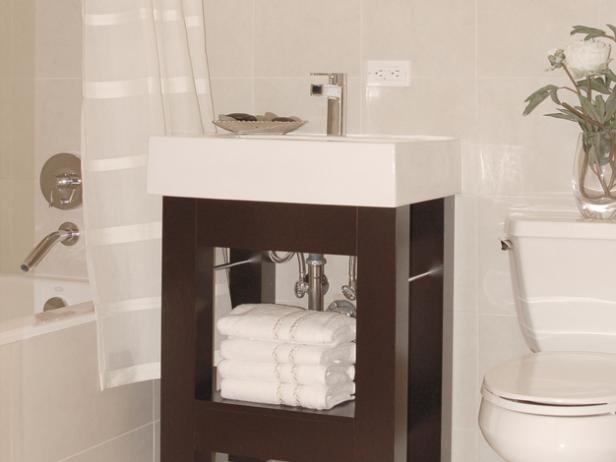 If you have a small bathroom, you probably don't want to waste too much space on a vanity. While you may think that a large vanity is the only type that will get the job done, there are plenty of small vanities that are beautiful and unique and would be perfect for a small bathroom. Plus, the right vanity can also add storage and/or counter space.
image via hgtv.com
One of the things a lot of people are very conscious of when they only have a small space to work with is not to over due it. Let's face it, no one likes to walk into a room – especially a small one – and be overwhelmed by a bunch of crazy accessories, gadgets, or colors. With that being said, most people prefer to play it safe – and there's nothing wrong with that. However, playing it safe doesn't have to be boring. Although this bathroom is relatively simple, the black handles add a great contrast to the white and gray.
image via inspirationluv.com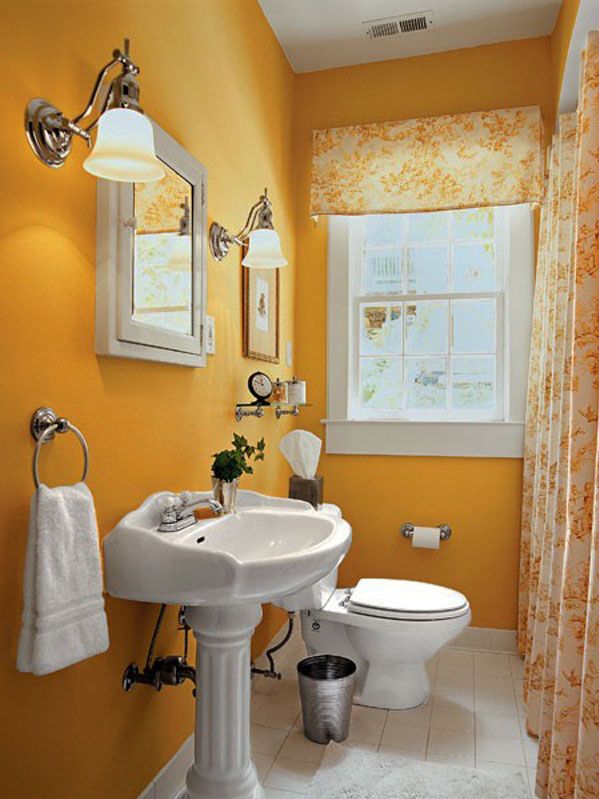 These days, lots of people are really wrapped up in contemporary and future designs. Because of that, many have forgotten about the more classic style designs that were once popular. While an older look won't be appealing to everyone, it's definitely something to consider for your small bathroom.
image via homeimprovementinsights.com
Although they are often sought after for other rooms in the house, hard wood floors are not something that you see in bathrooms very often. While they may not be the most popular choice, they can definitely add some very unique flare to your small bathroom.
image via vegrecipes.co
Over the last several years, accent walls have become increasingly popular. While they are usually done with paint, this small bathroom features an accent wall of different color tiles.
image via maltadevelopment.com
A sink is one of the most important features in any bathroom – and it's also one of the features that you have the most freedom to change. While most people tend to go with a standard style sink, going with something a little more unique can take your small bathroom to a different level.
image via bathroomist.com
This small bathroom idea proves that having a small amount of space doesn't have to be as limiting as most people think. This bathroom doesn't have a lot of room, but with the right design, it can also double as a laundry room – with plenty of space to store things.
image via www.faburous.com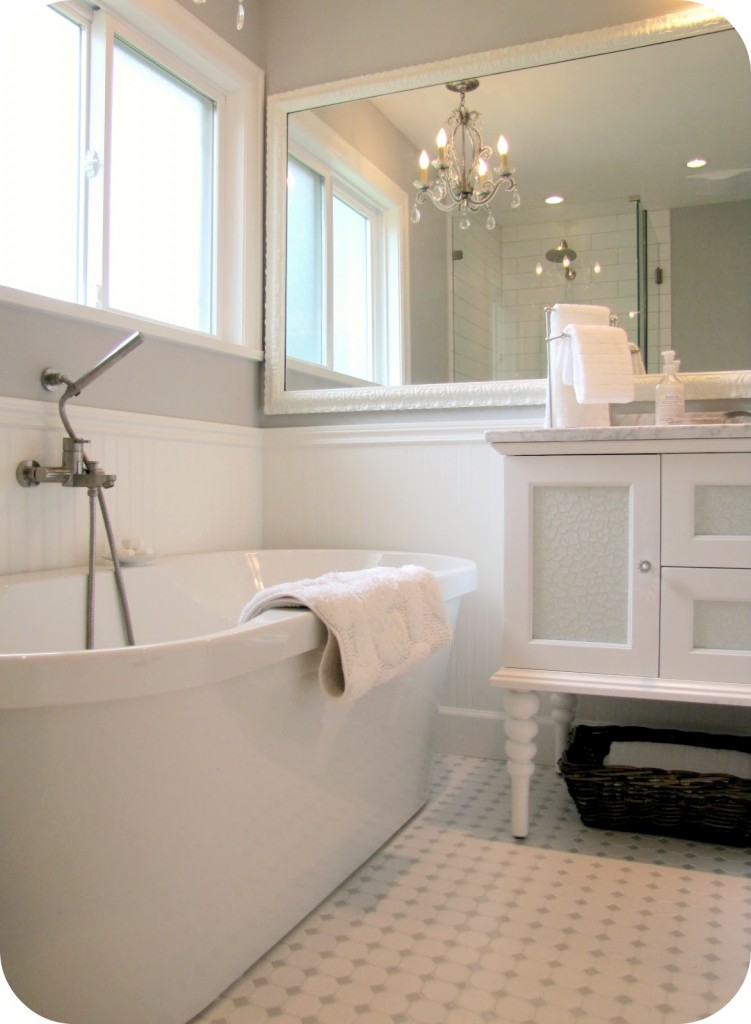 Nothing says elegance like a beautiful chandelier. Although most people would never think to hang a chandelier in their bathrooms, there's nothing wrong with thinking outside of the box. Adding a touch of class to your small bathroom may be just what it needs to feel a little bigger!
image via www.iseecubed.com